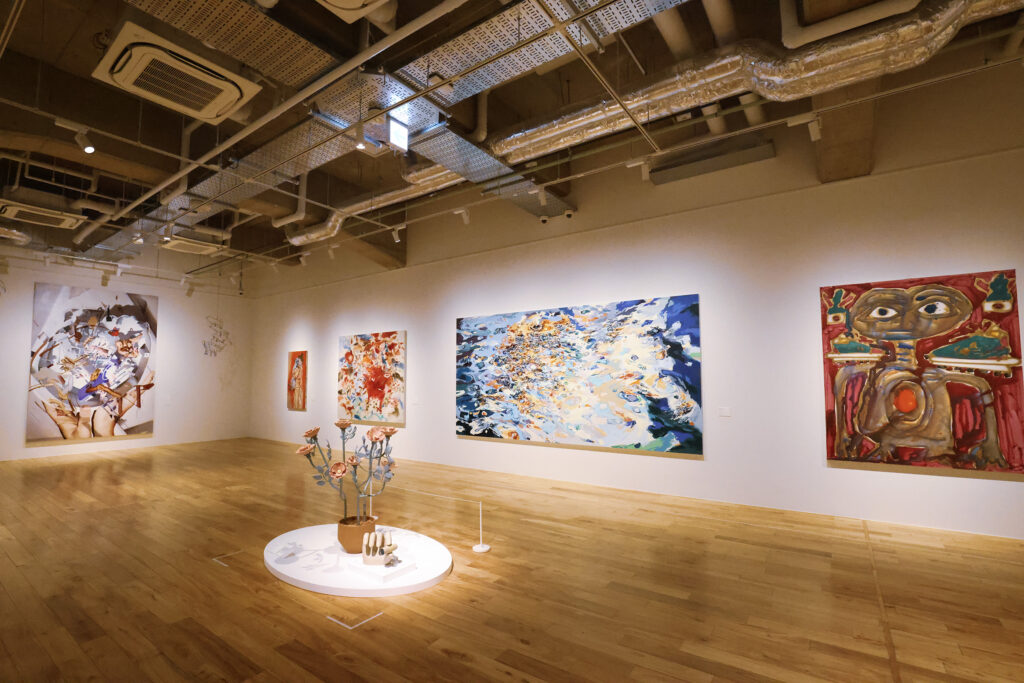 View of the OKETA COLLECTION "YES YOU CAN -The Power of Life through Art-" exhibition (WHAT MUSEUM) venue
OKETA COLLECTION "YES YOU CAN -The Power of Life through Art-" was held at WHAT MUSEUM in Tennozu, Tokyo from August 6 to November 13, 2022. This is the second exhibition following the OKETA COLLECTION "Mariage – from antiques to contemporary art -" which was held earlier in the year from April 28 to July 3. The three-dimensional sculpture in the center of the photo is Genesis Belanger's 'Wild Intervention'. From the right on the back wall is Katherine Bernhardt's 'E.T Matcha ice cream + Sacai', and 'Reflection h-27' by Anne Kagioka Rigoulet. Kei Imazu's 'My Heart In My Hand (Gray Shade)' can be seen on the left wall. About 35 works by female artists produced during the pandemic were on view at the exhibition.
Shunji Oketa is the founder of "Arpege', which operates several women's apparel brands, and has been one of the leading Japanese fashion businesses since the 1980s. However, he and his wife, Seiko, are perhaps now more well-known throughout Japan for their vast collection of beautiful antiques and contemporary art.
The couple host their own exhibition showcasing their collection each April at Spiral Garden in Minami Aoyama, aptly named the "OKETA COLLECTION". We sat down with Shunji and Seiko in their elegantly embellished, art-filled home to talk to them about the joys of art collecting.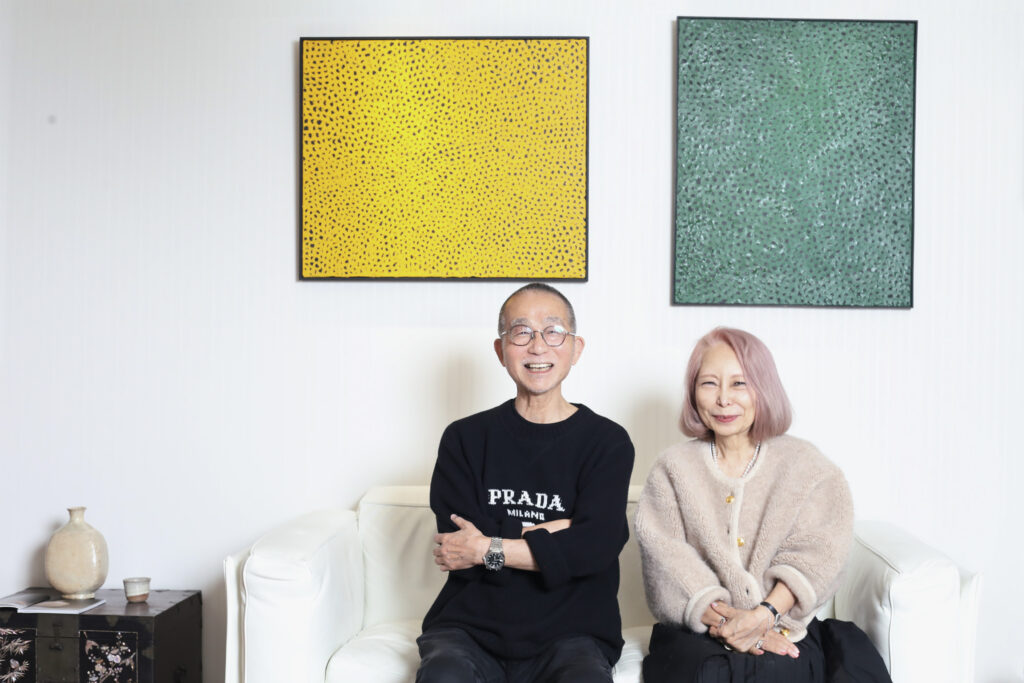 Shunji and Seiko Oketa at their home. On the wall behind them is Yayoi Kusama's oil painting, 'Infinity Net'.
Called into the art collecting world by Yayoi Kusama
The home of Shunji and Seiko Oketa is a delightful place where their art collection intertwines with their own living space. The quality and quantity of the works this couple have collected are on par with those of most art museums. The interesting thing about the Oketa's home, however, is that unlike art museums, the style of display does not adhere to any specific academic theme – works from different periods and places are instead mixed and matched in a unique show of artistic expression.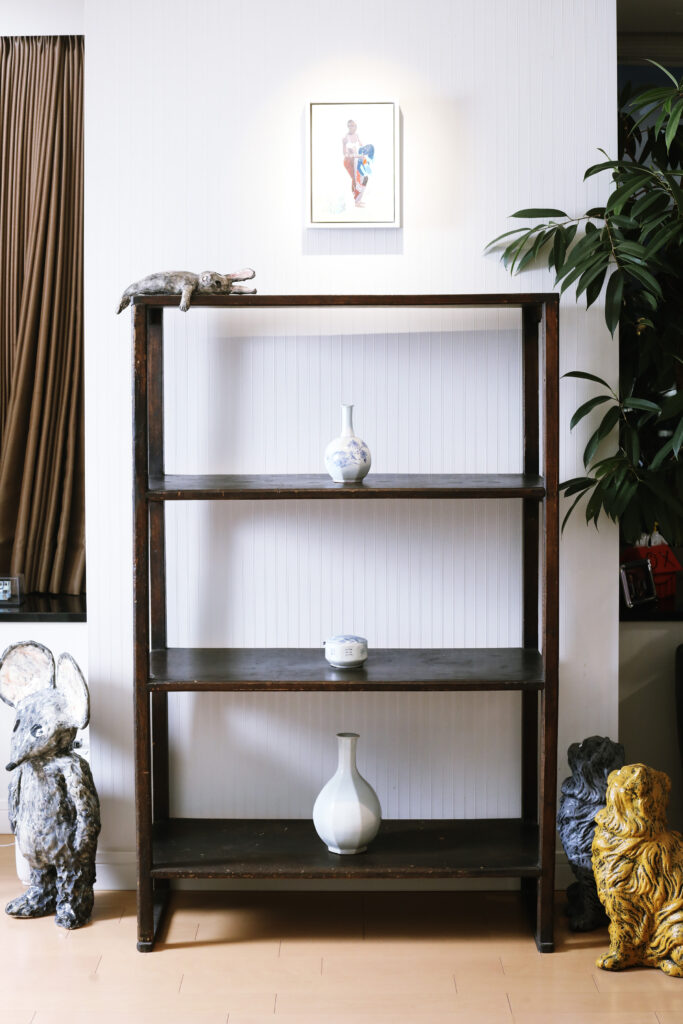 The combination of Hurvin Anderson's paintings on the wall, the Yi Dynasty white porcelain on the shelf, and Djordje Ozbolt's sculptures, Klara Kristalova's rabbit and mouse create a cozy, enticing space. The attraction of this couple's collection is not only the individual works themselves, but also the way they are displayed in the Oketa's own quirky way, with no curator in sight.
So first thing's first, how did this couple become art collectors in the first place?
"We're art fanatics", Seiko laughs. "It's so satisfying and fun to actually buy the real thing too."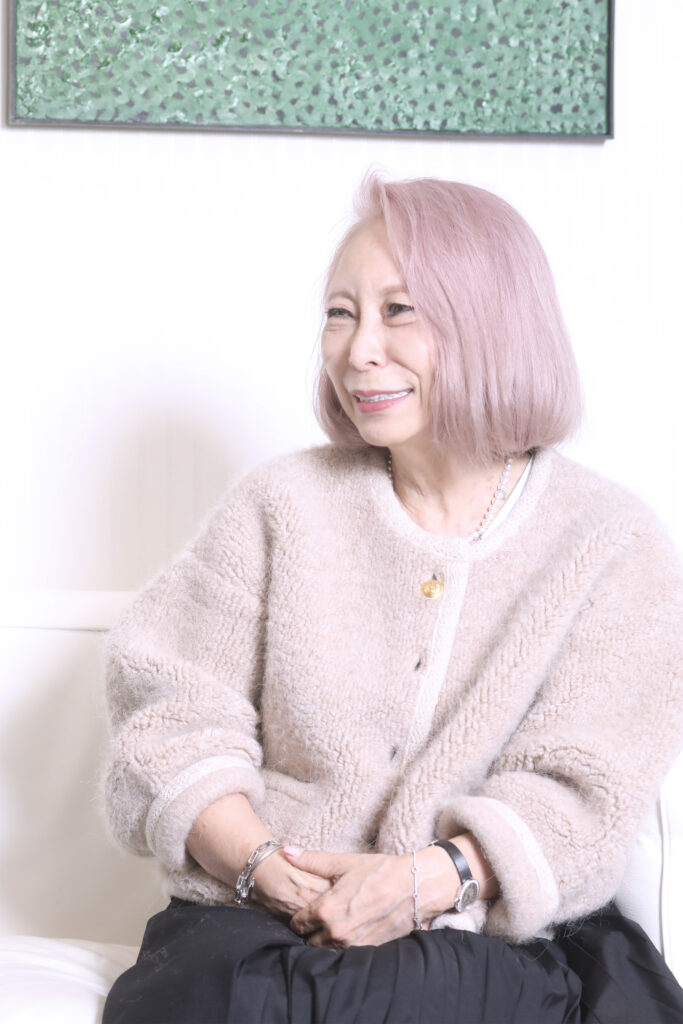 "We started our collection in 2000, beginning with Japanese, Chinese and Korean antiques," Shunji adds.
"We also started collecting historical items that have been handed down in Japan from generation to generation, such as bamboo baskets and bonsai trees."
The couple's focus then shifted to contemporary art in 2009.
"In November 2009, I saw a documentary on Yayoi Kusama on NHK. It showed her painting these amazing, powerful works, even though she was over 80 years old at the time. I was floored at such an incredible spectacle."
"The documentary showed Kusama's works for the traveling exhibition 'YAYOI KUSAMA 2011-2012', which toured four cities around the world," Seiko reflects. "The exhibition opened at huge venues like the Museo Nacional Centro de Arte Reina Sofía in Madrid and the Tate Modern in London, and all the works were drawn with such tremendous energy and vitality. I can't tell you how many times I've rewatched that video."
Unable to contain their feelings, the Oketas took decisive action early in the new year.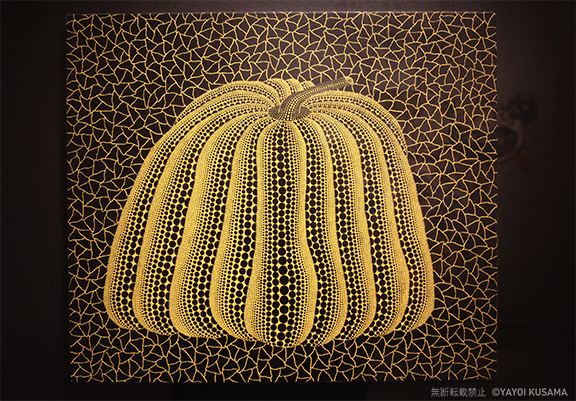 One of Yayoi Kusama's most famous works 'Pumpkin' motif is displayed in the hallway of the couple's home.
"On January 10, 2010, I visited the primary gallery which carries Kusama's work, and told them that I would love to purchase a piece. At that time, there was no exhibition taking place, and the gallery didn't have any artwork available. However, a while later, I received a call saying that a work had become available. That is how I came to purchase the masterpiece, 'White Nets'".
The couple had no particular idea as to what they were going to do with the work.
"We had no specific idea in mind then – nor do we now – of what we would do with the piece once we got it. We started collecting pieces that would easily fit into our home, and when we wanted larger pieces, we started storing them in a warehouse. At that time, we occasionally showed some of our collection to close friends, but they were mainly for our own use. Later, we set up a viewing room in Minato-ku and began exhibiting there as well, so we wanted to have works both suitable for our home and viewing room."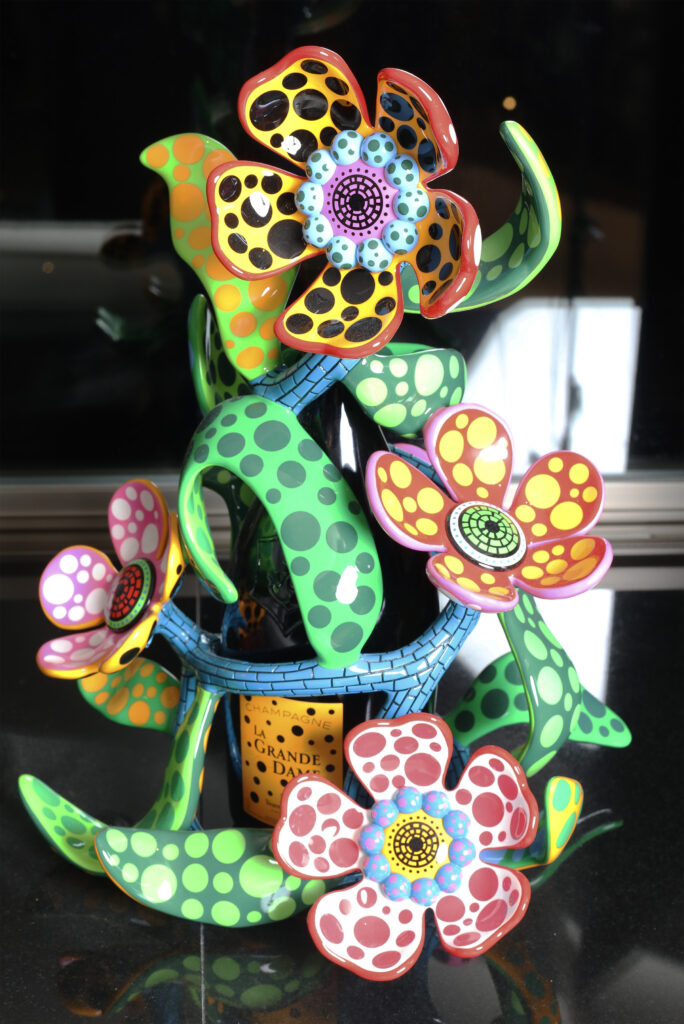 Yayoi Kusama's 'My Heart That Blooms in the Darkness of The Night', placed on the window sill in the couple's home.
This was one of 100 works created in 2020 as a special artwork with 'La Grande Dame Vintage 2012' by champagne house Veuve Clicquot.
Initially, the couple was not interested in any artist besides Yayoi Kusama.
"For the first two or three years, we only followed works by Yayoi Kusama. However, although we could buy new Kusama pieces at her primary gallery, past works were not available to purchase there, so we started participating in auctions, both in Japan and abroad. After we had collected a certain amount of Kusama's works, we began to purchase works by other great Japanese artists such as Takashi Murakami and Yoshitomo Nara."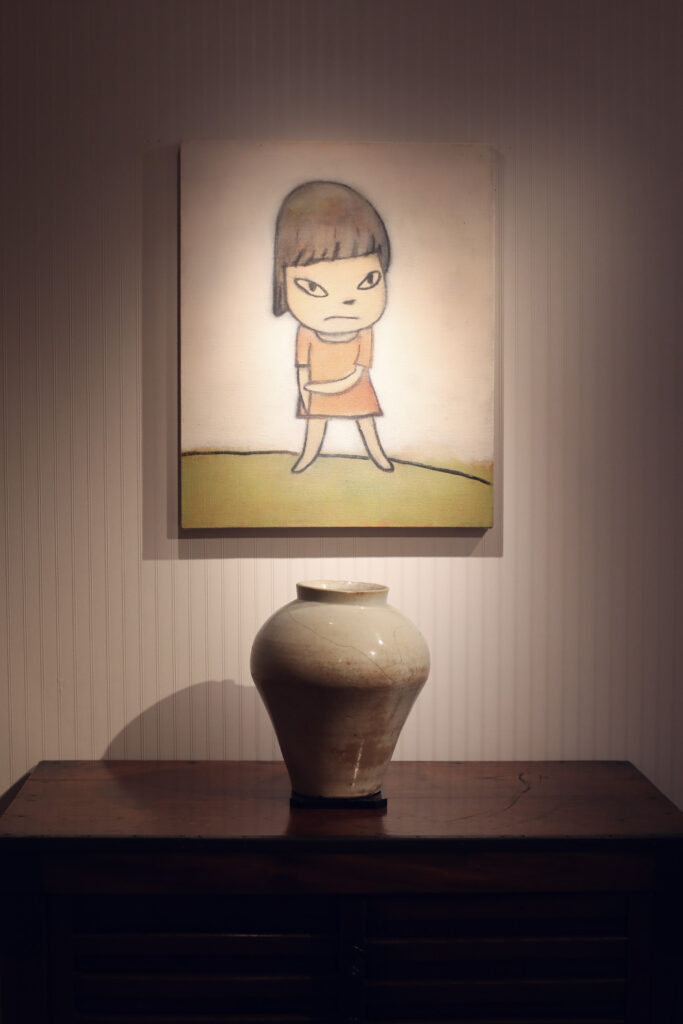 Upon opening the front door to the couple's home, visitors are greeted by this striking painting by Yoshitomo Nara and a Yi Dynasty white porcelain vase. Below that is an Edo period boat chest.
"As we started going to overseas auctions and art fairs, we couldn't help but notice overseas artists too, so we started buying works by them as well."
The Oketa's art fanaticism had reached new heights.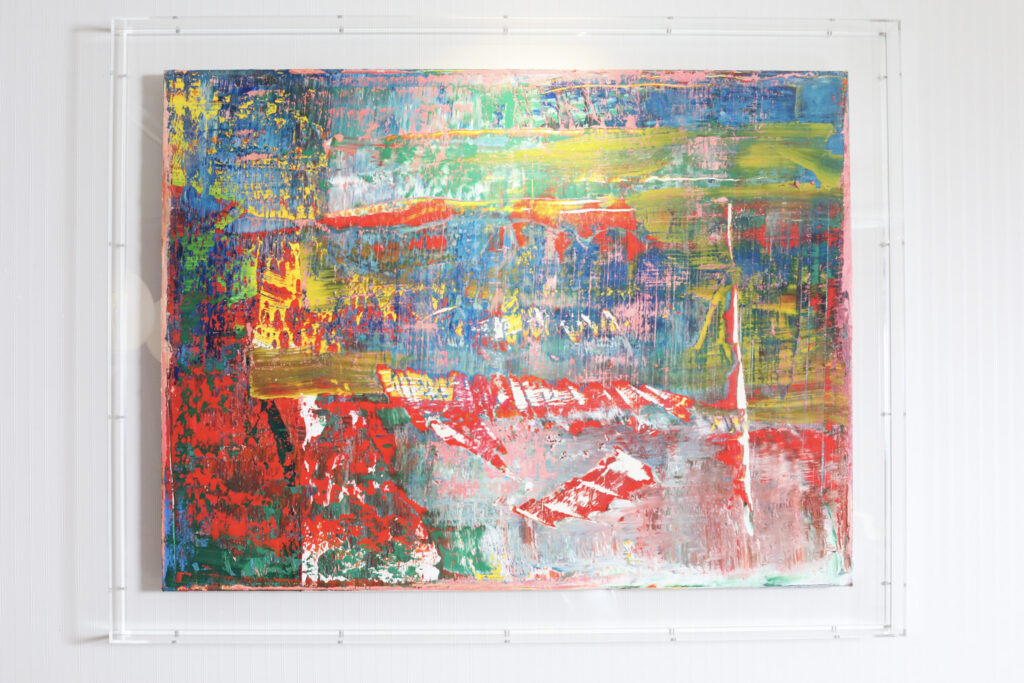 A work by Gerhard Richter is displayed in the living room of the Oketa's home. Next to this is a work by female artist Jadé Fadojutimi. The couple's collection of Jadé Fadojutimi works is extensive, and a section of the OKETA COLLECTION "YES YOU CAN – The Power of Life through Art" exhibition is also dedicated to her.
The Oketa collection goes public
"Of course, as our interest in the works of Japanese artists grew, and we began to collect works by Kohei Nawa, Izumi Kato, Tomoo Gokita, and others, our warehouse collection just kept growing and growing".
In 2019, the couple finally came to the conclusion that they wanted to make the collection available to the public.
"Our collection was first shown to the public in 2019 at Spiral Garden in Minami Aoyama, and we have exhibited every April since then. We also exhibited the collection at the 21st Century Museum of Contemporary Art, Kanazawa, just before the pandemic broke out in 2020. In 2022, we were asked by Terrada Warehouse to hold a five-month long exhibition of the collection at 'WHAT MUSEUM' starting in April. We decided to divide the exhibition into two parts, since five months is a long time for one theme."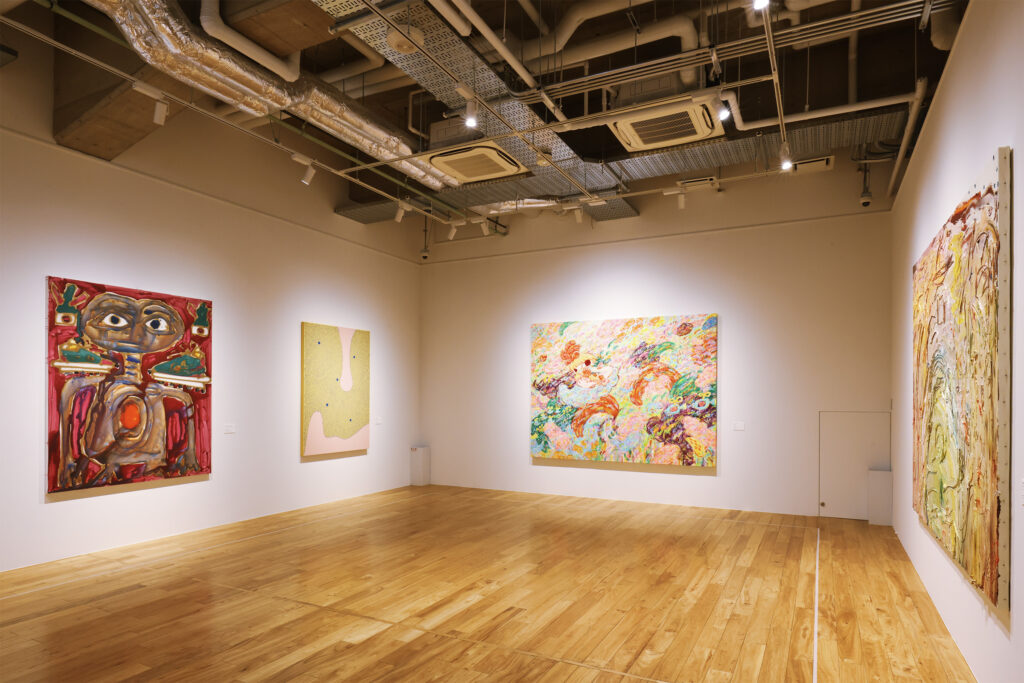 From the OKETA COLLECTION "YES YOU CAN -The Power of Life through Art-" exhibition. The works selected by the Oketa's are bright and energetic, with no hint of pandemic doom and gloom.
Why exactly did the Oketa's decide to make their collection public?
"We hoped that by exhibiting more art, art culture will spread more and more throughout Japan. Compared to other countries, art is not so widespread in Japan and there are not many collectors. When we hold exhibitions, artists come to our gallery. Many come to visit our house too – and not just artists whose works are being exhibited. It's a fun for both sides."
When asked if they feel the environment for artists in Japan is getting better, the Oketas reply:
"The conditions have improved a lot in the last two to three years – the number of young collectors has increased considerably."
"Recently, many of the students at Tokyo National University of Fine Arts and Music have been able to sell their works at a good price even while still in school, and those who have just graduated have regular clients. Young artists today are blessed, aren't they? When we started at Spiral in 2019, I think that was definitely not the case. Even things like size would be a hindrance – large works would rarely sell in Japan due to space constraints. But now the scale is becoming somewhat similar to that overseas: 'the bigger the better it sells'."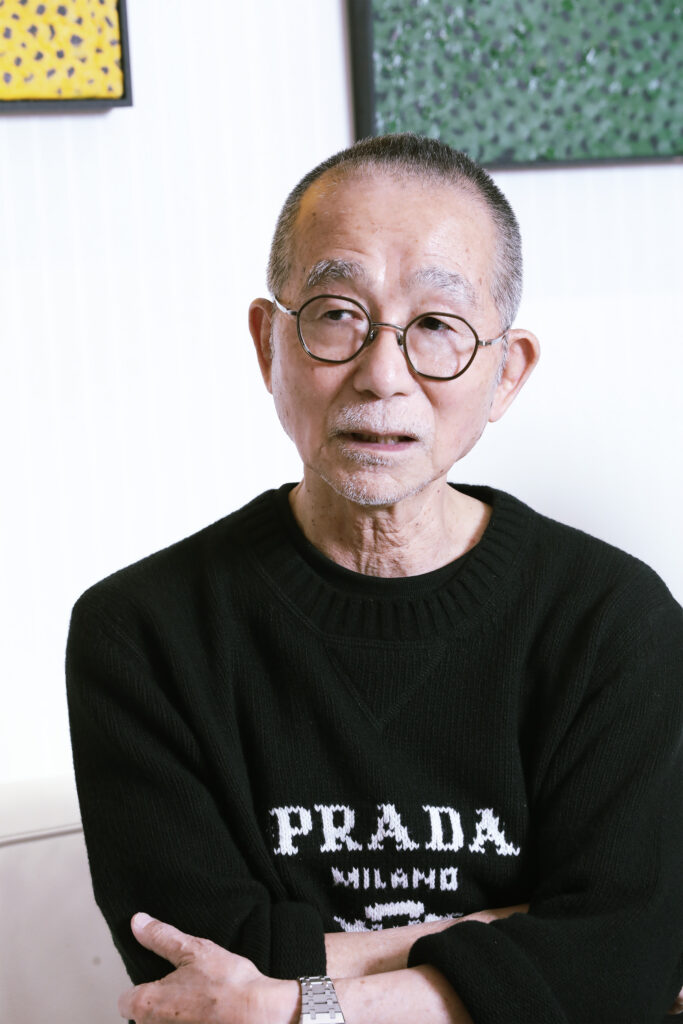 Laughing, Shunji adds, "We don't make a penny, though."
"For example, the current exhibition at WHAT MUSEUM (closing July 3, 2022) features only works by female artists. I would simply be happy if young female artists are inspired by this exhibition to venture out into the world more. I think more and more young Japanese artists are going abroad now, even if only gradually."
"We also actively try to buy works by young artists. Several of the artists whose work we have exhibited at Spiral have gone to museums overseas. When I see that, I feel really happy for them. That is the kind of support we want to provide to the art community."
The charm of Japan
As our conversation drew to a close, the Oketas gave us their recommendations for art fans coming to Japan from overseas.
"Of course, if the timing is right, we would love to see you at Spiral. 'OKETA COLLECTION' is held every year for about three weeks in April. Other standard places to visit are the Enoura Observatory and Naoshima Island. For art museums, the New National Art Museum and Mori Arts Center Gallery are amazing. For private collections, I would say Mr. Obayashi's "Yuan" or Mr. Shirai's gallery. We also cater to small groups of visitors. Of course, art museums have their own merits, but private collections are a different kind of fun."
"Mr. Obayashi and Mr. Shirai have purpose-built galleries that can accommodate a large number of people, but in our case it's just our home, so we can only handle around four to six people. Any more than that and I worry people may bump into things!"
Indeed, the Oketa's home has many rare potter's creations and historical antique vases are displayed here and there.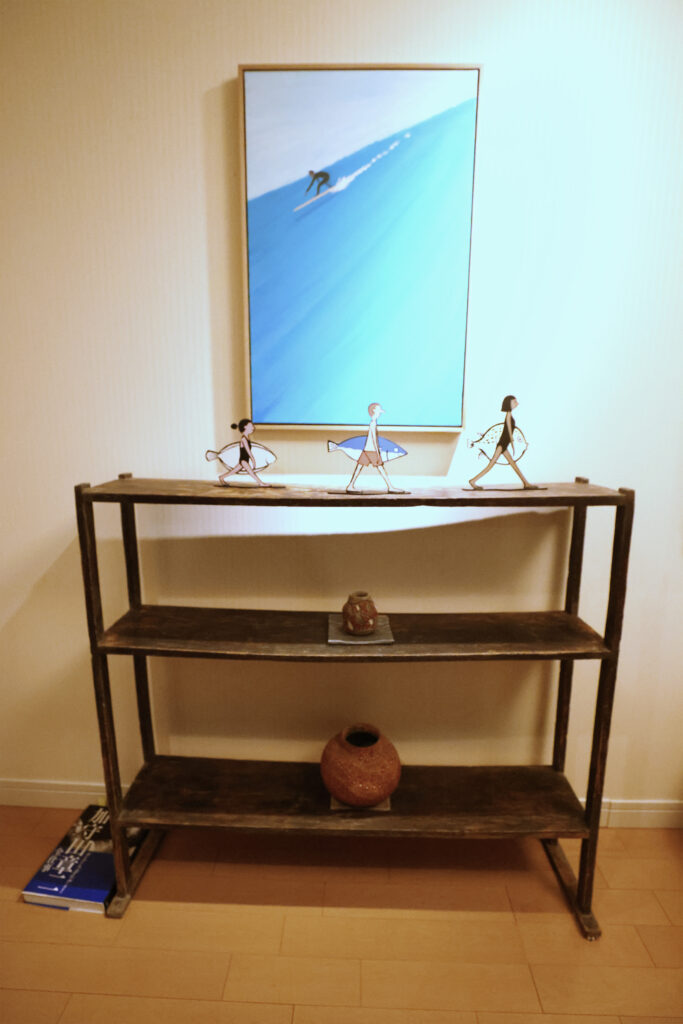 There is one room in the home that looks like a viewing room. Contemporary art with a nautical theme is displayed alongside rare crafts and furniture. The painting of surfing and the three objects on the top shelf are by Jean Julien. The second and third shelves feature the works by Shoji Kamorita. The shelf itself is from the Joseon Dynasty in the 17th century.
Is Japan a good destination for art fans?
"Of course!", Shunji grins. "There is a lot of good food too. We recently visited Paris for Art Basel, and there were many people there who wanted to go to Tokyo. There are more and more art fairs being held in Tokyo in recent years, and attraction to Japan is growing worldwide."
"Japan is a good place to visit right now," Seiko agrees. "Here, you can simply walk into luxury international restaurants that would usually have a huge line outside the door in other countries."