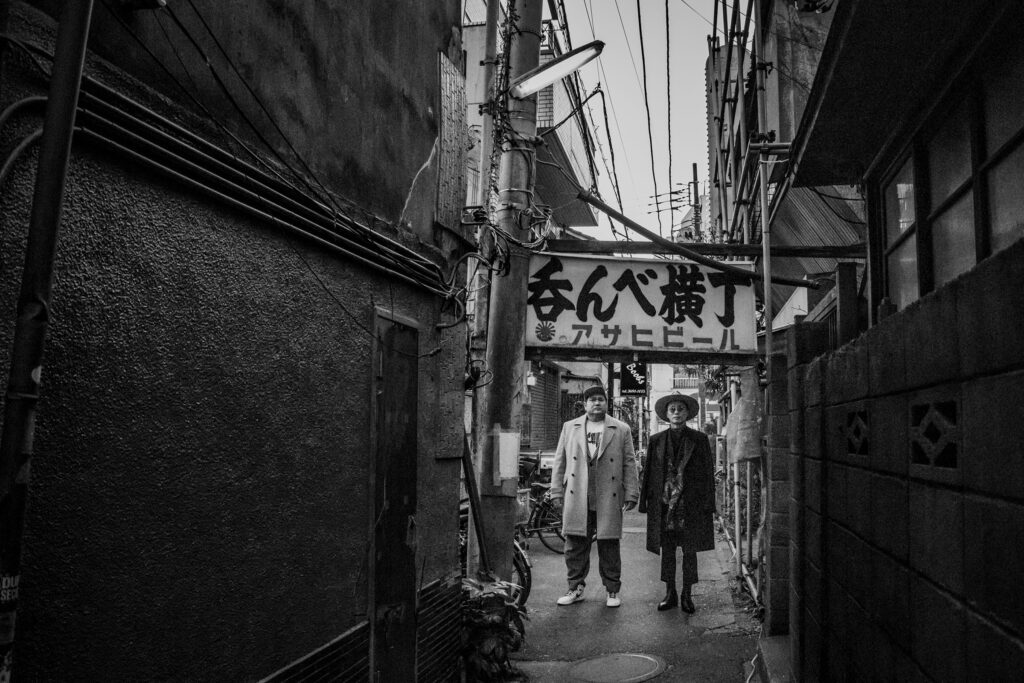 Where do creatives draw inspiration from? If we asked them to show us around, what could we discover?
In our "My Secret Place" series, we are delving deep into the secret spots that ignite the creativity of these individuals. We've reached out to those with a sharp eye for trends and culture who have generously shared their favorite spots with us.
Our guide for the first installment of this series is fashion designer Mamoru Shimizu.
While the Aoyama and Shibuya areas, from Omotesando to Harajuku, are widely regarded as Tokyo's fashion mecca, fashion designer Shimizu set up shop in a quiet residential area called Yutenji. Located just beyond popular hotspots like Shibuya, Daikanyama, and Nakameguro, Yutenji is conveniently close to the heart of the city.
In this neighborhood, Shimizu's unassuming store has become a gathering spot for creators in the music and video industries. With a reputation for producing high-quality, custom-made suits and fashion items that fuse music and style, Shimizu has carved out a name for himself in the industry. He's collaborated with countless artists and actors, created stunning costumes, and even directed music videos.
Shimizu selected the neighborhood of Tateish as his secret source of inspiration, located beyond the Arakawa River that flows east of Asakusa and Skytree. In a city where modernization seems to have erased most traces of the past, Tateishi stands out with its unique ability to maintain an authentic atmosphere that harkens back to the nostalgic Showa era.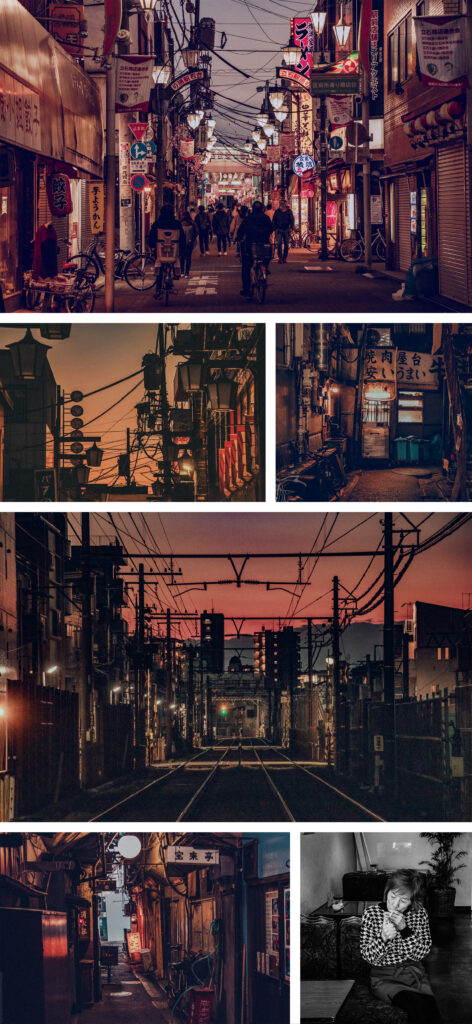 Rusty tins, shabby backstreets, and retro shopping arcade in front of the station. The setting sun casts a melancholic glow over the area. Cigarettes and alcohol pair nicely with the ambiance, adding to the bittersweet atmosphere.
Shimizu: One of the reasons why I like coming here so much is the cheap and delicious food, but it's also the nostalgic atmosphere of the Showa era that permeates this town and the people living here, with its inherent chaos, rawness, and melancholy, that draws me in. And a lot of people who are involved in design and other creative things come to Tateishi.
Today, I invited the actor Katsuya, who is one of my customers and also my friend, to join me for an afternoon drink.
Katsuya: This is my first time visiting Tateishi, and I must say, it's a town with a lot of character. The vibe seems like a good fit for blues music.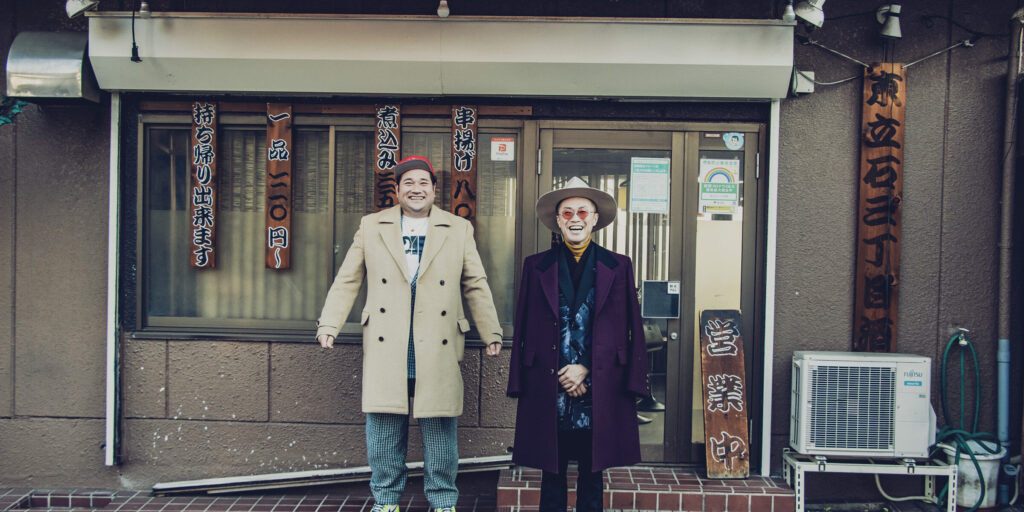 The Higashi-Tateishi 3-chome Sakaba is an izakaya (Japanese-style bar) that specializes in kushiage (deep-fried skewered meat and vegetables), a favorite of locals.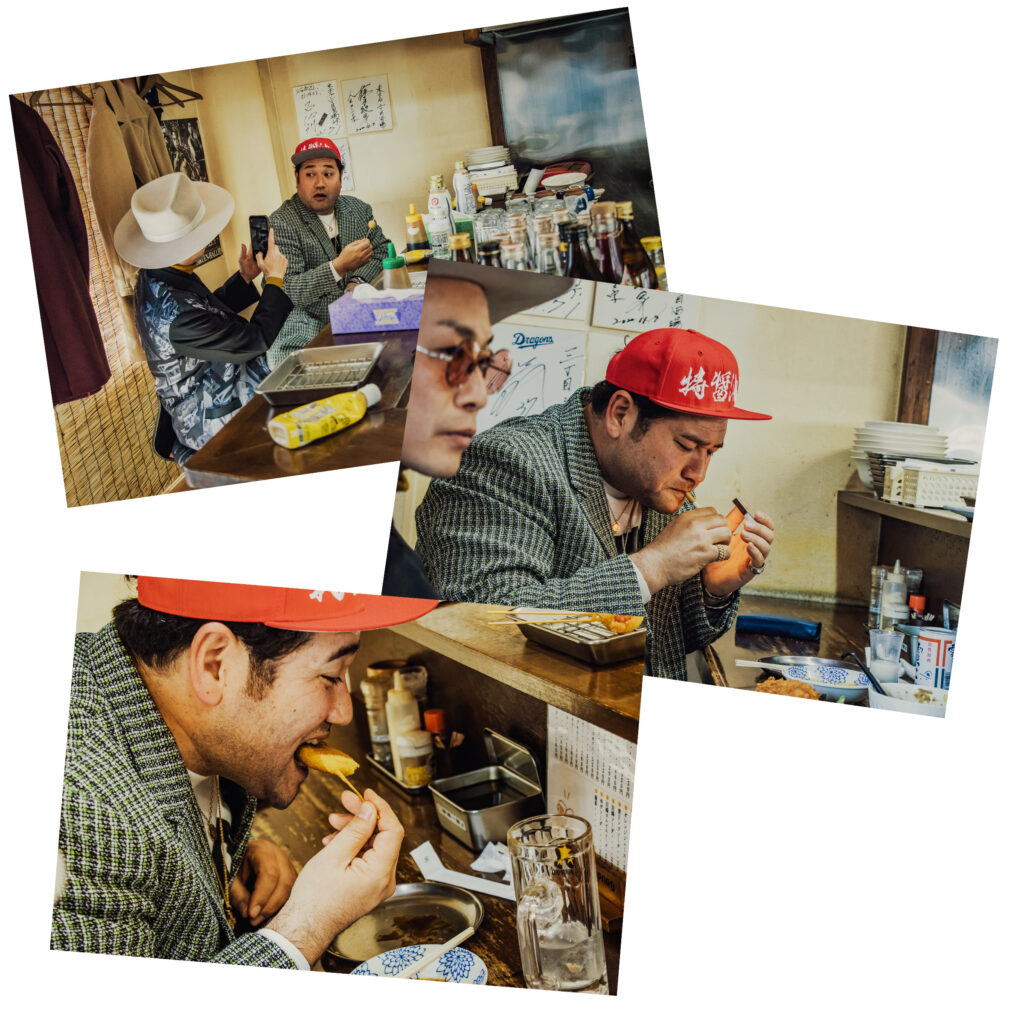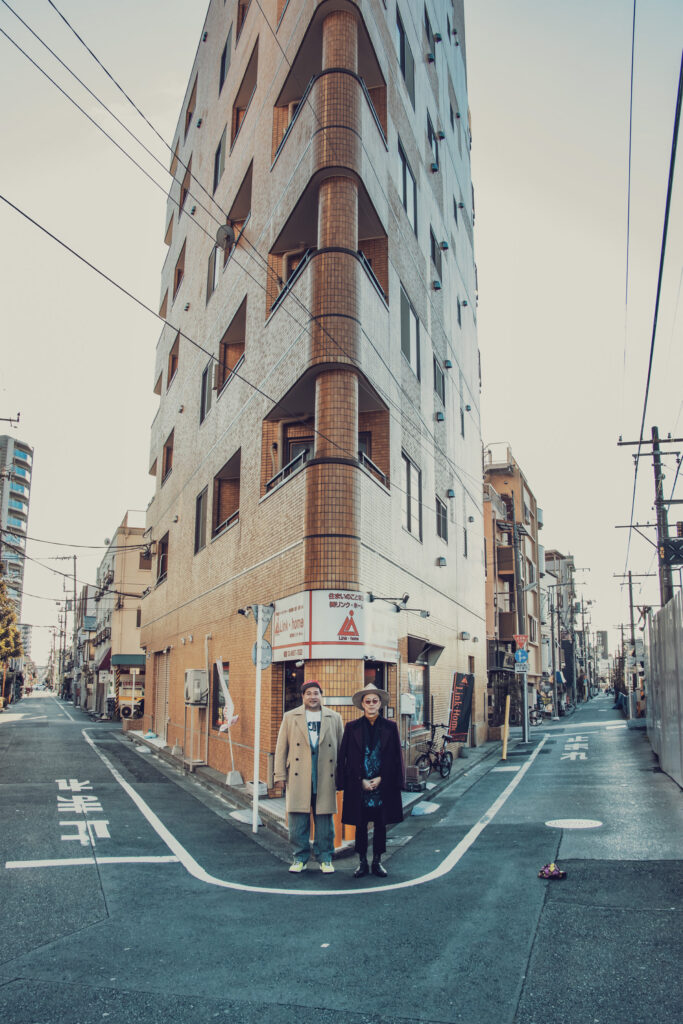 Shimizu has a passion for Y-junctions. Tadanori Yokoo, one of Japan's premiere artists, has dedicated his life's work to Y-junctions as well.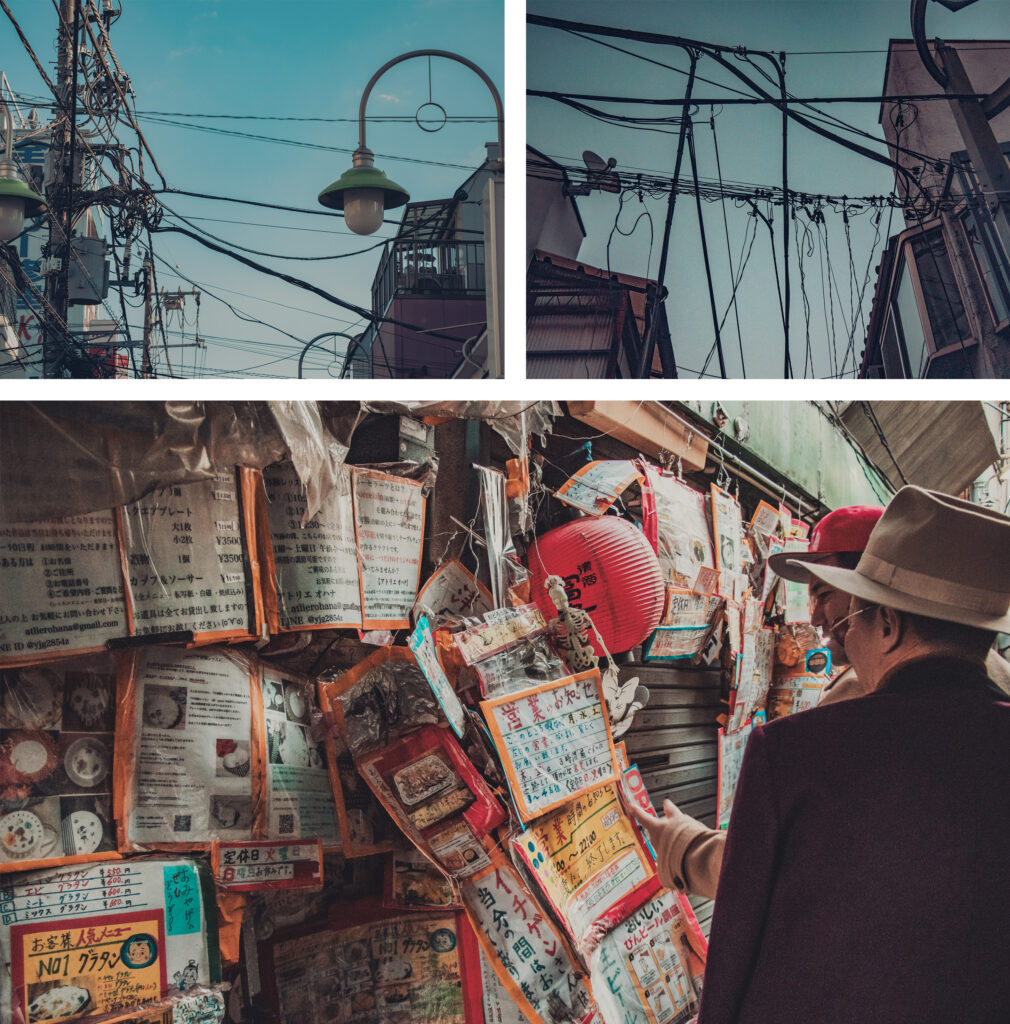 ven the tangled electric wires and the peculiar menus and posters add to the picturesque scenery.
Tateishi is oozing with Shitamachi vibes.
The term Shitamachi originally referred to a lowland town where common people lived, as opposed to a highland town centered around a castle.
Over time, regardless of being low or high, Shitamachi became a term used to describe towns with densely packed, small houses where residents have close-knit connections with one another. In essence, it's a place that brims with vibrant human life, making it an intriguing destination for visitors.
Shitamachi areas were densely-packed with locally-owned stores, restaurants, and homes. In the past, before large corporations opened supermarkets, small specialty shops could be found in a Shotengai shopping arcade located in front of most train stations. You could find anything you needed in the local shopping arcade, from fresh tofu to prepared foods. However, as suburban living became more popular, large-scale shopping malls began to emerge, leading to the disappearance of the charming shopping arcades in front of most stations.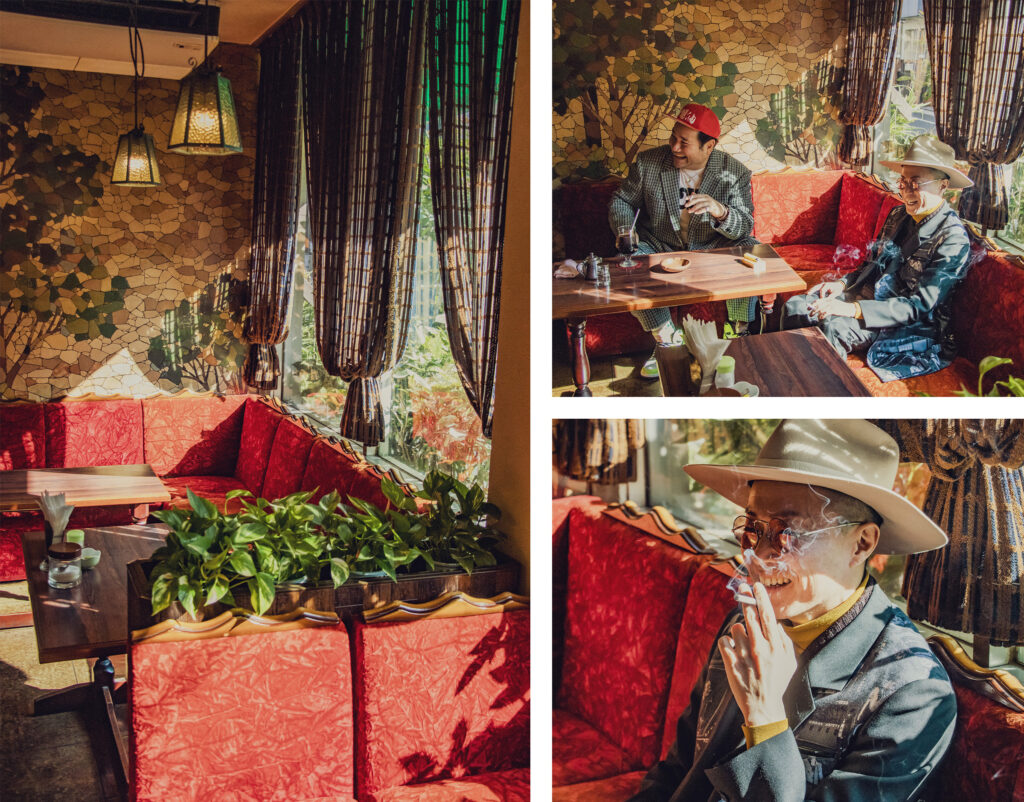 The cozy Showa style coffee shop, Pearl, with its red velvet couches and warm sunlight, is owned and operated by the proprietress who was born and raised in Tateishi.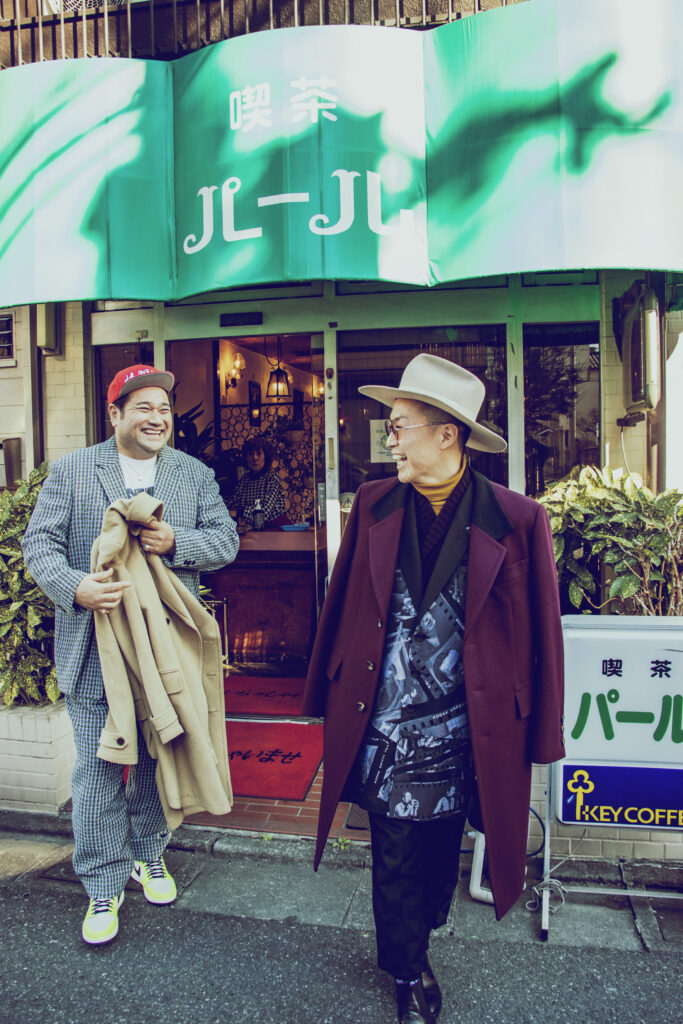 When you first see the fabric curtain in front of the restaurant, with the name "Otachidai" written on it, you might assume that it's the name of the establishment. However, upon closer inspection, you'll find that the restaurant's real name is represented by a single character "ん" (n) on the door. It's a simple but unique name that you won't easily forget.
This retro town lies on the Keisei Line, a railway that connects eastern Tokyo with Narita Airport. It's just four stops from Oshiage Station, the closest station to Sky Tree. On the north and south sides of the station, you'll find bustling shopping streets with buildings typical of a Shitamachi area.
The vibrant townscape we see today originated from the black market that emerged after World War II. The Tateishi Nakamise shopping arcade at the south exit is the most iconic symbol of Tateishi. Its roots can be traced back to the restaurant owners in Asakusa, who had to evacuate and start stalls here after their homes were burned down during the war. The shopping arcade was named "Nakamise" in memory of Nakamise Street in Asakusa.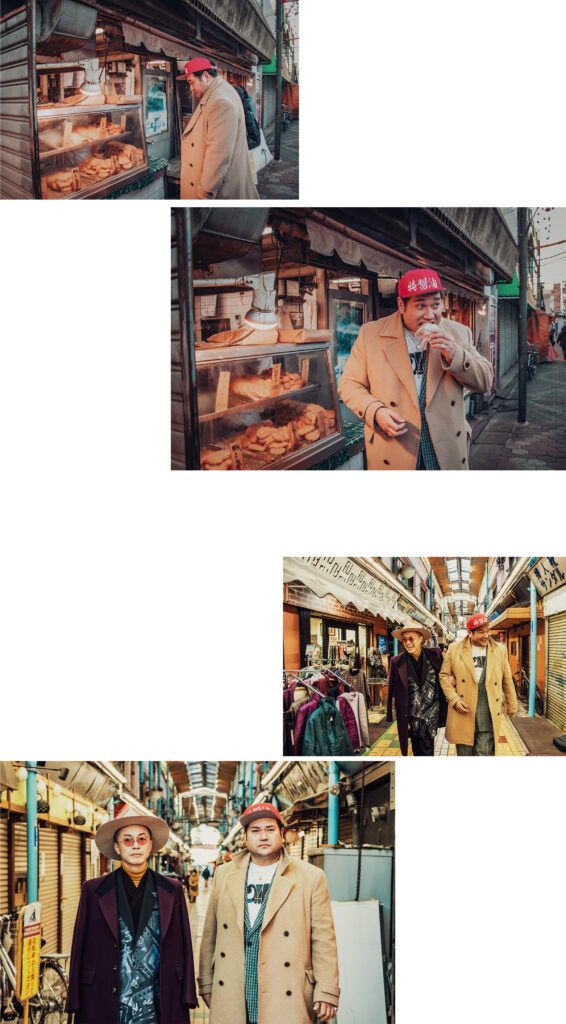 In the midst of modern Tokyo's neon lights and towering skyscrapers, Tateishi stands out as a reminder of Japan's post-war era, lined with nostalgic buildings and bustling shopping streets. In fact, it has become a popular destination among young people, drawn to "Showa Retro," which has recently been trending.
However, this quaint townscape, with its deep history and culture, now faces an uncertain future. Redevelopment plans loom over Tateishi, and sadly, the day may come soon when it will no longer exist. Be sure to stop by and experience a slice of Tokyo's past, and you may even find some inspiration along the way.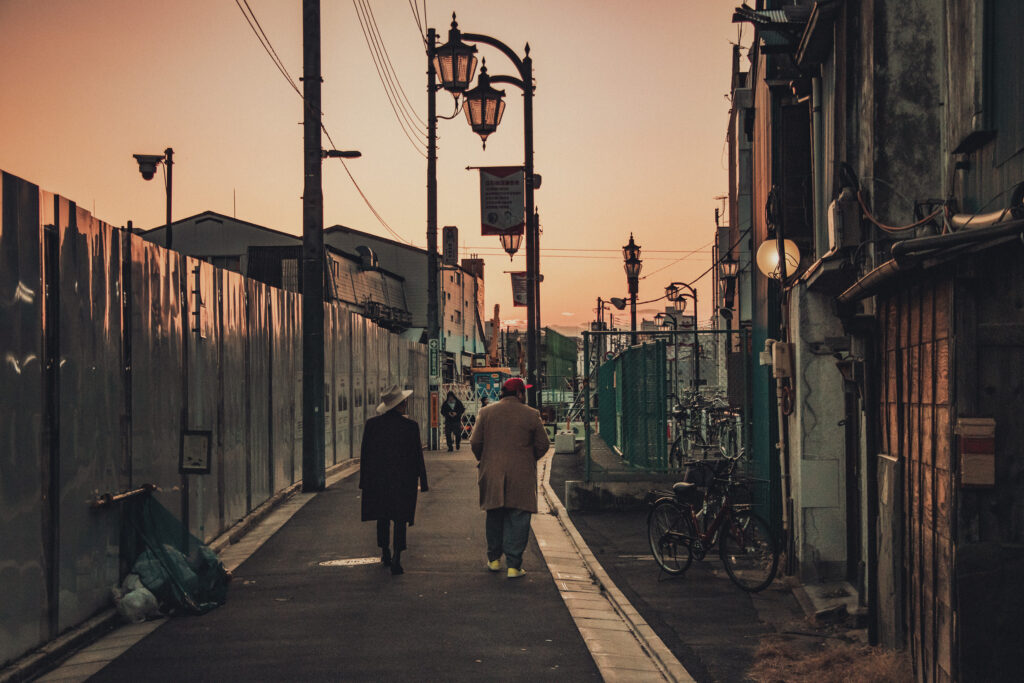 In the "My Secret Place" series, we will continue to introduce towns, objects, and individuals that inspire Tokyo's creative minds and explore what makes them so special.
Mamoru Shimizu : Fashion Designer / Producer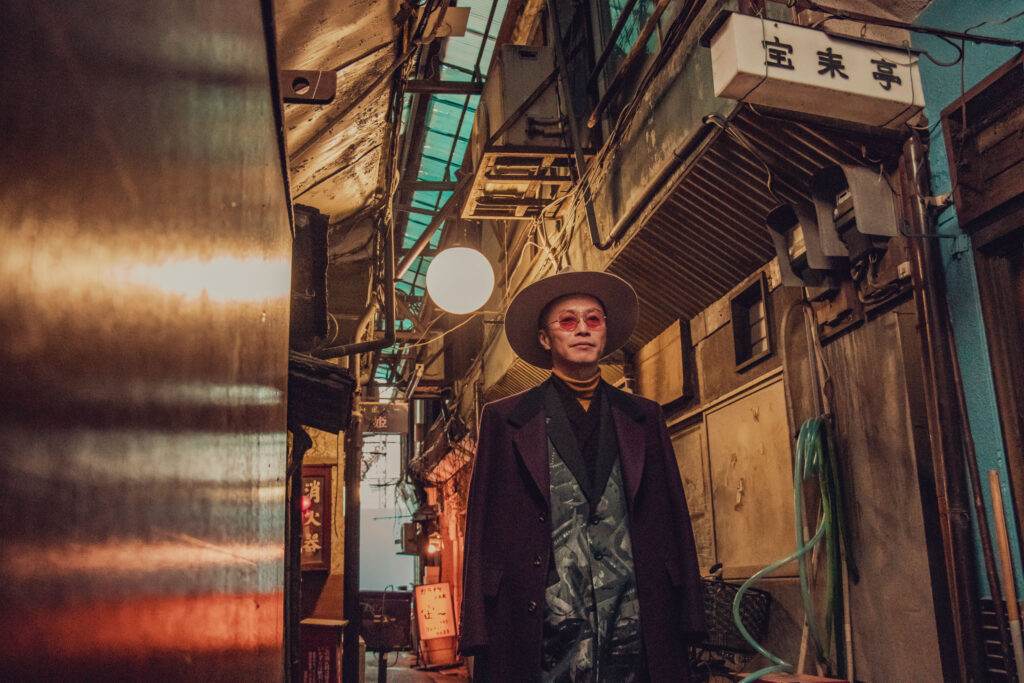 Mamoru Shimizu is the owner of MItsuME TOKYO gallery select shop, which features his brands such as ANGLASAD, NEW ORDER, SAMURAI CORE, and TOTONOI. Additionally, he has launched a regional creative project called THE BEYOND AND PRODUCTS and is excited to announce their first apparel collaboration with Kita no Kuni Kara, a TV drama series that he loves. The collaboration, titled Kita no Kuni Kara '23 Winter, will be available for purchase in July 2023.
Katsuya : Actor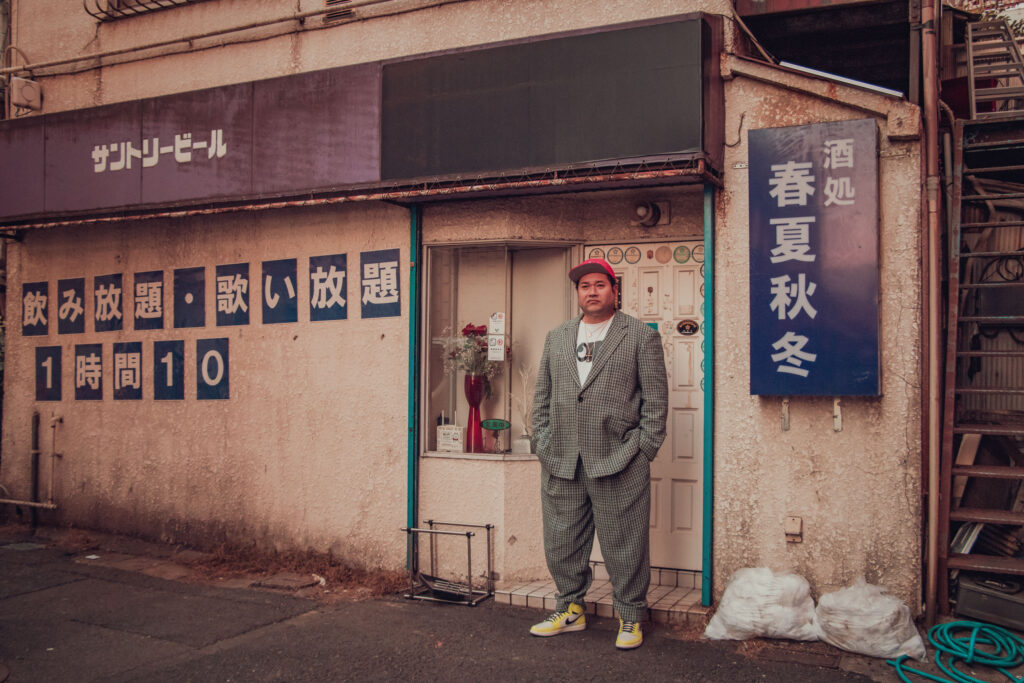 Katsuya has appeared in various dramas, films, and productions. In the popular drama Nihon tōitsu (Unification of Japan), he played the role of Hiroki Saito, who took the fall of a young head of a gang and spent twelve years in prison. He will also be appearing in the upcoming NTV drama Nihon tōitsu Kantō-hen (Unification of Japan Kanto Edition), which is set to air on April 13th.He also directs and writes scripts for his theater group, Doku danryū GARAGARADON. He's currently affiliated with LDH JAPAN. https://www.ldh.co.jp/