Beautiful Japanese traditional wooden houses line both sides of the main street in Iwase. In the middle of this elegant townscape, next to the National Important Cultural Property, the Kitamae-bune merchant ship owners' former residence, 'Mori House', there is a gallery filled with dynamic glass creations. This creatively vibrant space is the Taizo Glass Galley, run by glass artist Taizo Yasuda.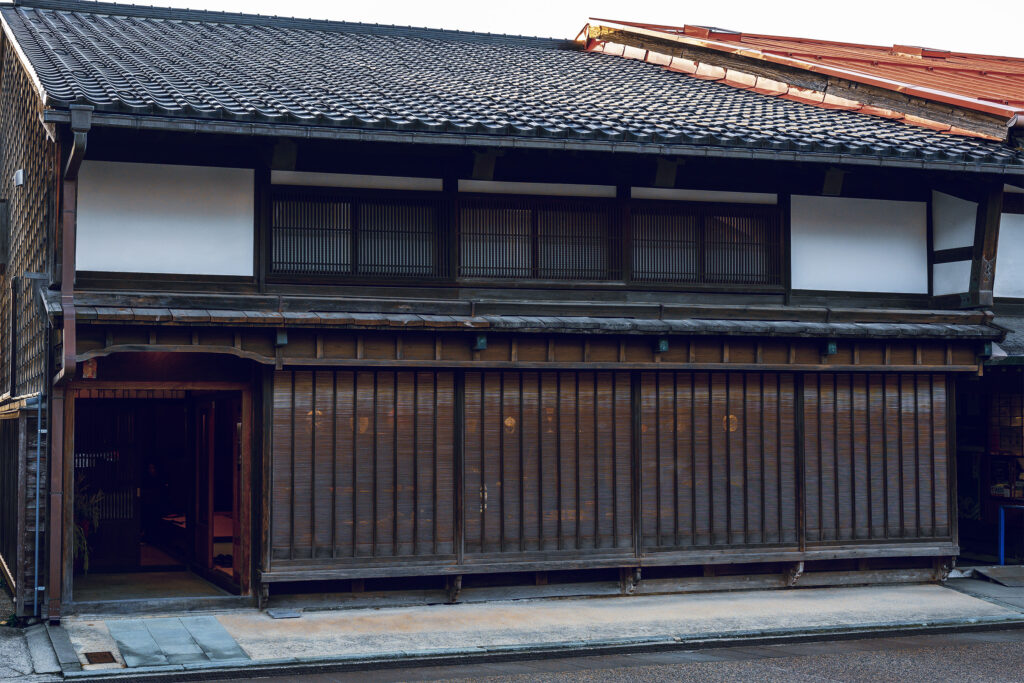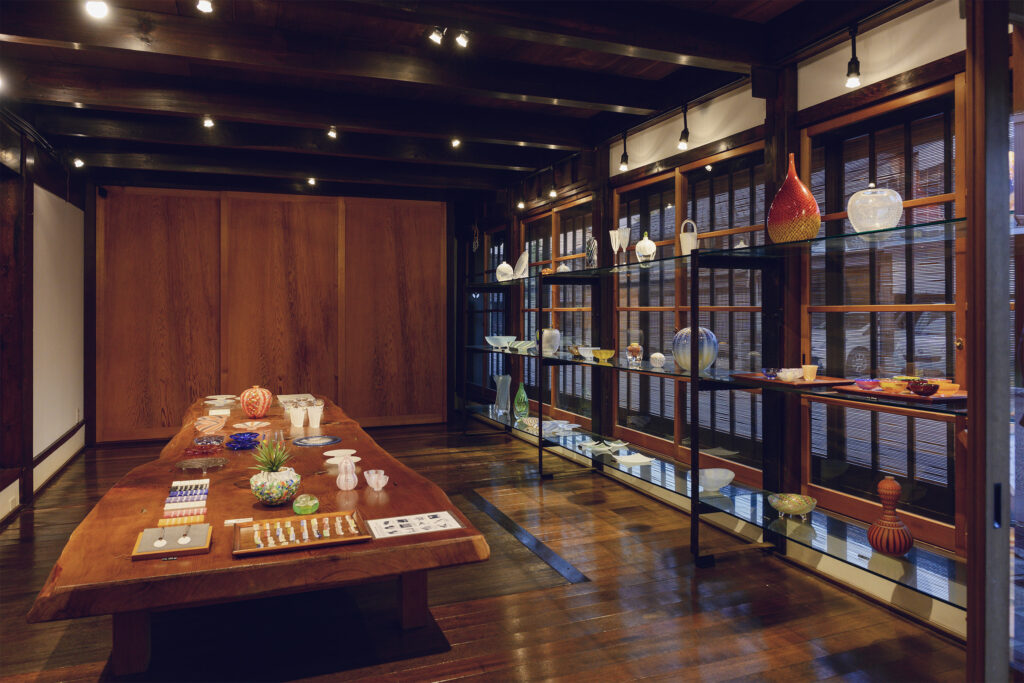 A gallery for exquisite glass artwork
The crisp, minimalist interior of the gallery cleverly utilizes the traditional Japanese building structure – Yasuda chose to retain the space's Meiji era characteristics, much like the nearby Mori House. A variety of glass works are neatly arranged on the shelves, some with delicate lace weave patterns, others with richly layered colors. It is a simply sublime experience. The line-up includes not only decorative objects, but also bowls, glasses, vases, and other household items.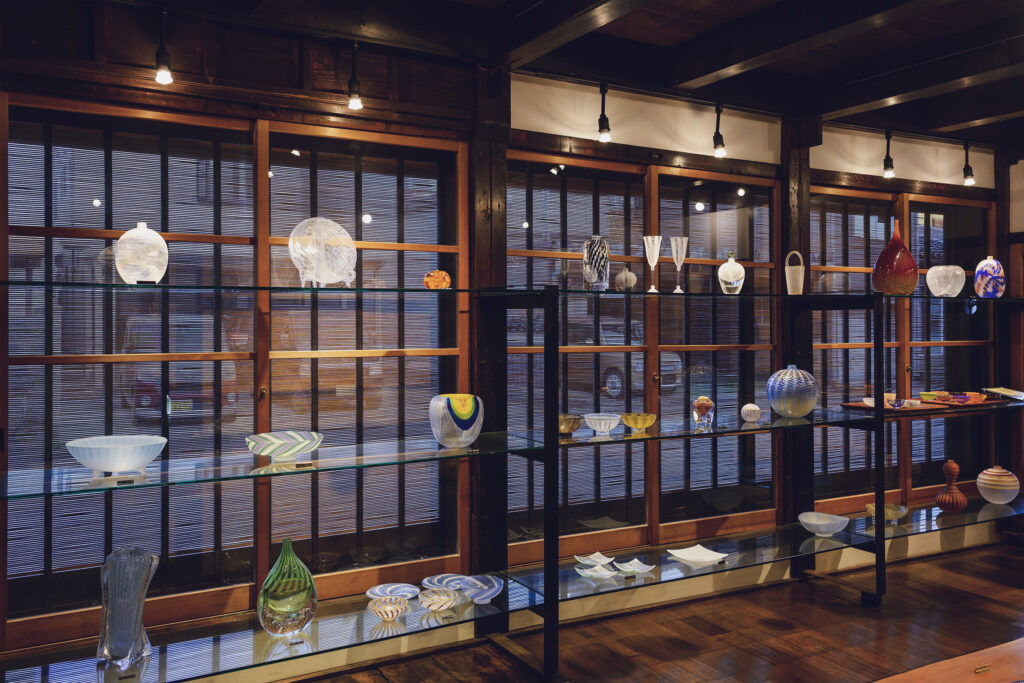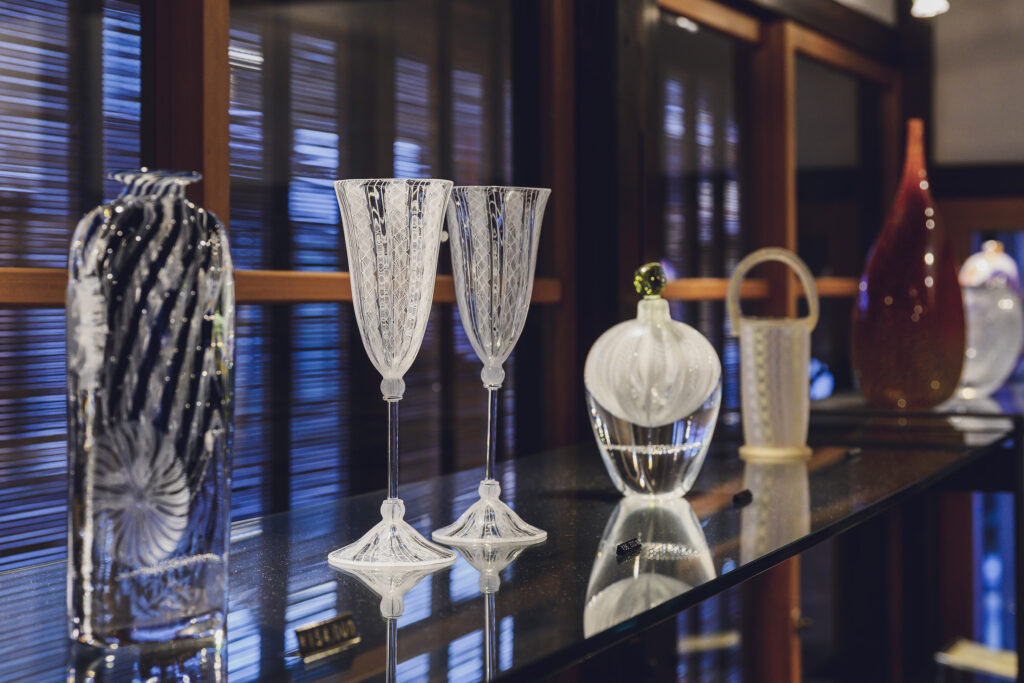 Yasuda also has a workshop nearby, and it is here where the intricate glass works selected for sale in the gallery are created. This glass master has had his workshop here for over 18 years and was one of the main people involved in the development of Iwase from the very beginning of its revival as a "town where artists gather". Ryuichiro Masuda, president of the Masuda Sake Brewery and the man behind "Beautiful Iwase," in fact credits Yasuda as one of the main influential driving forces behind the influx of high-quality artists to the remote town.
However, the truth is that Yasuda was born in Kobe, not Toyama Prefecture. He lived in Kobe from birth until he graduated from high school.
"I was never particularly interested in glass, but when I was in my third year of high school, I saw a newspaper article about the first glass school in Japan being established in Toyama, and I thought it sounded interesting," he recalls.
Without any prior knowledge of the subject, Yasuda's curiosity peaked with that one newspaper article, and so began his journey into creation.
The first student at Toyama Glass Art Institute
Perhaps it was thanks to Yasuda's light-hearted attitude of "if glass doesn't work out, I'll just go to a ceramics school" that helped him pass the entrance exam with flying colors. He became the first student at the Toyama Glass Art Institute and embarked on the long path to becoming a glass artist. Yasuda, who has always loved the creative process, enjoyed learning various techniques at the school, but upon graduation, he was quickly faced with the reality of his situation.
"Even if you study hard to become an artist, there are no jobs available. There are places where you can work as a craftsman, but then you must make exactly what the designer has designed. There is no place where you can create what you want to create, so it was at that point I knew I wanted to go independent," Yasuda explains.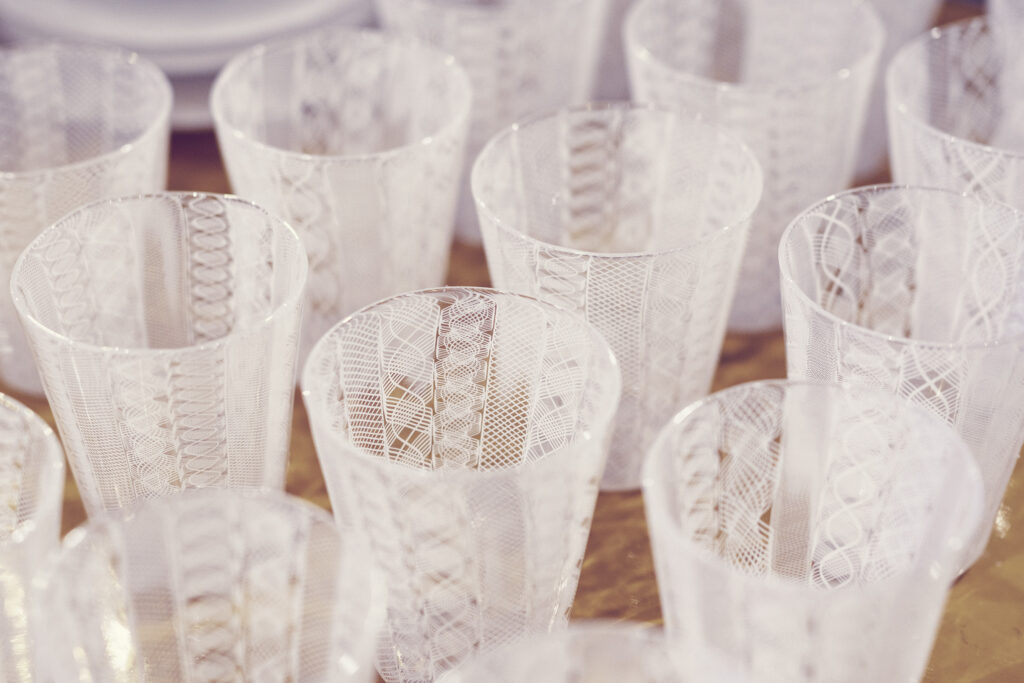 However, he couldn't just go out into the world on his own, so he decided to join a glass studio run by Toyama City, located right next to the school. Only those planning to work as independent artists in Toyama city were allowed to join, and the city administration went so far as even demanding a written pledge that guaranteed Yasuda would be out working in his own studio within three years.
Staying true to schedule, Yasuda started his own glass studio after the three-year grace period. For the next eight years, he kept his own small studio near the school. Then, about seven years after becoming independent, he met Ryuichiro Masuda – the chief sake brewer behind popular sake brand, Masuizumi.
"Toyama City really values its glass industry, and there were plenty of glass artists in need of studio. So, when I was asked if I would like to come to Iwase, I accepted immediately. It seems that the mayor had talked to a professor at the school who had recommended me. Mr. Masuda had also bought a warehouse and was in the process of renovating it. It seemed like an amazing opportunity."
Since then, Yasuda has been working on his glass creations in Iwase.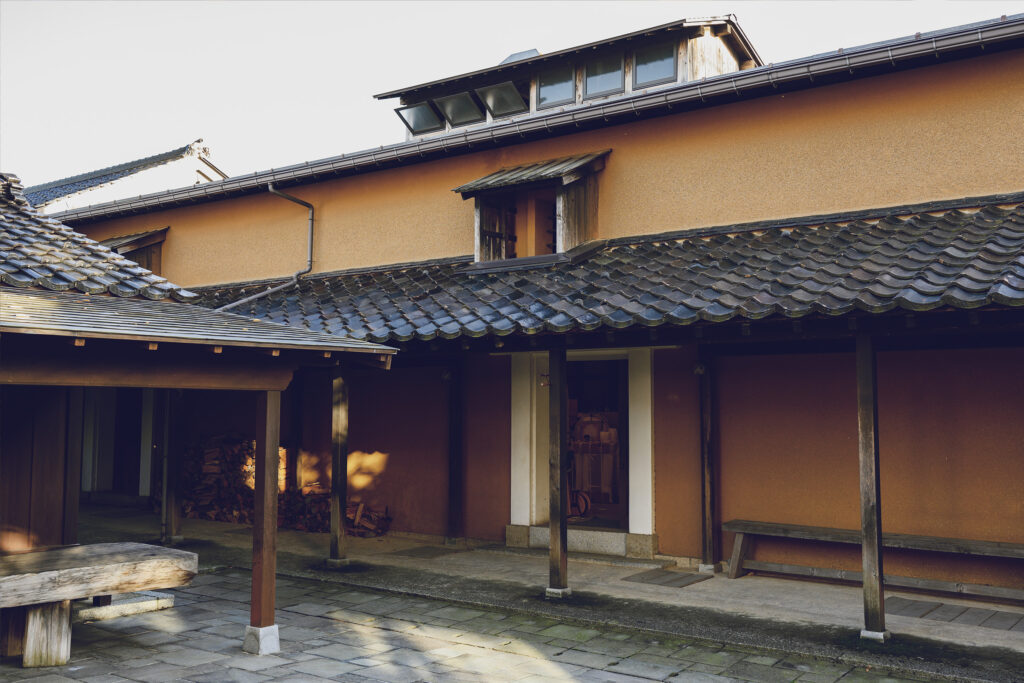 An artist specializing in glassblowing
The term "glass" can be used to describe a variety of art genres such as faceted glass, stained glass, engraved glass, and blown glass. Yasuda specializes in glassblowing. "Blown glass is the most difficult type of glass art, as it takes the most amount of time in order to master the difficult techniques. But with glassblowing, you can make tableware and other glassware, so that was the main attraction for me. You start with an almost liquid type of glass and shape it as it cools. It's rewarding to create things that can only be achieved with glassblowing," he says.
One of Yasuda's specialties is what he calls the 'Venetian method'. This is an advanced technique used to create glassware decorated with colors, patterns, and bubbles.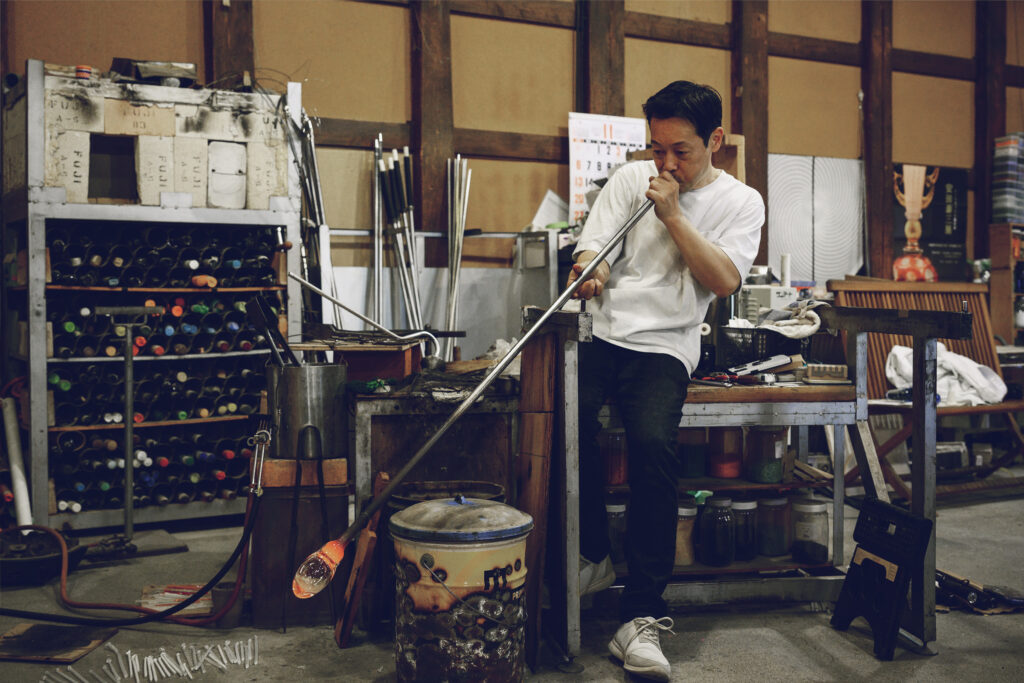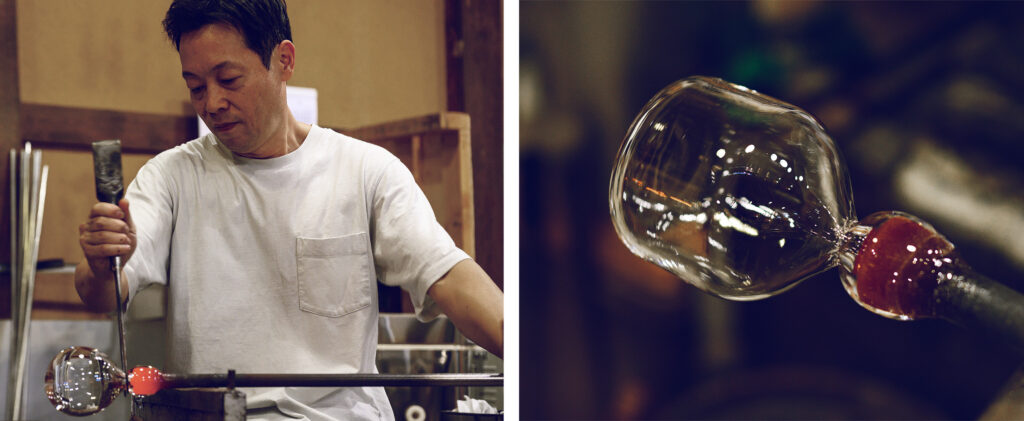 "With glassblowing, all of the techniques take years to master. In order to be able to make a piece of glass, you first need to have the basic physical strength. I would liken the demands it puts on you to running the 100 meters in the 10-second range. You have to finish the glass before it cools down, so it is not something you can do just because you put in the time. It takes a lot of stamina and agility to reach that level of skill."
In other words, glassblowers need to work at great speed, with expert precision. As for the lines in the glass, Yasuda had to master creating 100 or 200 lines of exactly the same thickness. Yasuda laughs, "I've broken a lot of glasses in my time on the route to improvement. Then there's the aesthetic balance of lines to think about, and you have to take into account how the colors will come out too."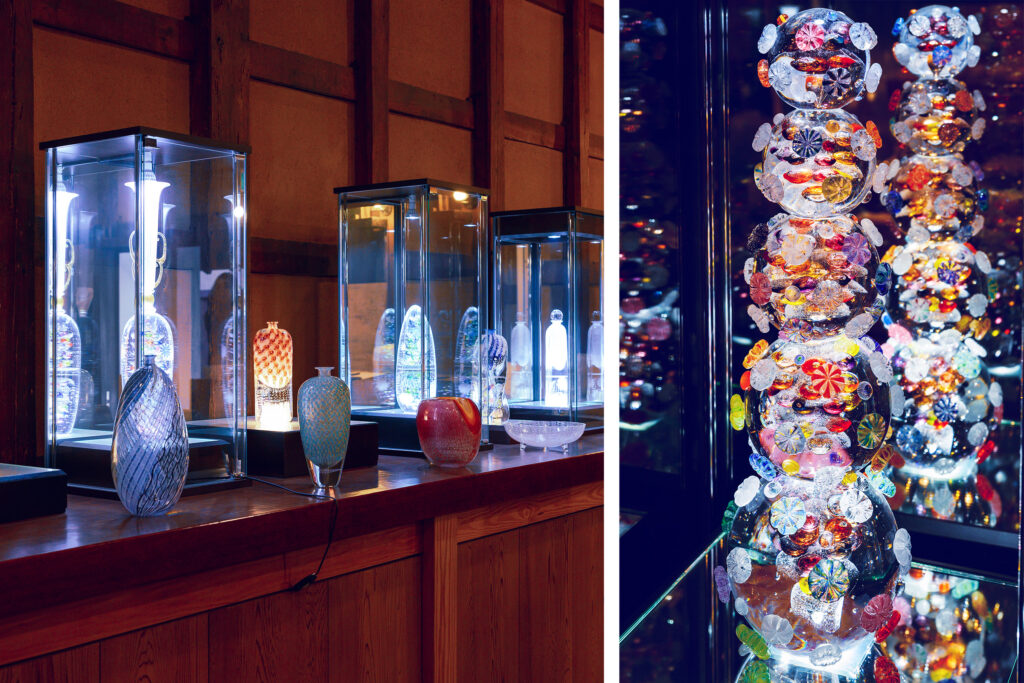 An artist who knows his worth
With such a complicated creation process, it would be impossible for anyone other than the artist to put a price on the works.
"I set what I think is an appropriate price for each piece," Yasuda explains. "However, there is also the balance of supply and demand, so it is possible that things may change in a few years."
Currently, Yasuda's most popular items are lace and "balloons" with air bubbles inside. These are one of Yasuda's most famous creations, and he has been making them now for many years. However, even now, 31 years after becoming a glass artist, he still wants to constantly replenish his collection with new items – to break away and do something new.
That is when we asked him which one of his works had made a lasting impression on him.
He replied, "I was asked to make a guitar for the musician Tsuyoshi Nagabuchi. That was a really tough job. I had to make it compact in size and engraved with a beautiful pattern. It took about three months in total."
Even as he said this, Yasuda smiled wistfully, his true creative spirit shining through.
Now that Yasuda has become a popular artist, he is facing some problems.
"I have a lot of orders right now, and I'm so busy with them," he laments. "I have to work hard to keep up with them, so I can't try anything new. That is the most difficult part."
Perhaps it is simply the fate of popular artists to have the luxury of such worries.