Ricard Geoffroy was the Chief Vintner at Dom Pérignon for almost 30 years since taking on the prestigious role in 1990. However, in 2019 when it was rumored that this living legend of the wine world was leaving Dom Pérignon to make sake in Japan, many people in the wine industry weren't at all surprised.
Fast-forward to 2022, and brewing was alredy completed for the fourth and fifth batches of Richard Geoffroy's sake, 'IWA5' – a brand he established in 2020. As many sake fans await the release of these batches with baited breath, it is clearer than ever that Richard Geoffoy is a force to be reckoned with, even in the sake world. We sat down to talk with the man himself about the future of his sake venture.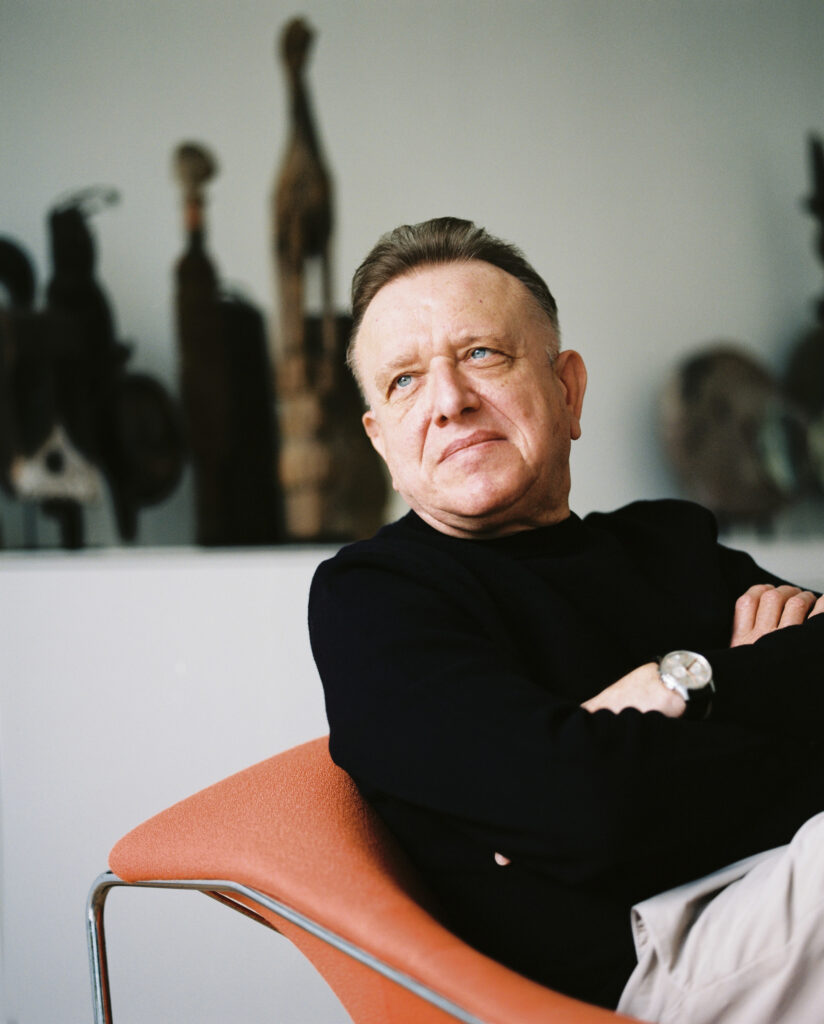 Richard Geoffroy
Richard Geoffroy was born into a family of winemakers in the village of Vertus, in the historical Champagne region of France. He studied medicine at university and holds a PhD. In 1990, he was appointed Chief Vintner of Dom Pérignon. After cementing the Dom Pérignon brand as a worldwide treasure over the span of his 28-year career, he stepped down, passing the position on to Vincent Chapron. In 2019, Richard established 'Shiraiwa Inc.' in Shiraiwa Village, in Toyama Prefecture's Tateyama. He continues to produce a sake named 'IWA5' every year.
IWA5's Mission
"At the end of 2022, I was in the U.S. to hand-sell IWA5. For the main event, I set up three different vertical pairings of IWA5, from 'Assemblage' 1 to 3 at three different restaurants: 'Single Thread' in California, and 'Eleven Madison Park' and 'Jungsik' in New York. It was so incredible, it blew my mind!"
The sake master exudes enthusiasm as he talks.
The first batch of IWA5, named 'Assemblage 1', was produced in 2019 and released in 2020. The second batch, 'IWA5 Assemblage 2' was produced in 2020, followed by 'IWA5 Assemblage 3' in 2021. 'IWA5 Assemblage 4' is scheduled for release in spring 2023.
"What is clear from my experience so far is that the world needs more sake. Of all the different types of alcoholic beverage, I believe Japanese sake is by far the best. There is no reason why a drink as good as this should be left out on the world stage."
In the early 1970s, there were more than 3,000 sake breweries in Japan, but now the number has decreased to nearly 1,200. The reason for this decline is said to be the influx of imported alcohol in the Japanese market.
"That's not fair. Sake should be more globally recognized. I want to tell the world how wonderful sake is and increase its popularity. That is the mission of IWA5."
On Seeking Freedom and Discovering Sake
Those who have known Richard since his Dom Pérignon days can guess what it is about sake that attracts him so much.
Richard's winemaking philosophy has always been consistent – meticulously so. He has always maintained a strict balance between all the opposing elements, elevating his craft to a higher level – yin and yang. In the case of wine, he blends high acidity with high sweetness. He combines strong wines with delicate wines. Conservative wines with adventurous wines. In doing this, he proves that assemblage does not cancel out the combined strengths of the wine. Rather, the wines climb to new exquisite heights while still maintaining perfect balance.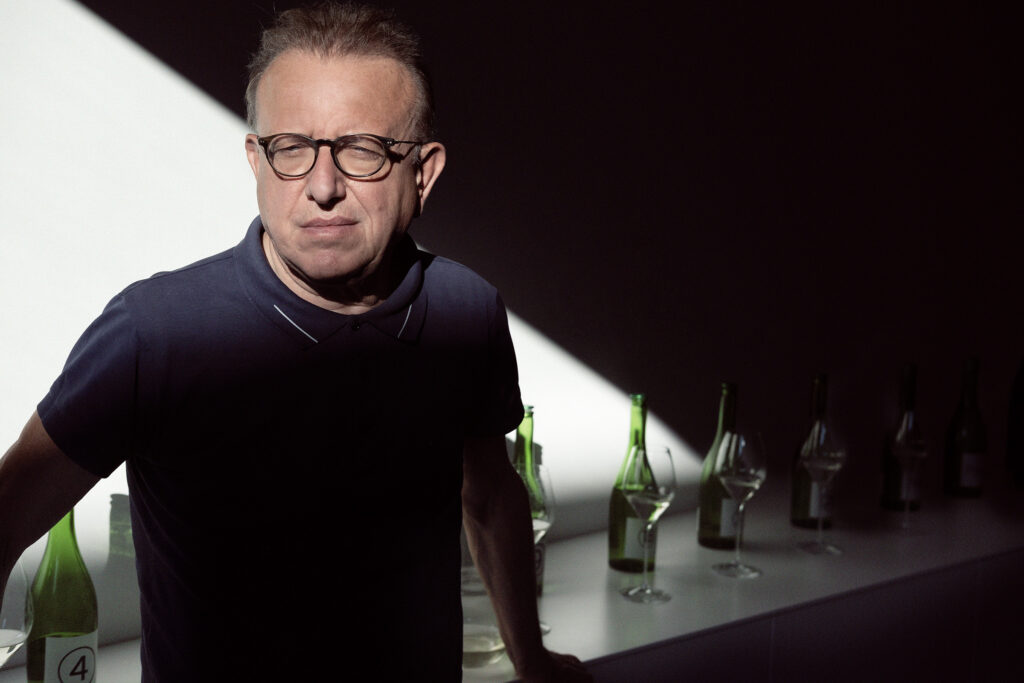 This winemaking process of assemblage upon assemblage is as sensitive and precise as the making of a complicated mechanical clock. In the case of wine, however, the grapes, akin to the gears in the watch, are greatly influenced by mother nature, changing from year to year and place to place. Wouldn't Richard Geoffroy, in fact, prefer to make his alcohol more rigorously with less uncertain materials? Those who knew him well must have had a hunch.
"That's exactly the reason I started making sake. Of course, I love Japan and have many friends there. But my more selfish and personal motivation is to continue my own journey as an alcohol brewer in a freer way."
He adds that wine is more than 50% determined by the grapes, no matter how skilled the degree of technical intervention.
"Wine is surprisingly fastidious. It is influenced by Mother Nature, climatic conditions and the vintage (harvest year). And then there are systems like the A.O.C…there are so many constraints stacked against you. Sake, on the other hand, provides a surprising amount of freedom. Many people think that sake is constrained by tradition, but they are mistaken."
Then he smiled and said "You'll see how much freedom I have when you visit 'Shiraiwa'"
Terroir of Sake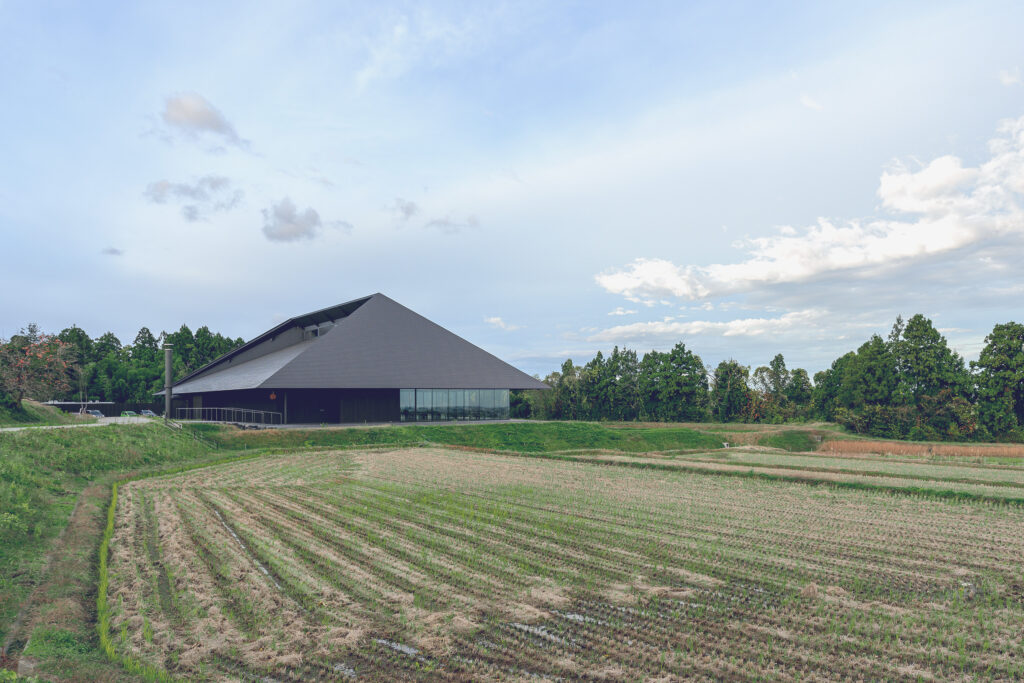 Shiraiwa brewery is surrounded by rice fields (the rice grown is not sake rice, but they intend to convert it to sake rice in the future).
Shiraiwa is the name of the sake brewery located in Toyama that makes IWA5. Was Toyama chosen by Richard by chance, simply for the freedom factor? Or did it have some important geographical factor, or 'terroir', that made it an ideal spot for the company headquarters?
"Compared to the big influence of grapes in wine, the influence of rice in sake is only 25% at most. I don't think it's a good idea to bring the wine-making thought process to sake."
Richard points out that wine only has a history of about 400 years. In fact, the history of the sparkling wine of Champagne – to which Richard devoted decades of his life to – is said to have begun in the early 1600s. Moreover, it is believed that 400 years ago, Champagne was a more primitive wine, vastly different from today's refined taste. The history of wine as we know it today is probably much shorter – less than 100 years.
"Sake has a much longer history. So, I wonder if wine has more to learn from sake than sake has to learn from wine."
Richard continues, "If you want to talk about terroir in sake, the equivilant is no doubt the kura (brewery)."
Not water or yeast?
"Not water or yeast. Water, after all, is what flows under the brewery, isn't it? Rather than yeast, it's the "moto" (the environment in which the bacteria that carry out fermentation grow) that makes up the macro-biology of the brewery. In the end, it's the sake-making process that determines the quality and character of sake. It's the brewers, the layout of the brewery, and the equipment. That's why similarly shaped breweries make similar sake."
The brewery for IWA5 was purpose-built in 2022 by Japanese architect Kengo Kuma, one of Richard's friends.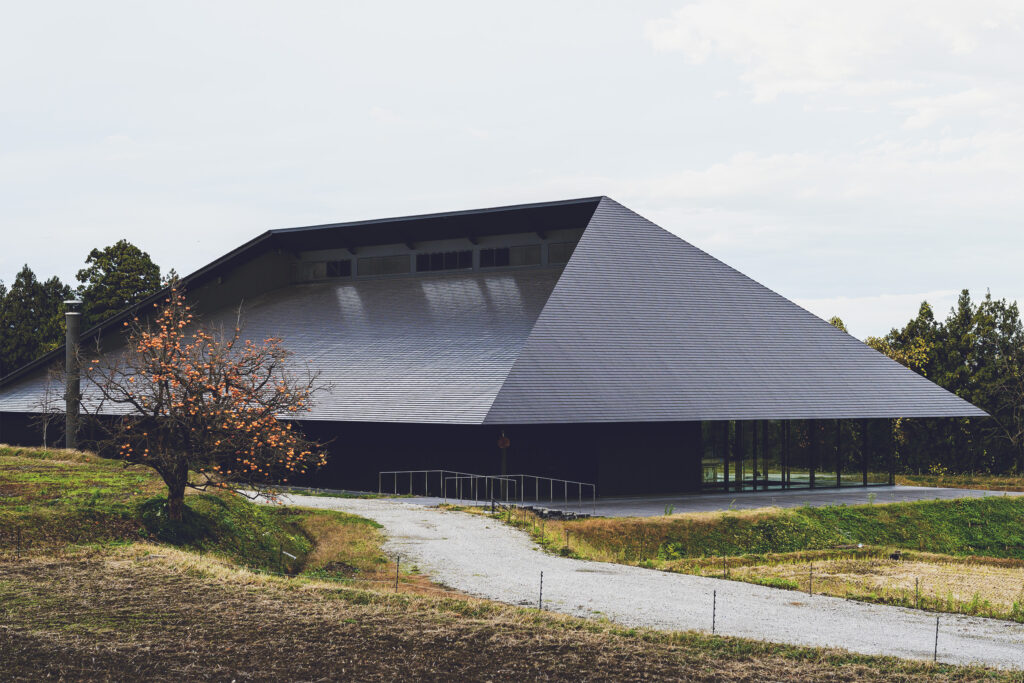 "It was Kengo who led me to encounter Toyama. I was looking for a partner in Japan to take my idea forward and make my personal project and dream come true. So I asked Kengo if there was anyone out there."
Kengo immediately introduced Richard to Ryuichiro Masuda, the fifth-generation owner of the Masuda Sake Brewery.
"One weekend, Kengo and I went to Toyama and met Masuda-san. He showed me around Toyama and I thought it was the ideal place. Toyama has great water and rice. And compared to other places famous for sake, it is not so rigid and conservative. It was open and welcoming to me – a foreigner – and full of entrepreneurial spirit. Plus Masuda-san is such an innovative person."
So the three of them set out on their sake journey. A sake brewery was designed by Kengo Kuma for Richard, as the mission starting point.
"The concept of our warehouse is 'Welcoming'. It is not a closed-off fortress. What is symbolic is that we have everything under one roof and on one floor, including the brewing site, the office, and the tasting area."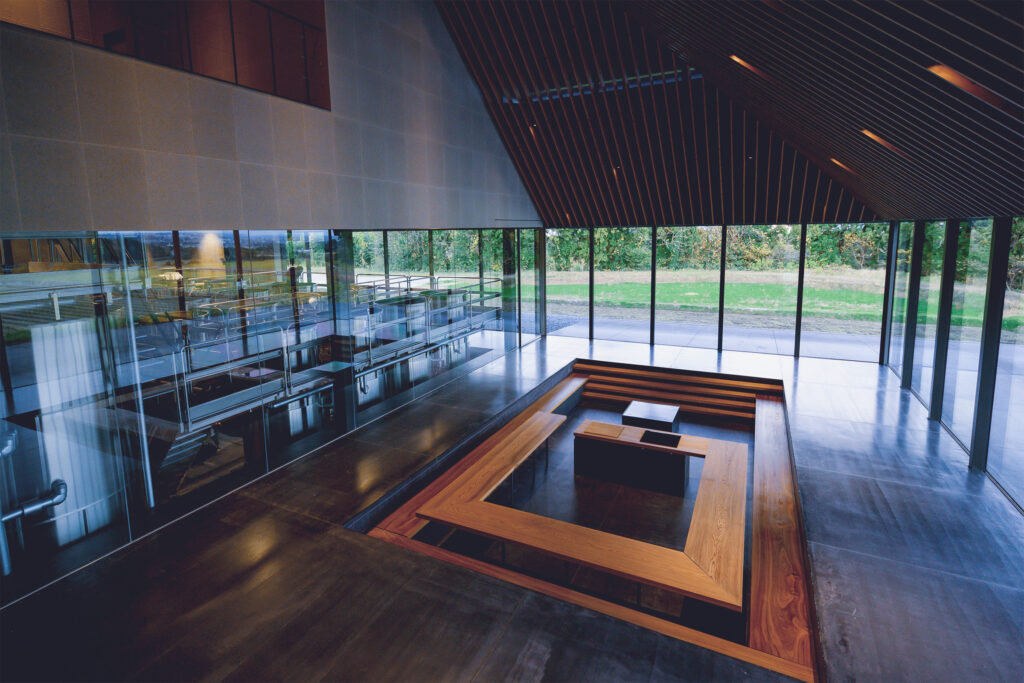 The tasting area. Stainless steel tanks, inspired by Kyoto's Sanjusangendo Hall, are lined up alongside.
"It's like a modern winery, right?", he grins.
"The idea came from a large farmhouse I saw in Nanto in Toyama, where the owner, staff, equipment, and harvest were all kept under one large roof. It was community housing, yet the building was also cherished as an important gathering place for the local community. I wanted to use the same idea for Shiraiwa. My brewery is also a place for the community of locals and workers to enjoy IWA5. I hope it has become a similarly cherished place for the community of Tateyama Town, Toyama Prefecture."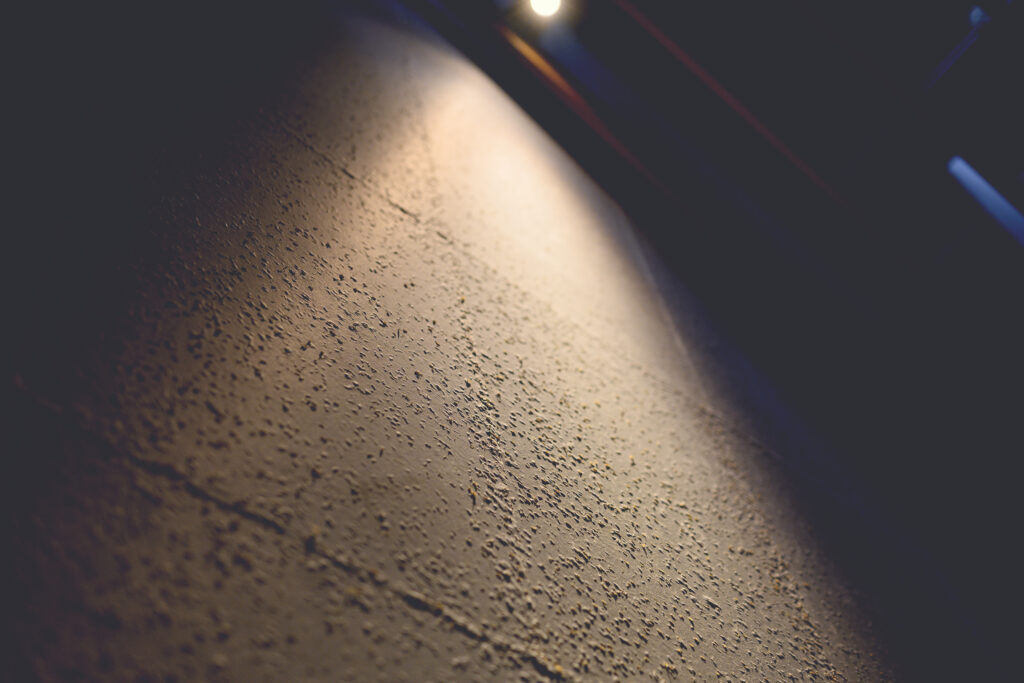 The walls of the brewery are made of rice and rice husks from the rice fields where the brewery now stands. This building process is called 'Gokayama washi', and is a traditional Toyama craft.
Richard Geoffroy's Answer to the Sake Trend
Nevertheless, Richard was often kept away from his brewery during the pandemic due to border closures and restrictions. What difficulties did that create for him?
"Yabuta doesn't speak any English or French, and he won't touch a computer. The only form of messages I get from him are the sake he makes and his letters. But Yabuta is one of the brightest people I know. He knows exactly what I want. I can't do it without him, and I know that with him there, everything will be fine."
Yabuta Masato, is a veteran of the Tamba Toji, one of Japan's three great toji (chief brewers). If Richard Geoffroy is the man behind the wine, Yabuta is the man behind the sake.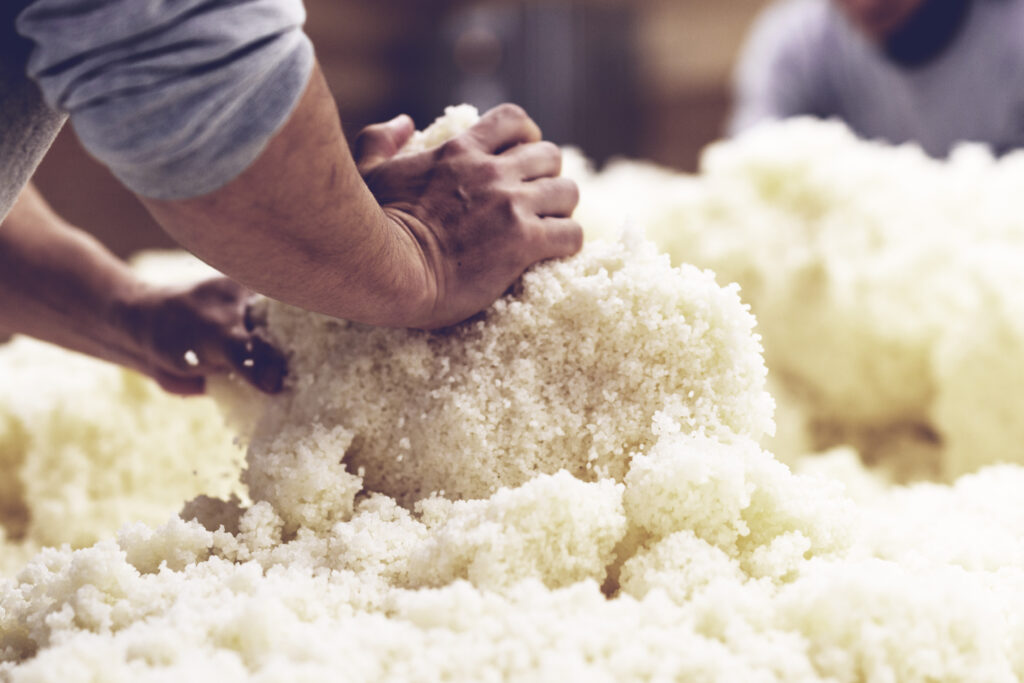 How do Yabuta Masato and Richard Geoffroy – two veteran brewers – position themselves in today's sake industry? Many sake brewers are of a younger generation. Their new sake is often lighter and more refreshing than traditional sake, and the term "drinkablity" is trending.
"It's a key concept. It is true that top-range sake brewers tend to want their sake to be like 'flowing water'. It's a Japanese cultural value, and it's not my place to complain because it's not just the Japanese who appreciate that style of sake."
Richard pauses and mulls over his next words.
"Toyama water is neither too hard nor too soft. It suits the style I want. I don't want a Hyper Dry sake. I don't want to go in that direction. For me, personally, assemblage makes sense."
Sake, and many aspects of Japanese culture for that matter, tends to place a high value on purity. In Japan's view, waste has to be eliminated to achieve perfect art. Simplicity is seen as the ultimate craftsmanship. Therefore, the methodology of assemblage, or mixing multiple elements of a single sake, is, from this perspective, a mess. It has the potential to be considered the opposite of purity. Perhaps this is what Richard is hinting at.
"For example, the wines I have made are complex, but they are not difficult to drink because they are in accord with themselves. They balance multiple variables: mellow, sweet, bitter, sour, umami, and so on."
This is Richard's unique philosophy. He often uses the metaphor of a weighing scale to describe his process. When the weight of the right plate is balanced by the weight of the left plate, both sides ar freed from gravity. This is paradoxically proven by the fact that if either side is even slightly heavier than the other, the scale is pulled in that direction and falls victim to gravity.
"I think in terms of addition, not subtraction. Assemblage can produce rich, yet drinkable wines. Complexity and drinkablity are not contradictory concepts."
Then, stepping out of the realm of a purely personal project, he goes so far as to say, "If there is anything I can bring to sake, it is this way of thinking."
"As soon as sake steps foot outside of Japan, it is wine that rules the land. The great wines of Champagne and Burgundy are becoming scarcer and more expensive. So the world is looking for a great alcoholic beverage to replace wine. There is no doubt in my mind that this is going to be Japanese sake. But abroad, sake is evaluated by the rules of wine – everything is held ransom in wine's prison. In Japan, sake may be considered high quality if it is short-flavored. But outside of Japan, sake that lingers with a long aftertaste is valued."
Richard emphasizes that this fact should not be overlooked.
"Outside Japan, sake is seen as a novelty. It is still relatively unknown, with little recognition. So how can the French, who are drinking sake for the first time, properly evaluate sake? They need to learn new tools – a long journey of learning is required."
Richard Geoffroy's Motivation
Assemblage of sake means aging it. When the blends are freshly mixed, they do not yet start to settle down in terms of taste, aroma, or texture. Therefore, Richard Geoffroy, by engaging in the practice of assemblage, also brings the concept of maturation to sake. This is different from what is referred to as 'Old Sake'.
"There is no set recipe for IWA5, but at the moment it is a blend of about 18 to 20 different daiginjo (premium sake). We let it rest for 18 months before releasing it."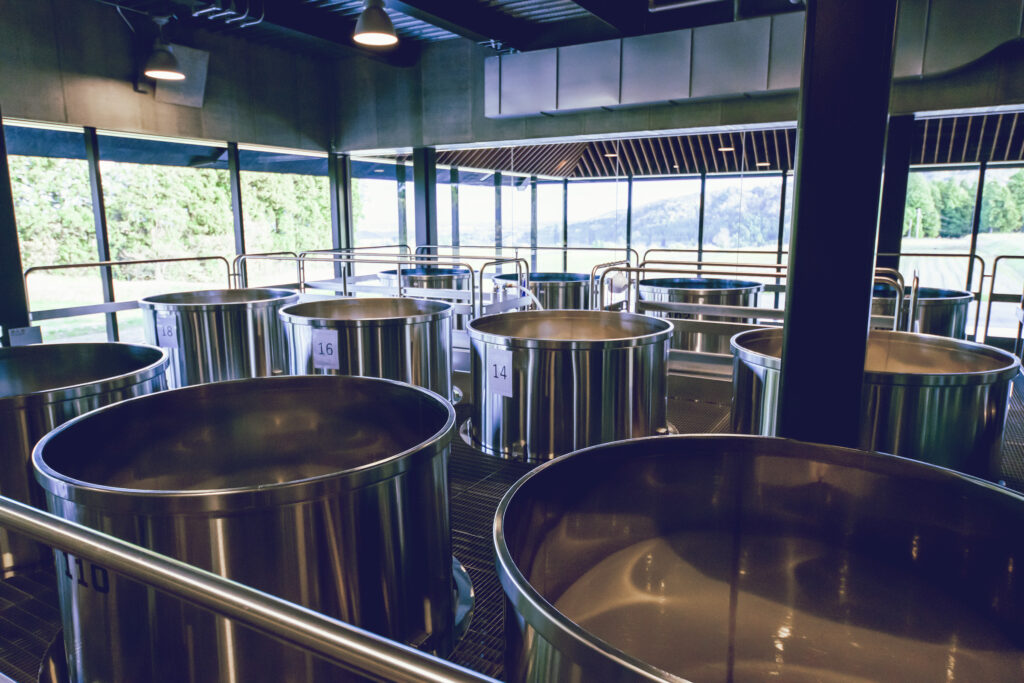 Over 50 stainless steel wine preparation and storage tanks line the property.
This naturally begs the question, can you really deem this blended mix to be sake?
"Some people say to me, "what you're making is wine." Maybe so. But I believe I'm make sake. I am trying to expand the name of sake."
What does Richard hope to gain by this venture? He finally gets to the heart of the matter.
"It's about deepening one's heart and taking away the limits for situations in which sake is served. You don't have to limit yourself to Japanese food to enjoy sake with your meal. The dinner at Jungsik, a modern Korean restaurant in New York, was really exciting in that sense. The combination of IWA5 and Modern Korean was out of this world. I have never tasted anything like it."
Even within the same IWA5 brand name, 'Assemblage 1', '2' and '3' showcase completely different expressions because of differing assemblage. Moreover, 'Assemblage 1' will have been aged for two more years by 2022 compared to when it was released, with the depth of the sake has increasing over time. Did Richard intend for his sake to mature and change in a wine-like manner when he first established his brand in 2019?
"I factored in from the beginning that IWA5 would change over the years. I had faith in my drink. And I was not wrong. Assemblage 1 is mellow and complex. The ambience is like a red wine from Burgundy. It goes well with rich, bold meats and game."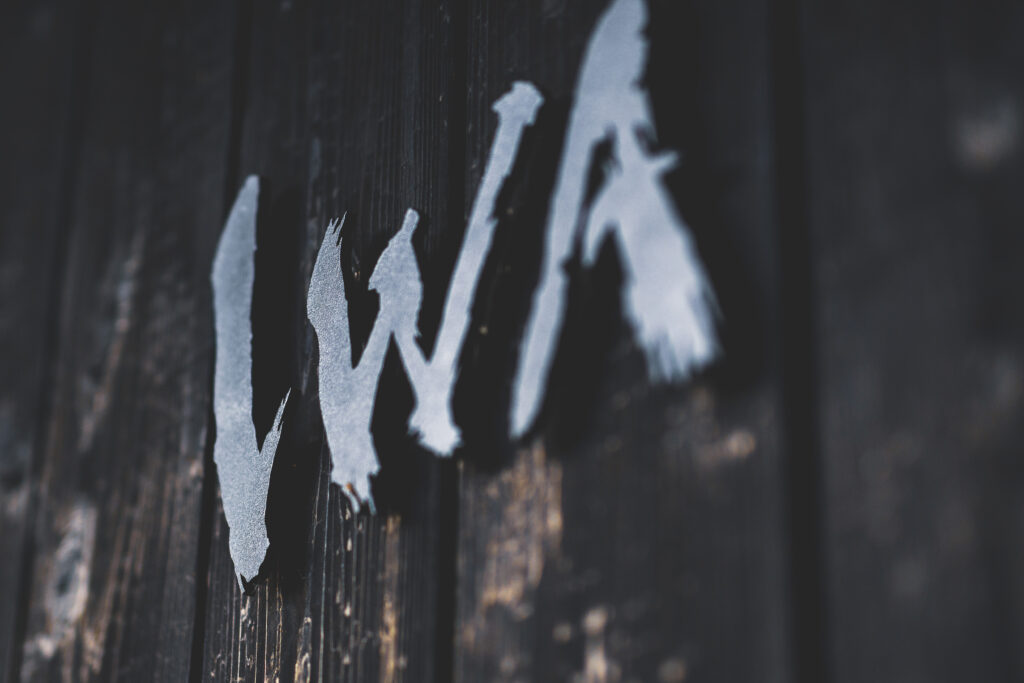 Richard then returns to his opening point.
"The culture of making alcohol from rice is widespread in Asia. That is why sake goes so well with Asian food. Even traditional heavy Chinese food and spicy flavors go well with sake."
IWA5 is not only compatible with French cuisine or new, borderless cuisines such as Jungsik. Sake is a good partner to begin with, and pairs well even with foods said to not be a good match with wine.
"Sake is a drink that has a bright future. It's gradually being raised to the highest level in its long history and has the potential to become the most esteemed alcoholic beverage in the world. I guarantee it. It's sake's turn to shine on the world stage. The journey has just begun. And what an amazing journey it is!"