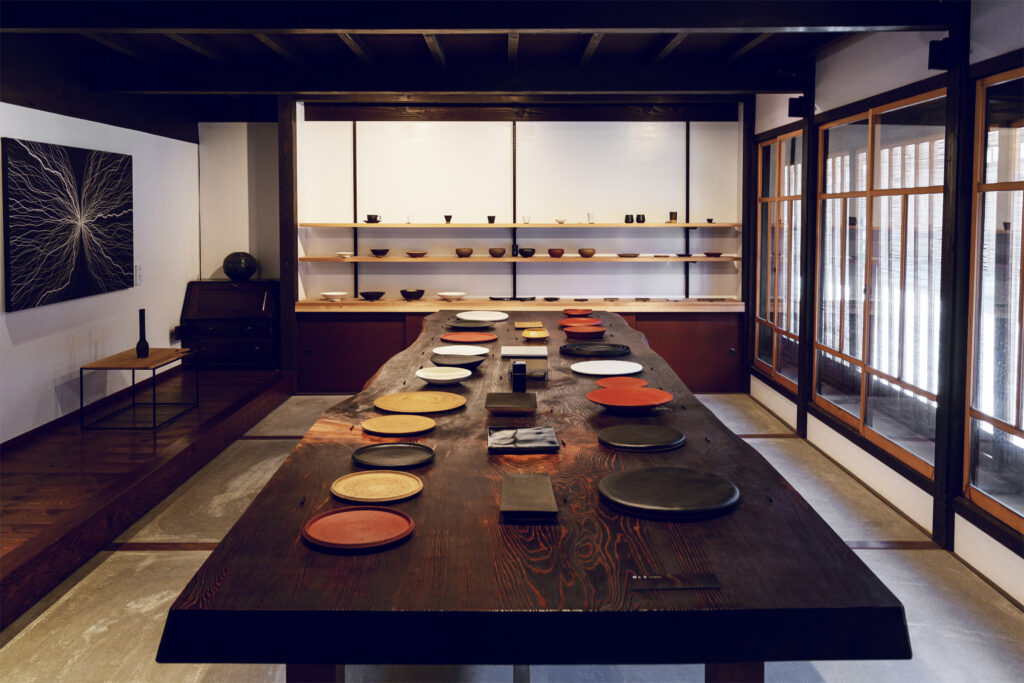 A different kind of ceramics
"I wanted to make pottery that doesn't look like pottery," Gaku Shakunaga shrugs.
This quirky potter has created countless ceramics that look like leather, plates with a cork-like texture, and other intriguing items that are vastly different to the usual look and feel of pottery.
Despite his edgy style and creative aura, Shakunaga is friendly and approachable. He keeps chatting, "I don't think of my pieces as works of art at all – I just hope that they will be well-loved and used often. The last thing I want is for them to be carefully stored away in a display cabinet somewhere."
Shakunaga was born in Toyama to a family of potters, setting the tone for his current successful career, which sees him inundated with orders from chefs all over Japan. It would be easy to assume that he was gifted from a young age and grew up living and breathing pottery, but that was not the case.
"Of course, I was influenced by my family to a certain extent, and by the time I was in the second grade of high school, I knew I wanted to make a living by creating things," Shakunaga reflects.
But after graduating from high school, he chose to study Sculpture as his major at the Tokyo University of the Arts.
He says, "I chose sculpture because when I had first became interested in art and crafts, I thought sculpture was cool."
He had enrolled in the school with the intention of becoming a sculptor, but upon graduation, Shakunaga soon learned the hard way that it is not easy to make a living from the craft.
"Since I had grown up seeing my dad work, I knew that if you were a potter, you could make plates and pottery to sell, and then if you wanted to create sculptures on top of that, you could sculpt as much as you wanted out of clay. When I realized that, I decided to go into pottery, even though I had never done anything in that field before."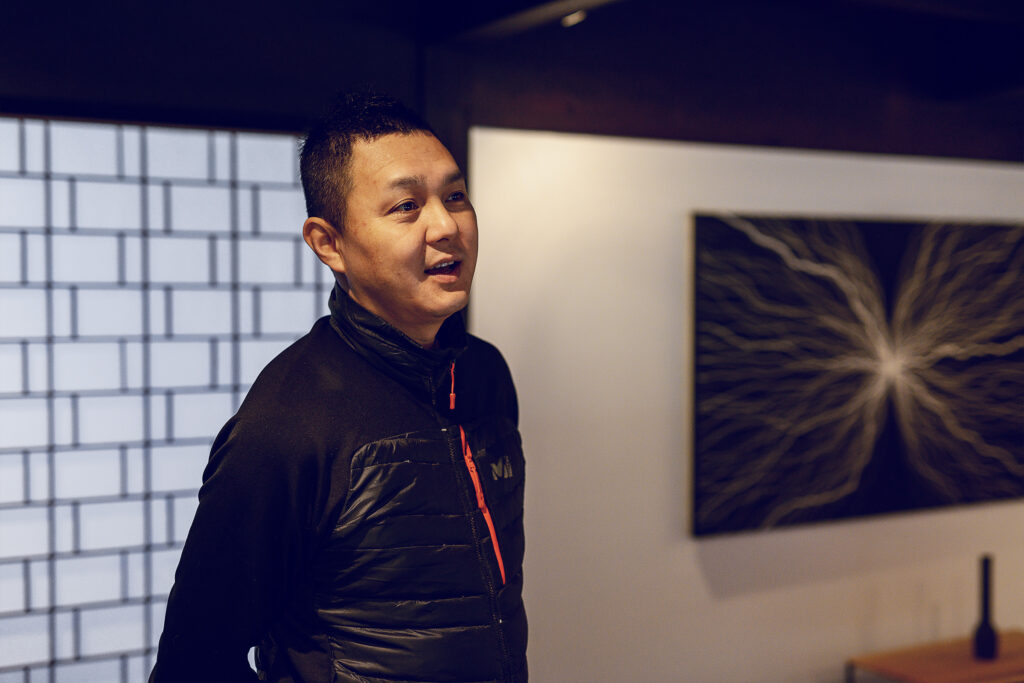 Back to the potter's wheel
After graduating from the Tokyo University of the Arts, Shakunaga went back to study again. However, this time, it was at a school specifically for learning how to use a potter's wheel. Pottery is often referred to in Japan as "yakimono" (something that has been fired), meaning the final product must be fired in a kiln. Special glazes also need to be applied to the pieces in a laborious and intricate process.
"That course was specifically about the potter's wheel, so even when I ended up going back to my parents' house, there was not much else I could do to help them besides work on potter's wheel. The only other work I could do was manual labor, so I spent my free time digging in the ground, chopping wood, and practicing on the wheel," Shakunaga says.
After about four years of this somewhat monotonous routine, a customer arrived in the form of Ryuichiro Masuda, president of Masuizumi sake. This chance meeting became a key turning point in the young artist's career.
"He told me, "You've graduated from the prestigious Tokyo University of the Arts, so you should spend your time making something more fun." And then he asked me if I would like to come and see the town he was building."
So, with the intention of networking, Shakunaga went to visit Iwase. It is there that he found the building that is now his home, workshop, and gallery.
"President Masuda said to me, "Why don't you try living here?" At that time, simply getting by was difficult for me because my products weren't selling. But he told me that I shouldn't give up making things even in times of adversity, and that I should instead lean into it. I was torn between my desire to get away from my father and experience the world, and my fear of the unknown, but in the end, I decided not to think about that. I took the plunge and came to Iwase."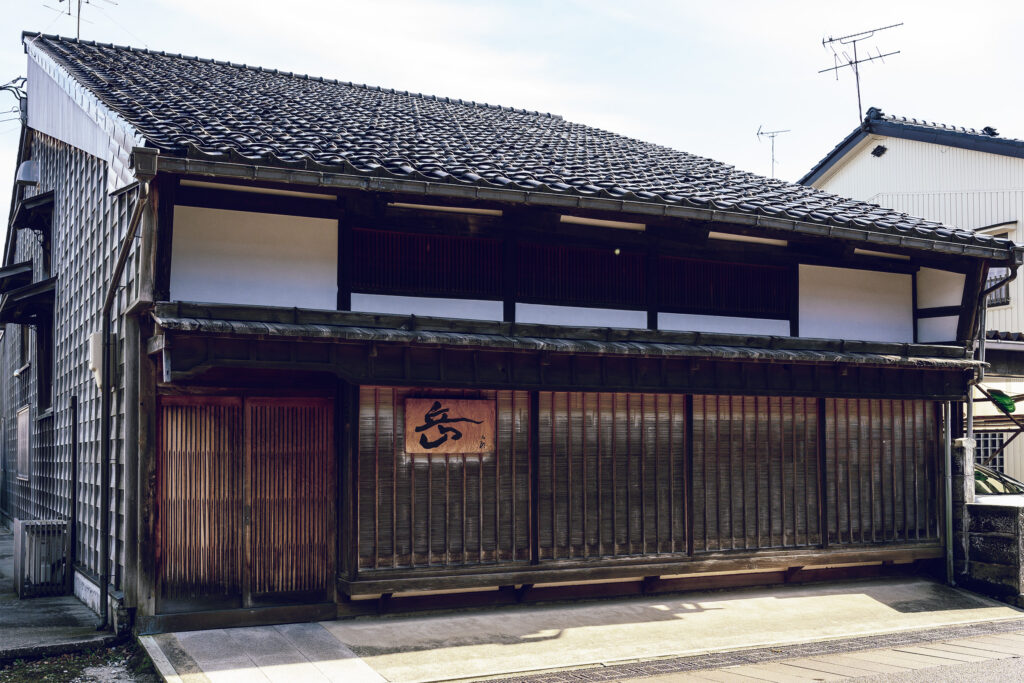 Creating with passion
That is how Shakunaga ended up in Iwase sixteen years ago. Of course, in the beginning, his set-up was not up to par. "It was about the same level as a souvenir shop," he says humbly. But even so, Shakunaga had confidence and vision.
"I was always excited about what I was creating, and I always believed my products would take off eventually."
It was about eight years ago that Shakunaga finally got his big break. This came in the form of an encounter with Chef Eiji Taniguchi of the two-star Michelin restaurant 'L'evo' in Toyama.
Chef Taniguchi admired the sculptural aesthetic of Shakunaga's pottery, so he started using some of the artist's dishes for his culinary creations. When Taniguchi's food was presented on Shakunaga's plates on a TV program, viewers immediately noticed the unique pottery. The pieces were from Shakunaga's 'Age' collection – a ceramic like no other – crafted in a distinct cork-like texture.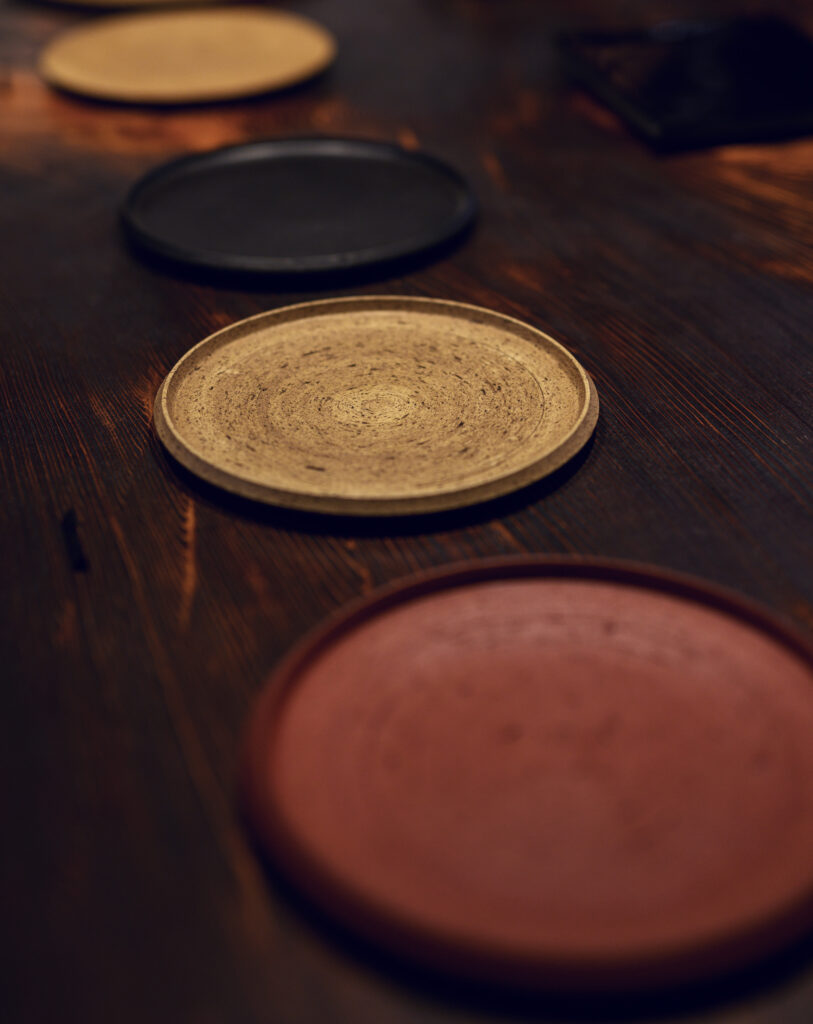 This is what prompted a crowd of discerning chefs to flood to Iwase, greatly intrigued by the gourmet served on unique plates.
"Suddenly everybody wanted to eat at 'L'evo', and on the way home they would stop by my place and put down huge orders for my pottery," Shakunaga laughs.
Currently, 95% of the potter's pieces are purchased by chefs, and the remaining 5% by foodies. Although his business may seem intimidating with its signature "by reservation only" order system, the general public are more than welcome to make purchases. That being said, most of the orders are made by restaurants for ten or twenty pieces at a time. Since it takes time to prepare orders in bulk, there is now a two-year waiting list for Shakunaga's pottery.
Glazing is the name of the game
So, how exactly does Shakunaga create this unique texture that captivates top chefs?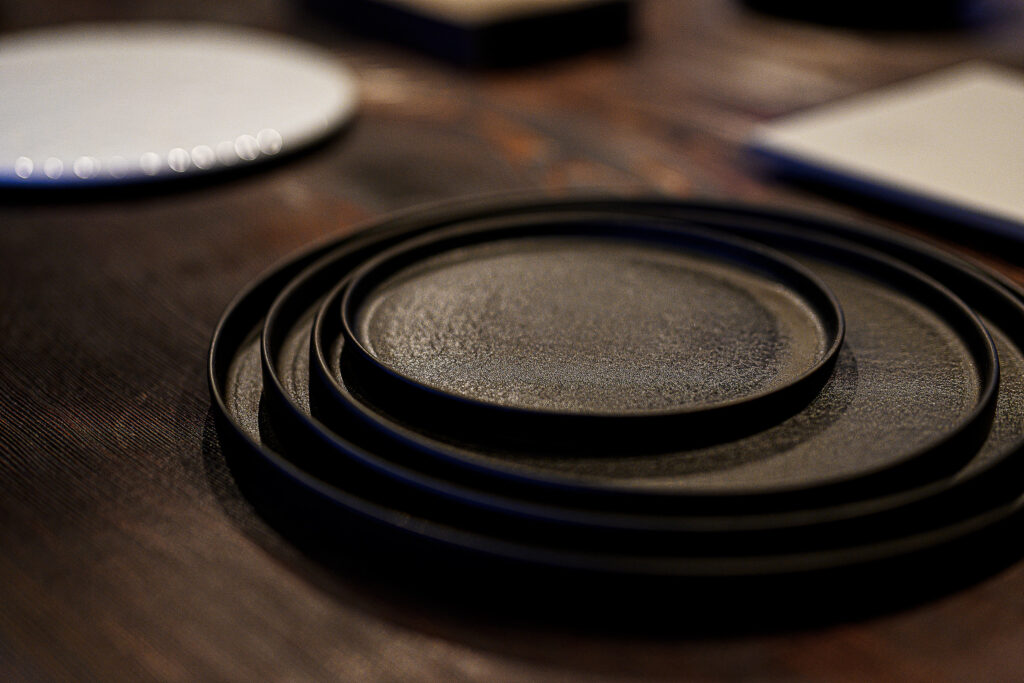 "Some pieces are carved like sculptures, but the texture mostly depends on how the glaze is applied. Sometimes I want the piece to look tantalizing like a scrumptious chocolate coating, or cold like a piece of metal, but I can't just haphazardly mix and match to get the texture I want. I go through many tests of trial and error, and if I finally manage to come up with something that excites me, I pursue it. It's not easy to create something that makes me go, "Wow!" – it usually takes three to four years until I finally find the perfect glaze."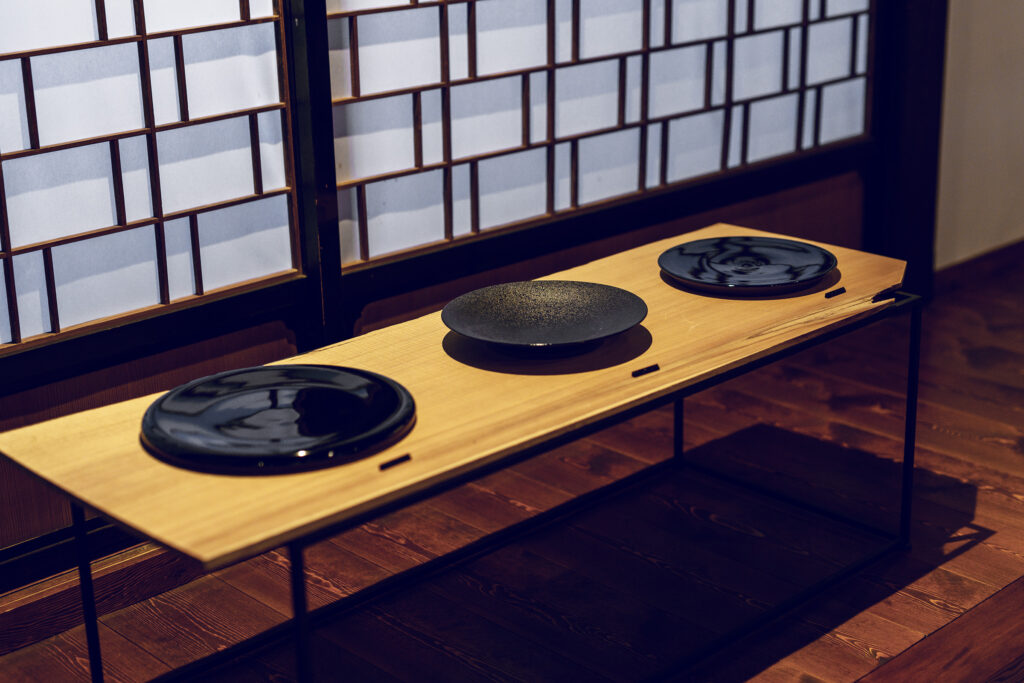 Importantly, the base of the ceramic artwork is the clay. Shakunaga used to go digging in the mountains for clay every week, but now, he chooses soil from all over the country to match the type of work he wants to make. He blends the soil to get the right type of texture and richness to compliment his specific vision.
Although it would be easy to assume Shakunaga's pieces would fetch a hefty price, most of his dishes only cost between 5,000 yen and 30,000 yen. When he said, "I don't think of my pieces as works of art," he truly meant it.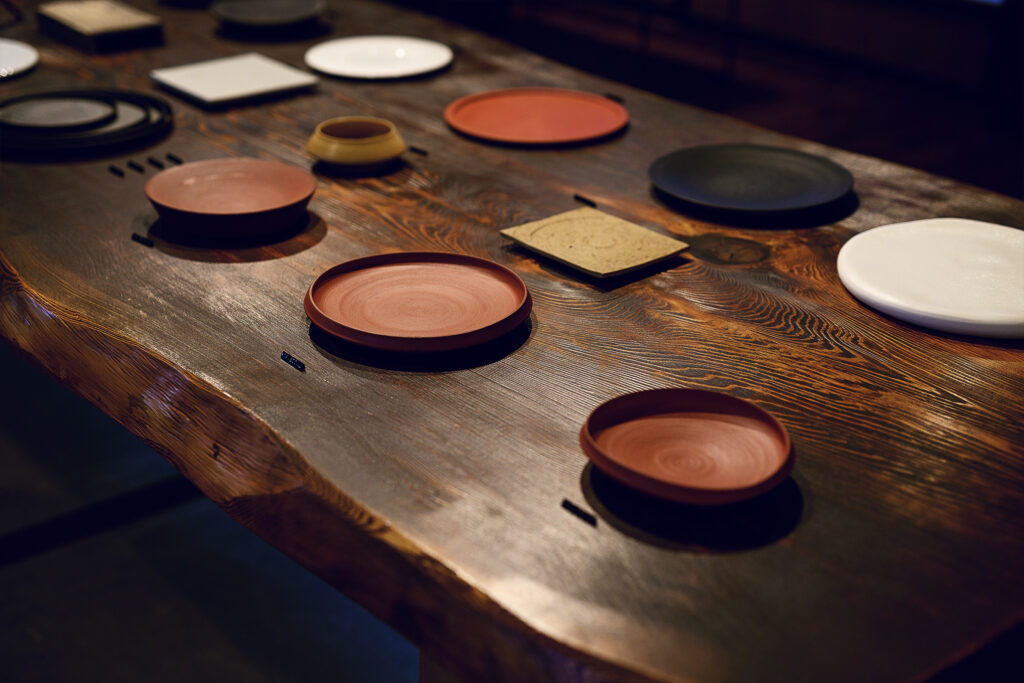 "I put my heart and soul into making tableware for restaurants and other places where people eat, entertain, and have fun. That is why I want my pieces to be used. If they aren't well-loved, it's meaningless."
That is why Shakunaga shys away from holding exhibitions at department stores. He continues, "I don't want to be called an artist."
In the world of ceramic art, works are often referred to as "works of art," but in his case, what should his pieces be called?
"I call them 'products'. Simple as that," he smiles.
GAKU ceramics
http://gaku-shakunaga.com/5.html