This is the second installment of our My Secret Place series, where we ask creators in tune with the latest trends and culture to share their favorite spots around the city.
This time, we dove into the neighborhood of Sangenjaya. We had the pleasure of tagging along with three individuals who have come together to form the unique fashion label NEWORDER: actor Taro Suruga, stylist Akira Maruyama, and fashion designer Mamoru Shimizu. They took us on a bar crawl of their favorite hangout spots.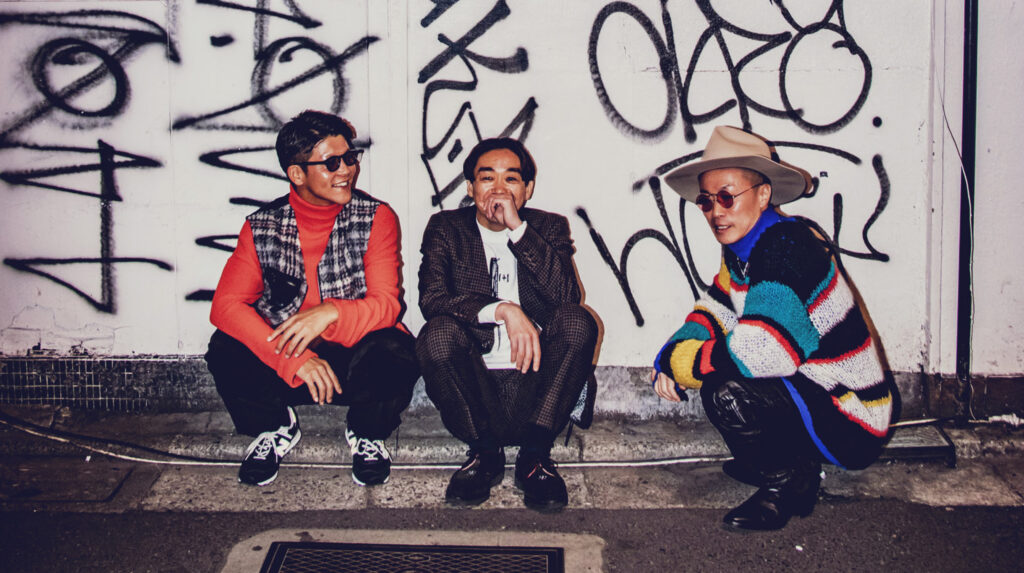 From the left: Taro, Akira, Mamoru
Sangenjaya, just two stops away on the Tokyu Den-en-toshi Line from Shibuya or a quick 15-minute drive, is a neighborhood with a distinctive atmosphere and, among locals, is affectionately called "San-cha."
The name Sangenjaya is said to have originated during the Edo period (1603–1867), when there was a travel boom centered around visiting shrines and temples. At that time, there were three tea houses located in this area, which led to the name San, meaning three, and Jaya, meaning tea house.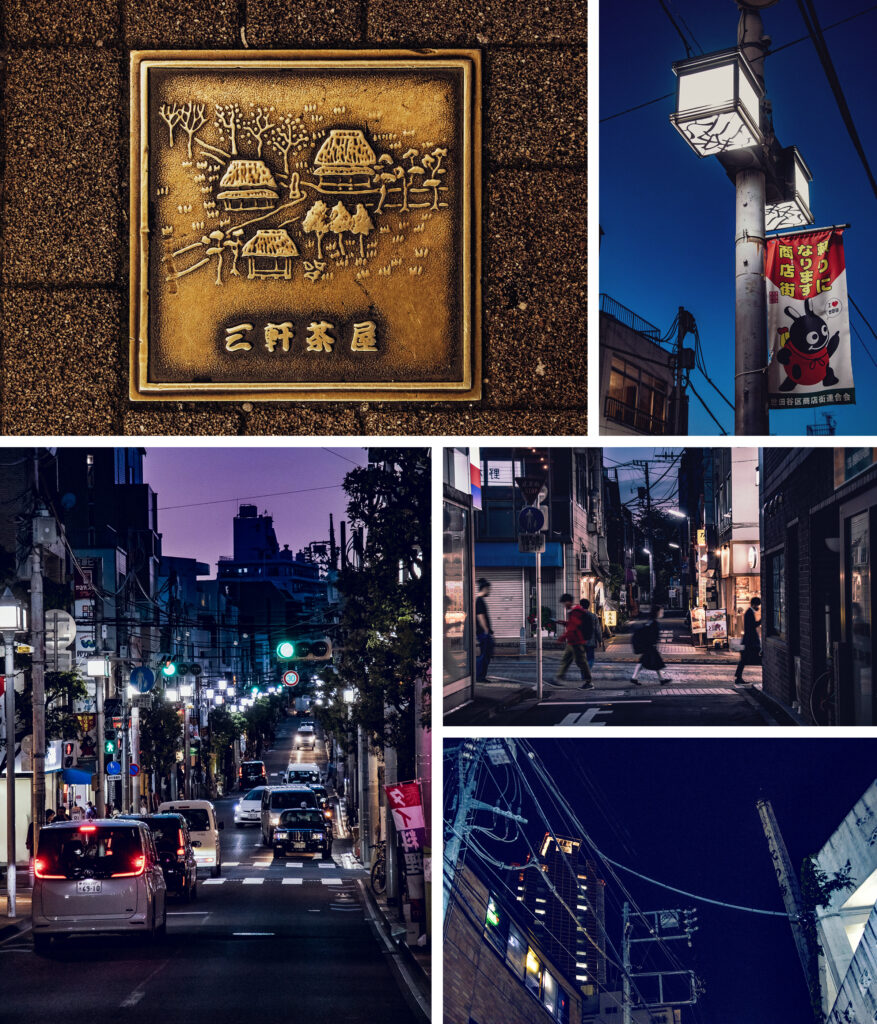 During the chaotic post-war period, a temporary housing village for people who survived the bombing of Tokyo was established here, and over time, the area has undergone its own unique evolution. Nowadays, it's well-known for being a hub of live houses, small theaters, and a gathering place for those involved in the music and theater scene.
Despite being in the heart of the city, it manages to maintain a charming old-town vibe. The atmosphere is friendly yet keeps its rawness, with some shops being known to turn away customers at the discretion of the owner.
—Why Sangenjaya?
Mamoru: Well, all three of us live around here, and we have other close friends in the area too, so it's become like a central base for us these days.
Taro: Yeah, there were times when we hung out in Nakame (Nakameguro) too, but in the end, Sancha is just more interesting, not to mention it's cheaper. Nakame might be popular, but it just doesn't quite suit us.
Akira: Yeah, exactly! Nakame is like trying too hard to be cool and ending up not, you know what I mean?
Fictional three-piece band, NEWORDER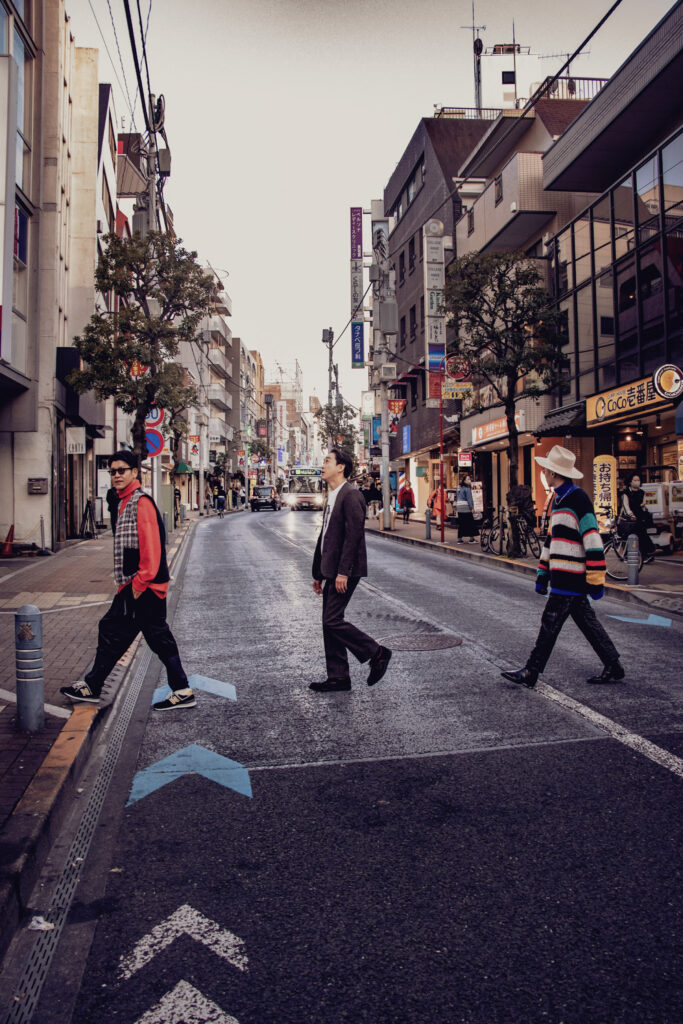 NEWORDER is a fashion label that embodies a fictional three-piece band created by Taro, Akira, and Mamoru. The trio, all music enthusiasts and fans of Joy Division, drew inspiration from the name New Order, which Joy Division adopted when they became a three-piece group.
With NEWORDER, their vision is to express the experiences they've gained in their respective fields through clothing rather than music.
The inside lining of its jackets feature a wave pattern design inspired by the artwork for Joy Division's debut album, Unknown Pleasures, which depicts the radio emissions of a pulsar. This design has now become a signature feature of the NEWORDER fashion label.
Mamoru: When I became independent as a fashion designer, Akira said to me, "Let's bet our lives on this together" as a stylist and a designer. He was like, "If you team up with me, we'll definitely be a hit!"
Akira: Dude, I don't remember saying that.
Taro: You must have sensed Mamoru's talent since back then. Even now, you're still saying things like, "Let me handle the styling for ANGLASAD (one of Mamoru's other fashion labels)." [laughs]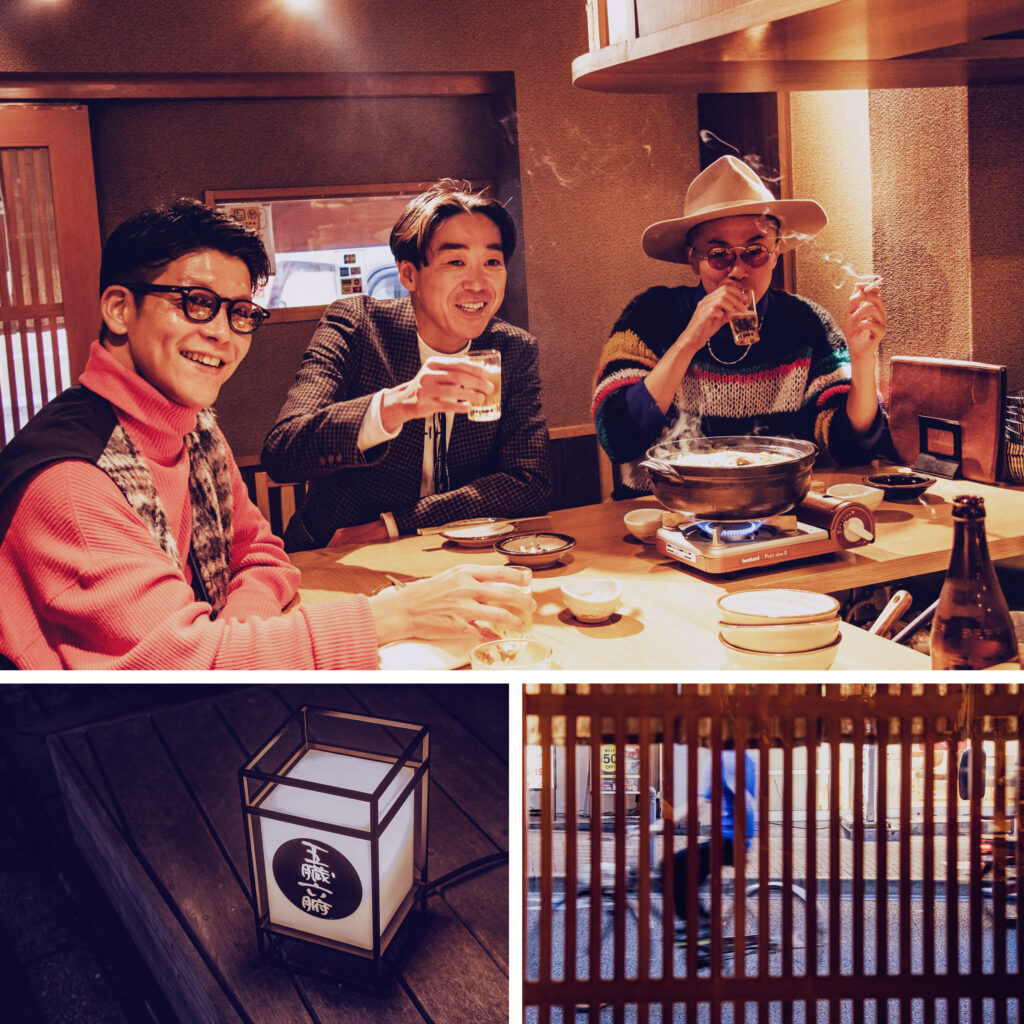 ①the Gozo Roppu Honten
Located on Chazawa Street, the Gozo Roppu main shop offers over 100 varieties of shochu (Japanese spirits) and fresh seafood dishes to enjoy.
Mamoru: Taro was actually introduced to me by another friend, and we went out for a drink once, but it's funny, neither of us really spoke much that time. Then, about a week later, we happened to run into each other again, and that's when we hit it off and became good friends. Later on, when I had a fashion show, I asked him to model. And for that show, Akira was the stylist.
Taro:Ah,those were the days! Man, that was a tough one,right? [laughs]
Akira: Tell me about it. The day before the show, we didn't even have any clothes ready! The models came, but we couldn't do any fittings because there were no clothes! We were like, "What the hell are we gonna do?!" [laughs]
The rawness of everyday life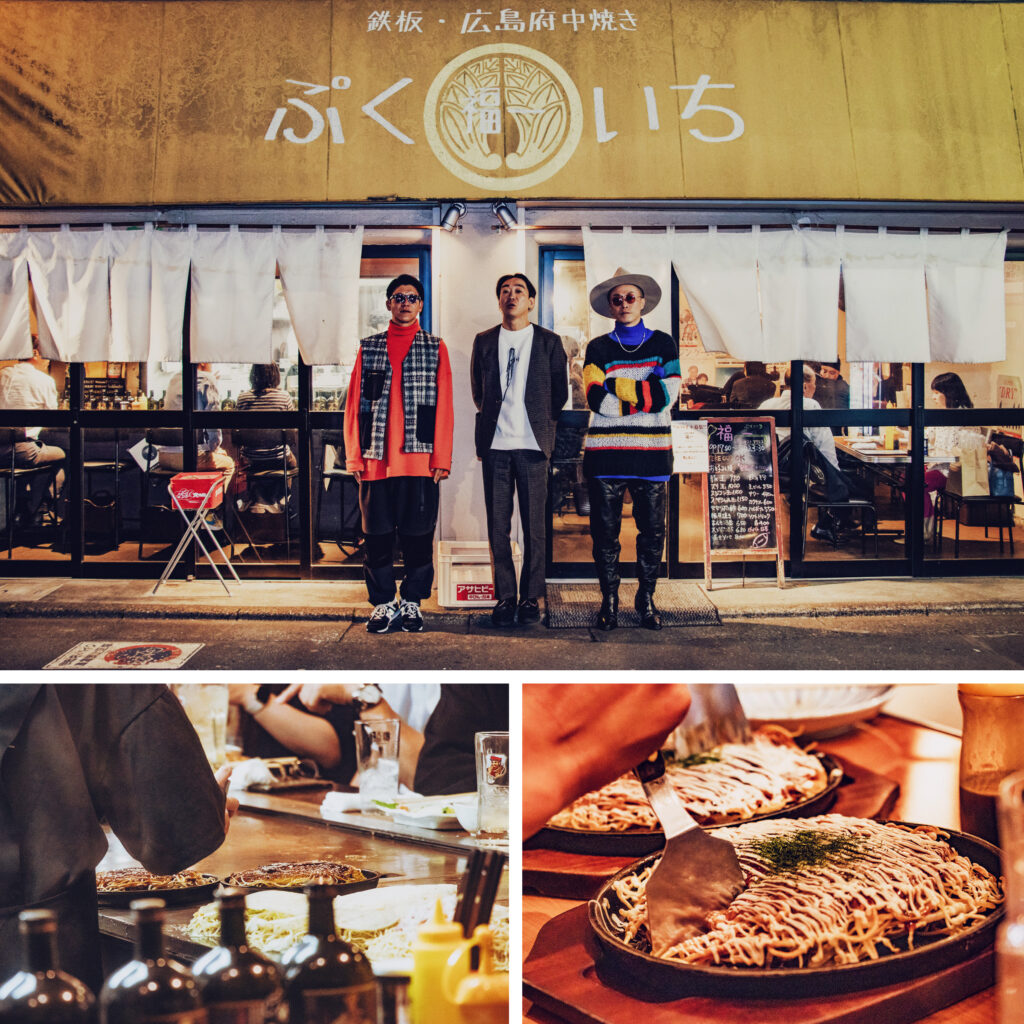 ② Teppan Hiroshima Fuchuyaki Pukuichi
Pukuichi is a popular Hiroshima-style okonomiyaki restaurant, always bustling with locals. The thin, crispy texture of the batter and delectable yakisoba noodles are irresistible.
Just a hop and a step from Shibuya, Sangenjaya vividly reflects the everyday lives of its local residents. As part of Tokyo, a city that never sleeps, you'll find many eateries and drug stores open until the late hours.
Even after the sun sets, the town is brightly lit up by street lamps, store signs, and moving traffic.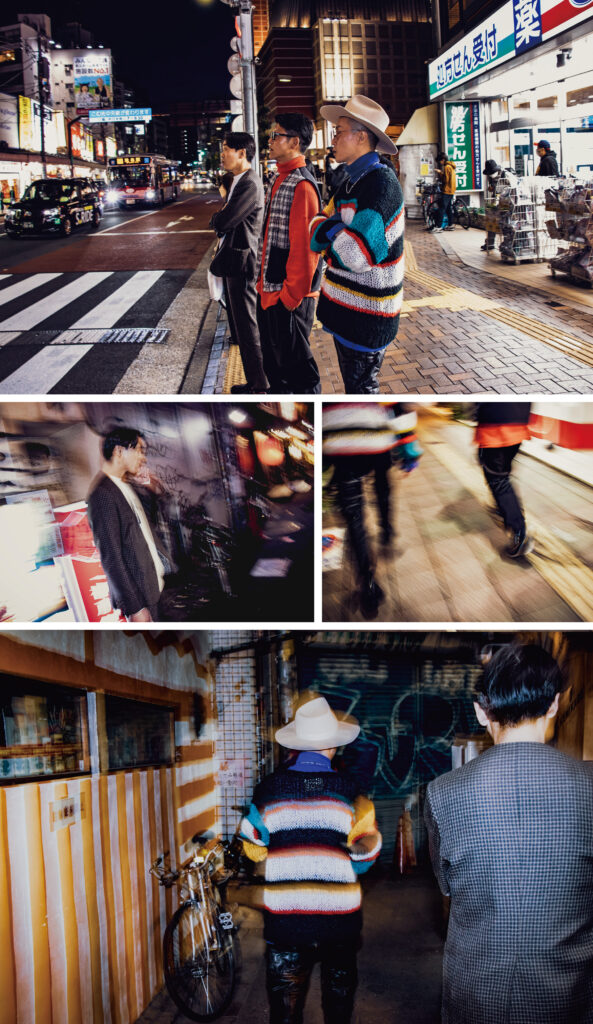 The trio walks with a familiar rhythm in their step through dimly lit alleyways that first-time visitors would never consider entering. They meander through the intricate maze as if purposely trying to get lost. Encountering a different ambiance every time you emerge from the labyrinth of narrow streets is part of the quintessential Sangenjaya experience.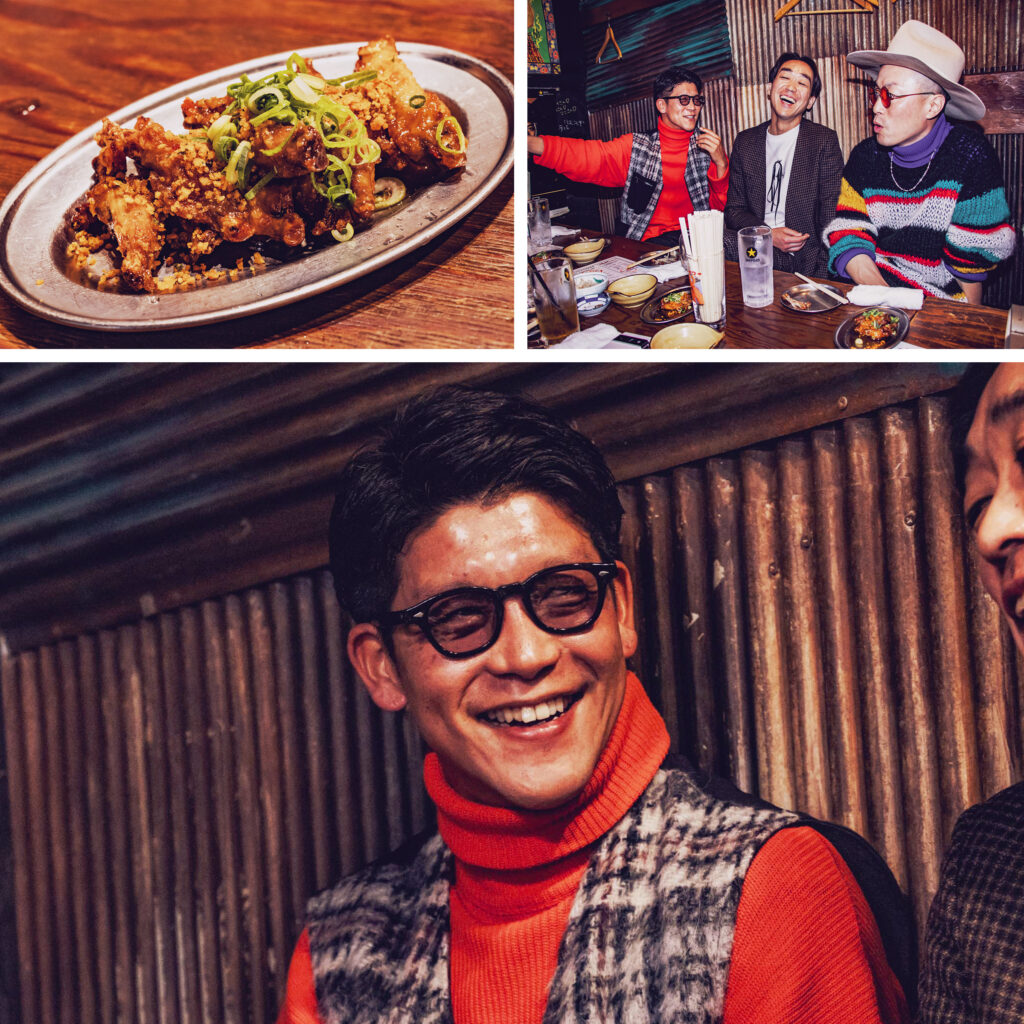 ③Nikuniku Shigeru
You can enjoy various types of meat such as beef, pork, chicken, duck, horse, and lamb. The fried chicken wings served as an appetizer are particularly delicious.
After filling up on Hiroshima-style okonomiyaki at Pukuichi and savoring the meat dishes at Nikuniku Shigeru, the three of them continue their crawl to one of their go-to bars, Lille'. Its slightly suspicious sign with a mysterious pink hue stands out next to a parked bicycle carrying a supermarket bag.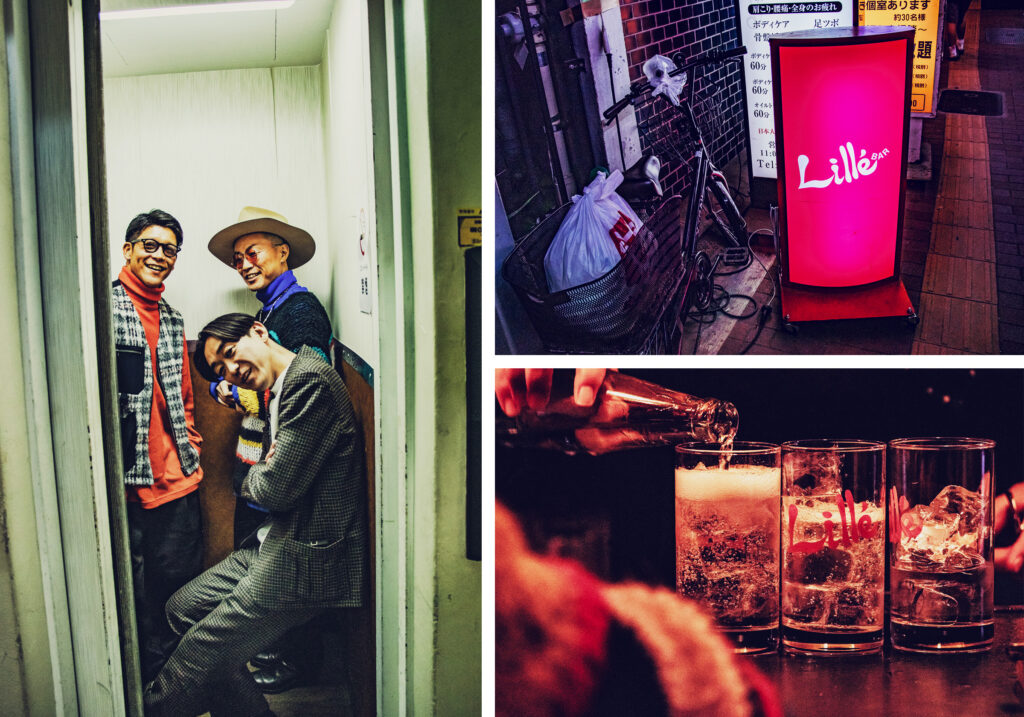 ④Lille' Bar
Exiting the elevator, the red-colored interior of the bar unfolds. The proprietress, Yoshiko, listens to the trio's stories with motherly understanding. Such moments of warmth and familiarity are hard to come by in trendy new places.
Mamoru:In the new collection (2023 Autumn/Winter), I feel like our individual styles have finally come together in sync. There were hints of that potential since the last collection, but we've really found our way this time. I'm sure of it.
Akira:Absolutely! The pairing of the sweatshirt that Taro designed and the vest that I designed looks awesome together. It's a great combo.
Taro:Hell yeah, it was so cool! I even thought,"I should rock this outfit myself!"
Mamoru:Right. It took the three of us about three years to finally find our groove.
Sangenjaya Blues
As the night gets deeper, the trio makes their way to Sora To Miruku (Sky and Milk), their main hangout spot.
Sora To Miruku is a small joint located in an area known as the Sankaku Chitai (Triangle Zone) in front of the Sangenjaya station, where the ambiance of the post-war temporary housing village still lingers. This part of town gives off a vibe similar to Shinjuku's Golden Gai, but it's not only a place for drinks but also a lot of great food. Despite its small size, it's like a labyrinth with various types of eateries, the perfect setting for an adventurous pub crawl.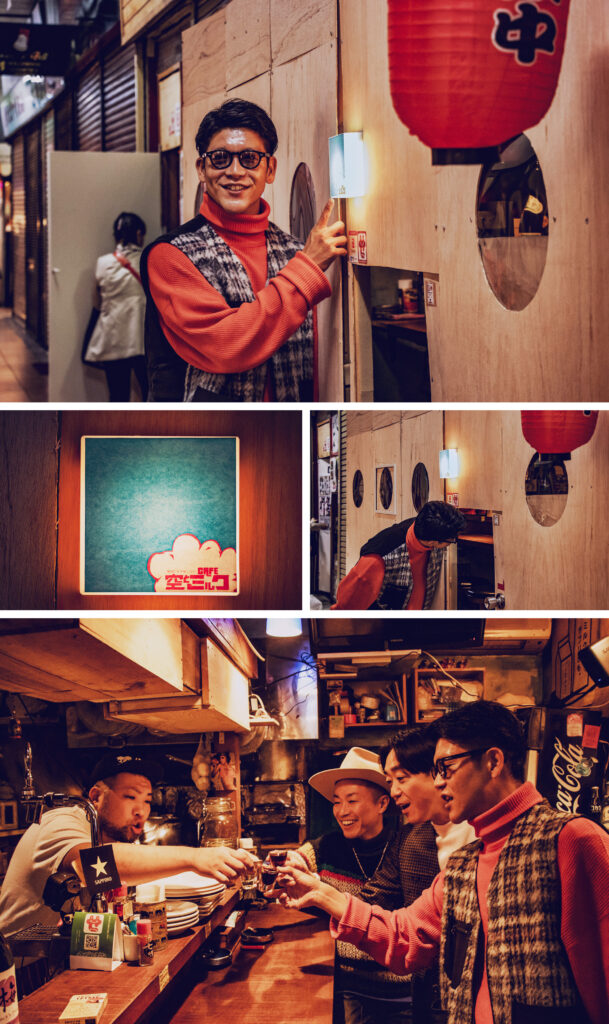 @Sora To Miruku
The storefront appears to be nothing more than wooden boards hastily put together in a narrow alley, almost resembling a secret hideout created by mischievous kids from the neighborhood.
Upon entering, the stern-looking owner measures you up from behind the counter. You need to pass the owner's scrutiny before being allowed inside the shop.
Recognizing the familiar faces of the three regulars, the owner smiles and offers us shot glasses.
Mamoru:You know, even though we're making clothes, we're a bit different from what people typically think of as designers. We're just passionate about clothes. For lack of a better word, we might call ourselves designers, but we're not like a designer brand. It's more like a brand for clothing enthusiasts.
NEWORDER is driven by what the three members "want" for themselves. The fashion label is a physical manifestation of the passion of the three, who are into both fashion and music.
Taro: I'd say for NEWORDER, the max number of styles we can carry at a time is around 15 to 20. We've come to understand that over the past four years of running the label.
Mamoru:When we aim to be true to ourselves and for each piece to be genuine, it naturally ends up being around that number. I don't want to just sell a brand name with clothes that I didn't make myself. I prefer to keep things a bit more bluesy and raw. Usually, the label tends to drift away from the creator over time, but I'm making sure it doesn't leave my hands.
Perhaps the reason these creators are attracted to Sangenjaya is that they find the rawness and authenticity of this unpretentious neighborhood akin to the spirit of the blues. Like a favorite pair of old sneakers, the organic and human-like chaos of this place fits their unapologetic individuality.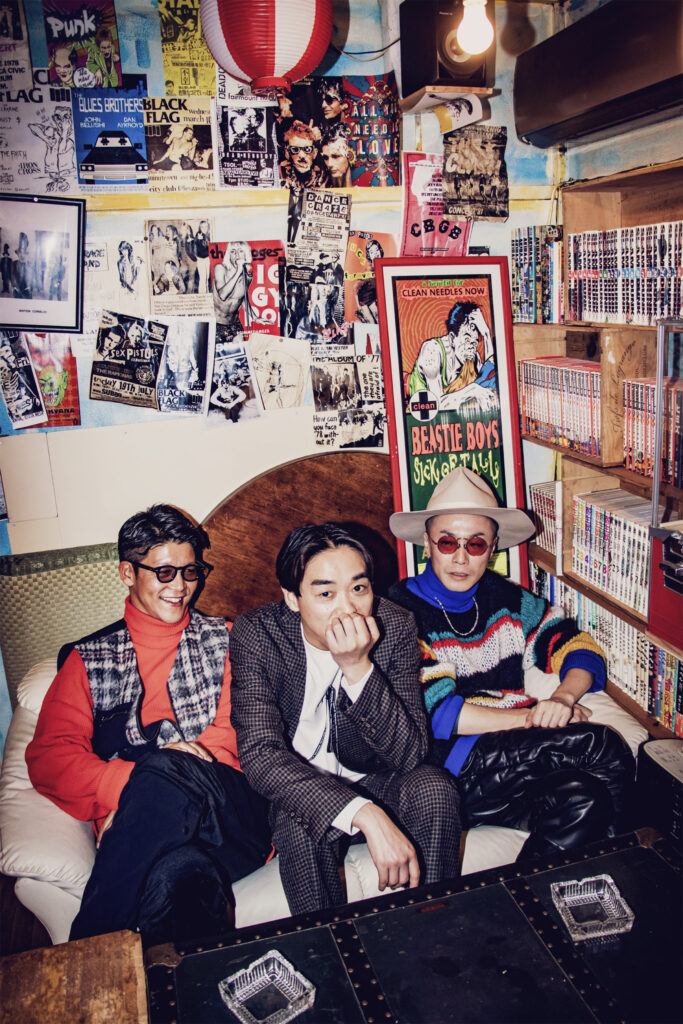 Akira Maruyama – Stylist
After graduating from vocational school, Akira trained under renowned stylist Keisuke Baba. In 2007, he established himself as an independent stylist and has since worked on various projects, including styling for magazines, commercials, artists, and fashion branding.
Instagram: @akr__maruyama
Taro Suruga – Actor
In 2003, Taro made his major debut as a singer-songwriter under the name "taro". Later, he formed the band "sleepydog" performing vocals and guitar. In 2008, he transitioned to acting and has since appeared in numerous films and TV dramas. He is the son of the rakugo performer, Shofukutei Tsurube.
Instagram: @tarosleepydog
Mamoru Shimizu – Fashion Designer/Producer
Mamoru is the owner of the Gallery Select Shop MItsuME TOKYO and is involved in several fashion labels, including ANGLASAD, NEWORDER, SAMURAI CORE, and TOTONOI.
He launched the regional revitalization project THE BEYOND AND PRODUCTS, recently unveiling its first apparel collaboration inspired by the classic TV drama Kita no Kuni Kara (From the North), which he holds dear to his heart. The collaboration is named Kita no Kuni Kara '23 Winter and will go on sale July 2023.
Instagram: @a.g.s.mamoru