Where do creatives draw inspiration from? If we asked them to show us around, what could we discover?
Welcome to our third installment of our My Secret Place series, where we ask creators in tune with the latest trends and culture to share their favorite spots around the city.
This time, our guide is Masayuki Kinoshita, the Chief Creative Officer of TRUNK(HOTEL), a leading boutique hotel in the heart of Tokyo.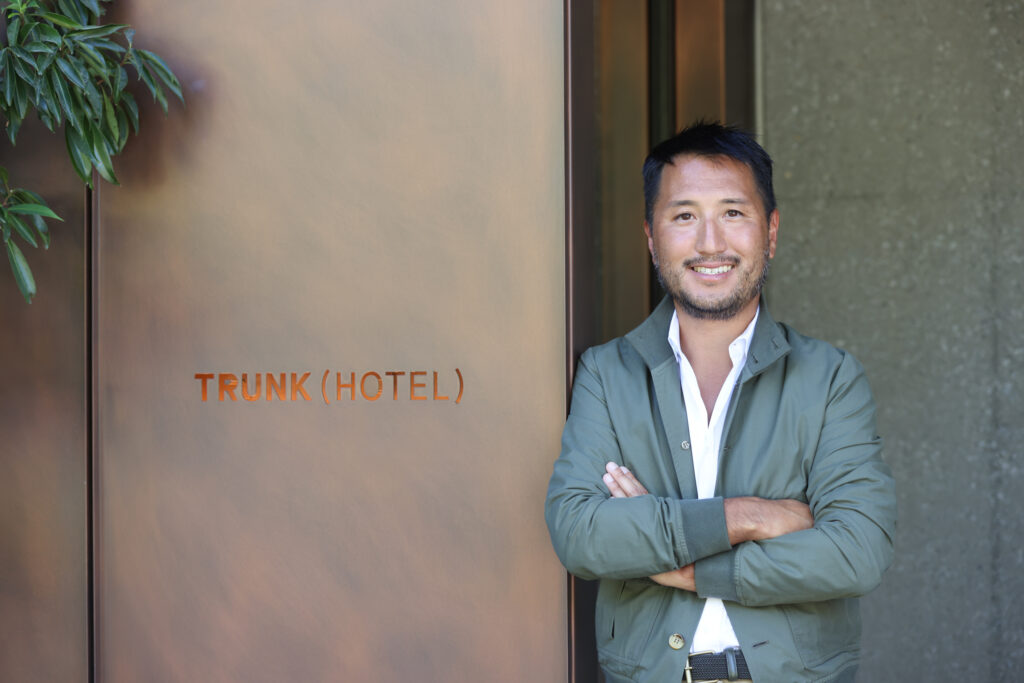 Masayuki began his journey in the hospitality industry as a hotelier, working at Park Hyatt Tokyo and Park Hyatt Shanghai. He was later involved with the opening of Andaz Tokyo and later worked at Andaz Maui.
Drawing from these experiences, Masayuki joined TRUNK(HOTEL) CAT STREET during its opening, initially as a hotel manager. His creative talent was quickly recognized, leading him to his current role as the Chief Creative Officer at TRUNK, overseeing various creative projects within the company. He currently heads the in-house creative team "TRUNK Atelier," consisting of 15 specialists in different fields.
Masayuki has the unique background of having transitioned from a hotelier to a creative leader in the realm of hotel design and development.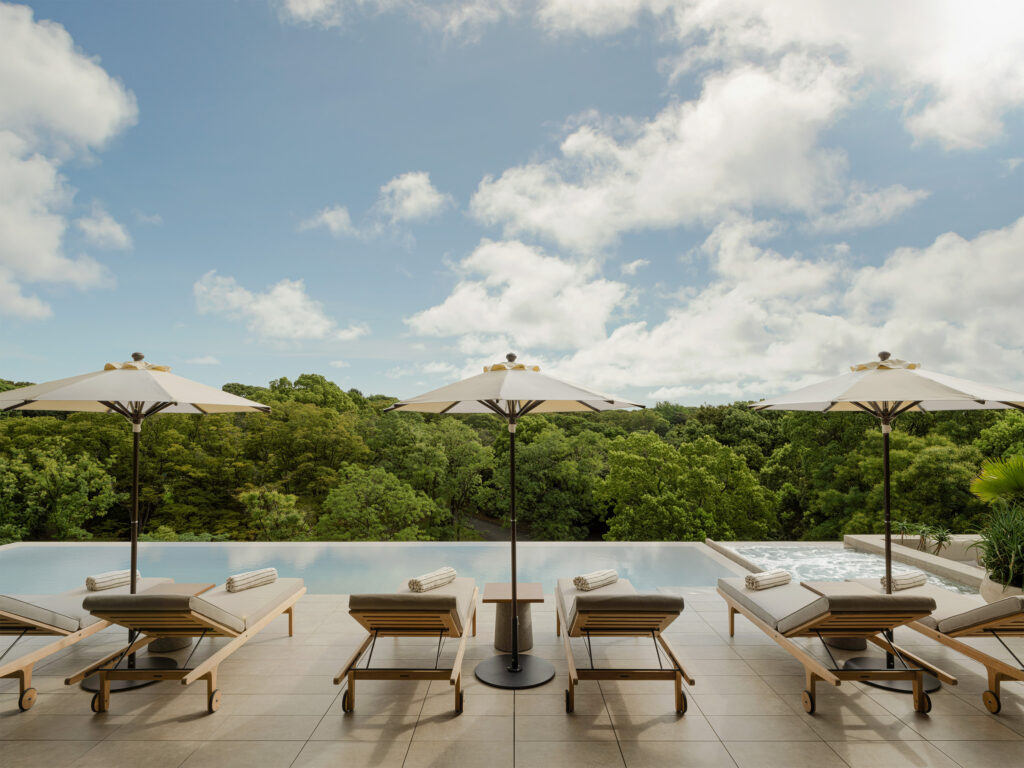 TRUNK(HOTEL) YOYOGI PARK, which opened in September this year, is located right next to Yoyogi Park, a cherry blossom hot spot in spring. From the rooftop infinity pool, you can enjoy a sweeping view of the lush greenery in Yoyogi Park. The hotel is situated on a hill 30 meters above sea level, which places it about 10 to 15 meters higher than Harajuku and Shibuya stations, allowing for an uninterrupted view of the park with almost no buildings in the background.

The area encompassing Yoyogi Park, Yoyogi Hachiman, and Tomigaya, deep into Shibuya, is locally referred to as "OKUSHIBU"nowadays, meaning the back-end of Shibuya. While OKUSHIBU has regained popularity in recent years, around 70 years ago, it was home to "American Village," a microcosm of American culture.
OKUSHIBU, a favorite town of creators
Masayuki : I've been living in this area for over a decade. It's interesting how there are quite a few creative individuals residing here. People like that seek a balance between having a relaxing place to live and somewhere inspiring. Stimulation is necessary for creativity. I think this area is favored because it successfully blends that "comfort and stimulation."

That's why the concept of TRUNK(HOTEL) YOYOGI PARK is "Urban Recharge." It's about savoring both the nature of Yoyogi Park and the unique urban stimulation, finding relaxation and inspiration in both, and then channeling that into tomorrow's vitality.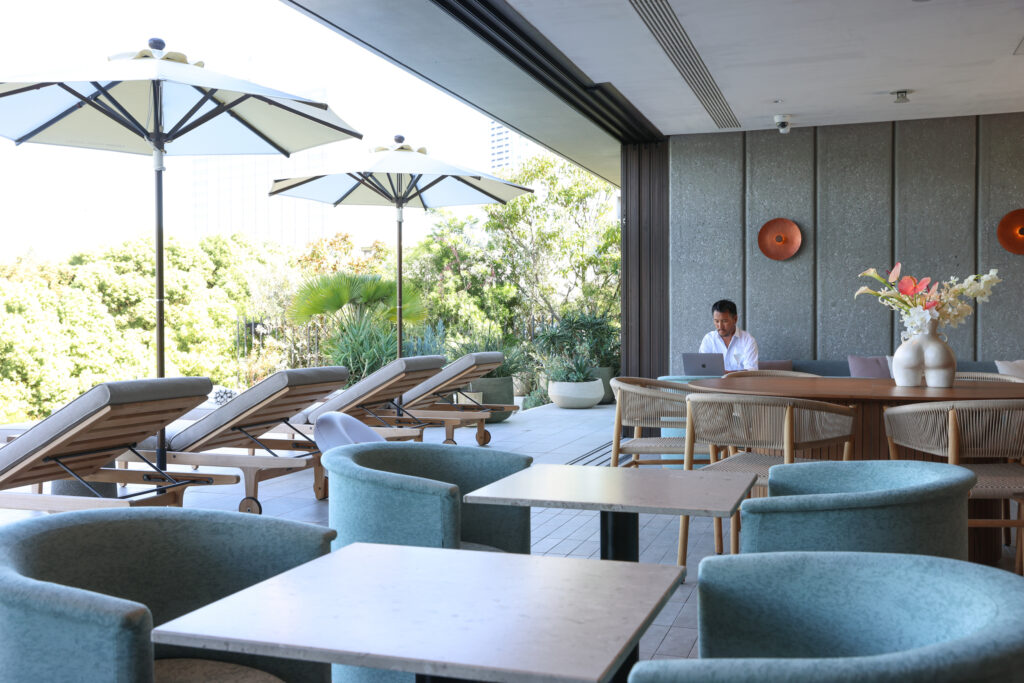 Masayuki : Creating a hotel that encompasses all aspects of lifestyle, from clothing to dining and living, is truly rewarding. I've always had an interest in design, and I enjoy both eating and drinking, so it feels almost like an extension of my hobbies.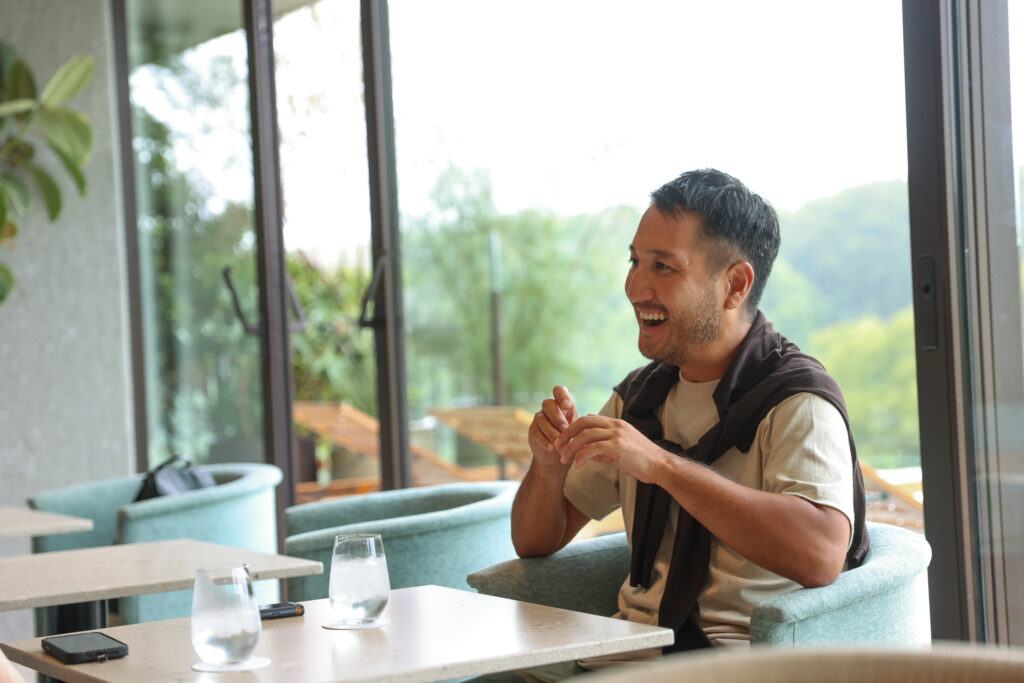 ZEROMILE : So, it's like you've created a hotel that reflects your own lifestyle?

Masayuki : Absolutely; my personal preferences are deeply embedded in it. The criteria for how the hotel is designed are set by both me and our president, Mr. Nojiri. We've both traveled the world extensively and know each other's tastes. He told me, "If we create a place that both of us would love to visit, it will definitely be a success." That's why I trust my own creative sense.

ZEROMILE : Now there are many ongoing hotel projects in Jingumae, Yoyogi Park, and Dogenzaka. TRUNK seems to be at the center of all this as a pioneer of Shibuya culture.

Masayuki : You know, the definition of luxury is changing these days. For instance, in fashion, you see Louis Vuitton appointing artistic directors like Virgil Abloh and Pharrell Williams for their men's division. It seems like luxury is shifting away from just being about extravagance or high-end and moving towards something more intrinsic. That's why TRUNK aims to pursue our own version of luxury in the areas that are currently in the spotlight, such as Harajuku, Omotesando, and Shibuya.

Tokyo is a city meant to be explored on foot, and that essence shines in this OKUSHIBU area.
The Monocle Shop Tokyo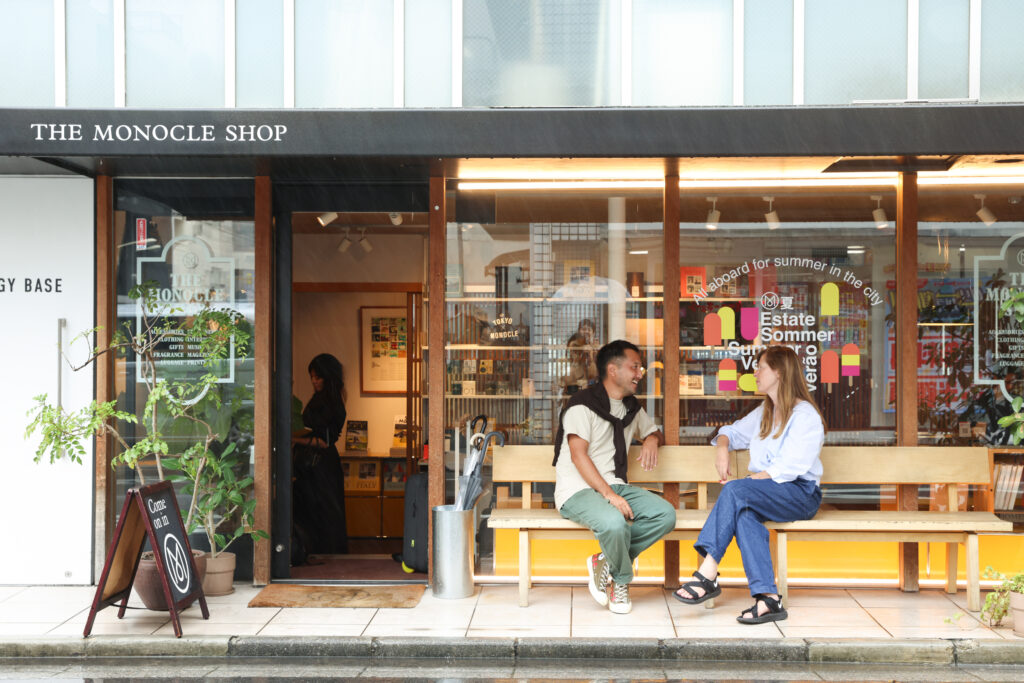 Masayuk i: One place I frequently visit and enjoy is The Monocle Shop Tokyo to meet Fiona Wilson, the Asia Bureau Chief for the London-based MONOCLE magazine. We chat, exchange information, and I always come away feeling inspired. She's also a resident of Okushibu and was one of the first people to be drawn to the charm of this area. She really knows everything there is to know about Japan.

Fiona (MONOCLE) : Masa drops by often and is always welcome here. I've been living in this area for about 12 years now. This town, where many creators live and work, is incredibly stimulating.
MONOCLE is a lifestyle magazine founded in London with the motto "Quality Print Media." It provides information on culture, design, travel, and business from a unique perspective and is a global publisher targeting entrepreneurs and international businesspeople.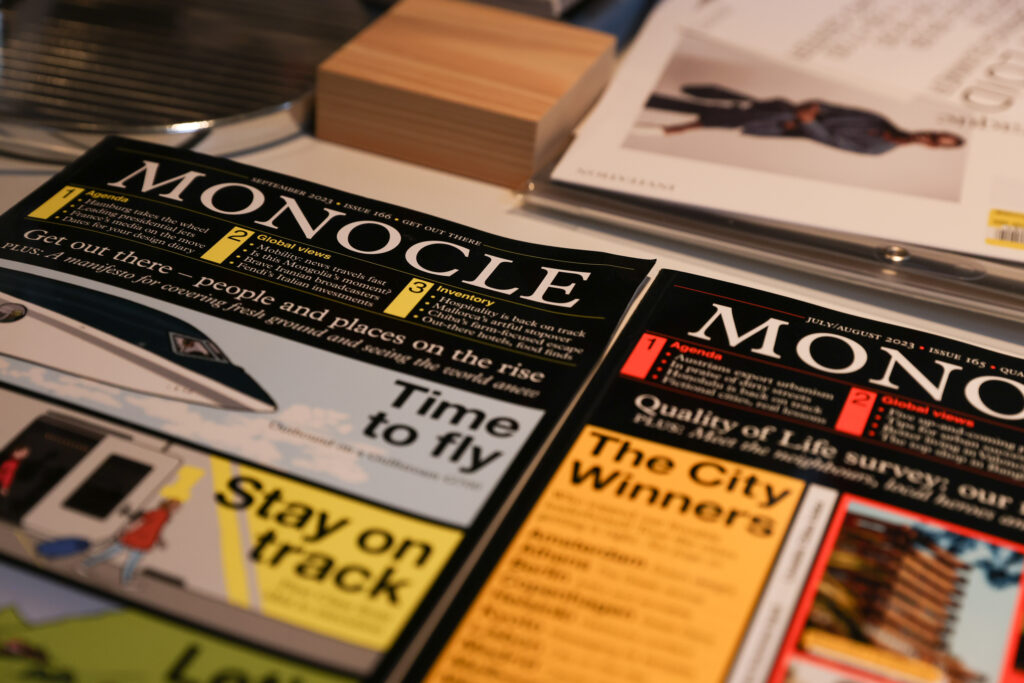 The entrance has a shop featuring a selection of products, ranging from original merchandise to collaborative items. Beyond that lies the editorial office space, and further in, is the recording studio for Monocle Radio.
The Monocle Shop Tokyo
1 Chome-19-2 Tomigaya, Shibuya City, Tokyo 151-0063
Monocle Web Site : https://monocle.com/
Modern Chinese Cuisine REI
Masayuki : Next, I'd like to introduce REI, a modern Chinese restaurant in Yoyogi Uehara. My family and I visit it frequently, and it's a great spot for business lunches too. I also like that it's welcoming for solo diners as well.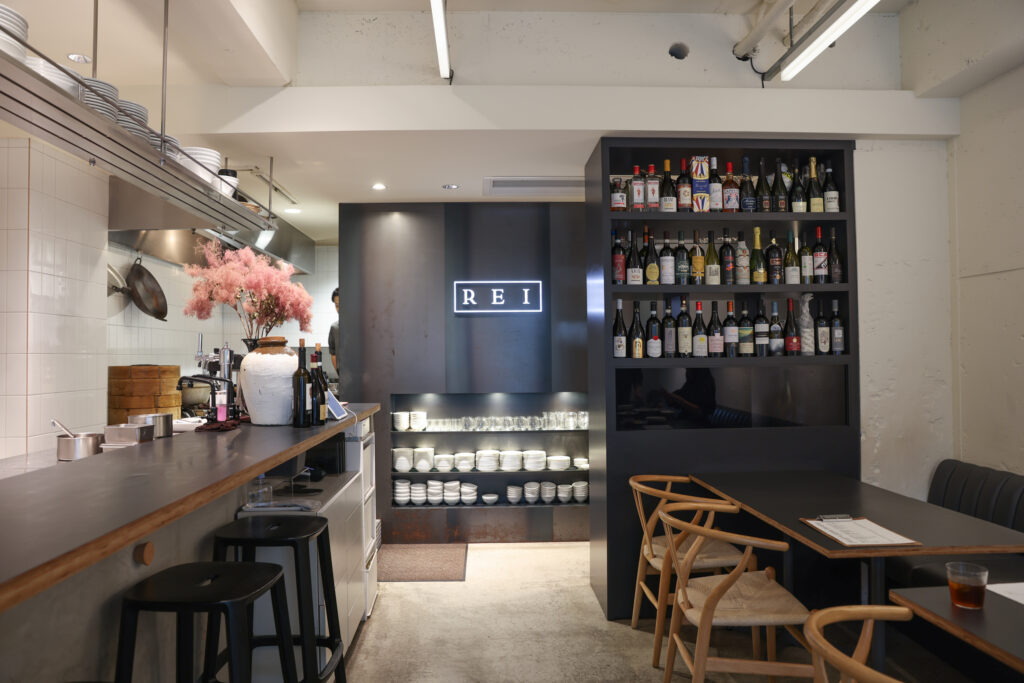 Takashima (Owner-Chef of REI) : We offer half portions, so we have many solo diners as well. Recently, we had the opportunity to introduce our restaurant on a popular food TV show for women and served our Ebi Mayo (fried shrimp in mayonnaise sauce) and century egg.

Masayuki : This restaurant is a perfect blend of local and upscale Chinese cuisine. My favorites here are the Yodare Chicken, Ebi Mayo, and the Hong Kong-style Steamed Sea Bream. Also, the Mapo Tofu here is unbeatable. By the way, it was featured in the Bib Gourmand Michelin Guide quite early, wasn't it?

Takashima : That's right. We might have gotten lucky during a period when there were fewer new restaurant openings due to the pandemic.

Masayuki : There are actually many great restaurants around this area featured in the Bib Gourmand Guide that are both affordable and delicious.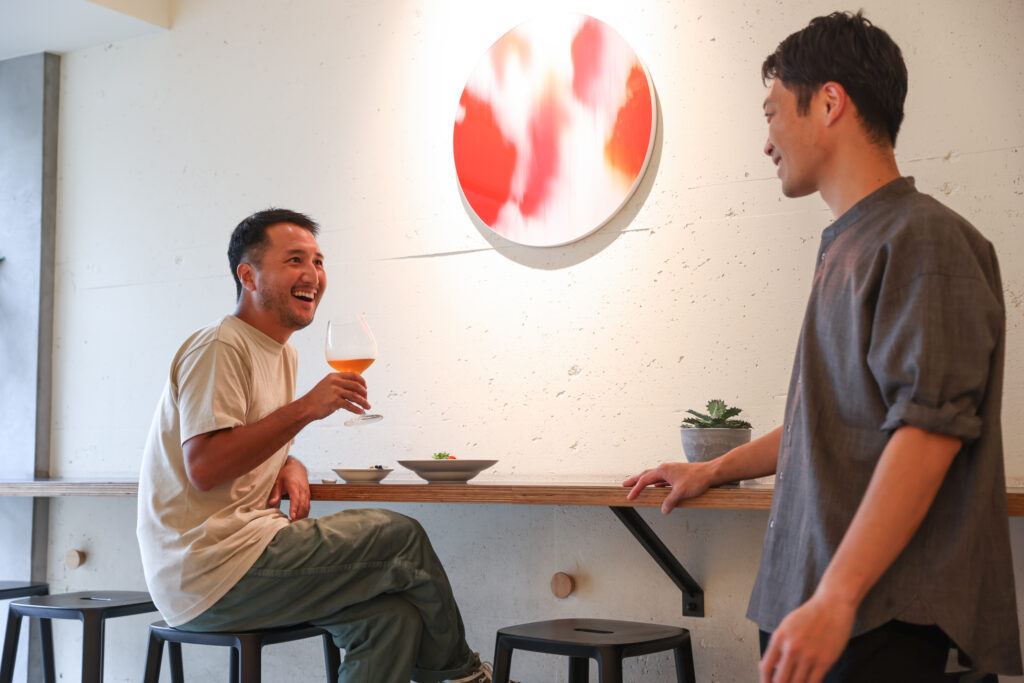 Owner-Chef Takashima has a wide range of experience, from working in a Chinese restaurant at a hotel to having trained under Cantonese cuisine master chef Tomitoku Shū. He is joined by a team with experience from top Italian restaurants, and a selection of Italian wines is available to complement your meal.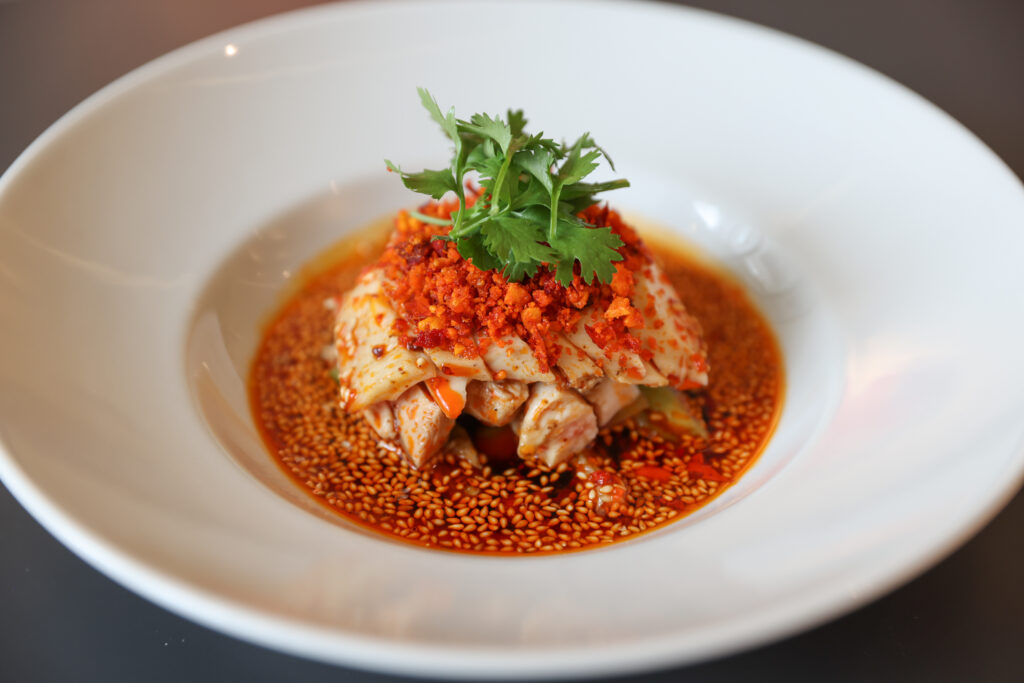 (left to right) Yodare Chicken, REI Style – The homemade chili oil is delectable. Hong Kong-Style Steamed Sea Bream – The sauce, enriched with dried shrimp and Thai fish sauce, is so rich that you'll want to add noodles to it. Ebi Mayo – The delicate morsels are gentle on the palate and is a recipe passed down from the Owner-Chef Takashima's mentor.
REI Chinese restaurants
Motoyoyogicho 10-8, Shibuya City, Tokyo 151-0062
Instagram : @rei_yoyogiuehara
Cocktail & Coffee : Liquid Factory
On a side alley just a 5-minute walk from TRUNK(HOTEL) YOYOGI PARK is Liquid Factory, a hip bar serving specialty coffee and cocktails.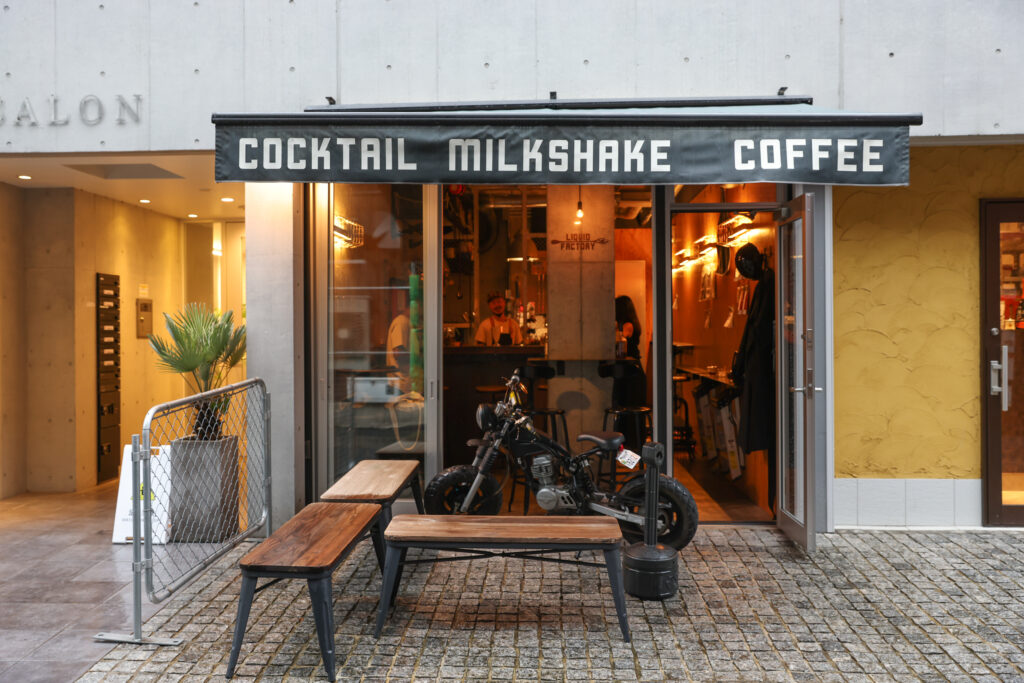 Masayuki : Their "adult" milkshakes here are incredibly addictive. I haven't been here recently because I've been on a diet [laughs], but what I used to do was, after drinking in Shibuya, I'd stop by this place and enjoy a milkshake by myself before heading home. It's bound to make you gain weight, right? [laughs]

Saito (Liquid Factory): It's a cocktail milkshake. We change it seasonally, and currently, it's Pear Compote. We create a compote using Japanese pears with sherry and anise, blend it with almonds, and finally add cognac to the shake.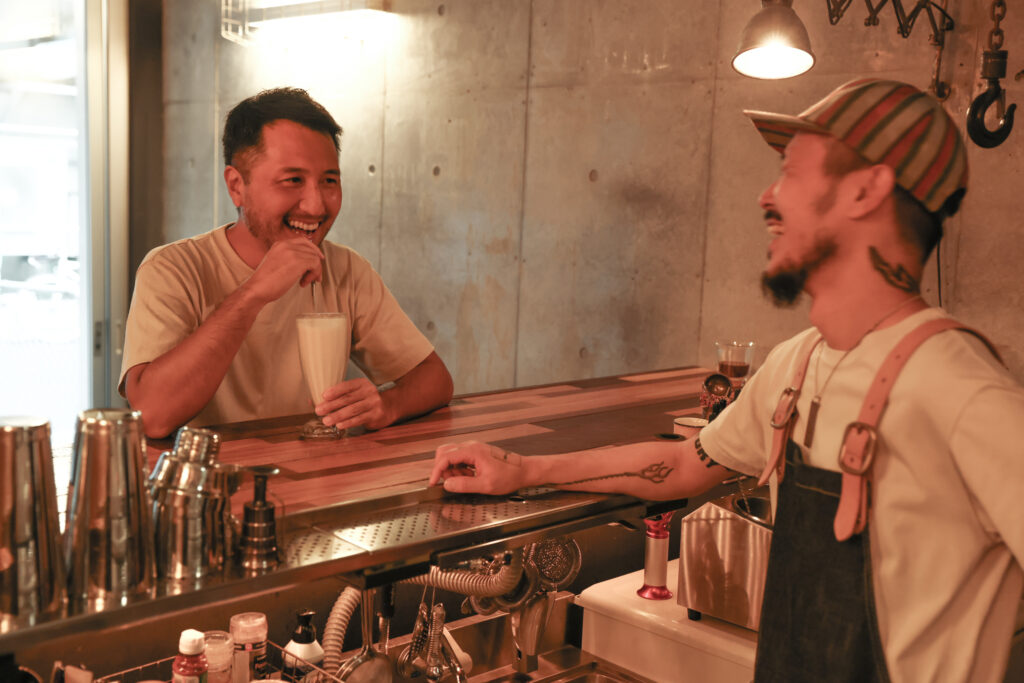 Masayuki : The ambiance of this place is also very chill.

Saito: I'm originally from Yokohama, and my first job was at a company where the first floor had a diner and an apparel store, and the second floor was an automotive parts shop. Yokohama has quite a big American diner culture, so that might have influenced me. That got me thinking I'd like to open a diner someday. Milkshakes are truly iconic Americana, right?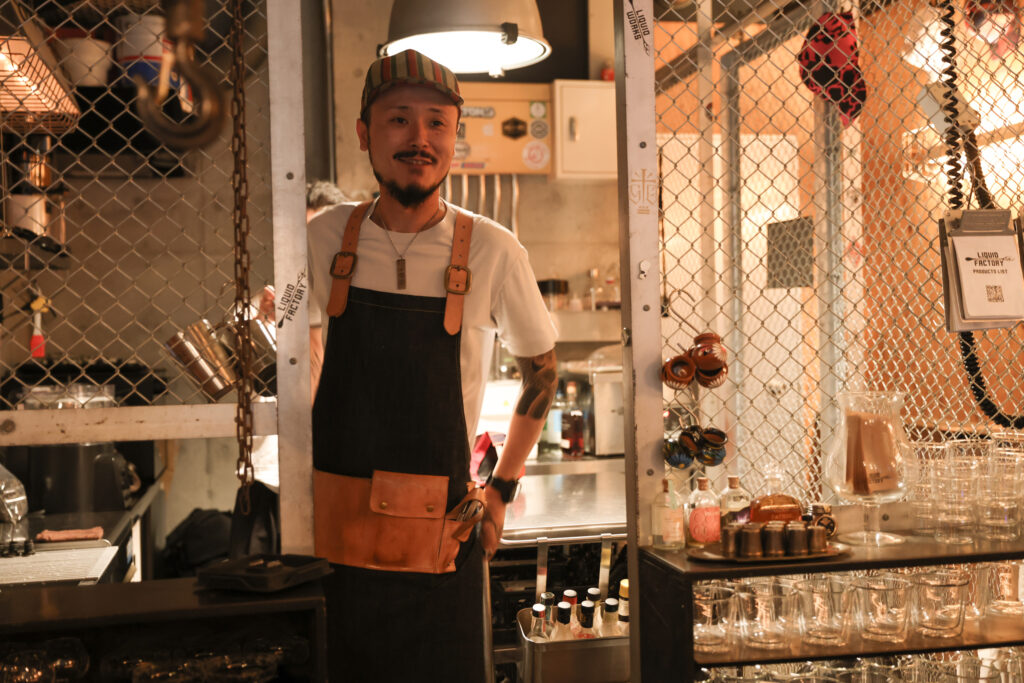 LIQUID FACTORY
Udagawacho, 42−12 Shibuya City, Tokyo 150-0042
Instagram : @liquid.factory
ZEROMILE: Is Shibuya comparable to any city overseas that you've been to?

Masayuki : There's no city quite as chaotic as Shibuya… you have these massive redevelopment buildings right by the station, but right at their base, you'll find small local grocery stores and such. There are also entertainment districts and narrow alleyways. There's really no city like this. That's its charm, I suppose, although it's gradually disappearing. If they keep building the same kind of complexes through redevelopment, it won't be interesting at all.
Just a short walk from bustling Shibuya Station, lined with large fashion buildings, you can experience a change as if you've entered an entirely different town. The relaxed yet edgy atmosphere of OKUSHIBU, with its independent apparel shops, cafés, and restaurants, offers a unique Tokyo vibe where you can simultaneously relax and feel excitement. It's a place that truly embodies the right balance of comfort and stimulation characteristic of Tokyo, best explored on foot.
TRUNK(HOTEL)
TRUNK(HOTEL) is a boutique hotel brand originating from Japan, was launched in May 2017 with the concept of Socializing. This concept revolves around the idea that each individual should embrace their own lifestyle without excess or unnecessary extravagance.
The core philosophy of Socializing encourages individuals to lead their lives authentically while also emphasizing the importance of social responsibility. The pillars of Environment, Local First, Diversity, Health, and Culture are at its foundation.
In 2019, the brand unveiled the transformation of a former geisha rehearsal hall in Kagurazaka, Tokyo, revitalized into a townhouse hotel called TRUNK(HOUSE).
TRUNK(HOTEL) YOYOGI PARK opened in September 2023. Each TRUNK location presents a unique concept tailored to its specific surroundings. Striving to create hotels with distinct identities for each location, the company endeavors to provide guests with extraordinary and luxurious travel experiences
TRUNK(HOTEL) YOYOGI PARK
HP: https://yoyogipark.trunk-hotel.com/en
Instagram: @trunkhotel_yoyogipark