Whether you are visiting Tokyo for the first time or a local planning a staycation, the five-star TRUNK(HOTEL) YOYOGI PARK is bound to be a great choice this coming autumn.
Currently taking reservations and opening their doors on September 1, 2023, the hotel will feature 25 guest rooms, including five suites, along with a restaurant, a rooftop infinity pool, and a lounge area, providing a perfect setting to unwind.
Located in the Tominaga district towards the backend of Shibuya, right next to the tranquil greenery of Yoyogi Park amongst coffee shops and specialty stores, the hotel offers an ideal location within walking distance of the vibrant shopping and entertainment hub.
With its artistic and luxurious ambiance, TRUNK(HOTEL) YOYOGI PARK embodies the concept of Urban Recharge, aiming to provide guests with an experience that will energize visitors through a combination of relaxation and stimulation in the heart of the urban environment.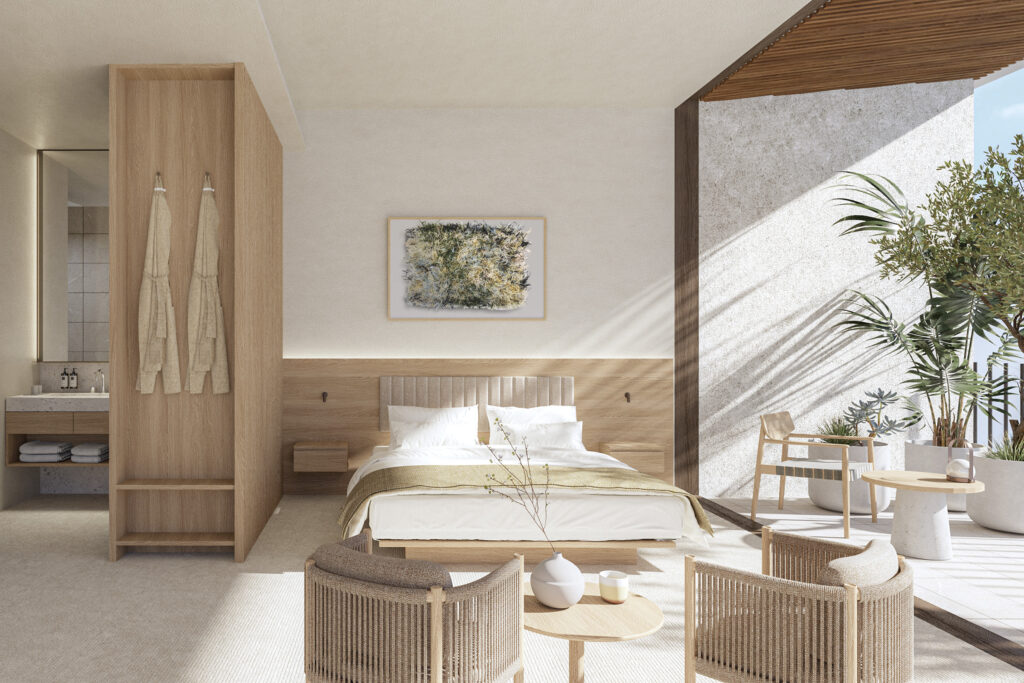 City View Standard
This establishment marks the second hotel under the TRUNK(HOTEL) brand, known for their creative design concepts and unique restaurants, with the first one located nearby, between Shibuya and Harajuku stations, just off trendy Cat Street.
The building and interior design of the hotel were collaborated on by renowned Japanese architect and designer Keiji Ashizawa. The Tomigaya area's cityscape and atmosphere are seamlessly incorporated into the building and interior aesthetics in a harmonious blend.
In addition, the interior design of the hotel was collaborated on by the Copenhagen, Denmark-based architecture firm, Norm Architects. The result is a space that infuses the Japanese concept of Ma (meaning pause or interval) with a contemporary Scandinavian aesthetic that harmoniously embraces the nature of the park just outside the windows.
There are 20 standard rooms in four different types, many of which are equipped with balconies, as well as four Park View Suite rooms directly facing Yoyogi Park and an exclusive Owner's Suite located on the penthouse floor.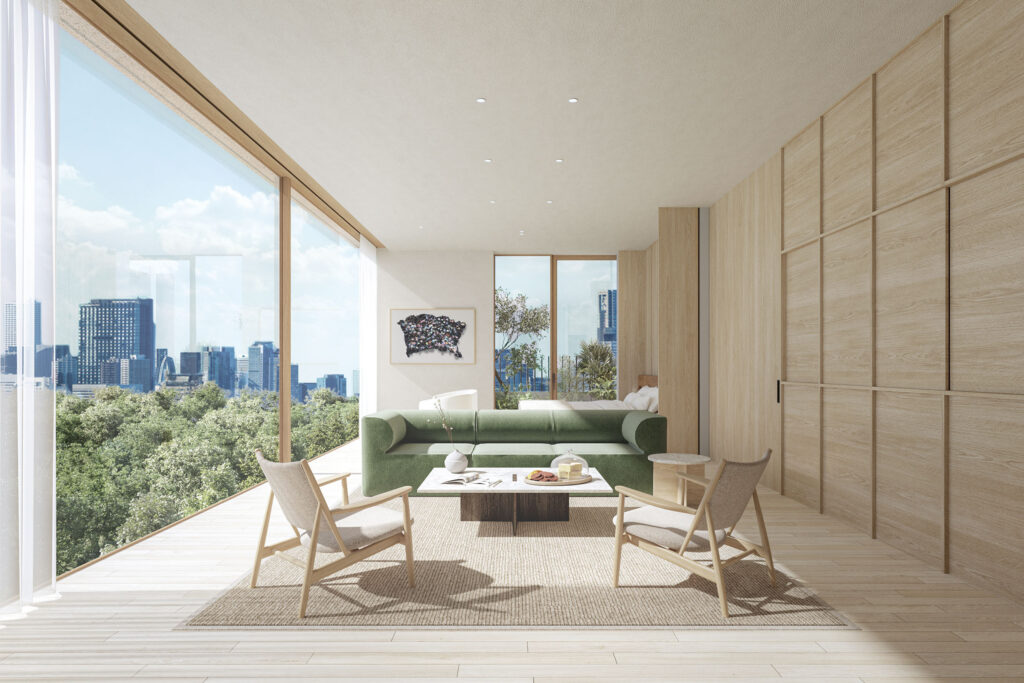 Owner's Suite
The hotel offers a wide range of accommodation options, making it an excellent choice for solo travelers as well as families, whether it's for business trips, leisurely stays, or special occasions.
In addition, the hotel is home to PIZZERIA e TRATTORIA L'OMBELICO, an Italian restaurant that you can stop by even if you aren't staying overnight.
Pizzas baked in a wood-fired oven imported from Italy are the highlight of the menu. Also featured are a selection of dishes that showcase the freshness of seasonal ingredients. The restaurant's thoughtfully curated collection of natural wines as well as exclusive Italian wines make excellent pairings with your meal.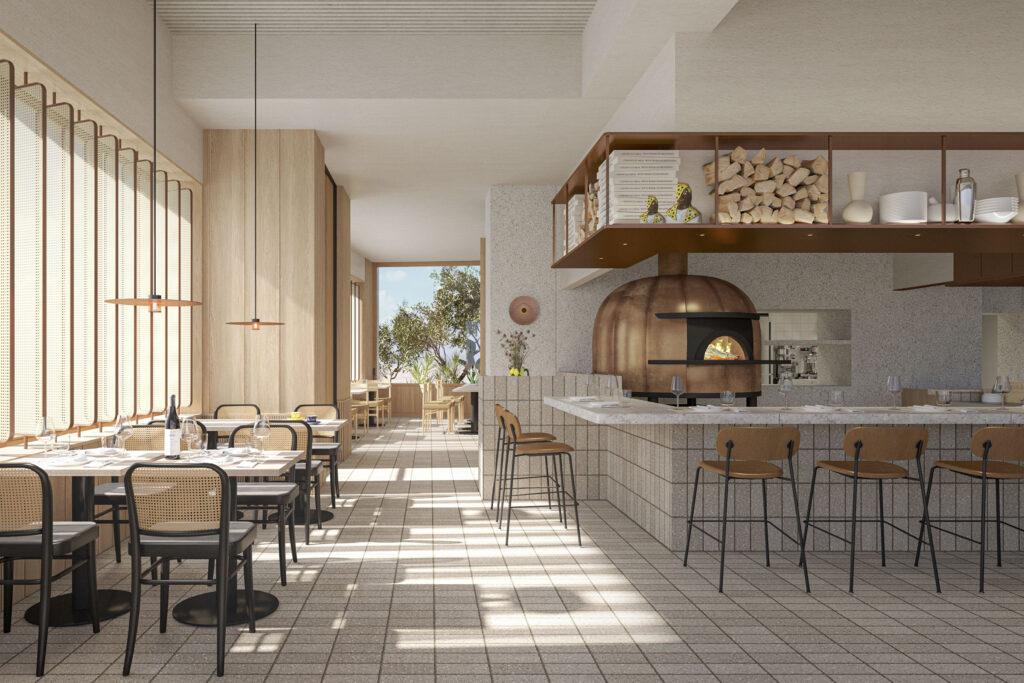 PIZZERIA e TRATTORIA L'OMBELICO
In line with TRUNK(HOTEL)'s vision, the restaurant has a strong commitment to promoting environmental friendliness. It actively prioritizes sustainability by using ingredients sourced from circular agriculture and eco-friendly seafood, aiming to maximize sustainability and minimize food waste.
Guests can indulge in a culinary experience that weaves together traditional Italian cuisine with the finest Japanese ingredients, where each dish tells its own unique story.
An unforgettable highlight of the hotel is the TRUNK(POOL CLUB), which features an infinity pool on the rooftop that offers a breathtaking view of Yoyogi Park you won't be able to experience anywhere else.
Exclusively for hotel guests, the pool is a serene sanctuary where you can unwind and rejuvenate your body and mind while enjoying nature.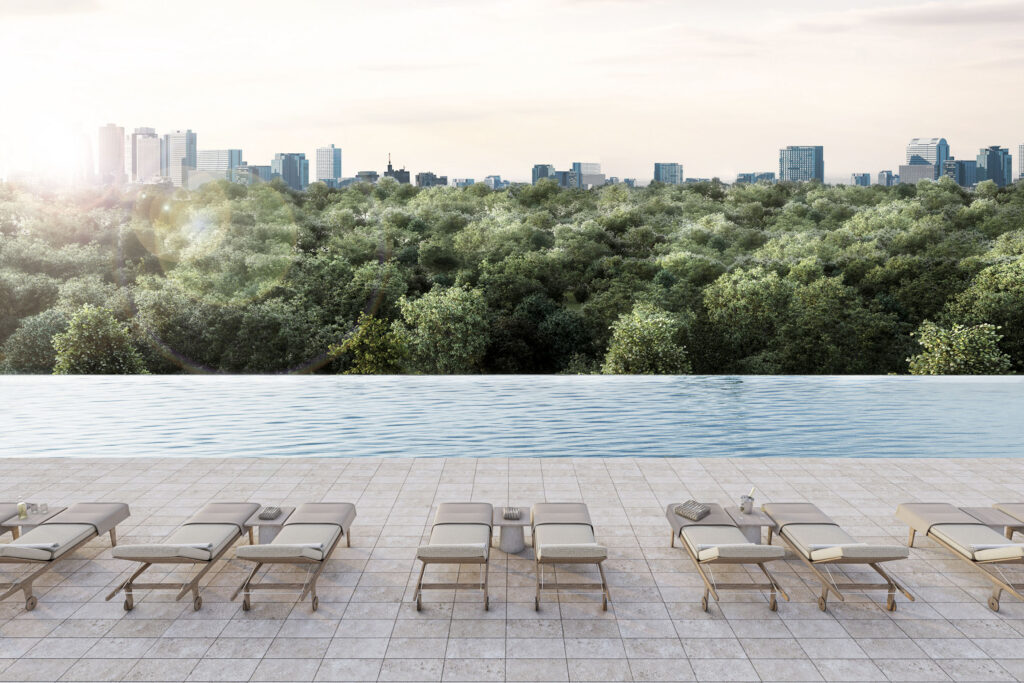 TRUNK(POOL CLUB)
After enjoying a refreshing swim in the pool or relaxing in the Jacuzzi or by the cozy fire pit, you can take a moment to unwind in the adjacent lounge. Here, you can treat yourself to a wide array of beverages and signature cocktails, perfectly paired with fresh seafood, in a moment of pure indulgence.
When TRUNK(HOTEL) YOYOGI PARK opens this autumn, it will be prime time to enjoy the colors of the changing leaves from the room balcony or rooftop pool. Rooms during the first couple months are going fast, so make sure to make your reservation well in advance!
TRUNK(HOTEL)
TRUNK(HOTEL), a boutique hotel brand originating from Japan, was launched in May 2017 with the concept of Socializing. This concept revolves around the idea that each individual should embrace their own lifestyle without excess or unnecessary extravagance.
The core philosophy of Socializing encourages individuals to lead their lives authentically while also emphasizing the importance of social responsibility. The pillars of Environment, Local First, Diversity, Health, and Culture are at its foundation.
In 2019, the brand unveiled the transformation of a former geisha rehearsal hall in Kagurazaka, Tokyo, revitalized into a townhouse hotel called TRUNK(HOUSE).
In September 2023, TRUNK(HOTEL) YOYOGI PARK is set to open its doors in Tomigaya, Shibuya-ku, Tokyo. Each TRUNK location presents a unique concept tailored to its specific surroundings.
Striving to create hotels with distinct identities for each location, the company endeavors to provide guests with extraordinary and luxurious travel experiences.
TRUNK(HOTEL) YOYOGI PARK
Location:〒151-0063 1-15-2 Tomigaya, Shibuya-ku, Tokyo
Reservations available now
Opening: September 1, 2023
Teaser site: https://yoyogipark-teaser.trunk-hotel.com/
For lodging reservations: https://go-trunkhotel.reservation.jp/en/hotels/yoyogipark
Instagram: @trunkhotel_yoyogipark