Brighten up this rainy season with flowers and fish by visiting Ajisai Zukushi, a special exhibit showcasing the beauty of hydrangea flowers and goldfish, now being held at the Art Aquarium Museum GINZA (Ginza Mitsukoshi) from April 26th to June 27th.
The title of the exhibit, "Ajisai Zukushi," is a fusion of the Japanese word for hydrangea, "Ajisai," and "Zukushi," which signifies an abundance of something.
The hydrangea presentation is paired by an additional special exhibit in celebration of the museum's first anniversary, which falls on May 3rd.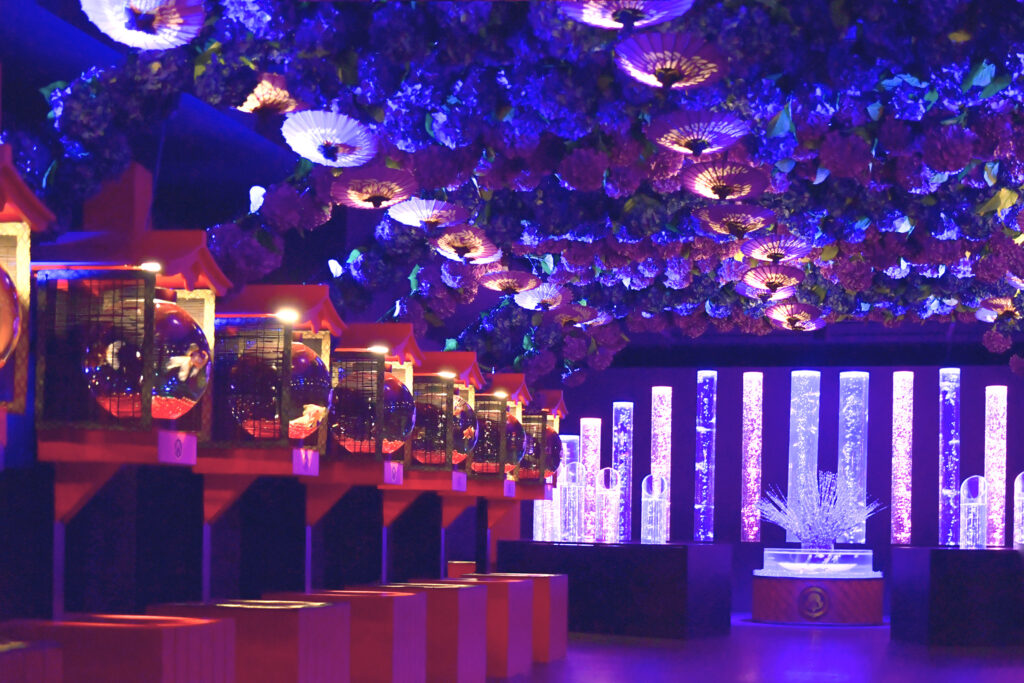 Chochinrium, Photo by ART AQUARIUM MUSEUM GINZA
Early Summer Special Exhibit: Ajisai Zukushi
In Japan, early summer brings the rainy season, which is also when hydrangeas bloom. In this special exhibit, the entire Art Aquarium Museum will be adorned with captivating displays and spatial effects that showcase the beauty of hydrangeas. The museum aims to create a vibrant atmosphere that embodies the essence of early summer in Japan.
The exhibition includes tranquil settings that draw inspiration from Japanese shrines and temples, captivating works that evoke the wonders of nature, and a unique collaboration between goldfish and the hydrangea flower.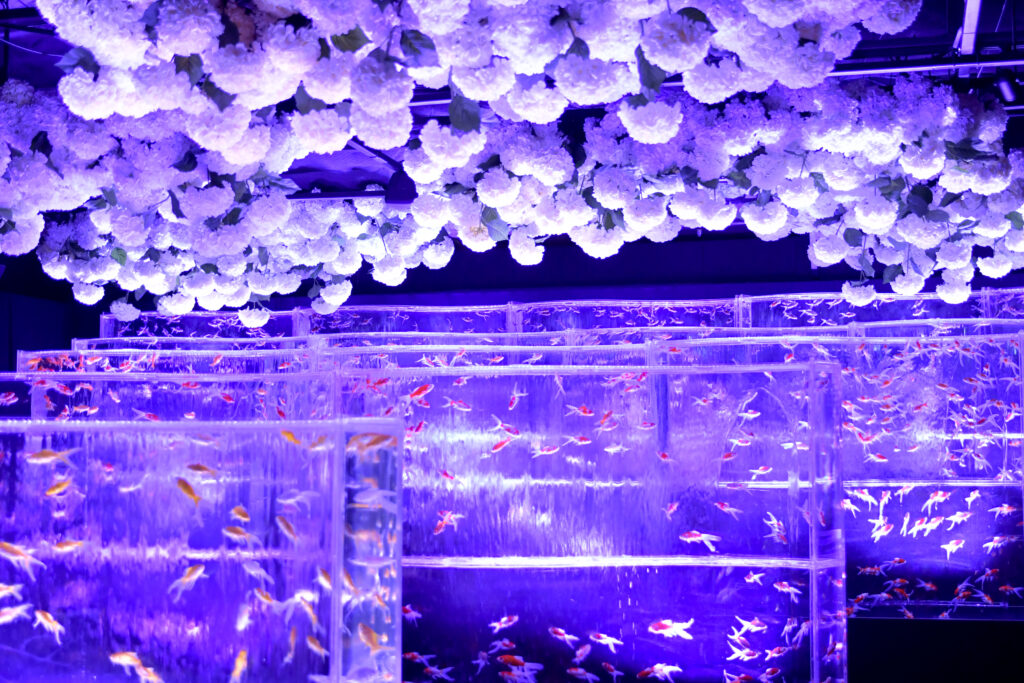 Goldfish Waterfall, Photo by ART AQUARIUM MUSEUM GINZA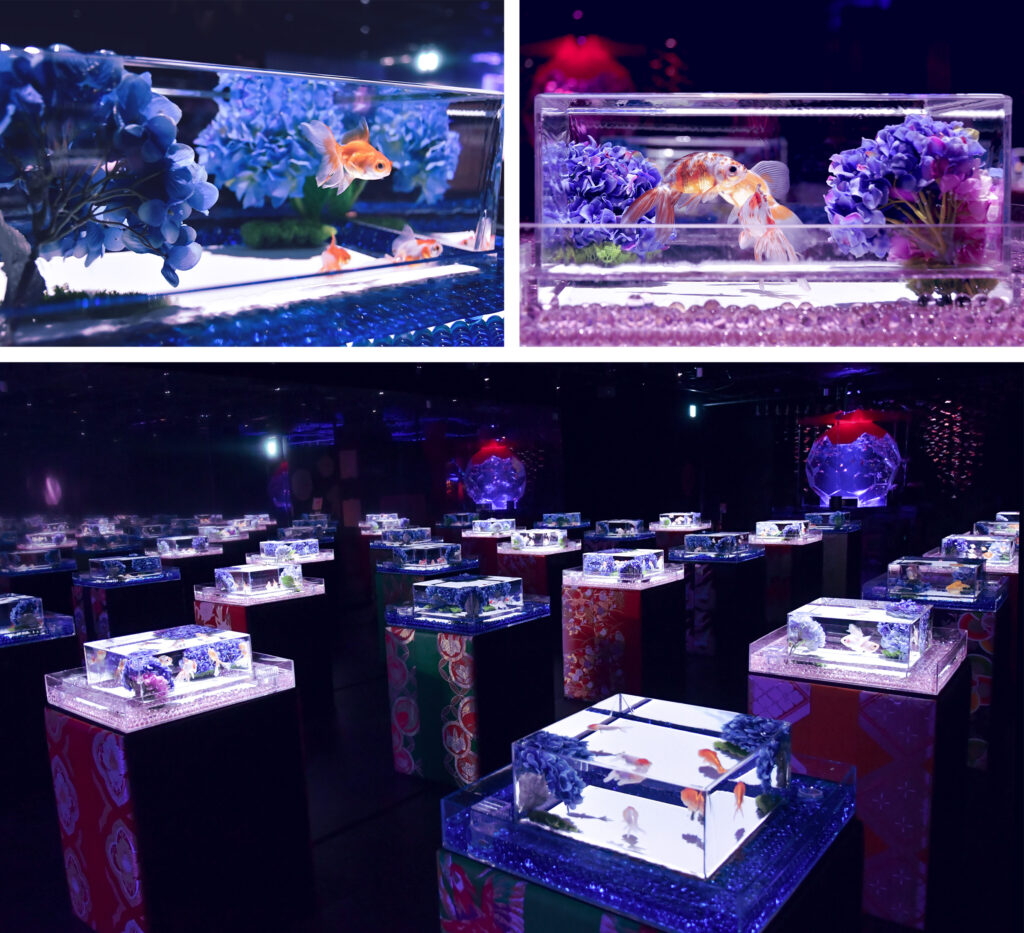 A Show of Kingyo [New Version], Photo by ART AQUARIUM MUSEUM GINZA
First Anniversary Special Exhibit: Goldfish Corridor
In the Goldfish Corridor, columns full of swimming goldfish are positioned within a space inspired by the architecture of Japanese shrines and temples. A seemingly unbroken path is infused with an infinite expanse of goldfish, stretching endlessly in both directions. Combined with hydrangeas, this exhibit invites visitors into a realm of wonder and fantasy.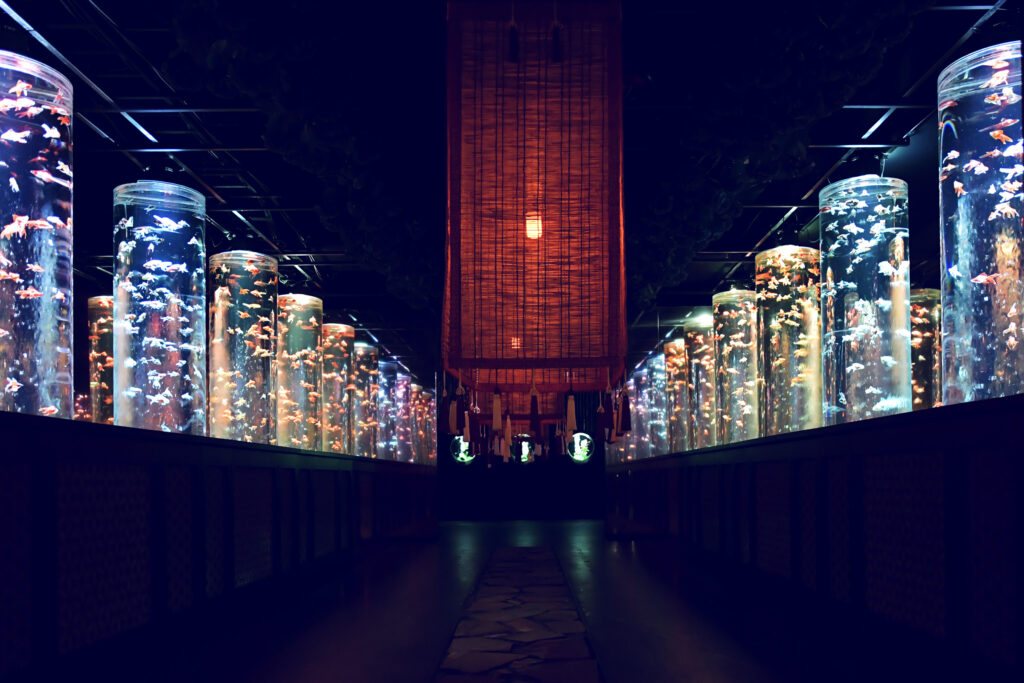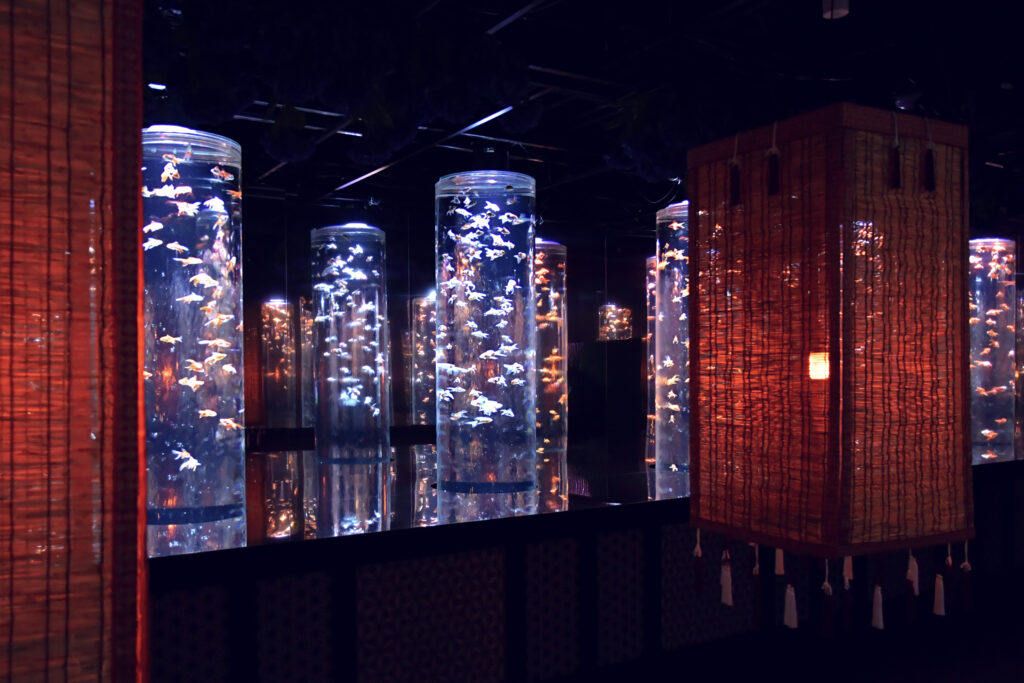 Goldfish Corridor, Photo by ART AQUARIUM MUSEUM GINZA
To commemorate the museum's first anniversary, the exhibition also showcases all 34 certified Japanese domestic breeds of goldfish and includes over 70 diverse breeds in total, from the most iconic to the exceptionally rare. Don't miss this opportunity to immerse yourself in one of Japan's largest goldfish art displays.
There is also a first anniversary commemorative photo booth where you can snap some fun pictures.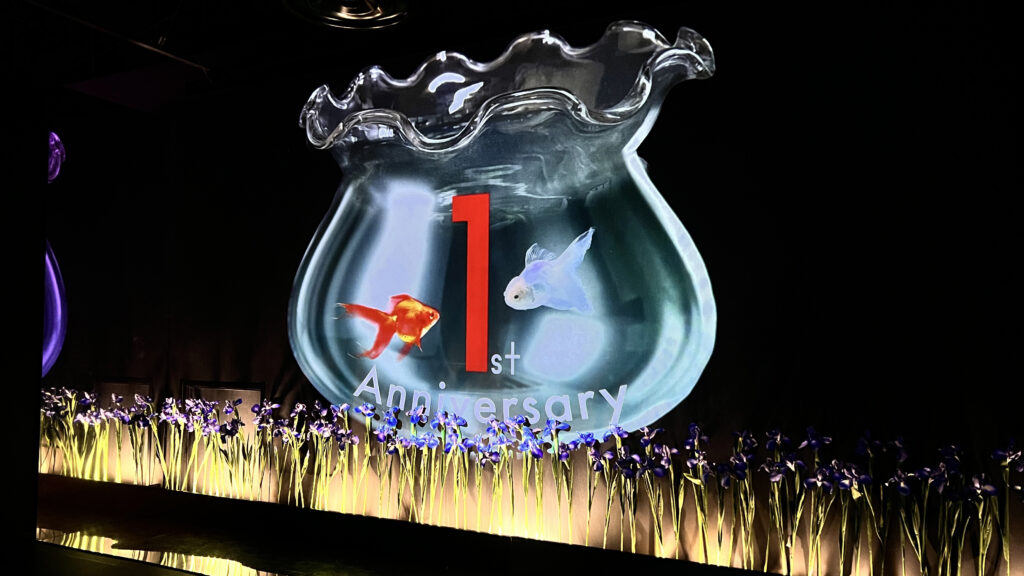 You can visit Ajisai Zukushi from April 26th to June 27th. This magical event offers a unique opportunity to experience the beauty of hydrangeas and goldfish in a mesmerizing atmosphere reminiscent of the season.
It's the perfect rainy day destination to appreciate the allure of the rainy season while in the comfort of the indoors!
Art Aquarium Museum GINZA
Address: 〒104-8212
Ginza Mitsukoshi, 4-6-16 Ginza, Chuo-ku, Tokyo (Entrance reception/same-day tickets: 9th floor of the new building)
Advanced Online Tickets: ¥2,300 https://ticket.artaquarium.jp
Same-day Tickets: ¥2,400
Official Website: http://artaquarium.jp