In 1998, AKIRA revolutionized the world of anime with its stunning visuals, intricate details, and impressive animation techniques. Its level of quality and complexity was unprecedented for its time, setting new standards for the industry.
From October 10 to 31, catch a special exhibition of original celluloid art from the film at Mixalive Tokyo in Ikebukuro. Tickets for weekends and holidays are already sold out, so make sure to book in advance!
This exhibition is tied to the release of OTOMO THE COMPLETE WORKS, a remarkable book collection featuring the works of the acclaimed manga artist and director behind AKIRA, Katsuhiro Otomo. Phase 1 of the printed collection (details below) is already on sale, so pick yours up today.
Animation AKIRA Cel Exhibition
The exhibition will include over 600 celluloid drawings and layouts from Otomo's personal collection showcasing the original artwork used in the making of AKIRA, which are also included in the Animation AKIRA Layouts & Key Frames volume of OTOMO THE COMPLETE WORKS.
Otomo himself planned and curated the exhibition, which offers fans a brand-new way to experience the world of AKIRA in addition to the manga and anime.
The exhibition is divided into three sections: NEO TOKYO, NIGHT-MARE, and catastrophe theory, showcasing different parts of the film. There will also be a photo spot where visitors can recreate an iconic scene from the movie!
Other projects are in the works, so be sure to keep an eye on their social media listed on the last of this article for updates.
OTOMO THE COMPLETE WORKS
Katsuhiro Otomo is a manga artist, illustrator, director, and script writer, most widely known for creating the iconic 1988 animated film AKIRA. OTOMO THE COMPLETE WORKS collection offers a chronological journey through his diverse creations, from manga to anime and video works. The publication is an archive of Otomo's work that also provides a glimpse into contemporary culture spanning from the 1970s to the present day.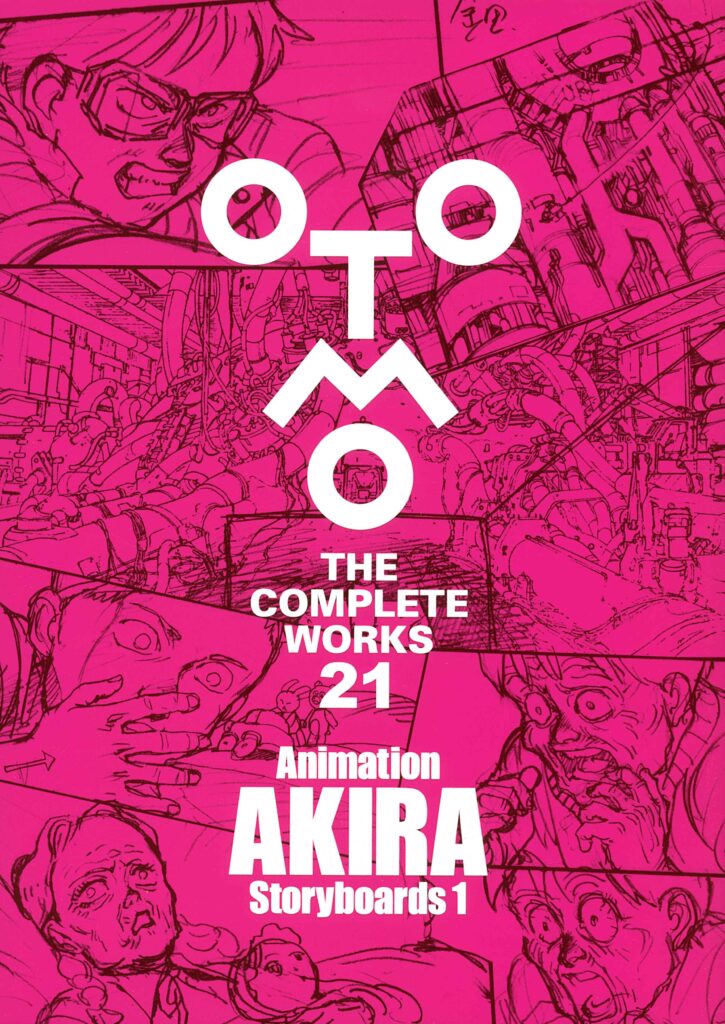 Volume 21: Animation AKIRA Storyboards 1
©︎2023 MASH・ROOM ©︎1988 MASH・ROOM/AKIRA COMMITTEE
The series will be a full compilation of Otomo's works. The publication order is random, so fans can look forward to seeing the full scope of Otomo's legacy once all volumes are released.
Phase 1 Lineup in order of publishing date (Now on Sale):
Volume 8: Domu (manga)
Volume 21: Animation AKIRA Storyboards 1
Volume 2: BOOGIE WOOGIE WALTZ (manga)
Volume 22: Animation AKIRA Storyboards 2
Volume 3: Highway Star (manga)
Volume 4: Sayonara Nippon (manga)
Volume 23: Animation AKIRA Layouts & Key Frames 1
Volume 24: Animation AKIRA Layouts & Key Frames 2
New Releases (July 2023):
Volume 1: Jusei (manga)
Description: A collection of Otomo's early works from 1971 to 1974, including 11 short manga pieces created during his student days to his professional debut.
Volume 5: Fire-Ball (manga)
Description: A collection of 12 short manga created by Otomo between 1978 and 1979, showcasing his experimentation with the science fiction genre, particularly the significant title work Fire-Ball.
Price: ¥3,190 each (tax included)
Stay tuned for further volume announcements as they become available.
Details:
・Size: B5 format
・Phase 1 Complete Set Bonus: Katsuhiro Otomo Original Design Special T-shirt (Collect the application tickets included in all 11 volumes of phase 1 and apply).
・ Each volume comes with a limited first edition Katsuhiro Otomo Design Sticker, with a unique design for each volume.
・ Endnotes in each volume by Katsuhiro Otomo.
・ Cover design by Katsuhiro Otomo.
OTOMO THE COMPLETE WORKS
Website: https://otomo-complete.com
Twitter & Instagram: @otomo_zenshu
OTOMO THE COMPLETE WORKS: Animation AKIRA Cel Exhibition
Location: Mixalive TOKYO 4F Studio Mixa
Address: 1-14-3 Higashi-Ikebukuro, Toshima-ku, Tokyo 170-0013, Japan
Dates: August 10, 2023 (Thr) ~ August 31, 2023 (Thr)
Hours: 10:00 ~ 20:00 (last admission at 19:45)
Admission: ¥3,500 (tax included)
*Preschool children allowed with a parent or guardian (free admission)

Ticket sales website: https://ticket1.eplus.jp/index.php?sl=en