Ace Hotel, known for its creative and sophisticated approach to hospitality, currently has 10 locations worldwide and has established itself as one of the top picks for travelers with a sense of curiosity.
No two Ace Hotels are alike. The brand regularly collaborates with local artists, designers, and cultural experts to create a truly unique stay at every destination. Yet when one visits, they will find the consistent values of discovery, ingenuity, and cultural communion running deep in each location.
Ace Hotel Kyoto made its grand debut in June 2020 and is no exception to this. The hotel is located within the splendid SHIN-PU-KAN complex, breathing new life into the historical building that once served as the Kyoto Central Telephone Office.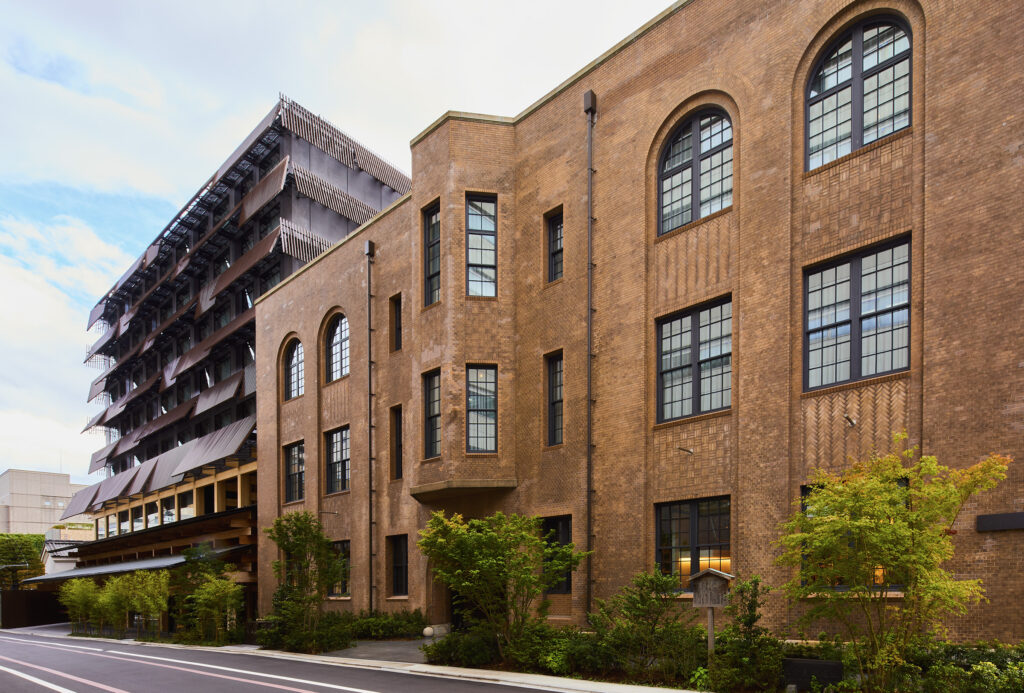 This remarkable brick building was erected in 1926 during the Taisho Period and stands as a testament to architect Tetsuro Yoshida's mastery of pioneering modernist architecture in Japan. The Kyoto Central Telephone Office is one of Yoshida's most iconic works, along with the Tokyo Central Post Office and the Osaka Central Post Office. Recognized for its historical significance, the building was designated as the first Registered Cultural Property of Kyoto in 1983.
The facility underwent a transformation in 2001, while preserving the building's original exterior, evolving into the beloved commercial facility SHIN-PU-KAN and becoming a hot spot for locals.
After a temporary closure in 2016, the building reemerged in 2020 as a once again revitalized complex, carrying forward the harmonious juxtaposition of tradition and innovation.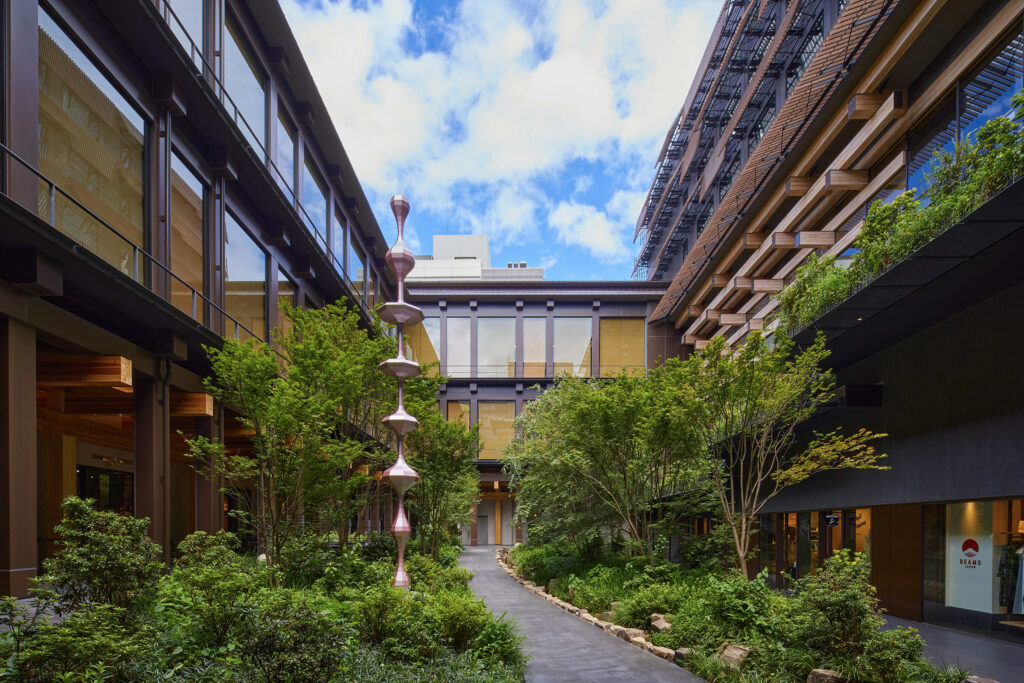 Ace Hotel Kyoto finds inspiration in the past but isn't afraid to be part of the future. The hotel embodies a blend of history and innovation, and this can be seen immediately in the preserved structure intertwined with modern aesthetics.
The intriguing mixture of past and present that the Ace Hotel expertly navigates embodies the essence of modern Kyoto itself, a city known for its rich history while at the same time being lively, youthful, and full of inquisitive energy.
The Hotel was designed by the creative hotel agency Atelier Ace in partnership with renowned architect Kengo Kuma, who also designed the Japan National Stadium built for the 2020 Summer Olympics, and longtime Ace Hotel collaborators, Los Angeles-based Commune Design, with an exciting fusion of East meets West.
Regional materials are used extensively throughout the hotel, featuring many works of art and crafts from local artisans as an homage to Kyoto itself.
Part of the Ace Hotel philosophy is an appreciation for the relationships between people and the environment they inhabit, and this is evident. The historic property has been revitalized in a fresh way, so it can continue to be appreciated by both locals and tourists alike.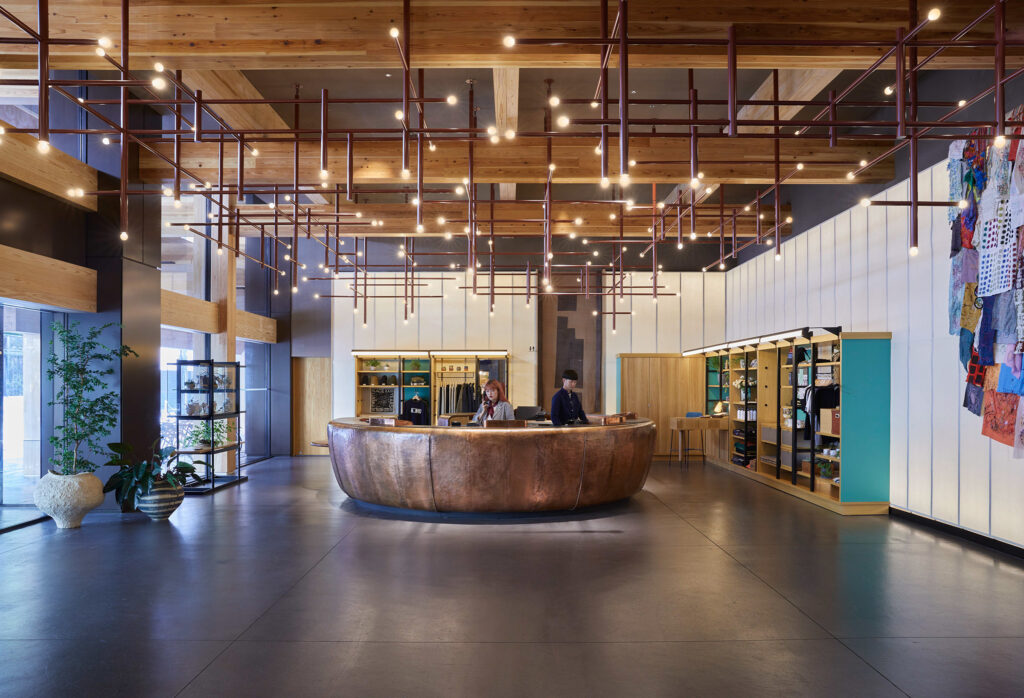 Front desk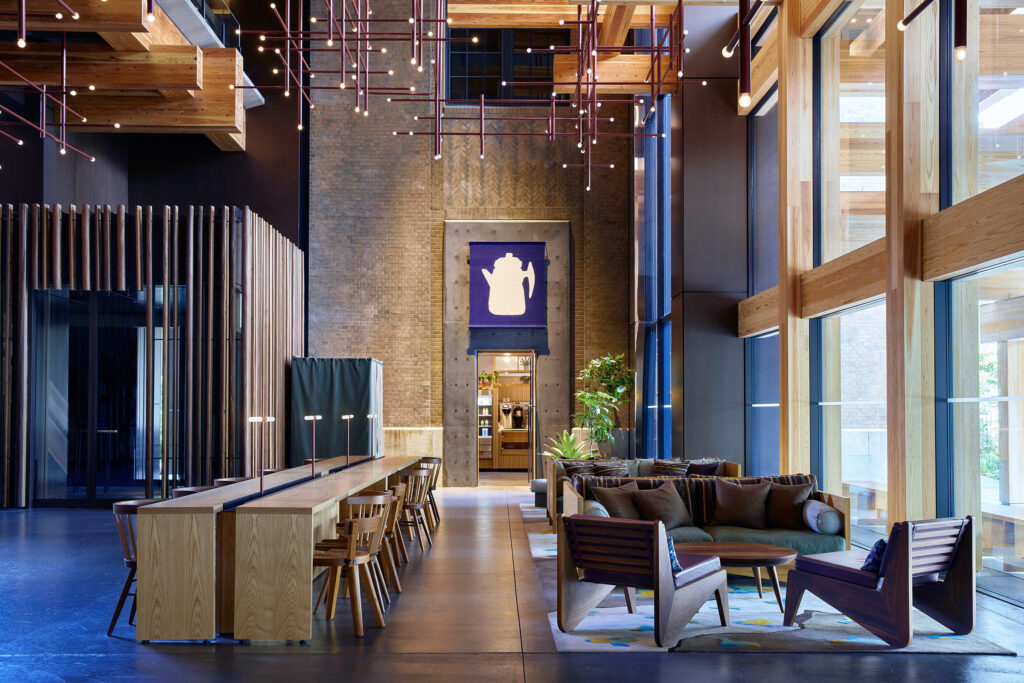 Lobby
Guest rooms at Ace Hotel Kyoto are adorned with the delicate work of master Japanese textile dye artist Yunoki Samiro. The Ace Hotel Kyoto logo was also designed by Yunoki, making his work an integral part of the hotel's identity.
Original wool bed blankets by woolen mill Pendleton from the Pacific Northwest are also carefully incorporated into the room design and pay homage to Japanese artistry and tradition.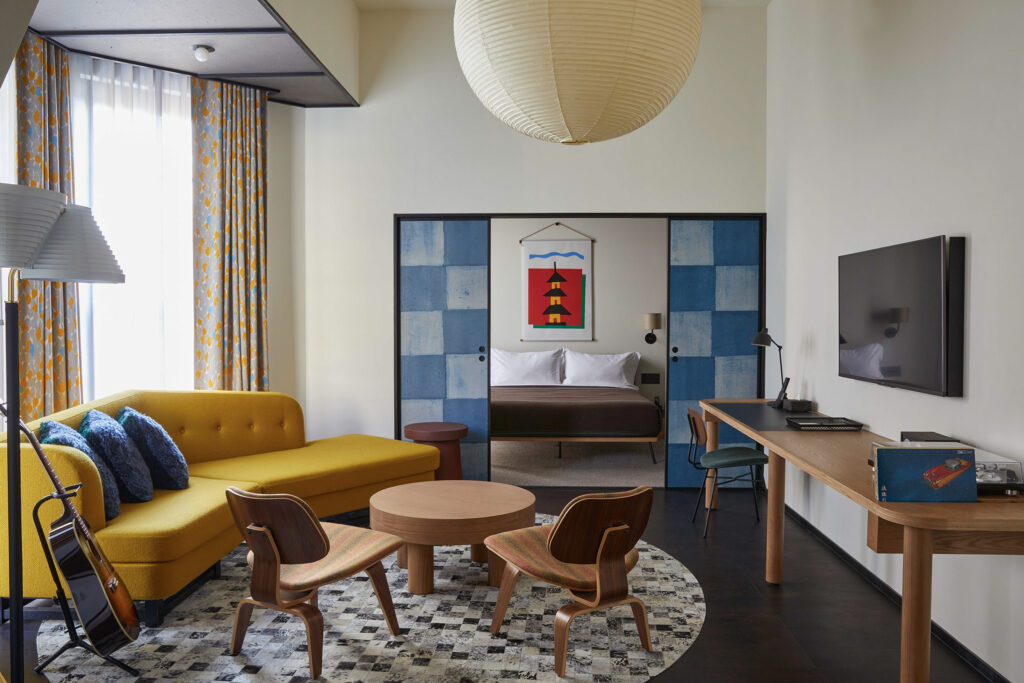 Ace Suite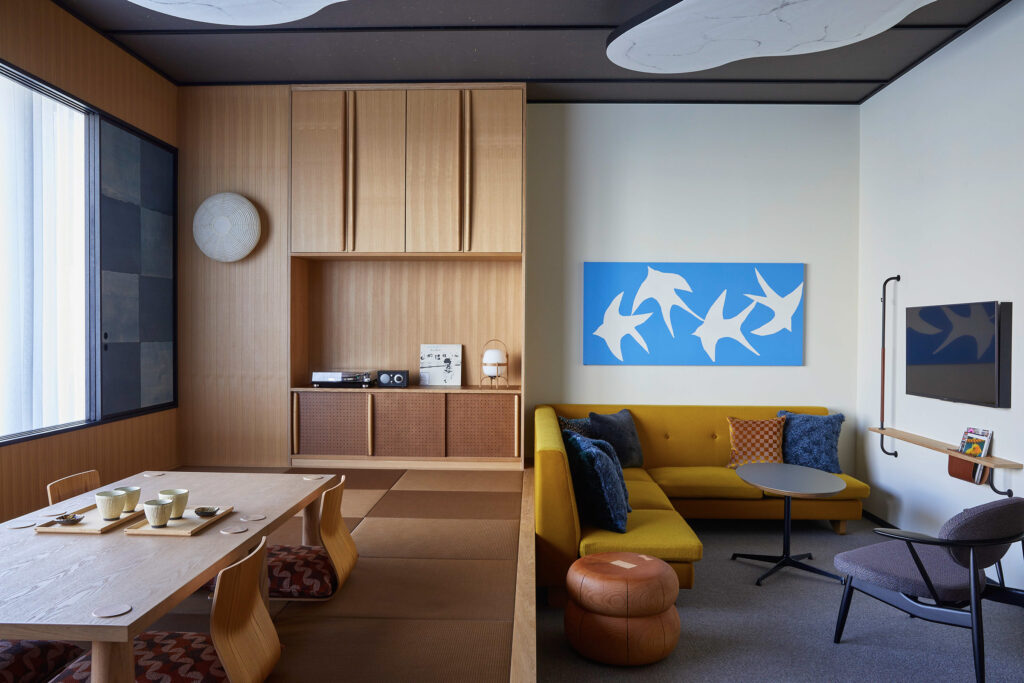 Tatami Suite
A visit to the Ace Hotel Kyoto isn't only about the overnight stay. You can also enjoy two enticing dining options.
Located on the hotel's third floor, the restaurant and rooftop cocktail bar, Mr. Maurice's Italian, serves delectable American-style Italian cuisine supervised by Chef Marc Vetri of Philadelphia. On the second floor and mezzanine, you'll find PIOPIKO, a haven for California-style taco lovers by Chef Wes Avila of Los Angeles.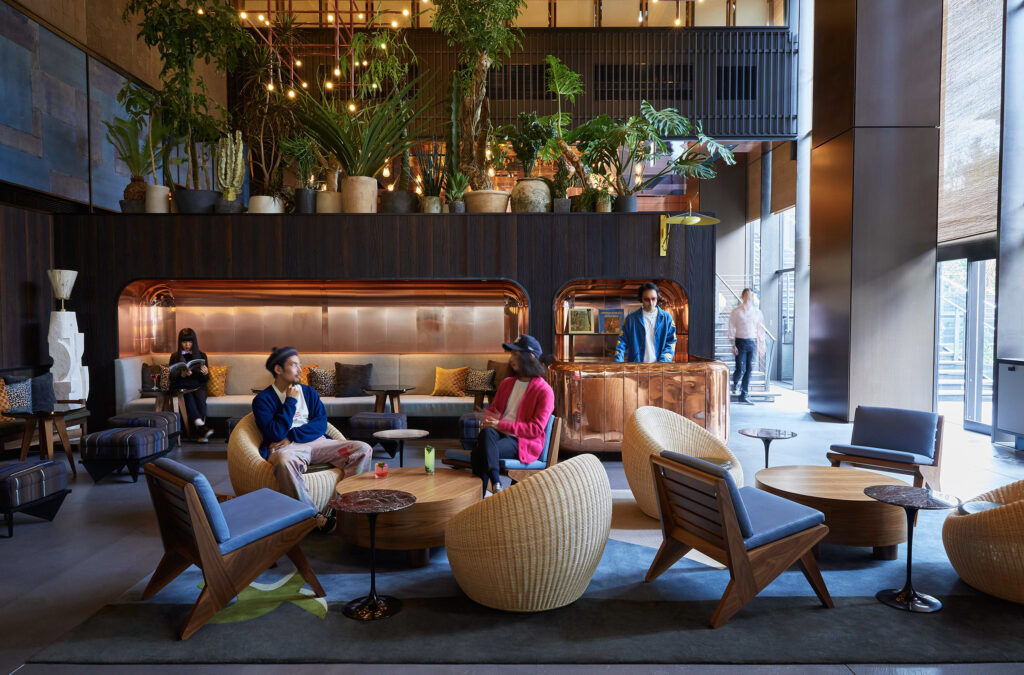 PIOPIKO lounge
Located in the front lobby on the first floor, you'll find Stumptown Coffee Roasters, based in Portland, Oregon, marking their first shop outside of the US. The modern yet rustic counter is a perfect match for Kyoto.
The lobby of the hotel welcomes visitors 24 hours a day, so we highly recommend that you drop by, indulge in a cup of coffee, and take in the artwork on display.
The Ace Hotel is also a shared space that fosters community and culture. It regularly hosts DJ events and exhibitions showcasing the works of talented local artists.
The area around the hotel, Nakagyo-ku, is Kyoto's political and economic epicenter, with many government buildings, corporate offices, and commercial facilities surrounding it. However, the area is also adorned with a plethora of mom-and-pop shops, boutique clothing stores, delightful eateries, and charming cafes, all within walking distance, and is a great place to explore by foot.
Ace Hotel Kyoto is the perfect base for exploring the city of Kyoto, where you can immerse yourself in cutting-edge and contemporary vibes while appreciating the preservation of the city's rich traditions and history at the same time.
A new chapter in the history of Kyoto is awaiting you.
Ace Hotel
As a hotel that creative people would enjoy, Alex Calderwood and friends founded Ace Hotel in 1999 in Seattle. The creative agency Atelier Ace, which designs and operates the hotels, has developed and operated various affiliated hotels such as Ace Hotel, Sister City, and Maison de la Luz. Ace Hotel currently has seven locations across the US, in addition to hotels in Canada and Australia. In 2020, they introduced their latest venture, Ace Hotel Kyoto, their first establishment in Asia and Japan. Ace Hotel Kyoto has gained significant attention in Japan due to its unique emphasis on art, music, and creative interior design, along with spacious lobbies that promote an open atmosphere. The hotel aims to not only cater to travelers but also facilitate connections within the local community. Looking forward, Atelier Ace envisions further expansion of Ace Hotels around the world.
Ace Hotel Kyoto
〒604-8185
245-2 Kurumaya-cho, Nakagyo-ku, Kyoto, Kyoto
https://acehotel.com/kyoto/