A Western-style house steeped in history
In the center of Iwase's traditional Japanese architecture-lined main street, there is a building with a very different look about it. Like the other buildings around it, it has a long and proud history, yet this house is built in a distinctly Western style. The owner is woodcarver Tsutomu Iwasaki – a resident artist of Iwase for the past 15 years.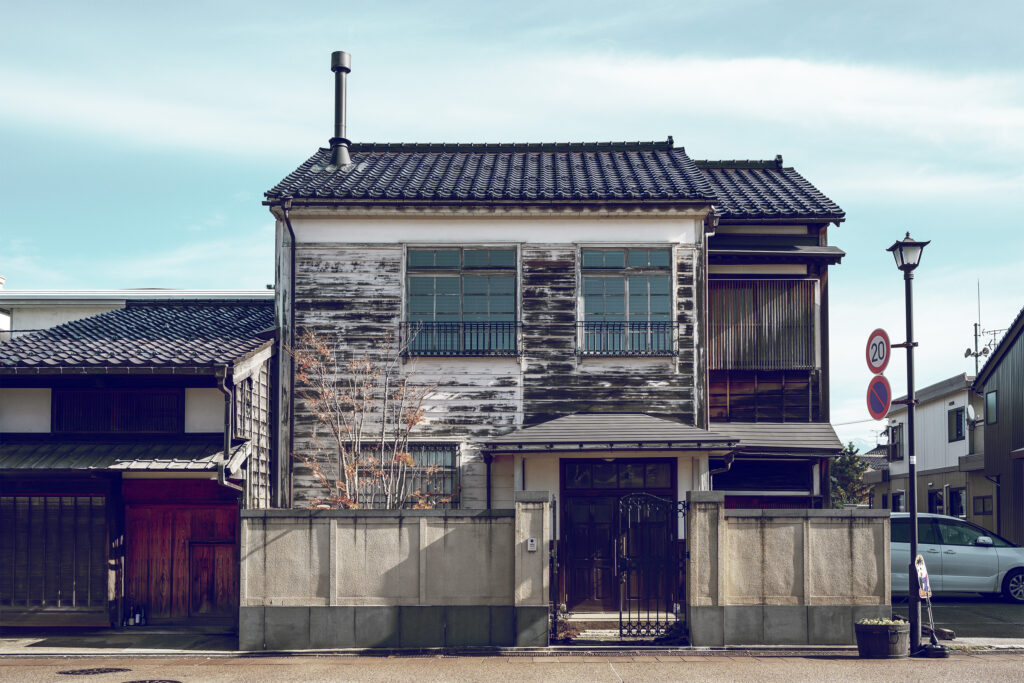 The ground floor of the one-hundred-year-old building – once upon a time a doctor's office – is now used as a gallery. Visitors can catch a peek of several creations as they walk through a quaint cobbled courtyard to an intriguing in-building on the north side of the building. Directly facing the courtyard is a glass-enclosed workshop. The light from the north side provides stable brightness throughout the year – a purpose-built feature. This detached space, neither outside nor inside, separates Iwasaki's creative process from the outside world.
All of Iwasaki's creations are "ichiboku-zukuri," carved from a single piece of wood. He uses traditional techniques to create portrait sculptures, reliefs, and painted wood carvings. His works are diverse, ranging from decorative objects for a three-star Michelin restaurant, to an Osaka 'danjiri' festival float and a portable shrine for the Hikawa Shrine in Akasaka, Tokyo. He also takes orders from the general public. Many of them are from clients who have seen work from Iwasaki at restaurants, temples or shrines, and want a similar piece for themselves.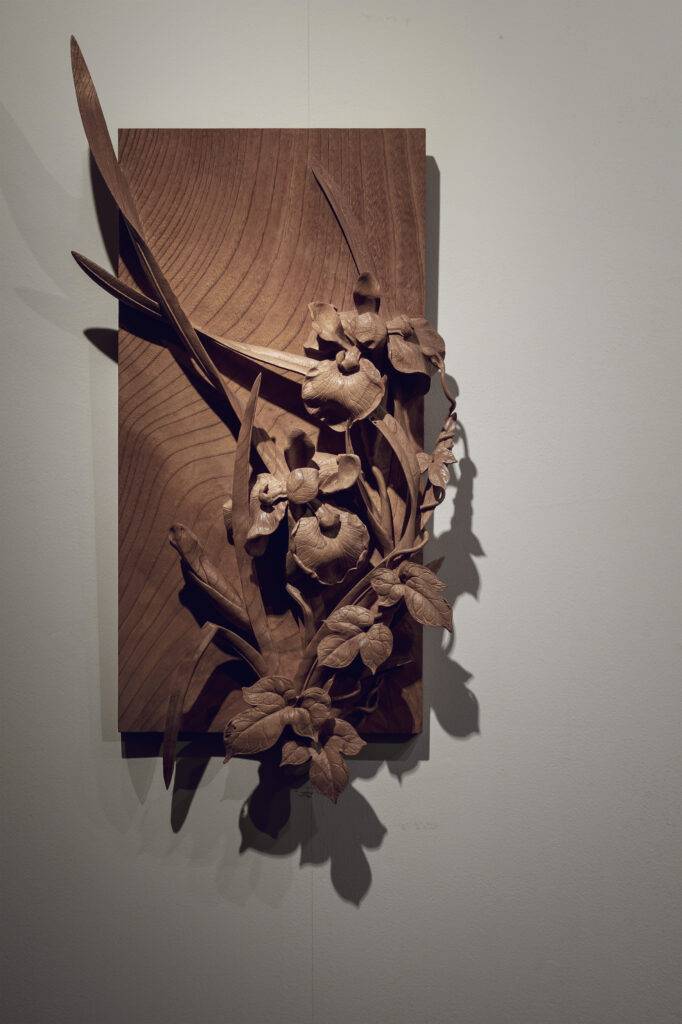 Iwasaki is a native of Inami Town, in Nanto City, Toyama Prefecture – a place known for some of the best woodcarving town in Japan. It is said that Inami's wood carving culture arose from the intricate work of shrine carpenters in the area. On top of this, Toyama Prefecture has the highest percentage of purchased detached houses and the largest total floor space per household in Japan. It's safe to say, people in this area spend a lot of time and effort on their homes.
Following in his father's footsteps
With a father who is also a sculptor in Inami, Iwasaki could be seen as a true woodcarving thoroughbred.
The artist reflects on his childhood, "I watched my father work from a young age, and naturally I grew up feeling that I should follow in his footsteps. I started sculpting when I was six years old, but I don't remember my father teaching me. I think I was just following his example, often accidentally cutting my own hands as I learned the ropes."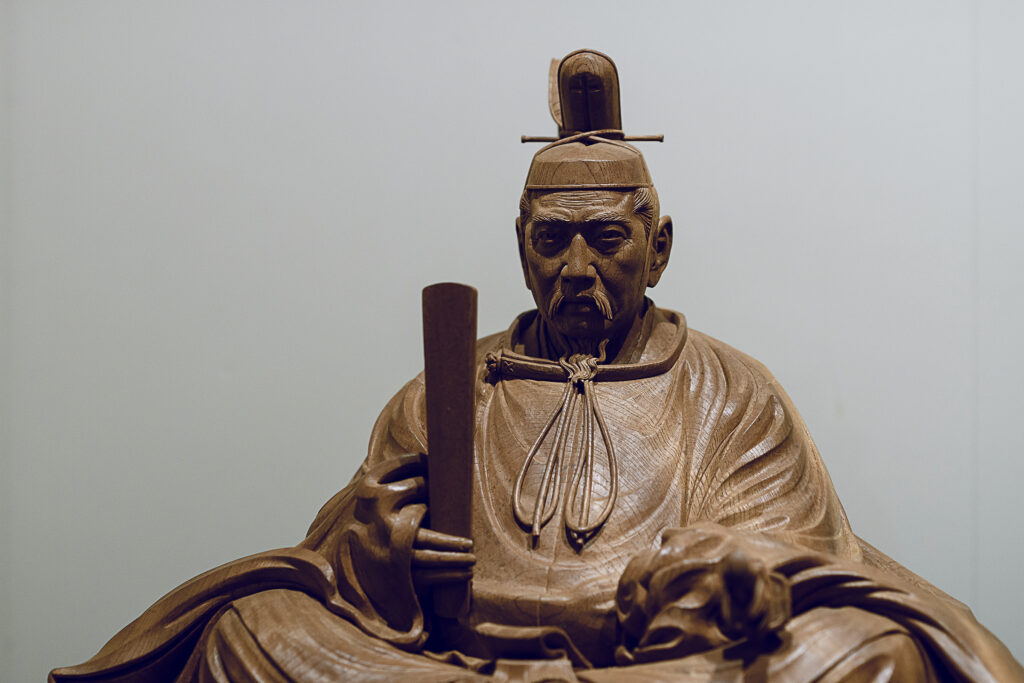 Perhaps woodcarving was simply in his DNA. Iwasaki loved crafts and bought every art book he could get his hands on. He was so excited by the joy of craftsmanship that he was drawn towards it like a moth to a flame.
Many would probably assume that Iwasaki would continue his training under his father, but after graduating from high school, he instead left Toyama and enrolled at Musashino Art University in Tokyo. Majoring in Sculpture, the expected route would have been for him to return to his hometown after graduation and succeed his father's business.
However, Iwasaki is always doing the unexpected. Instead of returning to Inami, he instead became an apprentice for glass and stainless-steel sculptor Minami Tada.
"I wanted to try working with Minami Tada because I respected her as a sculptor. Luckily, I was accepted with the restriction that I would only work with her for two years. Her style is abstract, unlike the realistic expression I have been trying to achieve. Her works are mostly large outdoor sculptures, which is different from what I have been doing, but I still enjoyed our time together because we shared the same aesthetic sense. So, I think those two years were a very good experience for me."
To a town where artists gather
Iwasaki then returned to Inami, trained under his father, and eight years later became an independent woodcarver. Soon after, he heard about a town revival project from glass artist Taizo Yasuda. Yasuda's idea was to turn the Iwase area of Toyama City into a town where artists could gather and flourish.
"Both Taizo Yasuda and Chitaka Hashimoto, a lacquer artist, were in Iwase, and I thought it would be fun to work together with them. Plus, we are all the same age," Iwasaki recalls.
After establishing his residence in Iwase, Iwasaki encountered both ups and downs, but now his workplace is stable and thriving. However, pursuing realism takes time, and he is limited to four or five large pieces over one meter in length each year, with about ten small artworks such as fruit or other small objects that can be made in between. Since Iwasaki's production volume is relatively modest yet his work is so popular, there is currently a waiting list of 5 years for new orders.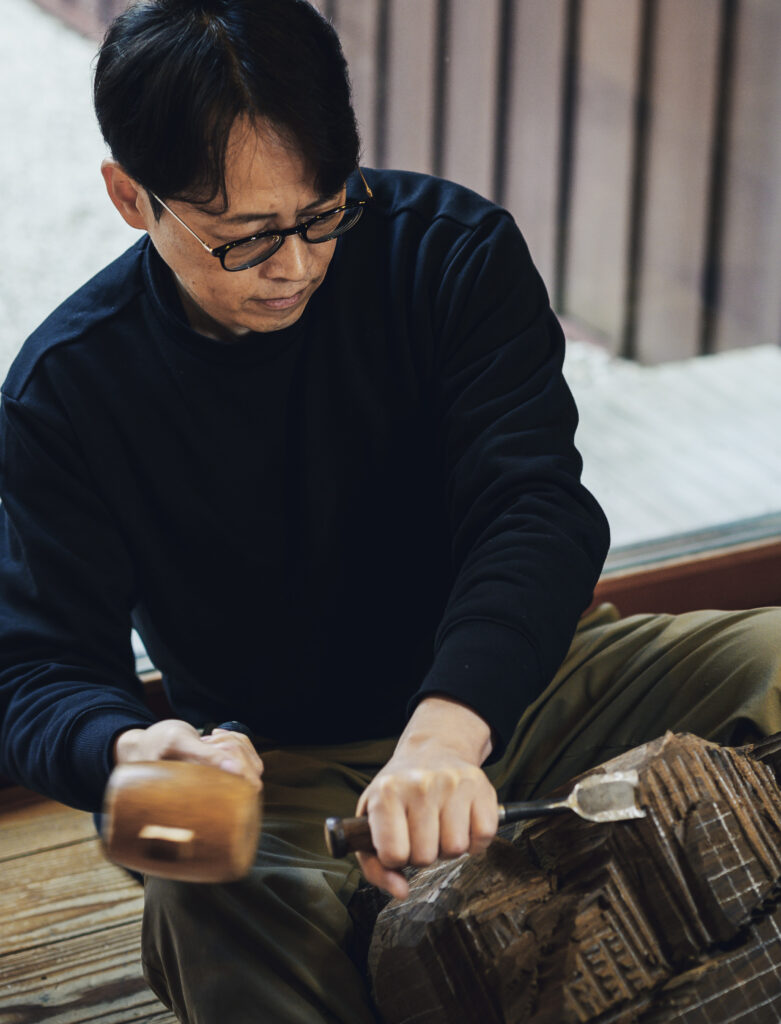 When we visited, Iwasaki was busy working on a sculpture in his workshop. His work was both powerful and delicate.
"I visualize the three-dimensional shape in my mind, but I also check to see if the tools I have will fit into the narrow spaces," he explains.
The more realism is pursued, the more intricate details inevitably appear. That is why Iwasaki makes and adjusts his own carving tools as he goes along. There are seven different basic types of engraving blades, each with countless different widths and angles, and the total number of tools in Iwasaki's arsenal totals over two hundred.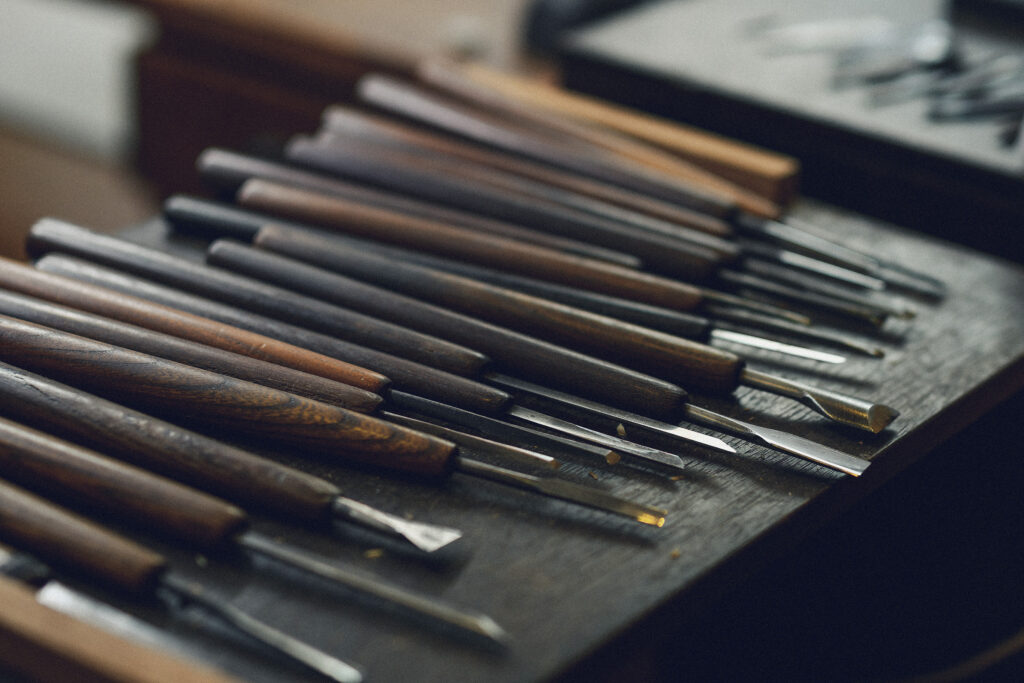 Laying foundations with clay
While watching Iwasaki working in his studio, we noticed a carving made of different materials placed next to his work area.
"This is clay. I create an image in my mind then convey it with clay first. Once I master that, I start the wood carving," he explains.
The clay sculptures are remarkably realistic, yet they take only about two weeks for Iwasaki to complete. But to finish the wood sculpture based on the clay sculpture, it takes five to six times longer. Wood is hard, yet it can easily break. Therefore, both strength and delicacy are necessary during the artistic process.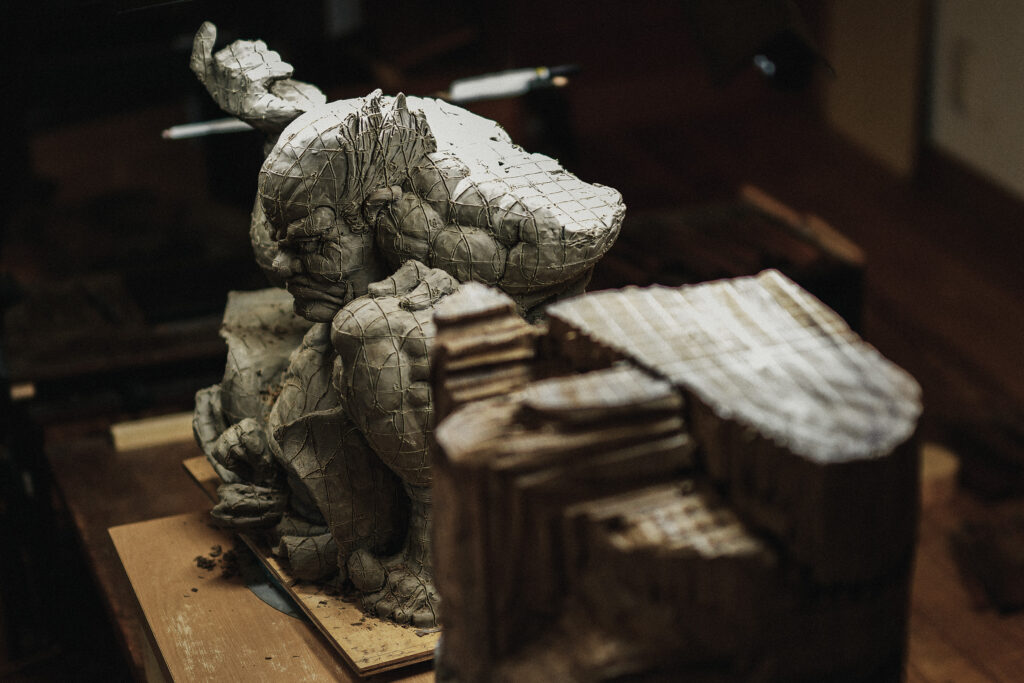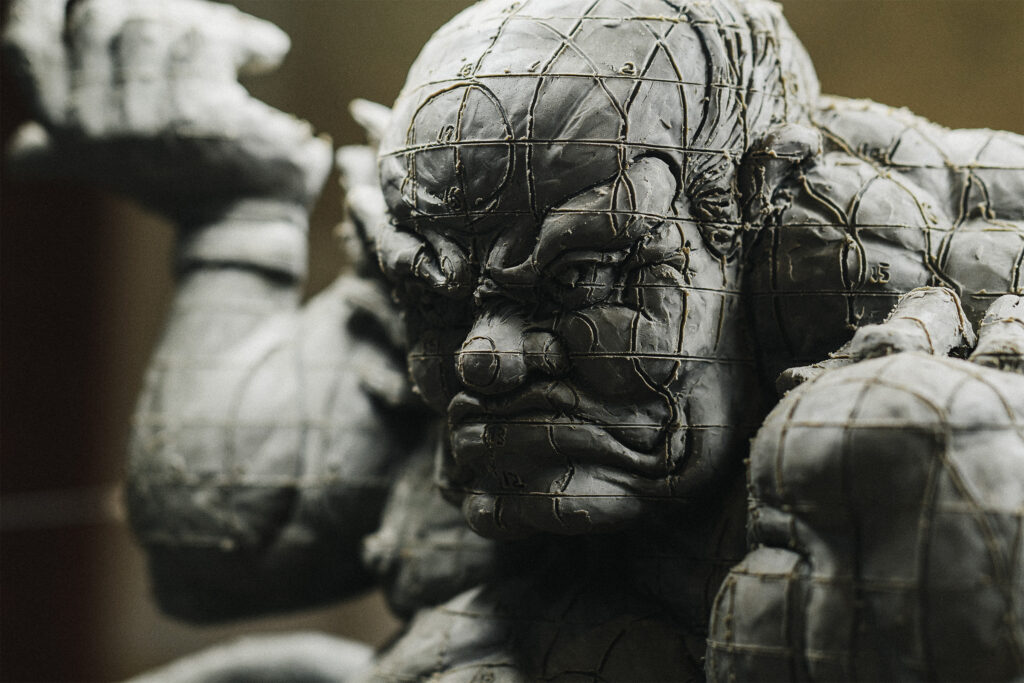 Iwasaki reflects, "To be honest, it has become more physically difficult for me since I turned 40. I no longer have the strength to carve as vigorously as I used to. I still enjoy making things and love the work process, and I think I am making good work, but I can tell my physical strength is declining."
Just like an athlete, how Iwasaki will choose to compensate for this decline in physical strength is an important point. "My technique and experience have definitely improved, so I believe that overall, I am able to produce better pieces the more time goes on."
Sculptures that look like real persimmons
The gallery also displayed a relief of grapes and a persimmon – one of Iwasaki's best-known works. The colored persimmons were so elaborate that they looked good enough to eat. Even the thin, twisted leaves were carved by hand in an unbelievable display of realism.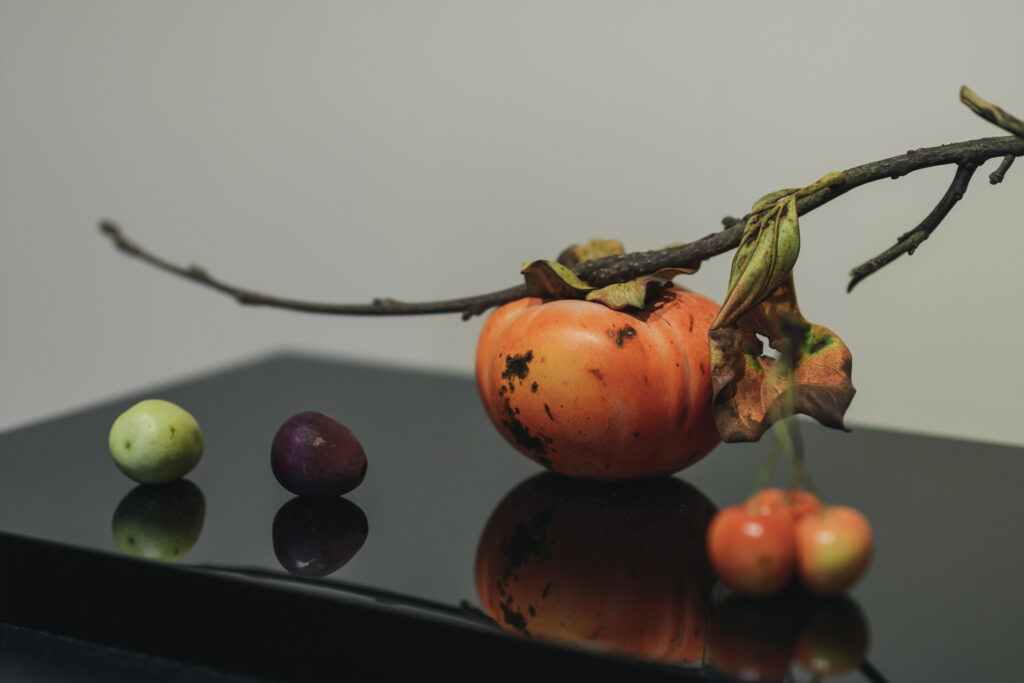 "This persimmon is also made from a single piece of wood. After carving, I add color to it. It takes a month and a half to carve a piece this size and three weeks to color it, so a little over two months in total."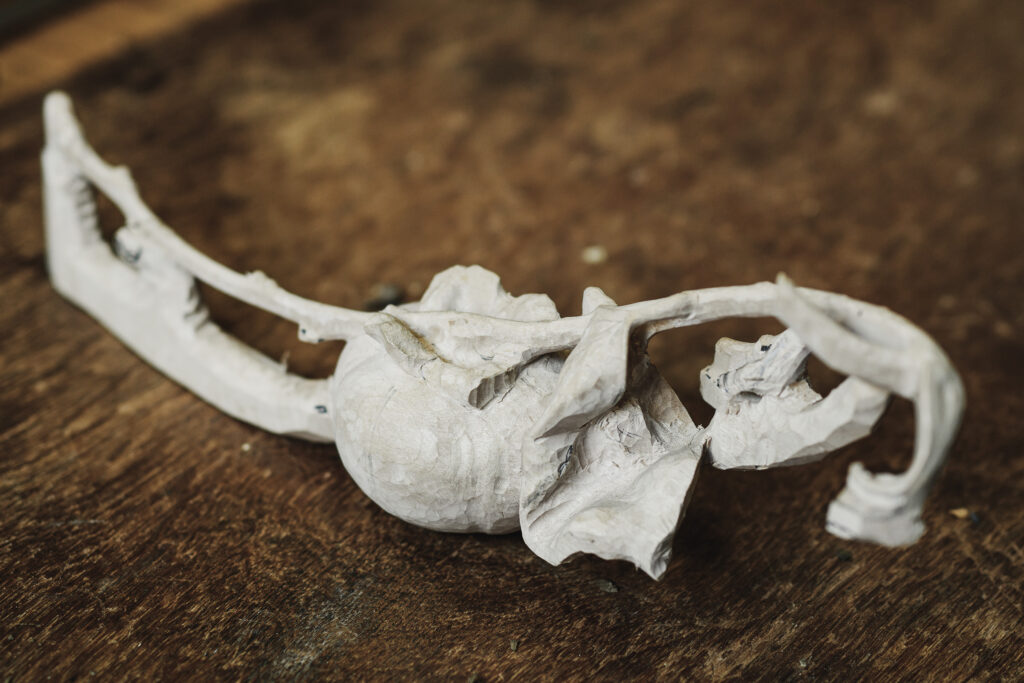 This is the work that first brought him into the mainstream. Art lovers and the general public alike were amazed at the realism of the sculpture, which faithfully reproduces not only the shape but also the texture of real fruit.
Iwasaki's persimmon reliefs are still popular today, and he produces about five of them a year.
"Persimmons are the national fruit of Japan, so I get a lot of orders for these pieces," he says. "Also, I grew up in the mountains, so I always remember the sight of persimmons hanging on the trees. It carries a lot of elements of nostalgia, and I even think it can express a certain kind of melancholy."
As a renowned and revered artist who receives orders from both Japan and abroad with waiting lists as long as five years, Iwasaki is at the top of his game. Even so, he continues to pursue his own unique style of realism based on traditional techniques with the desire to "pursue the essences of sculpture in the Meiji period (1868-1912)." Iwasaki has a clear artistic vision that he continues to showcase to the world from his Iwase studio.