MEET YOUR ART FESTIVAL 2023 (MYAF) was held in Tennozu for four days from Friday October 6 to Monday October 9.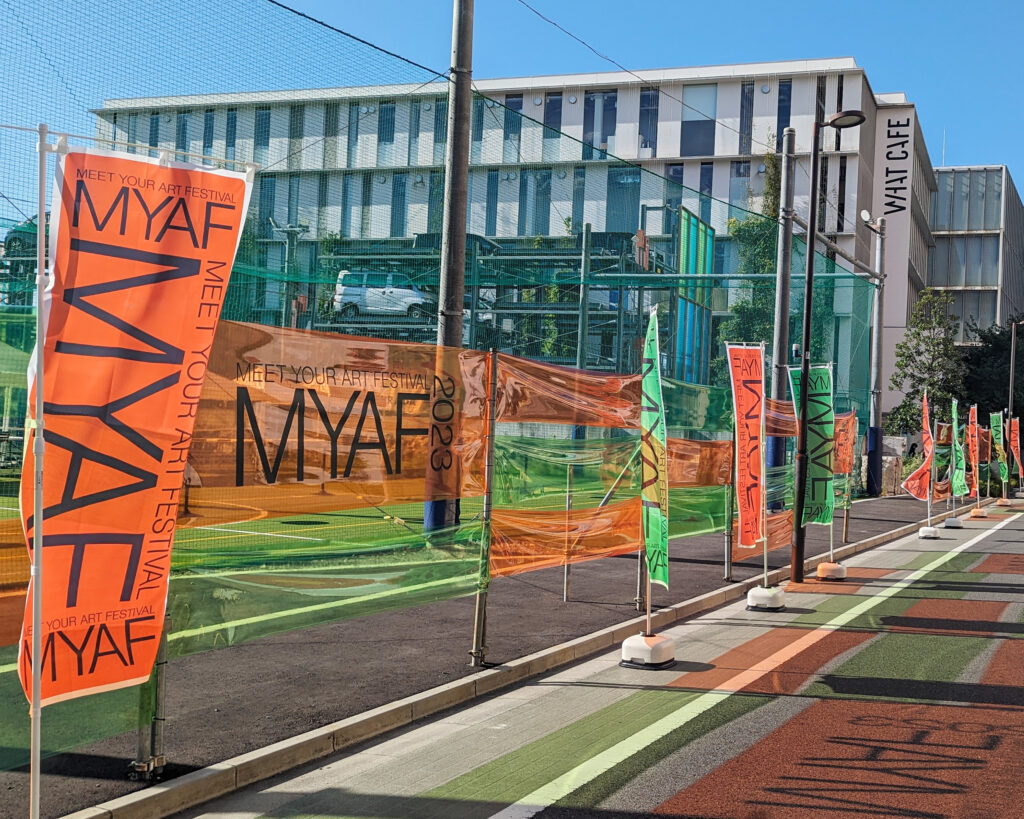 Held over the long weekend and hosted by actor Mirai Moriyama, this event marked the second year of operation for MYAF. MYAF is a high-profile art festival that serves as an offline extension of the art-focused program 'MEET YOUR ART'. In 2022 the first festival was held and the three day event attracted over 30,000 attendees. Designed to highlight the appeal of various cultures by transcending the boundaries of art into areas such as music, food, fashion, and lifestyle, the event seeks to foster new encounters and discoveries in the world of art.
The theme of this year's festival was "Time to Change" and facilitated discourse on the current state of the world and the calls for big change. Over 100 up-and-coming artists participated, holding sessions and exhibits that explored topics of the future such as sustainability, social issues, technology, and business. The event attracted more people than the previous year with 40,000 attendees.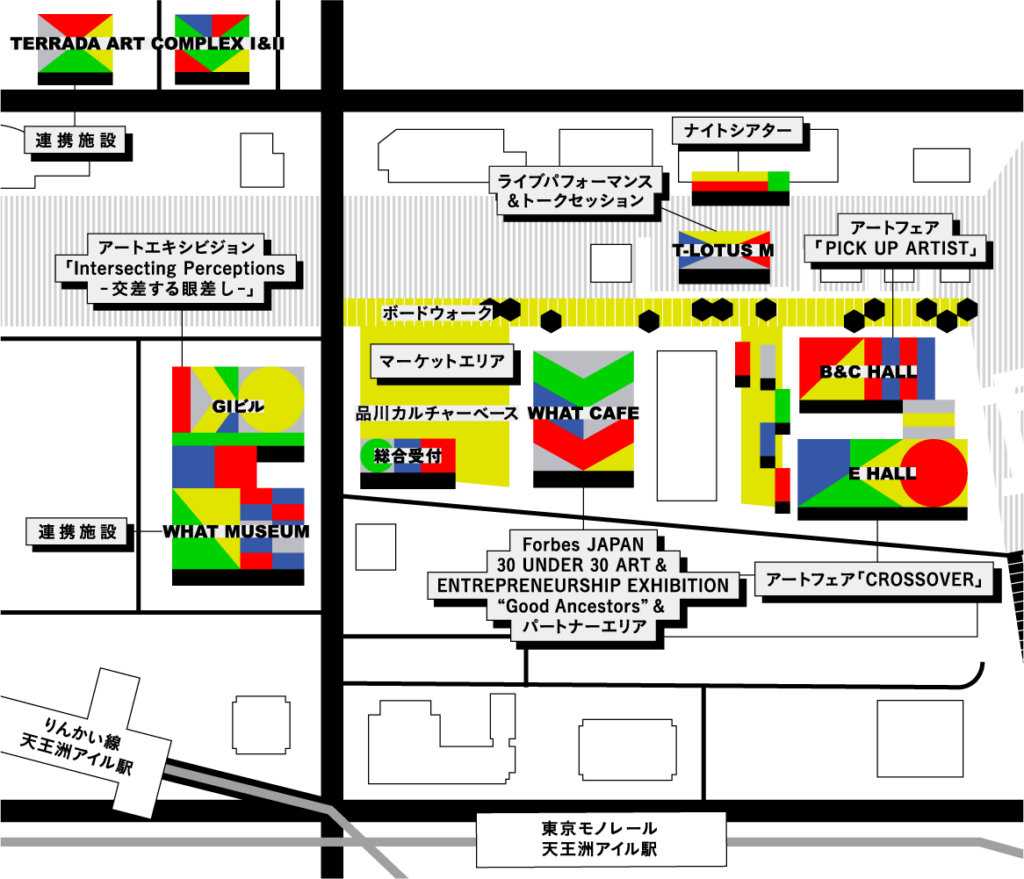 Art Ticket: General admission 2000 yen, Student admission 1500 yen (on the day)
・ Terada Warehouse G1 Building : Art Exhibition "Intersecting Perceptions"
・ B&C HALL : Art Fair "PICK UP ARTIST"
・ E HALL : Art Fair "CROSSOVER"
・ T-LOTUS M : Talk Sessions and Live Performances
・ WHAT CAFÉ : Forbes JAPAN 30 UNDER 30 ART EXHIBITION "The Good Ancestor"
・ Boardwalk : Market Area (Free Admission)
The main area along the Tennozu Canal Boardwalk provided the perfect location for enjoying art at your own pace and appreciating pieces while taking in the pleasant autumn breeze. The Market Area was free to enter and enjoy, while access and viewing the exhibitions and art fairs required the purchase of an Art Ticket. With Art Ticket pricing comparable to a single exhibition, it provided a rare opportunity to see such a large and diverse range of artworks. This reflected the hope and intention of igniting interest in art among a broader audience, all while facilitating a great time for all attendees.
A unique opportunity to explore the works of over 100 artists.
Exhibitions and art fairs were held simultaneously across the festival. Artworks could be purchased at the art fairs which presented an array of artworks and also included pieces from exhibiting artists. Therefore, it was strongly recommended to visit the exhibitions first before heading to the art fairs.
The exhibition held at Terada Warehouse G1, "Intersecting Perceptions" was curated by Junya Yamamine and featured the works of 11 artists, including SIDE CORE, Tatzu Nishi, and Meiro Koizumi. Junya Yamanine curated the exhibition and gathered perspectives on a diverse world as an opportunity to think together about the future of "reform."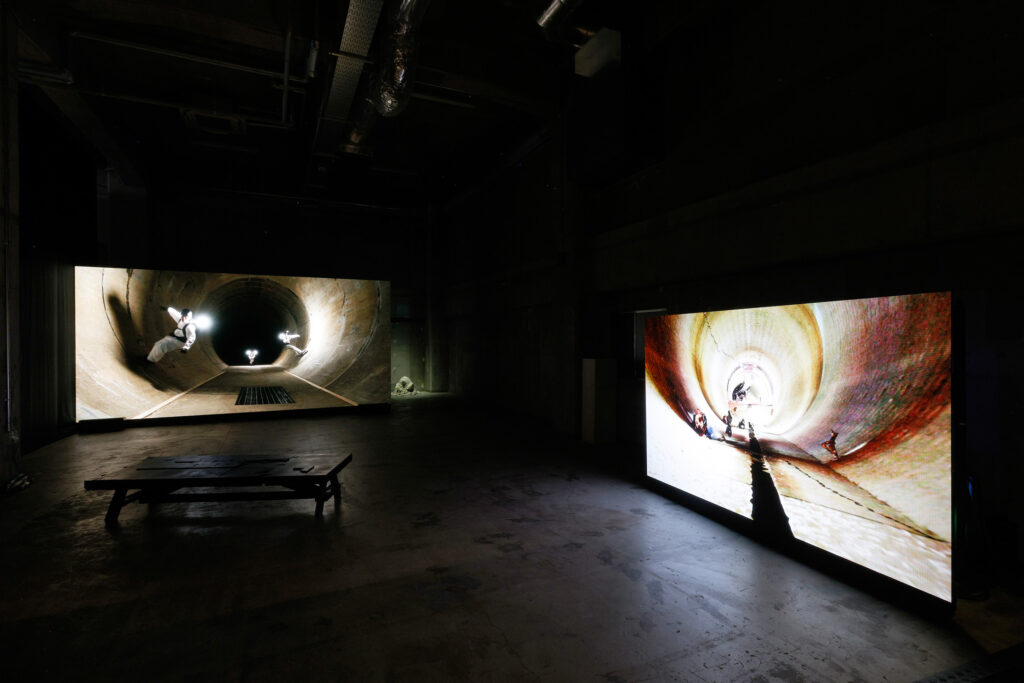 SIDE CORE 《rode work ver. under city》Photo by Keizo Kioku
Exhibiting artists:
Maki Okojima / Joy Kawakubo / Akio Koizumi / SIDE CORE / Anna Ochiai in collaboration with Yuriko Ochiai / Kota Takeuchi / Tatsu Nishino / Kazuhiko Hinoki / Fumi Momose / Yasushi Mori / Shioori Watanabe
At the B&C HALL, the "PICK UP ARTIST" art fair was held with the concept of "encountering art through dialogue with artists." With more than 200 pieces on display, it featured the works of over 42 up-and-coming domestic artists, including those who had previously appeared on the program (MEET YOUR ART).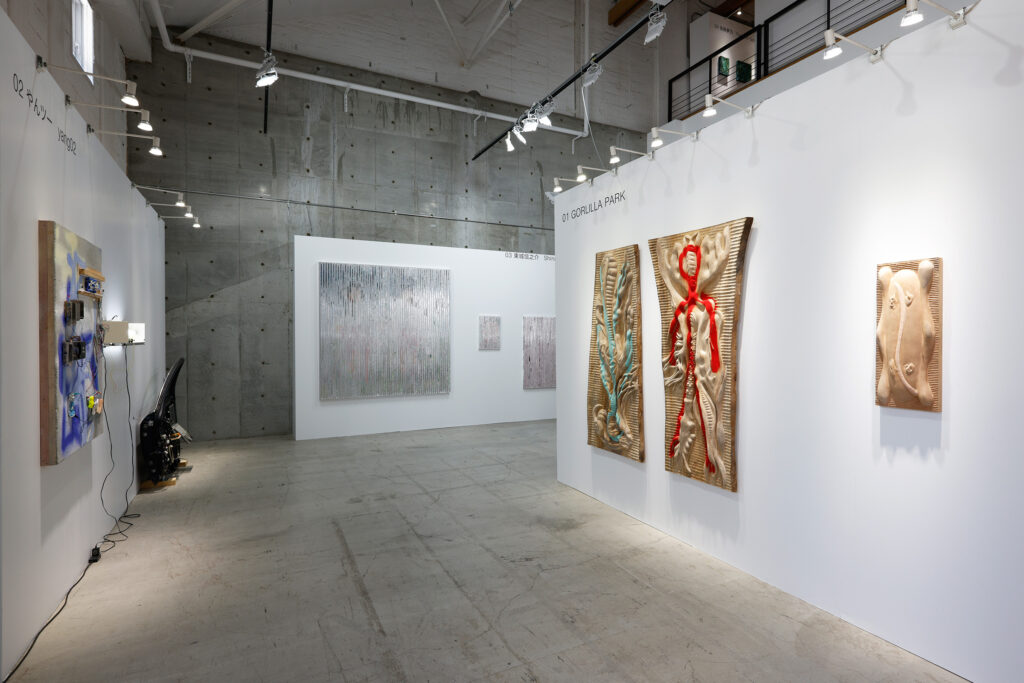 Exhibiting artists:
AHMED MANNAN / Aoi Arai / Kaion Ishii / Shinpei Ishikawa / Osamu Ohno / Yurina Okada / Seiichiro Koza / Automoai / Joy Kawakubo / Kenta Kawabata / Aya Kawato / Misato Kurimune / Yumeno Goto / Masato Kobayashi / GORILLA PARK / Kotaro Sakazume / Masaru Sato / Anna Ochiai of Scripkariu / Akiko Sumiyoshi / Takeo Takao / Noritaka Tatehana / Shinnosuke Tojo / Bontaro Dokuyama / Hiroto Tomonaga / Makoto Shinpei / Tatsu Nishino / Masayoshi Nojo / Akihiro Hasegawa / Futoshi Hatayama / Saki Maeda / Mioka Matsuura / Yuho Matsuoka / Rika Minamitani / Saya Mimura / Wasaku Morikawa / Ken Tanishiki / Miyu Yamada / Yantsu / Yang Bo / YU SORA / Ryu Ika / LILY NIGHT
In the Adjacent E HALL, the mixed culture art fair "CROSSOVER" was held and featured the works of over 15 curator/gallery/artist-run spaces. Each of them presented pieces that channeled their own distinct perspectives and captured "the landscape where art and various cultures intersect in Japan in 2023."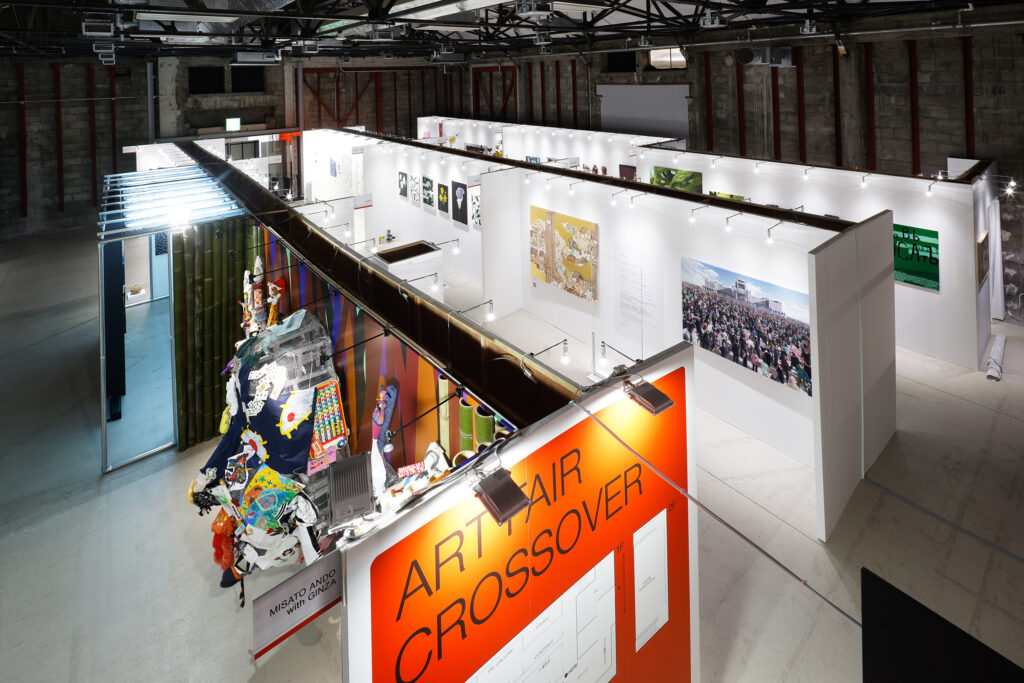 Photo by Keizo Kioku
Exhibiting gallery/curator/artist-run space:
XYZ collective|Lavender Opener Chair / Keiji Kaneko / Ken Kagami feat M&R / COPIC / CON_ / CONTRAST/ Shinjuku Ophthalmology Gallery / SNOW Contemporary / TAV GALLERY / Decameron / NEORT++ / Yasuhiro Hashiguchi (TAGSTÅ) / Pasona art now / MATTER / Takahiro Miura / MISATO ANDO with GINZA / Yasumasa Yonehara
The 2 art fairs presented an extensive lineup that represented the auspicious future of Japan's art scene. The exhibitions alone were an impressive sight worth exploring and moreover attendees could also hear from the artists themselves in person. The art fair facilitated connection with the artists and created an unparalleled opportunity for those looking to purchase art or discover emerging artists.
Music, Entertainment, and Gourmet Food – Essentials of the Festival
Live performances took place on the stage located on T-LOTUS M, which floated on the canal, and featured a diverse range of musicians of different genres and backgrounds. Inside the venue, there were events such as talk sessions featuring Mirai Moriyama and other special guests.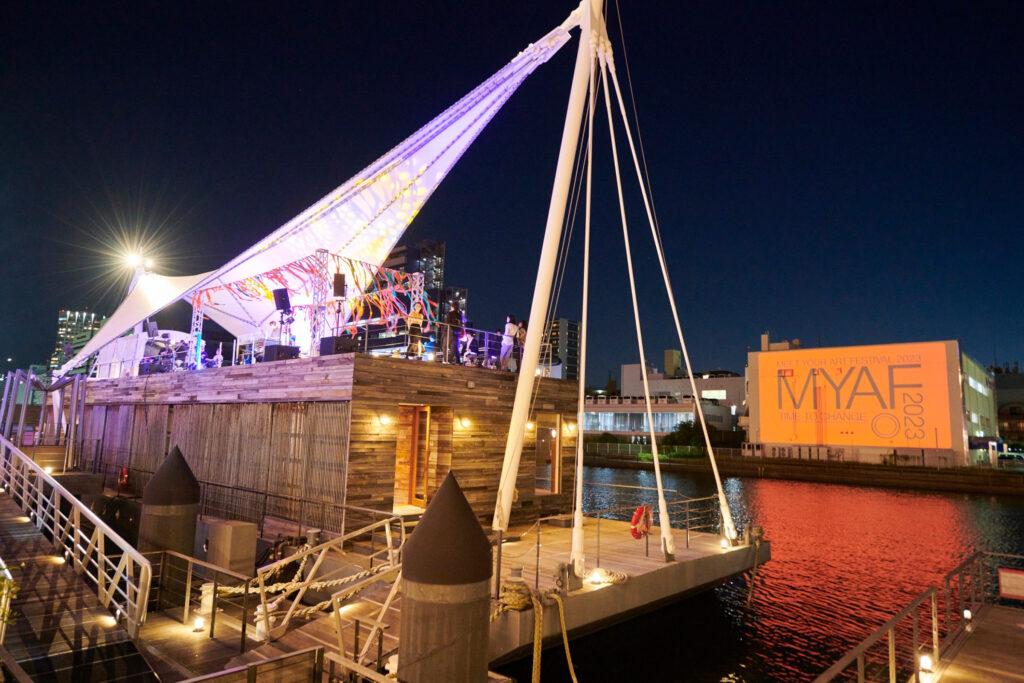 The market area stretched along the canal featured an array of stores focusing on craftsmanship and ethical values from all over the country. With a curated lineup of brands and vendors presenting apparel, art, lifestyle goods, and culinary delights. It also included several luxurious establishments that defied the conventional market notions with new and exciting concepts. These included an exclusive menu in collaboration between the invite-only restaurant NO CODE and Hitsuji Sunrise, as well as the "MYAF BAR" featuring renowned bartenders from Ace Hotel Kyoto. With an unmatched atmosphere, this space offered plenty of enjoyment, discovery, and a vibrant experience for the senses.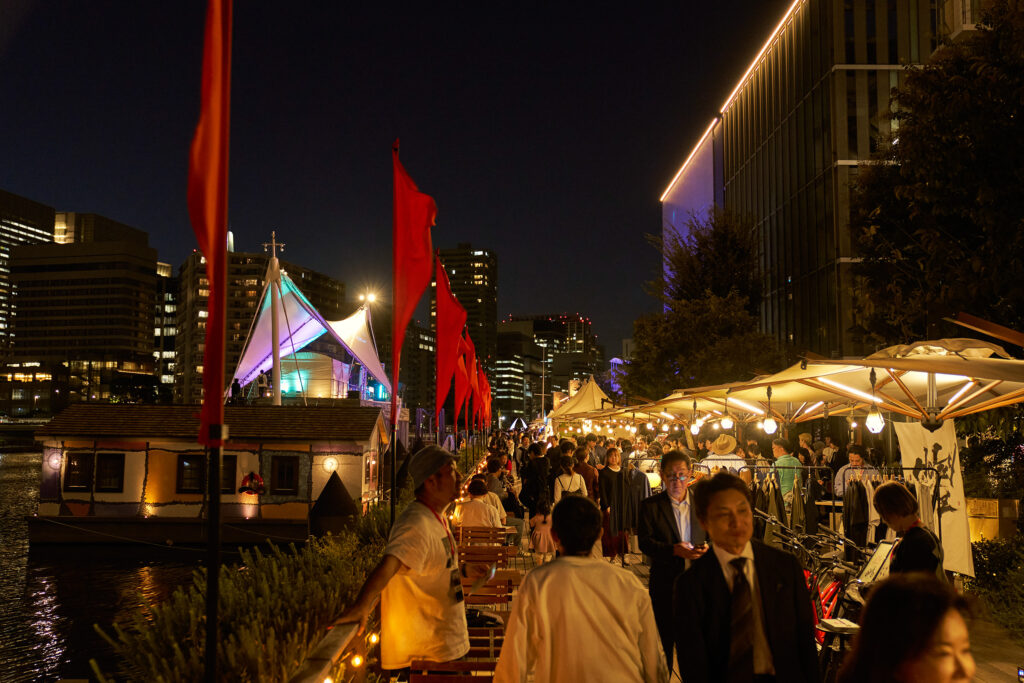 For those who have never been interested in art before, MYAF is the perfect starting point to pique their curiosity, and for established art lovers, it's a unique opportunity to purchase artworks and discover emerging artists. It's an all-encompassing event that offers something for art enthusiasts and serves as a chance to discover gourmet experiences and cultural trends. With the 2nd year seeing significant expansion and bringing in even more attendees, anticipation is already growing for what's to come next year at Meet Your Art Festival 2024.
MEET YOUR ART FESTIVAL
Official Website: https://avex.jp/meetyourart/festival/
Instagram: @meet_your_art