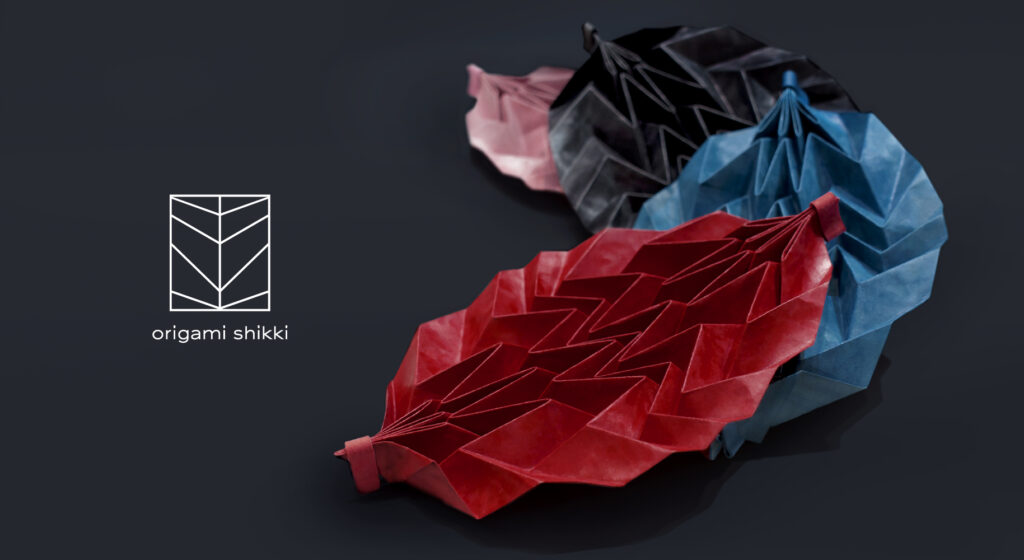 Origami Shikki brings together Washi (Japanese traditional paper) and Urushi (traditional lacquer) in a new and exciting fusion: Origami Lacquerware.
Japanese lacquerware, known as Shikki, is a traditional craft passed down through generations that uses Urushi lacquer. Washi is a traditional Japanese paper. By skillfully combining these elements with Origami, the art of meticulously folding paper, Origami Shikki comes to life. Drawing inspiration from these time-honored crafts, Origami Shikki breathes new life into these traditional art forms and industries.
Origami Shikki not only pushes the boundaries of materials with its exquisite craftsmanship but also presents an opportunity to reflect on these trades and explore how sustainability can be folded into tradition.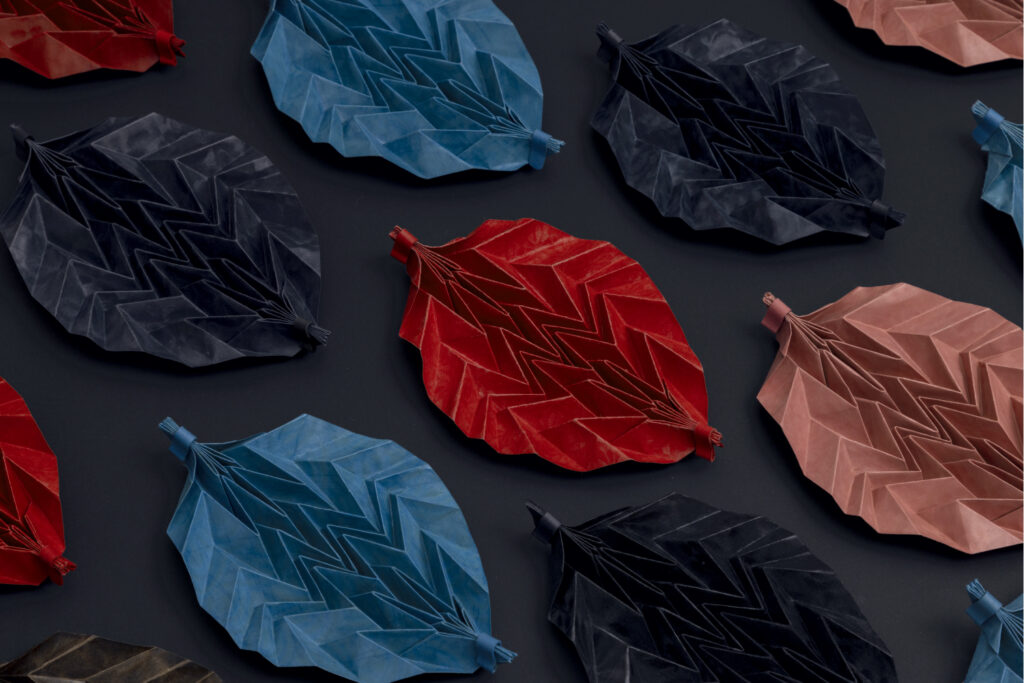 Not your typical paper plate
The lacquer treatment on the paper provides excellent resistance against moisture and oil, making the enhanced Washi ideal for various purposes and far more durable than conventional paper plates.
While Origami Shikki pairs beautifully with Wagashi, traditional Japanese confectioneries, it is also suitable for a wide range of dishes, including sashimi, tempura, sushi, and even Western cuisine such as steak. The plates can be easily cleaned with water and dried for reuse.
Origami Shikki challenges conventional assumptions regarding the characteristics, limitations, and applications of traditional materials. The plates are washable despite being made of paper and flexible, although they use lacquer.
From different angles, the geometric shapes of the folded sheets playfully interact with light, creating a visual delight on the table.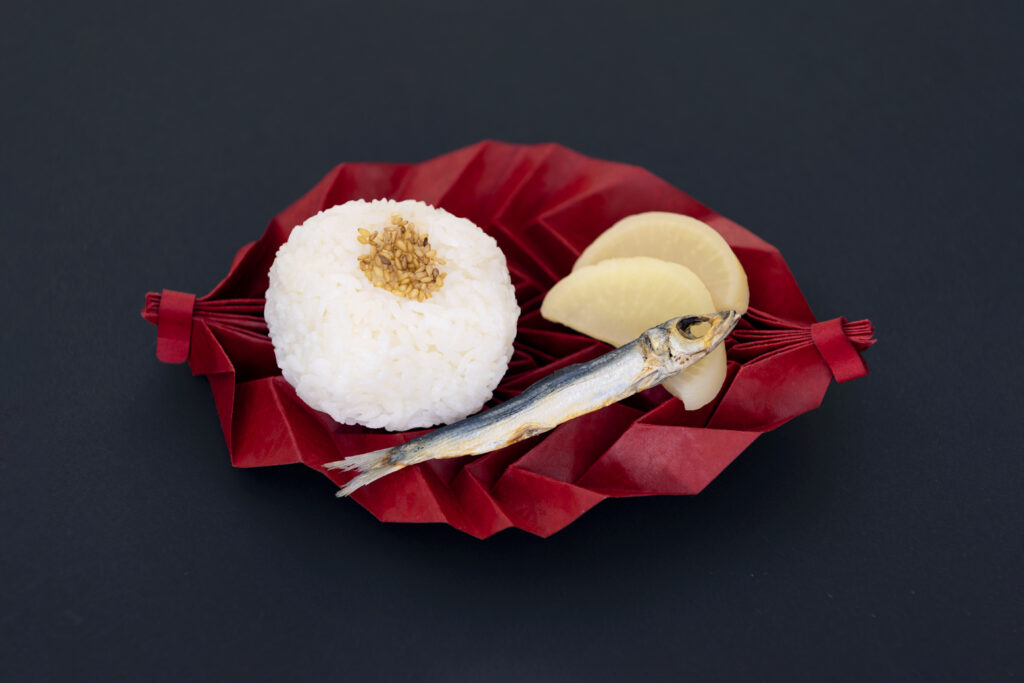 Revitalizing tradition through innovative materials
Traditionally, lacquer is known as a strong, durable material, making it an excellent choice for coating wooden tableware and furniture. However, one major challenge in the past has been reshaping lacquered objects without causing cracks or damage.
The innovative production process utilized in crafting Origami Shikki allows the lacquer treated Washi to be folded like Origami while still keeping the coating intact. This has opened up new possibilities for creative and flexible applications of the material.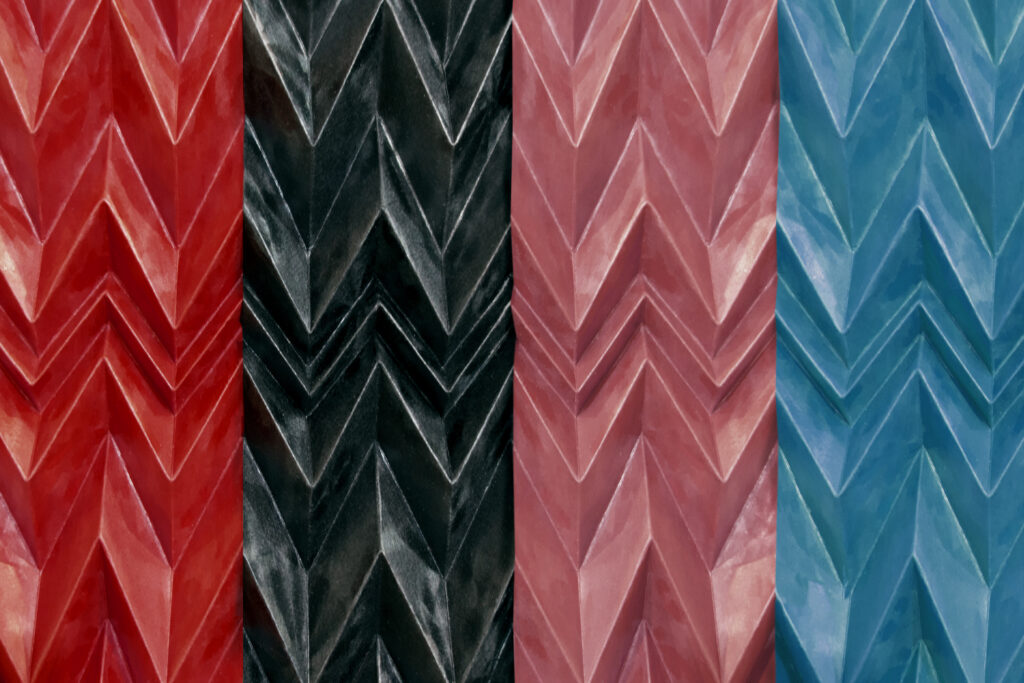 Preserving the legacy of Washi
Origami Shikki is made from Echizen Washi, a type of Washi known for its unique patterns, that is produced in Echizen City, Fukui Prefecture.
The Washi industry is currently facing challenges due to a decline in demand for these products. This has led to difficulty sustaining Washi production using traditional methods.
If the regional factories that produce Washi were to close, it would not only mean the loss of time-honored techniques but also give rise to challenges in properly managing the disposal or recycling of unused materials. This project aims to address the sustainability concerns faced by these production centers in addition to preserving the craft's legacy.
Winner of numerous international design awards
Winner of the iF Design Award 2023 (Germany) in the Product category.
https://ifdesign.com/en/winner-ranking/project/origami-shikki/567962
Winner of Silver at the A' Design Award & Competition 2022-2023 (Italy), the world's largest international design competition, in the Bakeware, Tableware, Drinkware, and Cookware Design Award category.
https://competition.adesignaward.com/gooddesign.php?ID=145138
Product Design Category Shortlist at the 102nd NY ADC Awards (USA)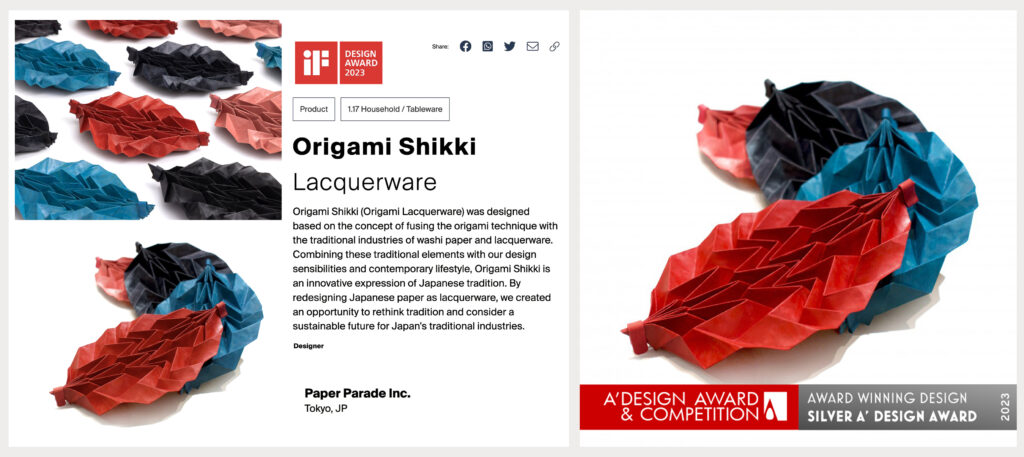 Product Information:
Color Options: Jet black, vermillion red, turquoise, pink
Size: width 280mm x length 208mm x height 25mm
Weight: 13g
Price: ¥9,900 (tax included, Shipping costs not included)
Contents:Origami Shikki (1), Clip (2), Box
Official Website
https://origamishikki.paperparade.tokyo/