©︎TOKYO LIGHTS 2023
The stoic granite surface of the Meiji Memorial Picture Gallery transformed and came to life with morphing shapes and colors synchronized with music. Spectators were transported into different dimensions, taking in some of the world's best projection mapping art right here in Tokyo.

On September 9 and 10, Meiji Jingu Gaien was lit up in a dazzling display of projection mapping art and light spaces at TOKYO LIGHTS 2023. The annual event was originally scheduled for three days but had to be cut short due to a typhoon.

TOKYO LIGHTS, which was first held in 2021, is a light art event featuring the "1 Minute Projection Mapping Competition," one of the largest of its kind in the world.

But the excitement doesn't end there; this November, an exhibition showing the work of past Grand Prize winners from international competitions will take place at the same venue, including the Festival of Light area on display again as well!
1 minute Projection Mapping Competition
The "1 Minute Projection Mapping Competition" gathers the best projection mapping work from around the world. Each work is between 1 minute and 1 minute 59 seconds long, allowing spectators to experience a wide range of creative works in one evening.

An astounding 281 entries from a record-breaking 58 countries and regions were submitted based on this year's theme, "LINK." At the event, the top 20 finalists' works were projected on the Meiji Memorial Picture Gallery in front of spectators, and the winners, including the Grand Prix recipient, were announced on the final day.
Winning entries for 2023:
Grand Prize (Governor of Tokyo Award): "Legacy Links" by Vali Chincișan (Romania)
Runner-Up Grand Prize (TOKYO LIGHTS Award): Touch by Elektrick.me (Bulgaria)
Special Jury Prize: Human by Ari Dykier (Poland)
Tokyo Tokyo Award: Umbra by Resorb (Germany)
Audience Award: A Neon Owl Symphony by Clockwork (Poland)
AVA Animation & Visual Arts, a leading studio at the forefront of the industry, as well as László Zsolt Bordos, one of the pioneers in projection mapping, also participated, with their work being displayed.
"Eudaimonia" AVA Animation & Visual Arts (Canada)


"reshape" László Zsolt Bordos (Hungary)

Festival of Light Area
In front of the Meiji Memorial Picture Gallery, the Meiji Jingu Gaien's Rubber-ball Baseball Grounds were magically transformed into an experiential art area where the fusion of light art and music created a surreal atmosphere. Here, visitors could embark on a journey through an extraordinary world of light throughout the entire space.

Passing through the immersive gate, visitors were greeted by the LINK TOWER, the performance stage, with the Meiji Memorial Picture Gallery in the background. In collaboration with Jpop group GReeeeN, the opening ceremony featured a projection mapping show combining light and visuals, set to a medley of four songs.

Internationally acclaimed LED production expert and "Lighting Choreographer" Minoru Fujimoto of MPLUSPLUS, along with Shuhei Matsumoto of THINK AND SENSE and other top creators like dod and PRISM, joined forces to make the space into a completely new sensory experience.
【IMMERSIVE GATE】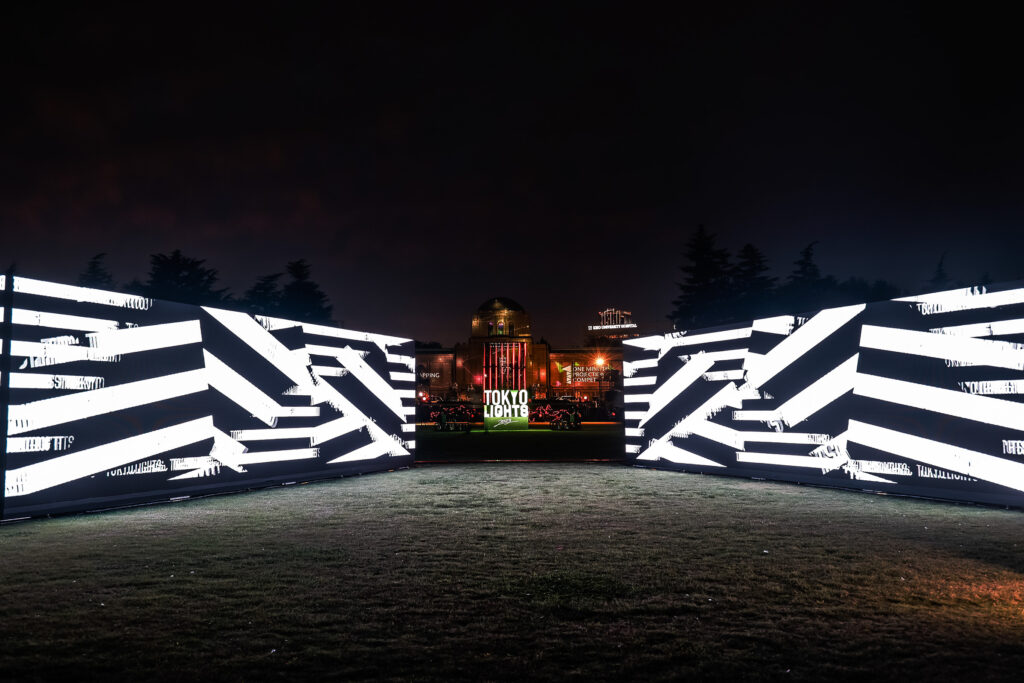 A colossal LED wall welcomed visitors. Surrounded by bright and immersive visuals, it was like stepping into another world.
【LINK TOWER】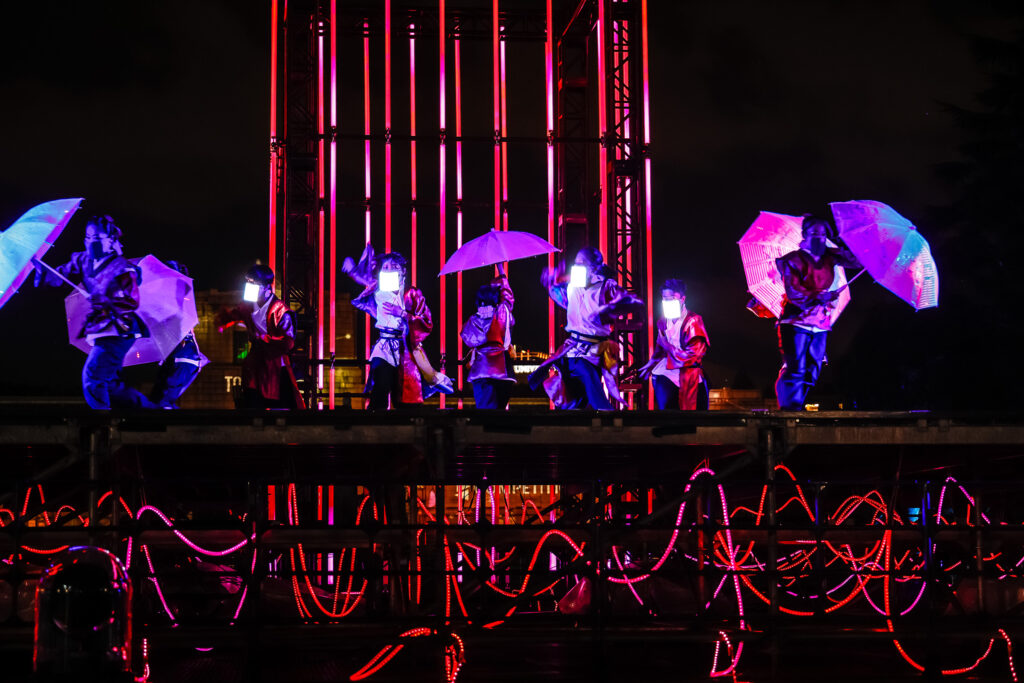 ©︎TOKYO LIGHTS 2023
On a light stage inspired by Tokyo's towering skyscrapers and subway routes, M++DANCERS, wearing custom-designed LED costumes, dazzled the audience with a cutting-edge performance.
【PLAY GROUND】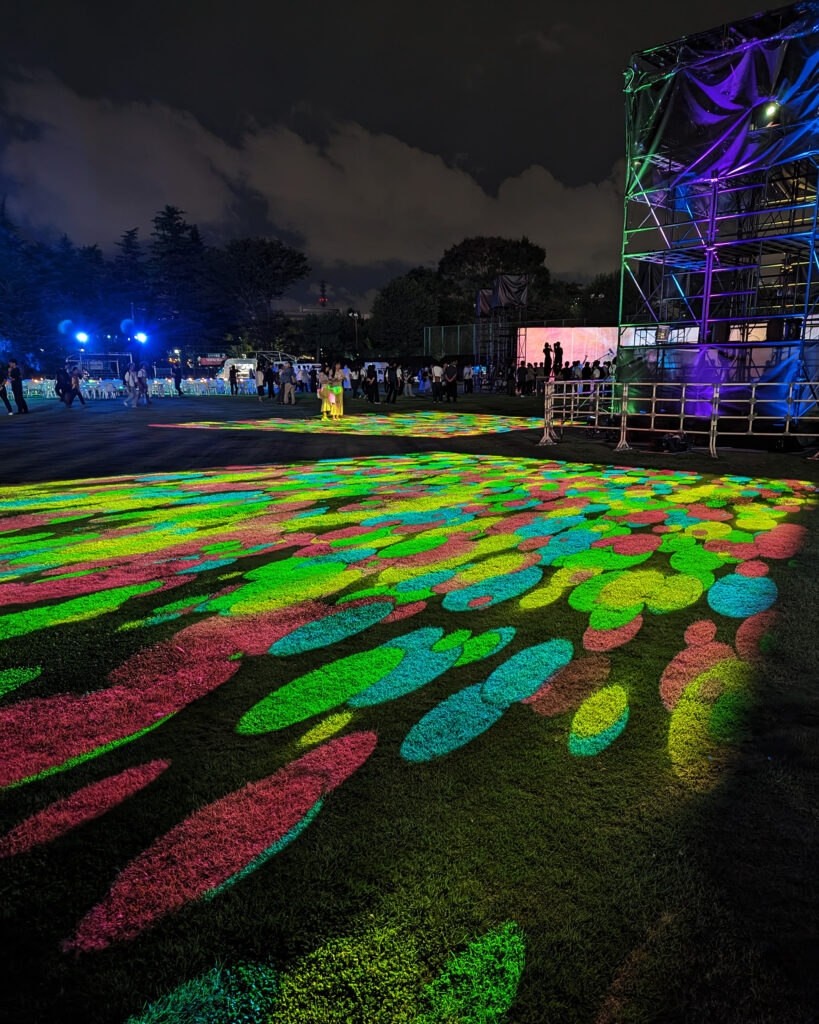 An interactive nighttime playground for children, where sound and light seamlessly synchronize with motion.
【IMMERSIVE WALL】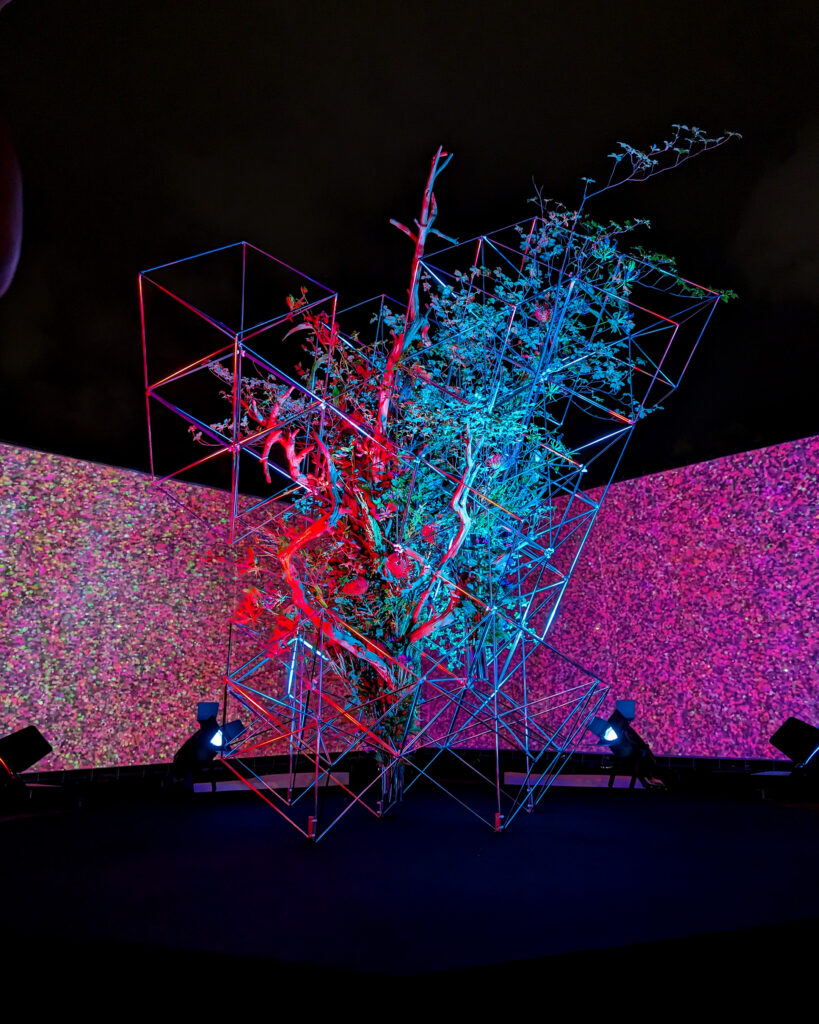 An immersive work made by a collaboration between THINK AND SENSE and Ikenobo Society of Floral Art, combining traditional Japanese flower arranging with digital technology. To coincide with the Chrysanthemum Festival on September 9th, they used red chrysanthemums as their theme, expressed through AI image generation technology NeRF and point cloud data.
【Food and Beverage Area】
Food trucks were also set up where you could find a variety of options, including bento boxes with Chinese cuisine by Kazutoyo Inoue, head chef of Szechwan Restaurant Chen, and sandwiches from Chef Masato Tamamizu from Wine Restaurant Le Conte.
Coming Up Next!
For those who missed this event, don't worry! In November, TOKYO LIGHTS 2023 Nov. BLUE will be held, featuring a special show of pieces by international Grand Prize winners. Make sure to mark your calendar, as it is bound to be another spectacular light and sound experience unlike anything else.
TOKYO LIGHTS 2023
Website: https://tokyolights.jp/en/