At the Mandarin Oriental Tokyo hotel, between September 1 to October 31 , come check out a special pop-up bar featuring DASSAI Sake at the Mandarin Bar.

In addition, on October 6 there will be a one-night-only dinner event at the hotel's Cantonese fine dining restaurant, "Sense", situated on the 37th floor. The chairman of Asahi Shuzo Sake Brewery, which makes DASSAI, will even be there in person!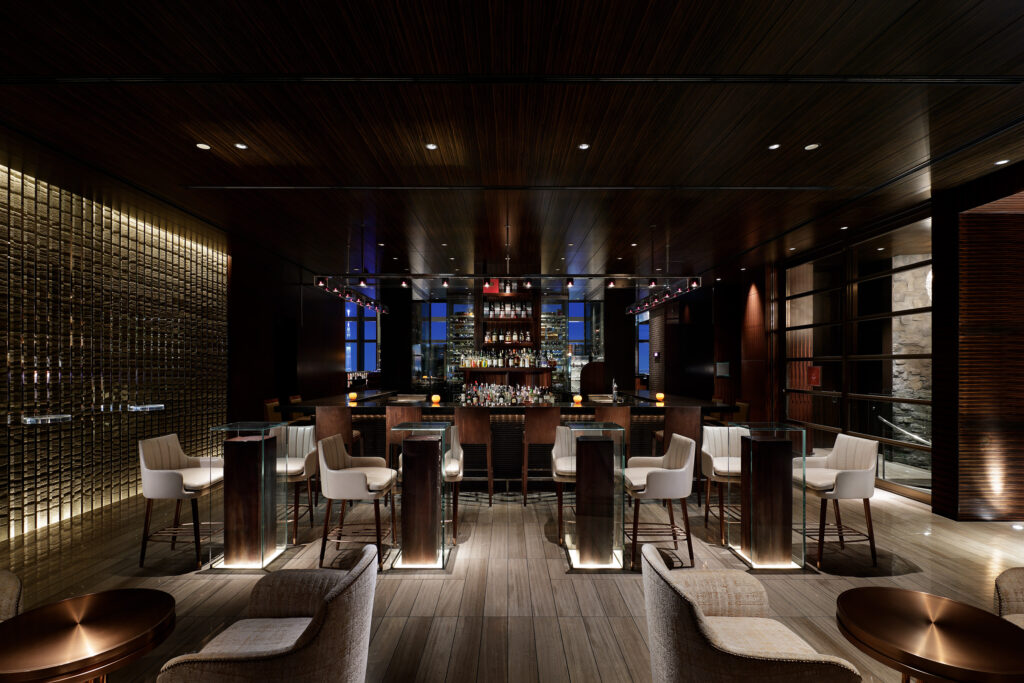 "DASSAI at the Mandarin Bar"
DASSAI is a sake brand famous for Junmai Daiginjo made by using only Yamada-Nishiki rice, known as the 'king of sake-brewing rice'. Junmai Daiginjo is the highest-grade category of sake in the industry, made with only rice, water, yeast, and koji. To be Junmai Daiginjo, the rice polishing ratio (RPR) has to be at least 50%, meaning at least half the outside of the rice is milled down and only the inside is used, making the flavor clean, crisp, and easy to drink.

Head bartender Kengo Oda at Mandarin Bar has expertly crafted original cocktails using DASSAI Junmai Daiginjo and Shochu. There's something for everyone, including tasting sets perfect for those new to sake, and you can enjoy various options served by the glass or bottle.
Original Cocktails
■ Nishikigawa : ¥2,750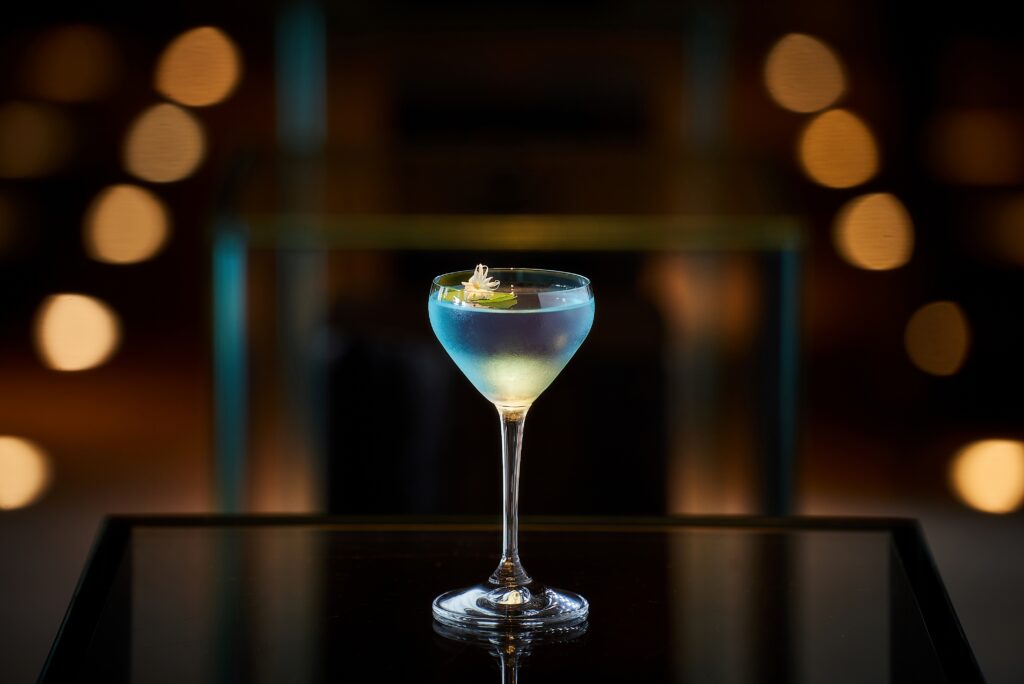 This cocktail draws its inspiration from the crystal-clear blue waters of the Nishiki River, meandering through Iwakuni City in Yamaguchi Prefecture. It features DASSAI 23, a Junmai Daiginjo with an impressive 23% RPR. The infusion of lychee and Li Shan Oolong Tea from Taiwan elevates the delicate flavors and exquisite aroma of the Junmai Daiginjo, bringing out the sweetness and resulting in a wonderful sensory experience.
■ Muromachi : ¥2,750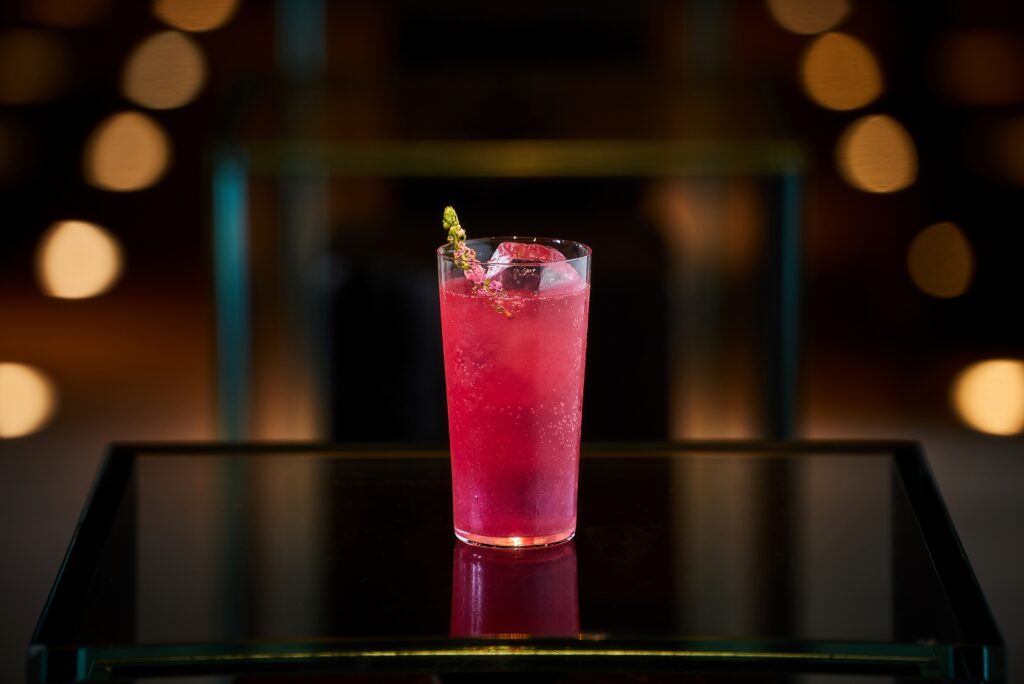 The Muromachi cocktail is named after Nihonbashi Muromachi district, where Mandarin Oriental Tokyo is located. In the Edo period, this area flourished as a kimono trading town. Inspired by the area's roots, the cocktail embodies the elegance of a kimono. The delicate fragrance of DASSAI Shochu is layered gracefully in the mix, much like the multiple folds of a kimono, with the sweet and refreshing scents of jasmine tea and sandalwood. This vivid red cocktail, adorned with a sprig of purple shiso, is a sophisticated drink that evokes the charm of traditional Japanese attire.
Tasting Sets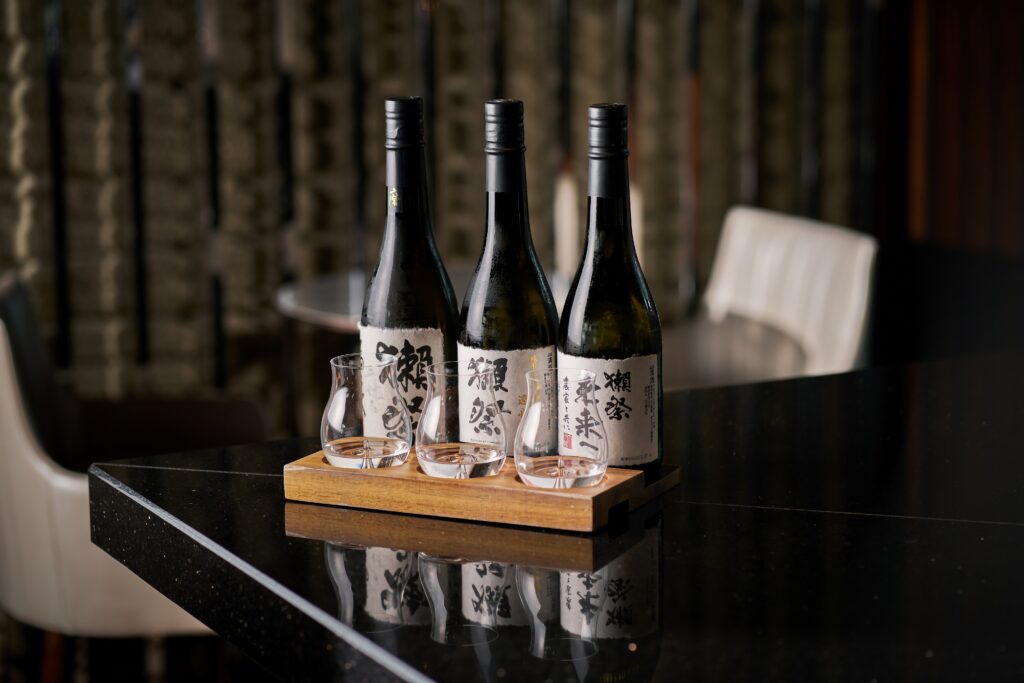 ■DASSAI Original Sake Tasting Set : ¥5,000
Showcasing flagship selections from DASSAI, each crafted with a different level of rice polishing ratio (RPR).
Includes:
・DASSAI 23 – Junmai Daiginjo sake using Yamada-Nishiki rice, polished down to 23% RPR. The pinnacle of DASSAI craftsmanship.
・DASSAI 39 – Junmai Daiginjo sake using Yamada-Nishiki rice, polished down to 23% RPR. Juicy with a bright finish.
・DASSAI 23 Elegantly Tipsy – 11% low-alcohol Junmai Daiginjo that keeps its aroma and flavor.
(50ml each)
■DASSAI Premium Sake Tasting Set : ¥15,000
The finest offerings from Asahi Shuzo Sake Brewery with the DASSAI Premium Sake Tasting Set.
Includes:
DASSAI Beyond – Asahi Shuzo's pinnacle sake and pushing the envelope on what 'premium' means in the industry.
DASSAI 23 Centrifuge – Junmai Daiginjo sake using Yamada-Nishiki rice, polished down to 23% RPR through centrifugal separation for enhanced aroma and flavor.
DASSAI Future – with Farmers – An eco-friendly sake made with out-of-spec rice(tougai-mai) that is polished down to an astonishing 8% in order to make use of rice that normally would be unusable.
By-the-Glass / Bottle
Six by-the-glass or bottle tasting options are available including flagship and premium selections.
DASSAI 23 (Glass: ¥3,000, Bottle: ¥22,000 / 720ml)
DASSAI Beyond (Glass: ¥13,500, Bottle: ¥110,000 / 720ml)
DASSAI Sparkling 45 (Bottle: ¥2,500 / 180ml)
DASSAI Umeshu (Glass: ¥4,000, Bottle: ¥50,000 / 720ml)
DASSAI Shochu (Glass: ¥2,500)
*All prices include consumption tax.
*A 15% service charge will be added separately.
In line with the event, the 37th floor elevator hall and the Sense Tea Corner are adorned with stalks of Yamada-Nishiki rice, reminiscent of a rice paddy. There is a display showcasing different rice varieties and polishing rates for viewers to learn more about how taste and aroma can be influenced.

Asahi Shuzo prides itself on the art of polishing and is known as one of the best in Japan. By scanning the QR codes displayed in the exhibit with your device, you can gain a deeper understanding of the sake-making process through informative videos.
SENSE Cantonese Dining x DASSAI One-Night-Only Dinner Event
A one-night-only dinner event at The Mandarin Oriental Tokyo's Cantonese restaurant Sense, with a special appearance by Hiroshi Sakurai, Chairman of Asahi Shuzo Sake Brewery, along with their renowned sake, DASSAI.
Executive Chef Toshiyuki Nakama of Sense will present a carefully crafted course menu, expertly paired with seven distinctive varieties of DASSAI selected by the sommelier.
The selection of DASSAI sake includes not only DASSAI Beyond which Asahi Shuzo considers the 'ultimate sake', but also DASSAI Future – with Farmers made with Yamada-Nishiki rice polished to an extraordinary 8%.
For this special occasion, the menu will incorporate sake kasu (sake lees) and rice flour, byproducts of sake production. Come and experience the harmonious marriage of Japanese sake and Cantonese cuisine for yourself!
【Date and Time】
October 6, 2023 (Fri) – Reservations available at 6:00 PM, 6:30 PM, or 7:00 PM.
【Location】
Sense Cantonese Dining, 37th Floor
【Price】
¥35,000 per person (including tax; 15% service charge not included)
【Reservations and Inquiries】
Restaurant Reservations Desk
Email: motyo-fbres@mohg.com
Website: https://www.mandarinoriental.com/ja/tokyo/nihonbashi/dine/sense
Mandarin Oriental Tokyo
2-1-1 Nihonbashi Muromachi, Chuo-ku, Tokyo 103-8328
Website: https://www.mandarinoriental.com/ja/tokyo/nihonbashi
For more on Dassai Sake products
Website: https://www.asahishuzo.ne.jp/en/product/