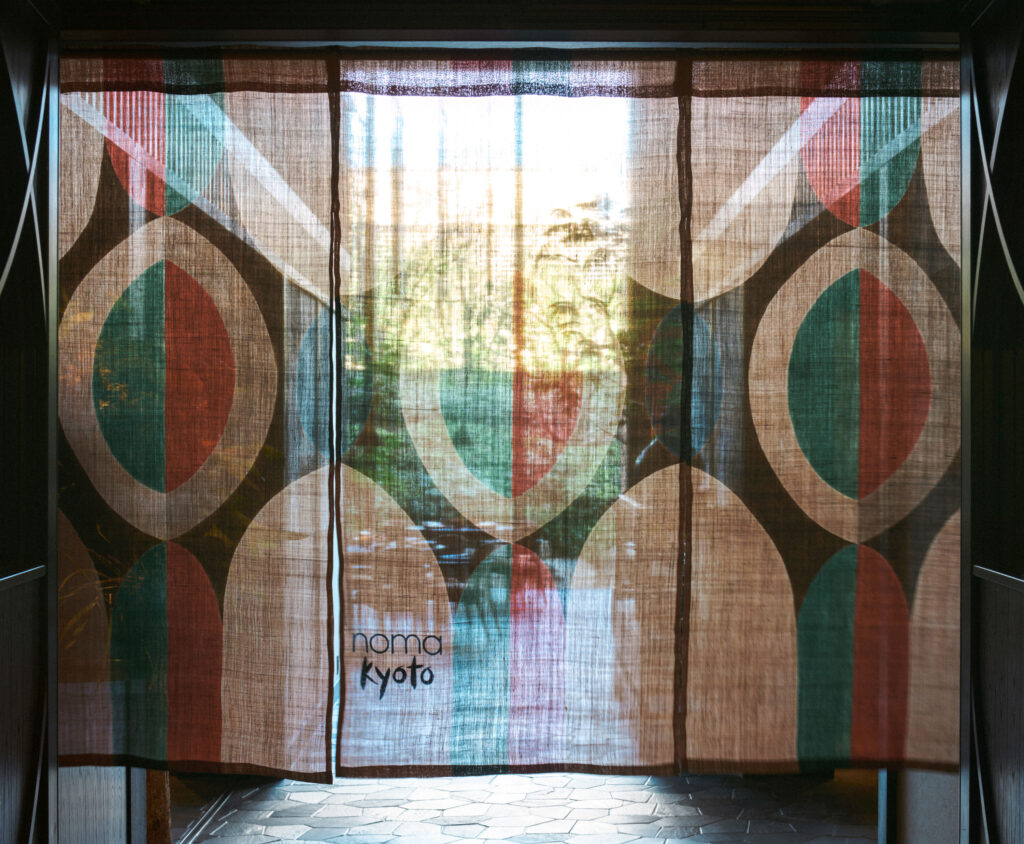 Photo: Tanaka Kotaro
A delicate Noren door curtain, letting through some light, welcomes you as you step foot in the restaurant. Designed by the textile dyeing artist Yunoki Samiro, who is still active after the age of 100, and dyed by local dyeing artist Yamamoto Sensho. You can enjoy his art in the details throughout the hotel, from the Ace Hotel Kyoto logo to the guest rooms and other facilities.
In the spring of 2023 in Kyoto, after the extended restrictions of the pandemic were eased, a remarkable culinary event unfolded. Drawing foodies from across the globe, a 10-week pop-up restaurant emerged at the Ace Hotel Kyoto.
Behind this gastronomic experience was none other than Noma, the renowned restaurant from Copenhagen, Denmark, helmed by chef René Redzepi. Recognized five times as The World's Best Restaurant in the prestigious "World's 50 Best Restaurants" annual rankings by the British magazine Restaurant, Noma brought its unparalleled expertise to Kyoto as a temporary home.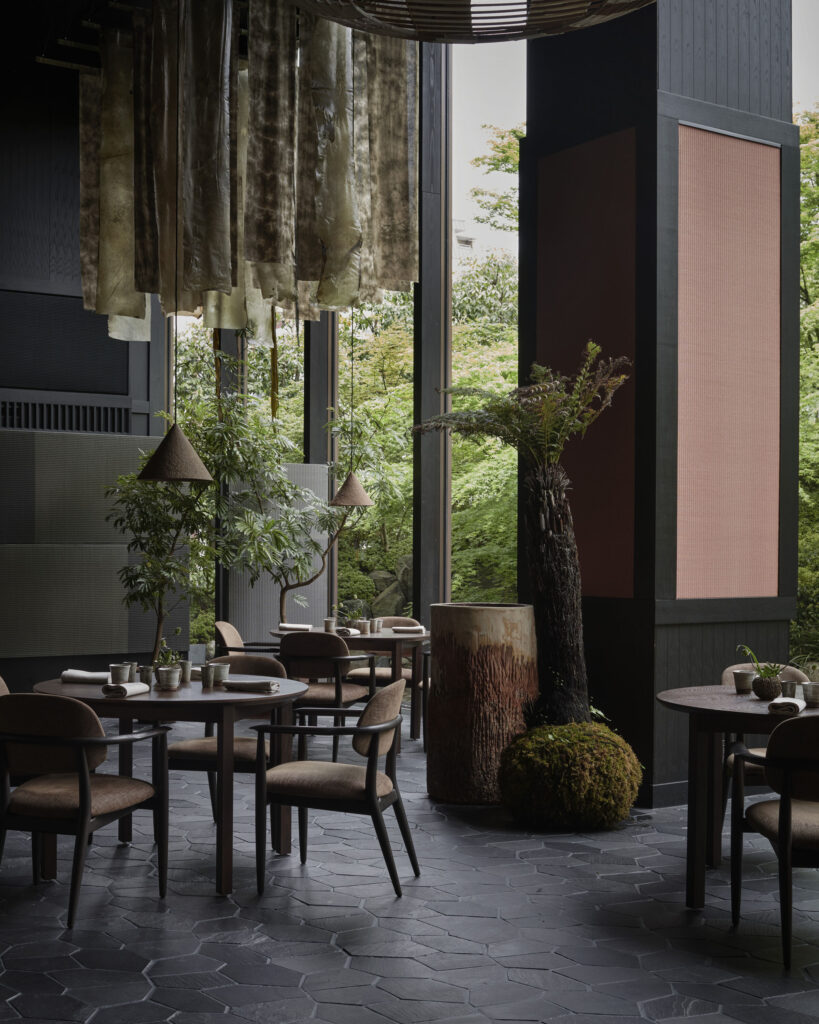 The kelp hanging from the ceiling perfectly complemented the lush greenery outside, creating an ambiance that blurred the line between being underwater or on solid ground. Photo: Ditte Isager
I had the incredible opportunity to dine at Noma Kyoto toward the end of the pop-up's run. If I were to sum up the experience in just one word, it would undoubtedly be "meditation."
As I sat at my table, head chef René Redzepi himself greeted me and some other newcomers. Clad in a casual T-shirt, he warmly engaged in conversation, sharing anecdotes about his experience with the Ace Hotel Kyoto, where the pop-up was hosted. He also mentioned how his daughter had learned how to understand and write some Japanese during their four-month stay in Kyoto. He chuckled, recalling that the initial month was challenging for her because Japanese schools are quite disciplined.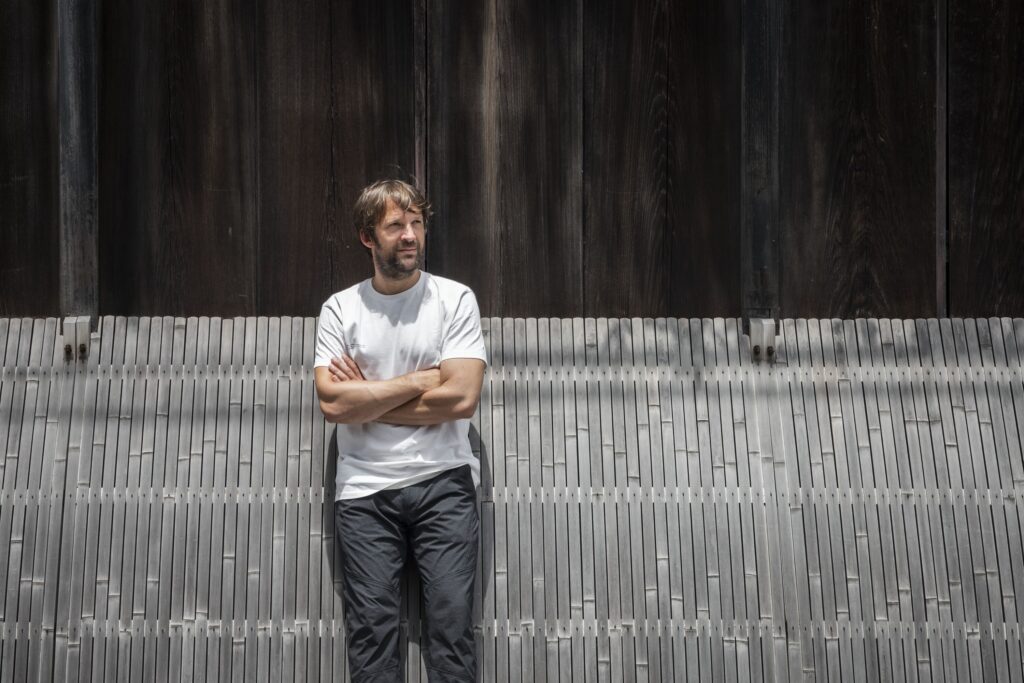 René Redzepi, Founder and Head Chef of Noma Photo: Amy Tang
The first course of the dinner, which started off with a personal greeting and toast setting the tone for the evening, was inspired by the delicate flavors of Hassun (small seasonal dishes) in Japanese Kaiseki (traditional multi-course) cuisine.
The centerpiece was a beautifully arranged basket with dried tomatoes tucked among rose petals and seasonal green grass. Cherry leaves coated in black garlic and a tomato jelly covered in pollen added an artistic touch. We were instructed to begin with the plate of grilled leaves, small flowers, and a mysterious white object wrapped in a paste that piqued our curiosity. As soon as I took a bite, I immediately recognized it as Yuba (tofu skin).
Interestingly, the dish was served without any cutlery, save for a small spoon. One of the senior staff members, who was on his second Noma excursion, informed me that it was meant to be enjoyed with our hands. I couldn't help but briefly question whether I had thoroughly washed my hands back in the hotel room. Nonetheless, I picked up one of the leaves and savored the experience.
As the dish was explained to me, I absorbed every word, allowing my imagination to wander. I examined the ingredients with my eyes, gently felt them with my hands, and finally brought them to my mouth. Along the way, I even took in the aroma with my nose. In that moment, I felt like a tiny insect joyfully exploring a vast field full of possibilities.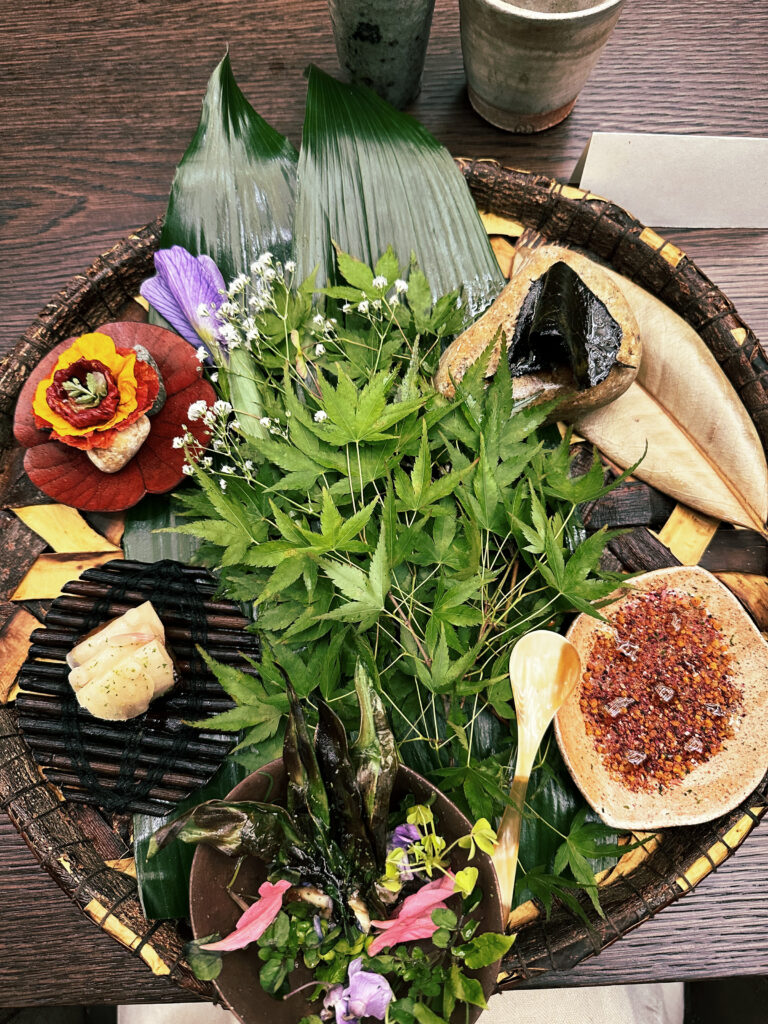 Hassun (small seasonal dishes) at Noma Kyoto. It perfectly captured the essence of Kyoto in early summer. Photo: Ayako Inaba
Looking back, the decision to have the guests eat the first dish with their hands might have been a clever design to stimulate all five senses. It's commonly known that sight accounts for about 80% of the information we gather from our senses, but at Noma, visual cues were only a part of the total experience since the ingredients were presented in an entirely unique combination and presentation.
By the time I reached the dessert, my senses were fully awakened. The dessert itself was a brilliant illusion, resembling a clam resting on a bed of kelp. I couldn't help but wonder, "Seafood sweets? How intriguing!" My mind was buzzing with excitement.
However, upon taking a bite, I discovered that the "Shijimi" in the dish weren't actually Shijimi clams. They were refreshingly sweet, crunchy, and pleasantly cold. The menu described them as Yuzu-citrus sorbet and Kijoshu sweet dessert sake. These unexpected surprises in my mouth brought about a profound sense of happiness.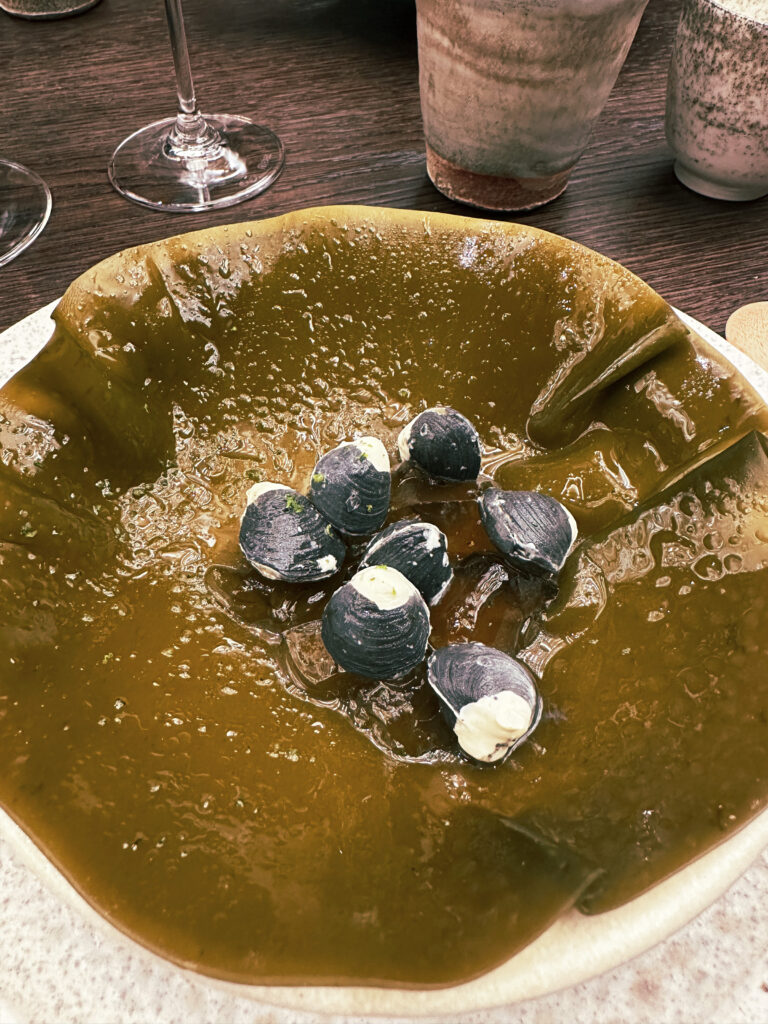 The first dessert dish at Noma Kyoto. The moment it was brought out I couldn't help but chuckle.
Photo: Ayako Inaba
After indulging in Noma one experience after another, I felt an incredible sense of exhilaration. The benefits of meditation are widely known to include heightened concentration and energy, relaxation through the activation of the parasympathetic nervous system, and the release of oxytocin, the happiness hormone, which promotes a positive state of mind.
But this particular meditation technique was a first for me.
Every plate presented to me was filled with thrilling adventures into uncharted territory. For three hours straight, I immersed myself in an exploration of sensory wonders meticulously crafted by Noma's team. Each dish unfolded like a journey through nature's marvels, propelling me in various directions. The sensation reminded me of a previous hypnotherapy experience I had.
The following morning, while enjoying breakfast at Mr. Maurice's Italian restaurant in the Ace Hotel Kyoto, I noticed a solitary insect floating in from the hotel garden and settling onto the very sofa I was sitting on. It made me wonder if this was a subtle parallel to the previous night's experience, and as I reminisced, fresh ideas continued to flood my mind. It was a gentle reminder of what makes Noma so enthralling to people.
Noma, which has earned the prestigious title of "The World's Best Restaurant" on five occasions, felt like a sanctuary that not only expanded my mind but also opened my heart.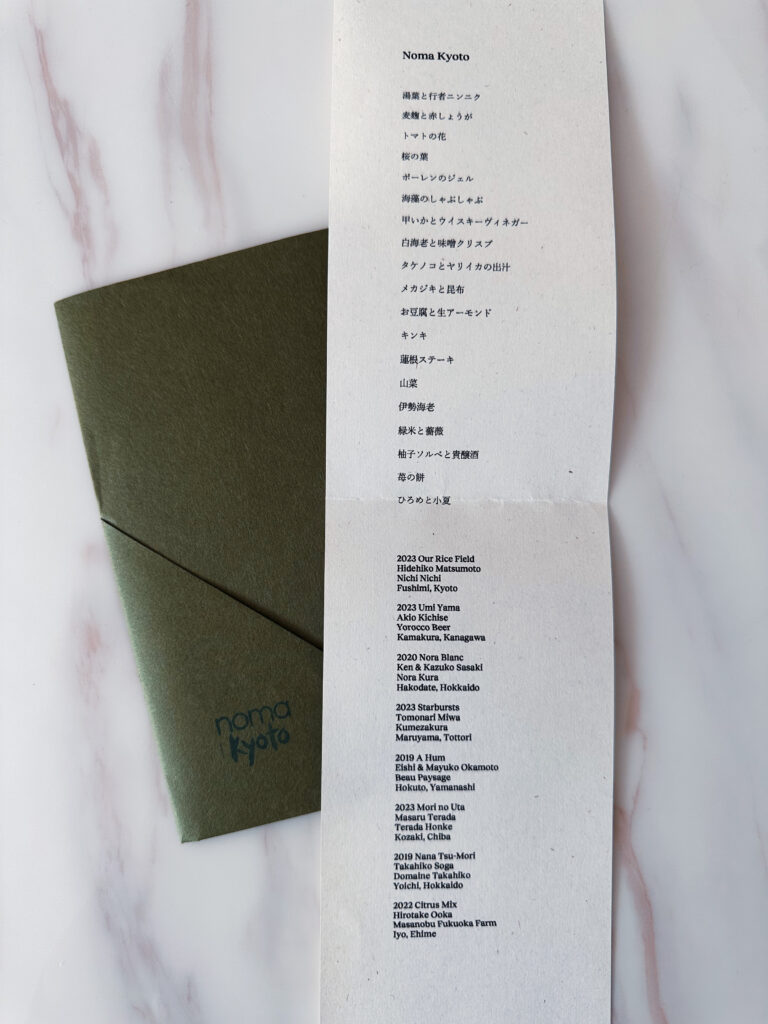 ■Menu
Yuba (tofu skin) and Alliums
Mugikōji (barley malt) and Red Ginger
Tomato Flower
Cherry Blossom Leaves
Pollen Gel
Seaweed Shabu-Shabu
Cuttlefish and Whiskey Vinegar
Japanese Glass Shrimp and Miso Crisps
Bamboo Shoots and Spear Squid Dashi
Swordfish and Kelp
Tofu and Raw Almonds
Idiot Fish
Lotus Root Steak
Wild Vegetables
Lobster
Green Rice and Rose
Yuzu-citrus Sorbet and Kijoshu Dessert Sake
Strawberry Mochi Rice Cake
Hirome Kelp and Konatsu-citrus
The complete lineup of the day's menu and wine pairings. I was pleasantly surprised by the discovery of a remarkably elegant Pinot Noir from Japan. Photo: Ayako Inaba