Prior to the opening of 'Shinji Ohmaki: Interface of Being – Fluctuations in Vacuum,' ZEROMILE editor Orie, attended the press preview held on October 31st.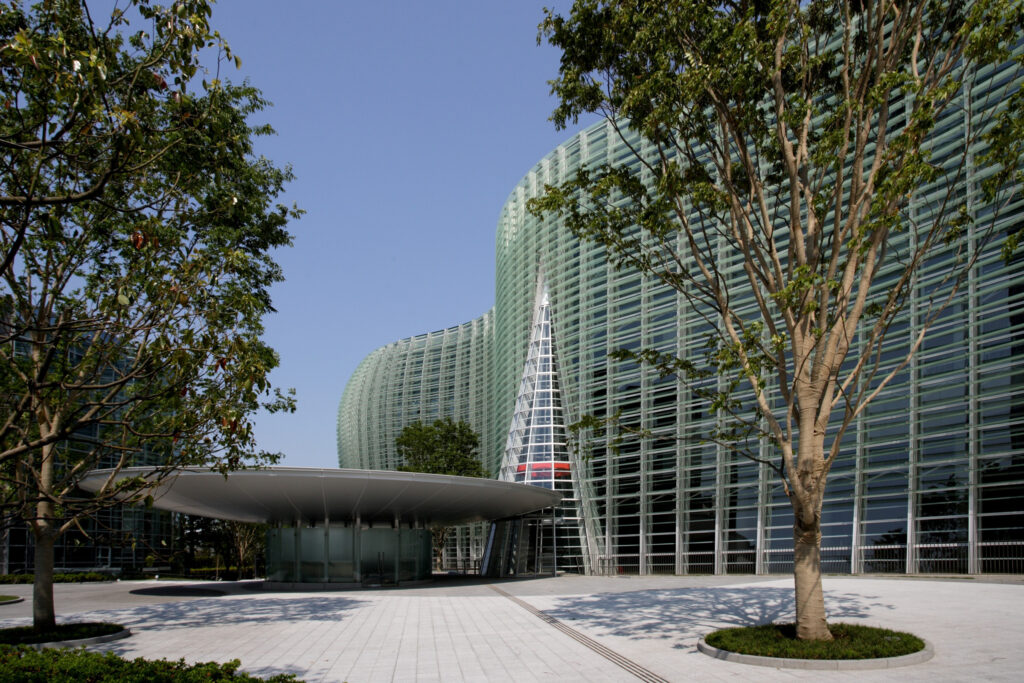 ©️The National Art Center, Tokyo
Despite being a Tuesday, a usual day of closure, I had the chance to access the museum for a preview event. While the interior is often brightly lit with a neat setting and clean atmosphere, the space was minimally lit with natural light streaming in from large windows, which made for a more relaxed atmosphere. Akin to seeing a close friend barefaced without makeup, there was a sense of comfort and naturalness. The exhibition space, Gallery 2E, is located on the second floor, so I made my way up the escalator.
An atmosphere brimming with Light and Shadow
Upon entering the exhibition space, you're greeted by a dim, elongated area softly illuminated by a large structure resembling a vase. With each step closer, you slowly start to grasp the sheer size and magnificence of the artwork, with patterns created by light and shadow gently swaying across the walls and floor.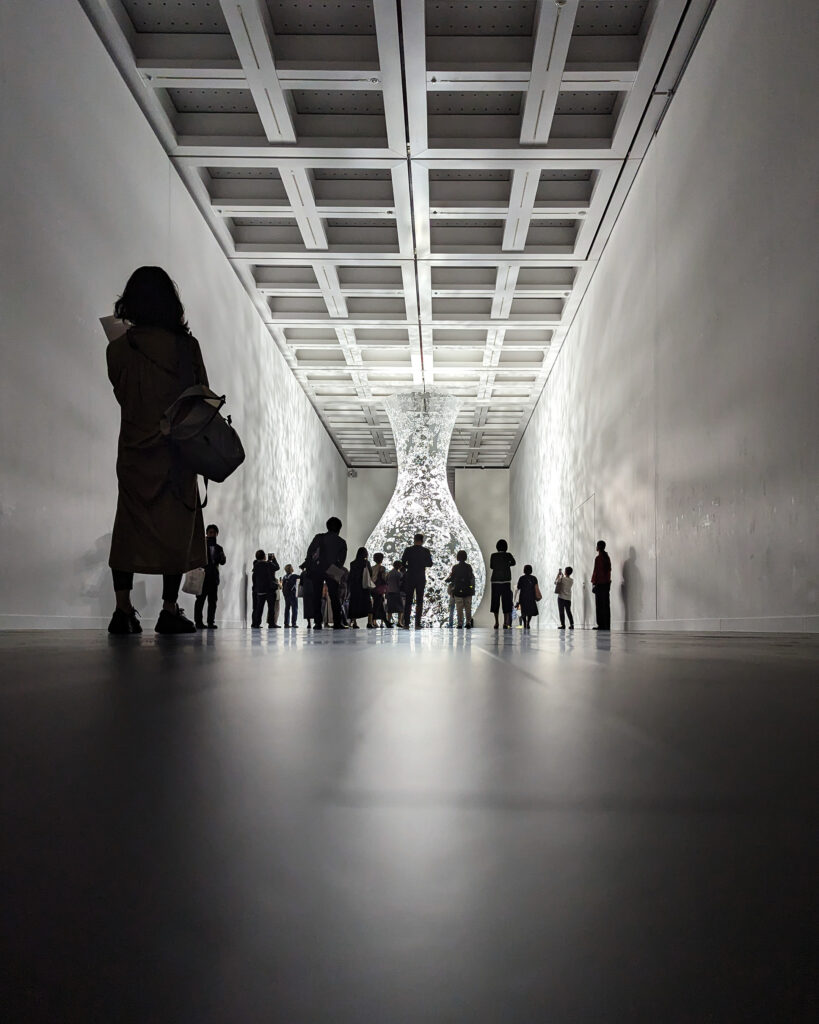 The artwork is called 'Gravity and Grace'. It is massive and visually conveys a sense of weight, yet simultaneously exudes a sense of lightness with its lace-like cuttings. The ascending light source within the vase illuminates the space with a graceful presence, casting patterns around like a shadow play. As the light ascends within the vase, the surrounding patterns seem to disperse, and as it descends, they appear to be drawn in.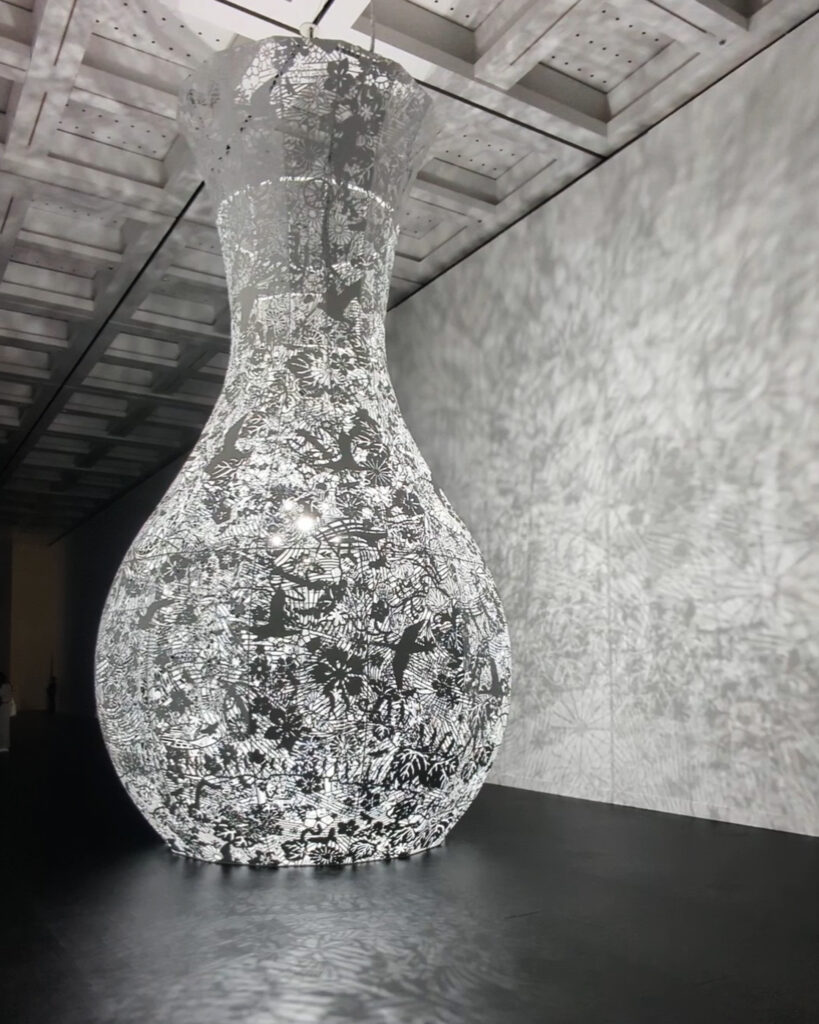 At your feet, words from the poet Ryoko Sekiguchi are scattered here and there like revelations. The black letters upon the dark surface appear and disappear as the play of light sweeps across the floor.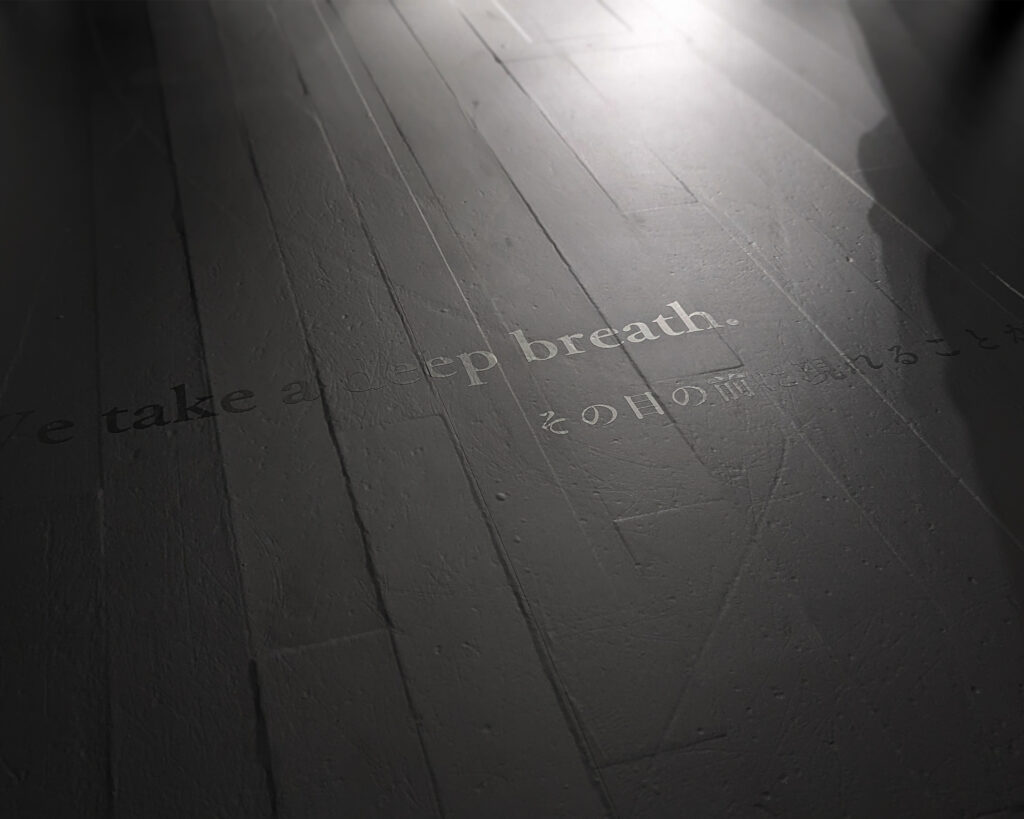 Ohmaki's Drawings and Notes
The exhibition offers more than just installation pieces; you can also get a glimpse of Ohmaki's sketches and drawings. There's something enjoyable and insightful about exploring handwritten notes and memos as if you're peering into the artist's mind and seeing the process. It brings a profound reminder that grand artworks don't come to life overnight, evoking a deep sense of connection as you realize the artist is just another human.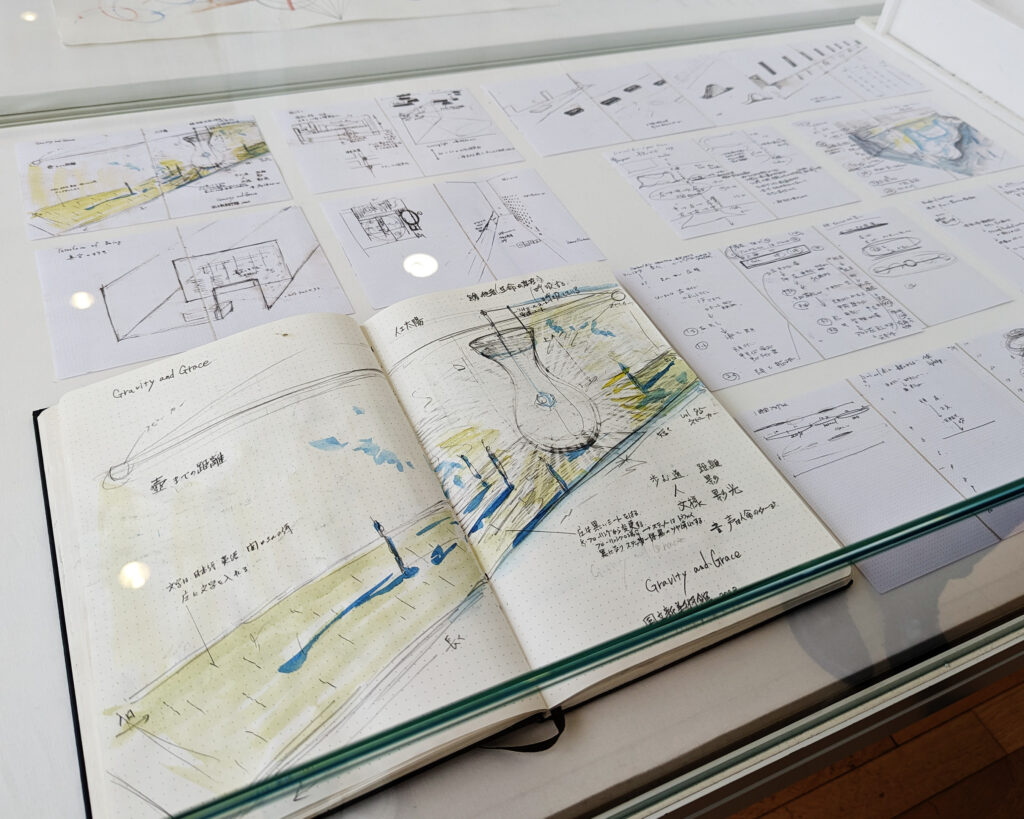 The notebook depicting the concept of 'Gravity and Grace'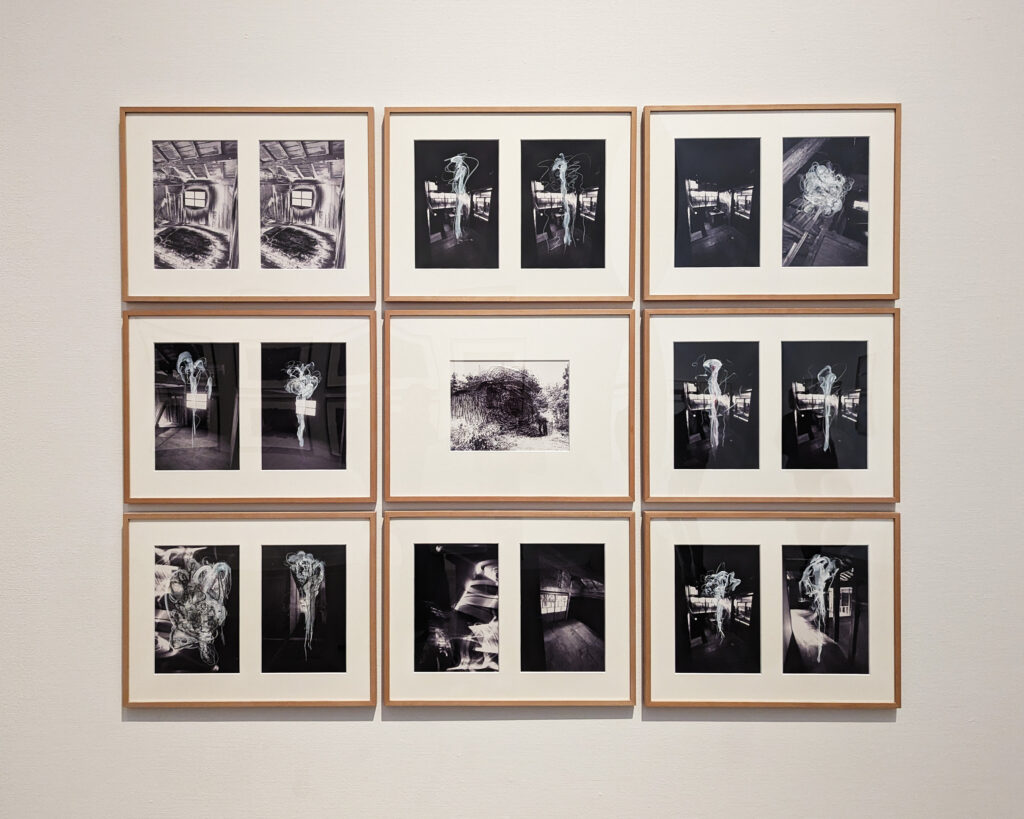 Drawings for 'House of Shadow'
Waves of presence
My favorite piece in this exhibition is 'Liminal Air—Space: Fluctuations in Vacuum,' an artwork where fabric is suspended and hovers in vast darkness.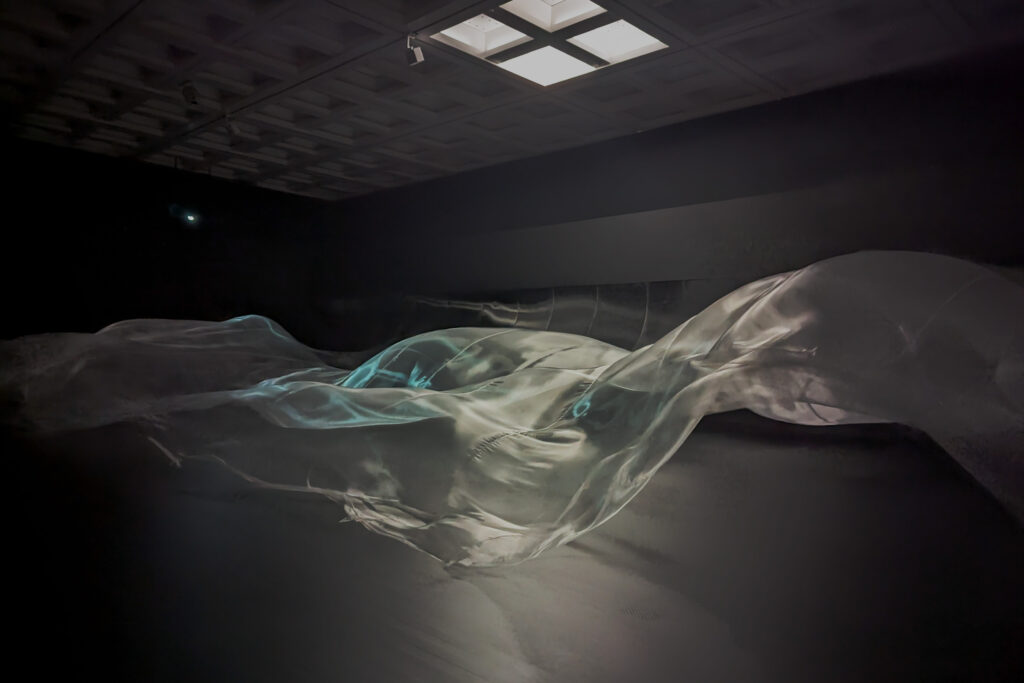 Delicate glossy fabric swirls enchantingly across the entire room, reflecting faint light and creating patterns that appear and vanish like waves or smoke. It evokes a sensation of losing track of time, melting into waves and gently drifting. I thought to myself, this may be what is meant by 'Vacuum'. By the time I left the room, my senses had regained sharpness, and my mind felt clear and refreshed.

While contemplating the question that Ohmaki explores through his artwork – "What does it mean to exist?" – I sense an intangible 'something' floating gently in my mind, almost within grasp yet elusive. Whether it's a message embedded in the artwork or an emotion beyond words can describe, emerging from within, there's an emotional or conceptual essence that remains uncertain.
Photos can't capture the movement, and even videos can't convey crucial aspects like scale and atmosphere. It's tempting to think we can understand things through glimpses online, but this exhibition reminded me that the significance of firsthand experience might be greater than we realize.

Every person will have their own perspectives, emotions, and experiences, and you're the only one who truly knows what and how you feel. As expected from Shinji Ohmaki, this exhibition explores the nature of being and impressively stirs the senses. I encourage you to take this opportunity and experience it for yourself firsthand.
Shinji Ohmaki: Interface of Being - Fluctuations in Vacuum
Exhibition Period: November 1, 2023 (Wed) - December 25, 2023 (Mon), Closed every Tuesday
Opening Hours: 10:00 AM - 6:00PM
*Open until 8:00PM every Friday and Saturday
*Last entry is 30 minutes before closing
Venue: National Art Center, Special Exhibition Room 2E (7-22-2 Roppongi, Minato-ku, Tokyo)
URL: https://www.nact.jp/exhibition_special/2023/ohmaki