If you've been to an art gallery opening, you already know that art and wine go hand in hand, but Artbar Tokyo in Daikanyama takes this to new heights, where visitors can actually make art while drinking wine.
Based on the theme "Art x Wine", with all-you-can-drink wine and snacks, there's no better place in town to let your artistic spirit run wild and see what you come up with on a fresh blank canvas!
I had the opportunity to experience an Artbar painting workshop in person and was super excited to get started.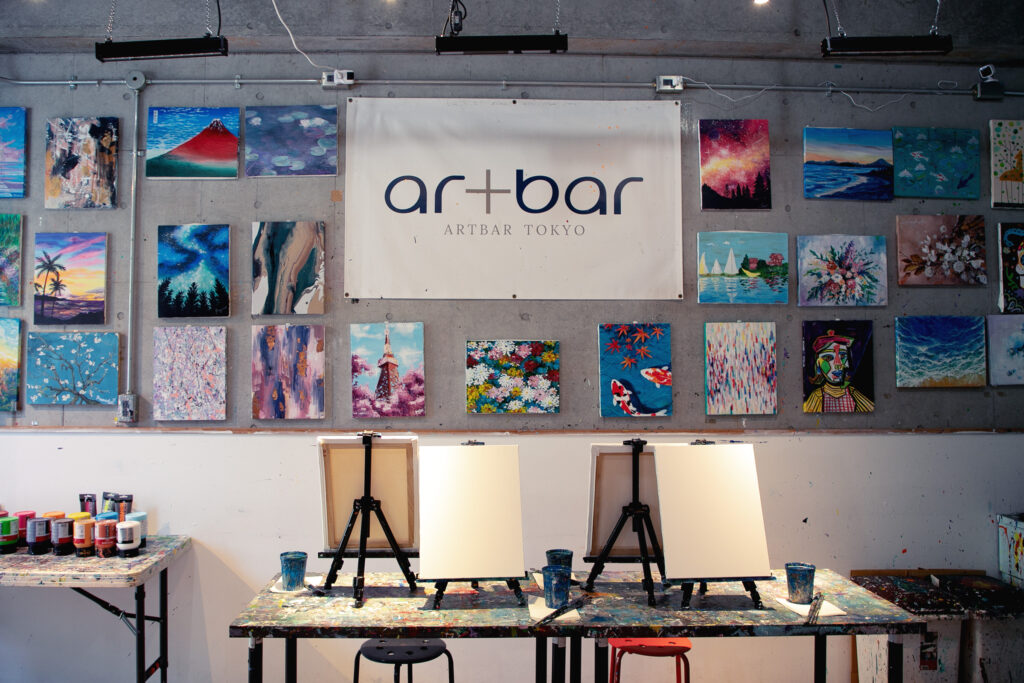 Making art more accessible
The studio offers a wide range of workshops on various themes that are held almost every day. Friendly instructors are there to guide you step by step, so even those new to art or who haven't picked up a paintbrush for a while can easily join in.
It's an inspirational experience as you learn techniques inspired by masters like Van Gogh and Monet, allowing you to mimic their style while making your own unique visions come to life.
One of the most popular workshops at the studio is "Action Painting", a very physical style of abstract painting where you splash, throw, or pour paint on a canvas like Jackson Pollock. It's a great way to release your stress and emotions. According to our instructor, Naomi, the more intense your emotions, the better the final piece turns out to be.
Artbar's original "Paint Pouring Fluid Art" workshop is another favorite, where you let your favorite colors run down a blank canvas, creating a one-of-a-kind piece as the paint flows, blends, and overlaps in surprising and new ways you may have never imagined.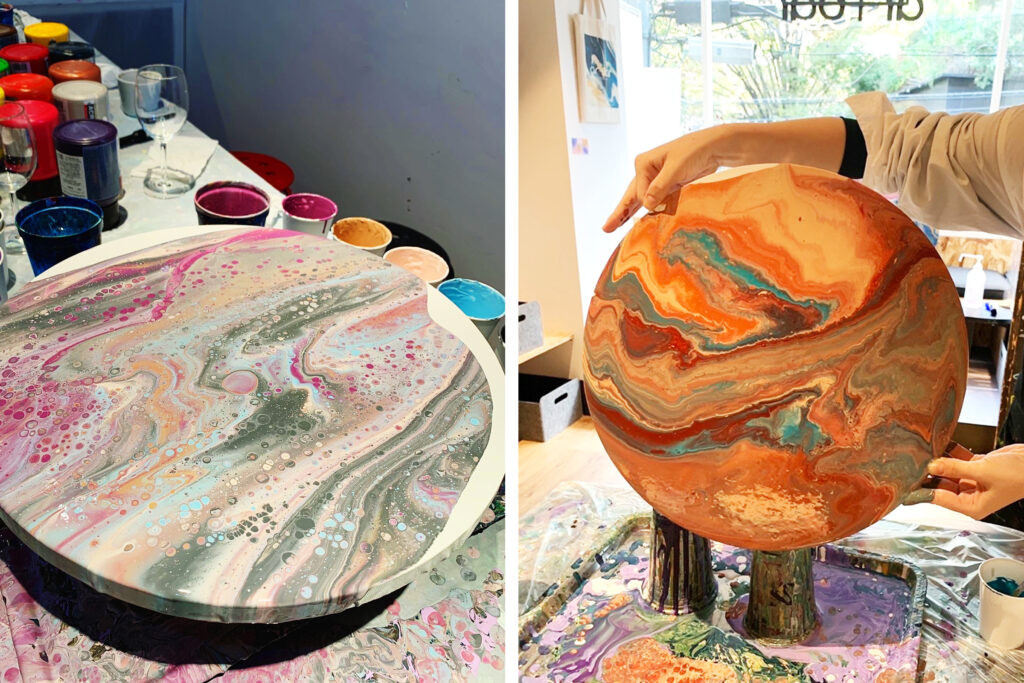 Overflowing creativity with wine and art
Visiting Artbar, one of the first things that I noticed was a poster reading "0% Judgment, 100% Fun" that visually depicts the studio's concept in a playful way.
With a glass of wine in hand, you can relax, remove barriers, and let your ideas run free.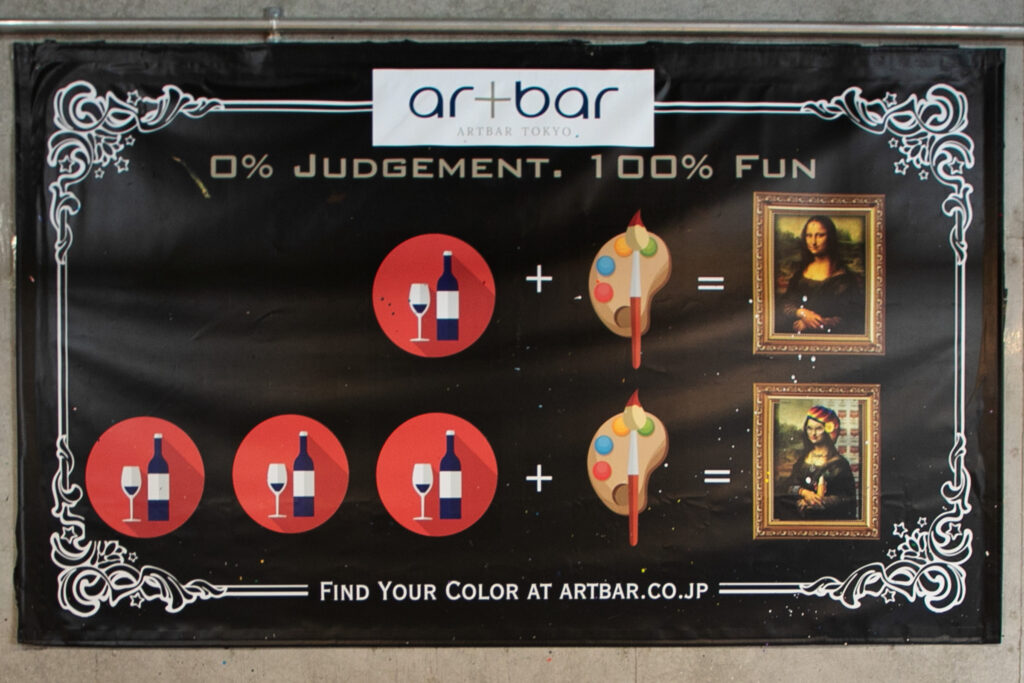 1 glass of wine makes a nice painting; 3 glasses of wine, and creativity overflows!
Naomi, the instructor who led our workshop, is from the US and said that this type of art workshop is relatively new in Japan.
"You can find quite a few places that offer these kinds of art workshops in the US, but there still aren't many in Japan. Here at Artbar, we have a lot of Japanese locals as well as foreigners living in Japan come to participate, and even some international travelers visiting Japan come by. Communication in English is also totally okay, so you can have a great time even if you decide to come solo."
Naomi explained that everyone is welcome, and you also don't need to worry about your skill level.
"At Artbar, there's no such thing as a good or bad painting. What matters most is how much fun you have making art that you like!"
It'll keep you coming back for more
This time, I participated in the "Freestyle Open Studio" workshop, where you can freely paint whatever you like. It had been ages since I picked up a paintbrush and wasn't confident about my skill, but I was super excited to get started.
With an original cocktail in hand, all the participants raised glasses for a toast before kicking off the workshop. There are also non-alcoholic cocktails available as well.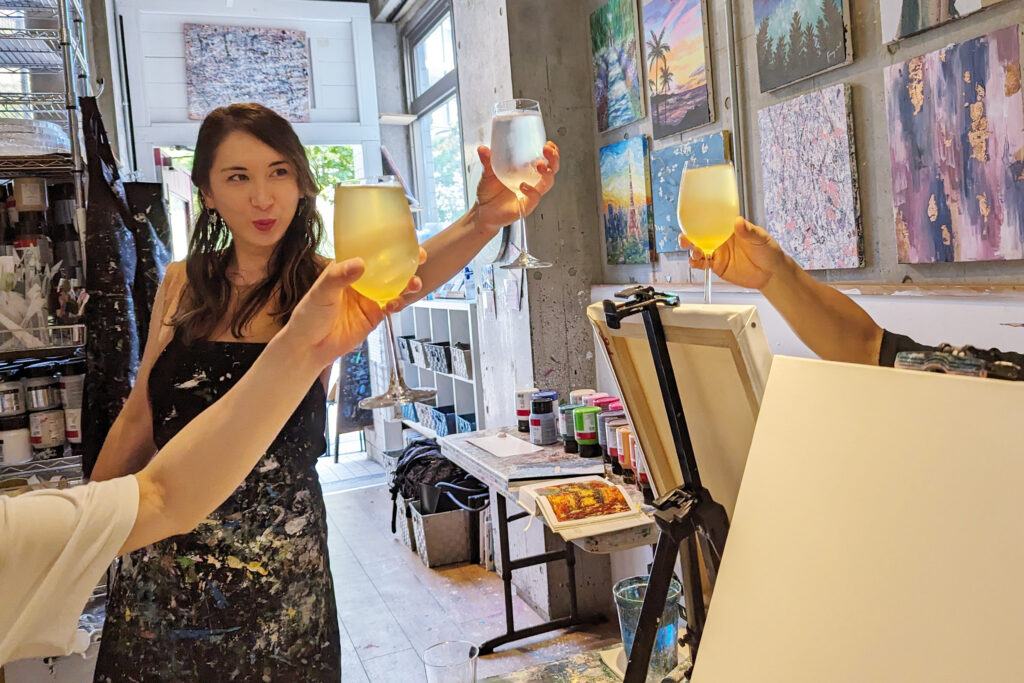 If you don't know where to start or get stuck along the way, you can tell the instructor what you want to paint and get advice on things such as sketching, blending of colors, making shadows, and applying brush strokes. It's reassuring for beginners to follow along and have fun.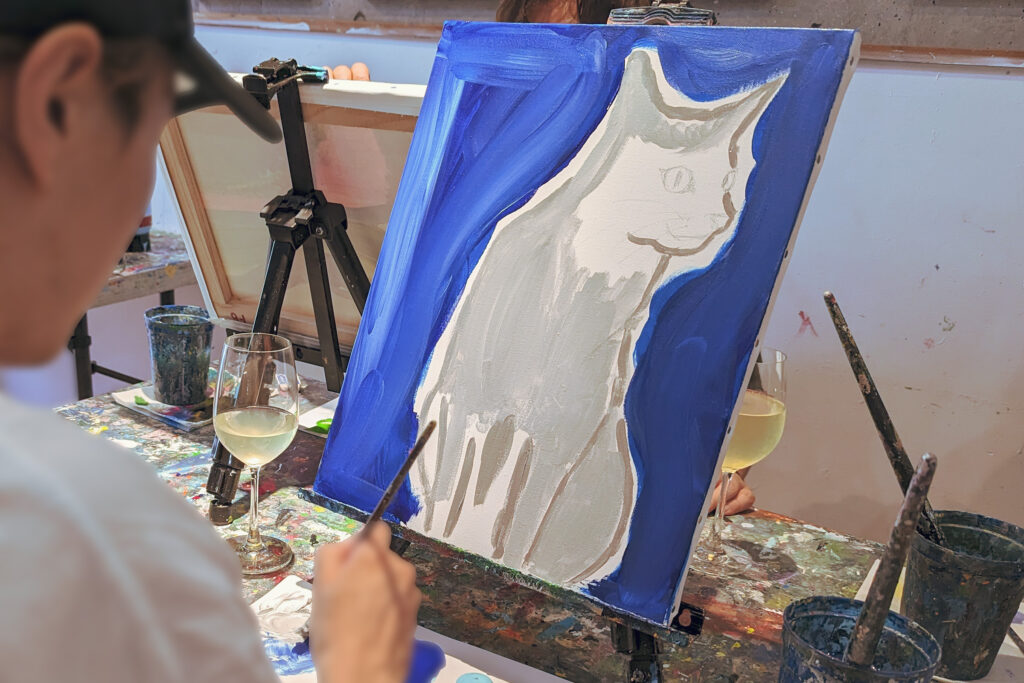 The relaxed and social atmosphere during the workshop with drinks naturally sparked conversations among the participants. One regular attendee mentioned having joined over 40 workshops. Initially invited by a friend, they quickly became hooked due to the welcoming atmosphere and the joy of realizing their ability to create artwork even as an amateur. With each visit, they noticed their skills improving and enjoyed meeting new people along the way.
Another couple traveled all the way from Nagoya to Tokyo just to experience Artbar for the second time. It's a perfect place for a fun date with a touch of sophistication. Participants can take their artwork home, either as decorations for their own place or as gifts for someone special.
Artbar presents the perfect cocktail of art, candid conversation, and delightful drinks. It's a wonderful opportunity to connect with others and unleash your creativity in new ways. Who knows? With a glass of wine in hand, your next masterpiece might just be around the corner.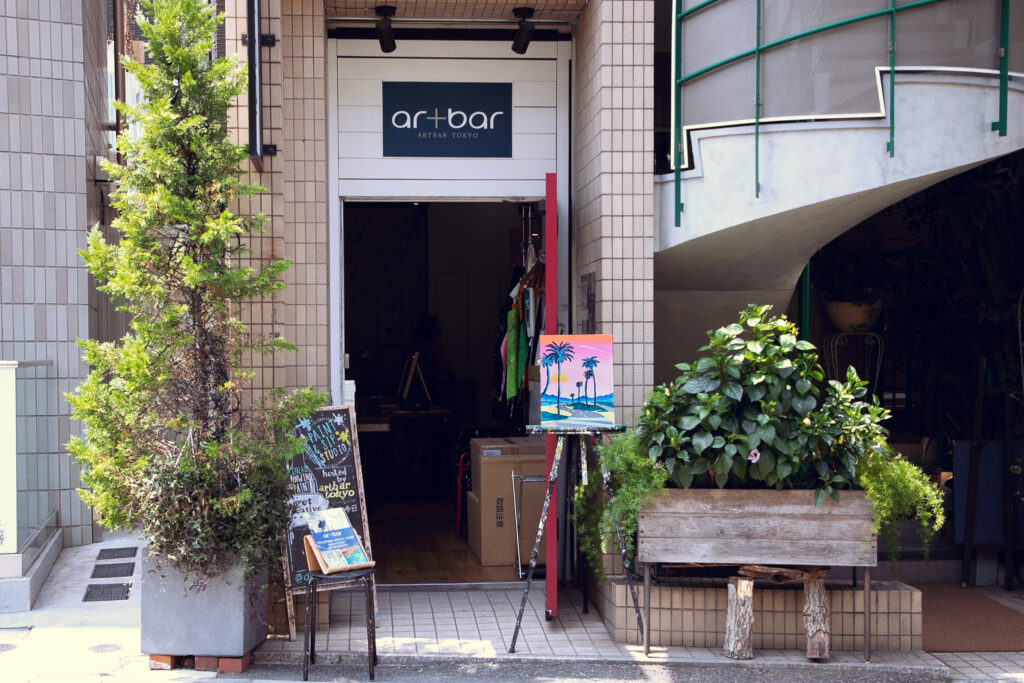 Artbar Tokyo Daikanyama
Address: 1F, Bellevue Daikanyama, 7-2 Daikanyamacho, Shibuya-ku, Tokyo 150-0034
Website: https://artbar.co.jp/
*Other studio
Artbar Cat Street
Address: Takara Building 201, 5-30-2 Jingumae, Shibuya-ku, Tokyo 150-0001

Artbar Yokohama Motomachi
Address: 2F, Ichigo Yokohama Motomachi Building, 1-27-2 Motomachi, Naka-ku, Yokohama, Kanagawa 231-0861