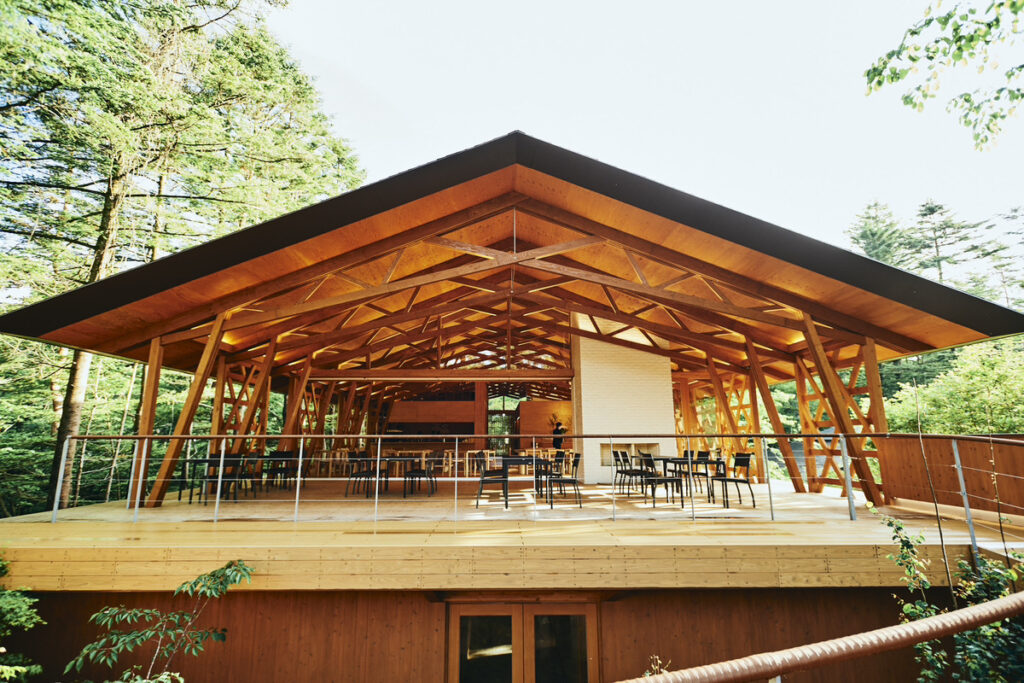 ©️Shishi-iwa House
Despite being just a 1-hour Shinkansen ride from Tokyo, Karuizawa beckons with invigorating forests, delightful cuisine, and exquisite sake. It encapsulates the very essence of Japan's finest offerings. The 'Shishi-iwa House' is an art-inspired boutique hotel that invites you to savor the essence of Karuizawa.
Immersing in Karuizawa's nature
Our journey began in the early morning with a hike not far from Karuizawa's town center. Upon the hiking trail, the gentle, pebbly slope absorbed the force in each footstep taken. Though it seemed we were just a short distance away, reaching the summit of the lush hill, visibly right ahead, proved to be a bit challenging.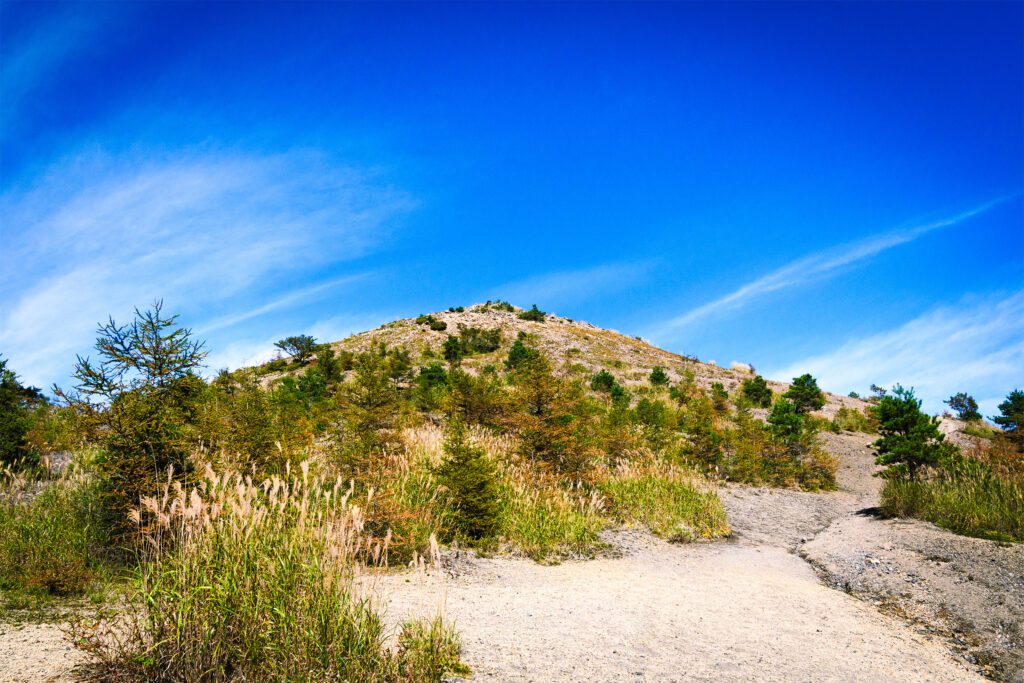 "I see, so this is why Karuizawa was originally called Karuishi-zawa." — The original name was a literal description of the landscape, combining the Japanese words Karuishi (軽石) meaning pumice and Zawa (沢) for mountain stream.

I attempted to ease the journey by sharing trivia and anecdotes, but to no avail. I started hiking with a casual and relaxed attitude, yet surprisingly, both the uphill and downhill turned out to be more challenging than I had imagined.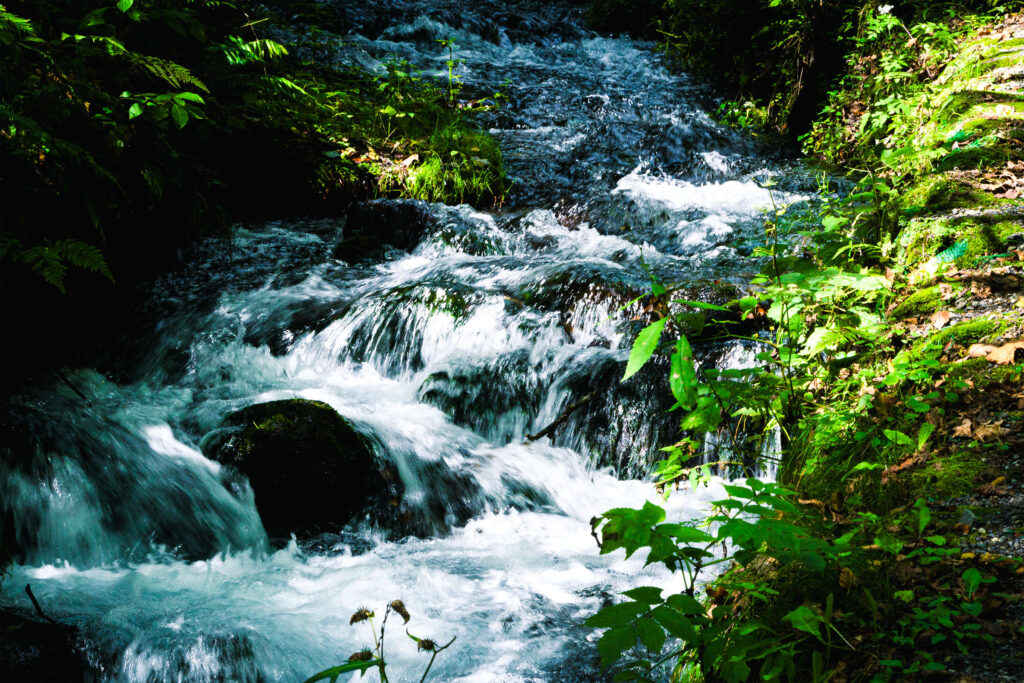 Rainwater passes through the layers of pumice stones, seeping through the gaps at the foot of the slope to create a clearwater stream. Hence, the basis for the theory of how Karuishisawa evolved into Karuizawa.
We initially began our day from the Shiraito Falls, which symbolizes the stream within Karuizawa. The reason we veered off our original path and explored the area covered with pumice stones was purely because the natural beauty of Karuizawa was so captivating.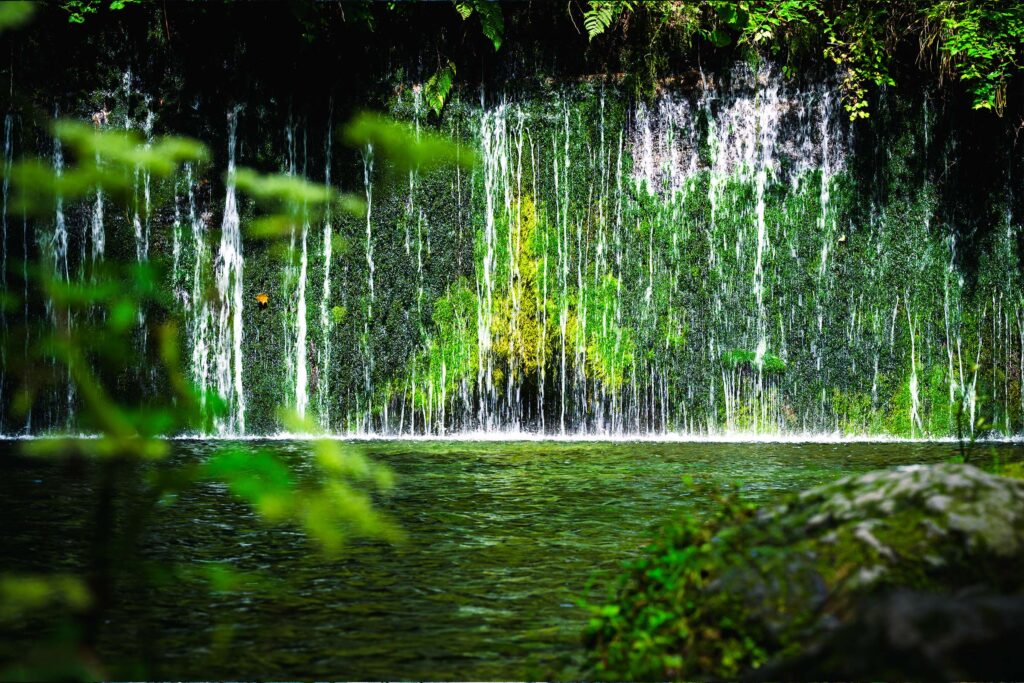 The renowned waterfall, famous among tourists, Shiraito(白糸=white thread) Falls, earned its name from the constant flow of clear water that resembles white threads. This is attributed to the underground water that seeps along and through the boundary of layered pebbles, forming a continuous cascade regardless of the weather.
The Shinano-ji Nature Trail from Shiraito Falls to Mine no Chaya features a slightly steep staircase along the route, yet it was a wonderfully enjoyable hike.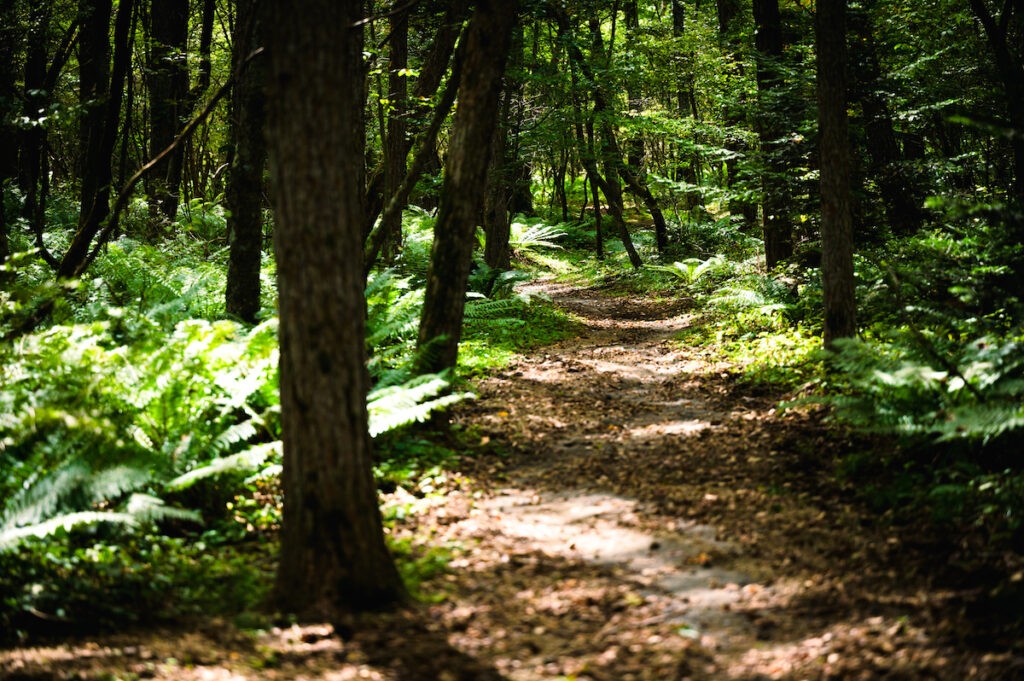 It was a weekday morning, which may be one reason there were hardly any people along the path. Tall trees obscured the view, and under them, amidst flourishing ferns, the winding trail curved and bent, creating an atmosphere like a secluded green labyrinth with no end in sight. It felt like being immersed in a dream reminiscent of a time before civilization or even after its end, almost like a science fiction-inspired reverie.
Gradually, the hum of cars pulled us back to reality, and there we were at Mine no Chaya. Instead of pausing, we decided to embark on the hiking trail of Mount Koasama from that point.
Mount Koasama, with its geological origins in volcanic activity over 20,000 years ago, unveiled its true character. The lower slopes offer a gradual ascent that is adorned with trees. However, as you climb higher, the terrain transforms into a steeper slope covered in porous rocks—pumice, vividly bearing signs of past volcanic activity. The dry landscape and sparse vegetation conjure images and comparisons to Mars due to its otherworldly appearance.
We had questioned whether we were in a place from ancient times or some distant future, and even Mars had crossed our minds. This further fueled our earlier science fiction-inspired daydream. The Martian-like landscape appeared before us as we walked until the trees cleared. What's more, the summit of this otherworldly mountain seemed incredibly close, almost within arm's reach. So, right there on the slope, we enjoyed a light lunch – coffee and sandwiches we'd picked up earlier from the renowned Karuizawa establishment Sawamura. With that post-meal satisfaction, we set out to climb the slope in the early morning.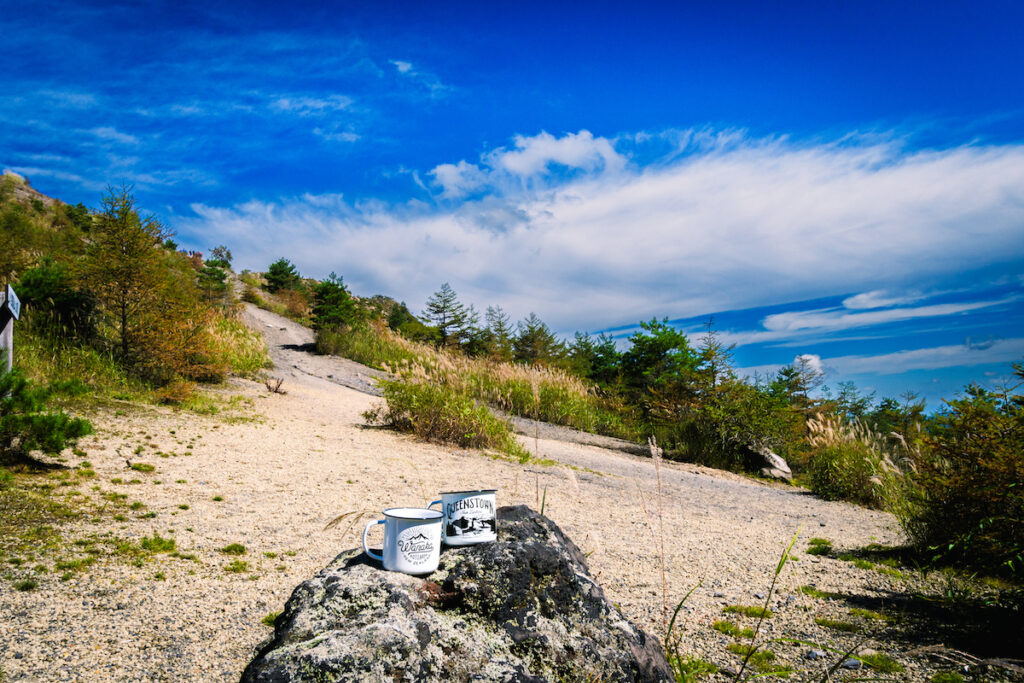 A town with a blend of Japanese and Western influences
Despite Japan maintaining two-thirds of its land covered in forests well into the 21st century, it's easy to forget that fact while in the capital, Tokyo. Yet, in just about an hour by Shinkansen, we can reach a place that embodies the essence of Japan. Whether it's Shiraito Falls or Mount Koa-yama, both are located just a little northwest of the Shinkansen arrival point in Karuizawa.
Karuizawa has this unique charm that brings joy even with a casual visit. While that might be more than enough for some, since you're here reading this, I'd love to share a little more with you.
Karuizawa thrived as a bustling post town for travelers crossing mountain passes until about 150 years ago. However, influenced by the revolutions and globalization of the early 20th century, it experienced a decline and resembled a town like Radiator Springs on Route 66 from the animated movie Cars. However, the discovery by a Canadian missionary and a Scottish English teacher seeking relief from Tokyo's scorching heat transformed Karuizawa into the cool haven they longed for, leading to its unique development into what it is today.
Karuizawa initially transformed into a retreat for Westerners.
While Japan is known as the land of rice and fish, Karuizawa is home to many establishments associated with bread, including the previously mentioned bakery and restaurant Sawamura and the jam shop Sawaya, both popular in Tokyo. Besides these well-known spots, there are numerous places in Karuizawa specializing in bread and sausages that are also renowned. This is why Karuizawa is a town celebrated for its wheat and meat.
Furthermore, there are many churches, and the townscape blends both Japanese and European architectural styles.
Karuizawa, a sanctuary of hot springs and contemporary art
The town area stretches along the railway extending west from Karuizawa Station, which is the lowest and flattest point, surrounded by mountains and forests to the north, south, and east. Karuizawa, in essence, has a vertical three-tier structure, with the high-altitude areas, including Shiraito Falls and Mount Koasama, sit at the top layer. In the intermediate space, nestled among the sloping trees, you'll find a number of luxury villas owned by foreign nationals and Tokyo residents.
The expansion of this town owes credit to Japanese artists from the early 20th century who were pioneers of contemporary art in Japan. The driving force behind their presence here was a hot spring and inn unearthed by Kasuke Hoshino, a successful figure in the silk industry at that time. Originally named Myojokan, this hot spring inn was given its moniker by the literary couple Tetsukan Yosano and Akiko Yosano. They envisioned this place as a key hub for contemporary art in Japan, second only to Tokyo.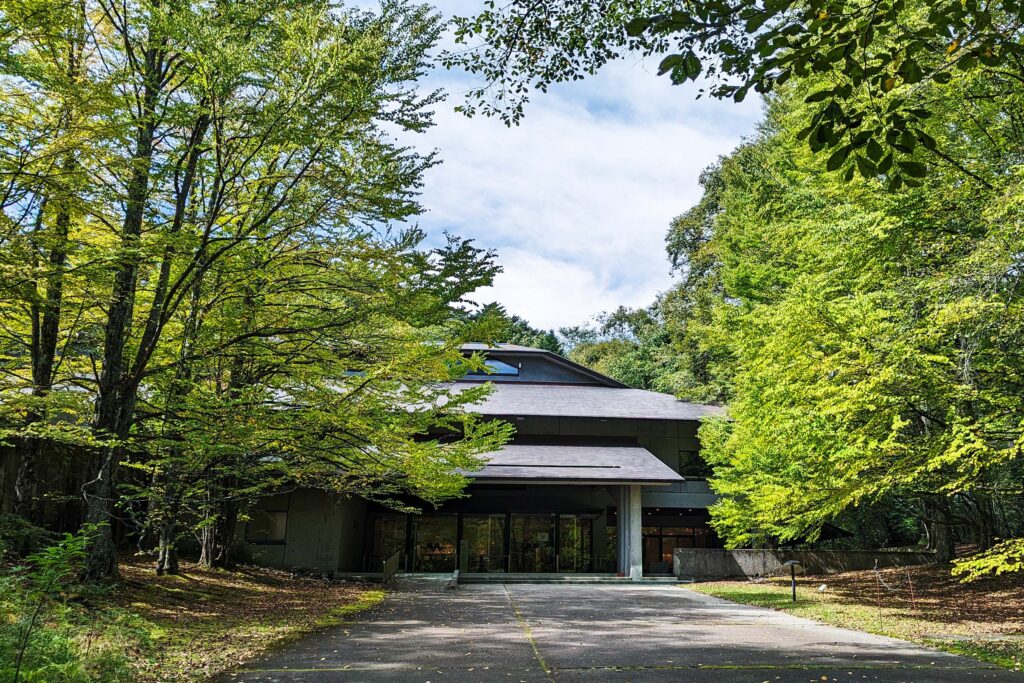 Sezon Museum of Modern Art
The artistic legacy thrives in places like the Karuizawa New Art Museum, showcasing avant-garde art and a chapel designed by Kengo Kuma. Explore the Seibu Group's influential art collection at the Sezon Museum of Modern Art, a pivotal force in Tokyo's cultural scene in the late 20th century (Notably attended by Marcel Duchamp's wife and John Cage at its 1981 opening). The Karuizawa Museum of Contemporary Art holds works by globally renowned Japanese artists such as Yayoi Kusama, Yoshitomo Nara, Takashi Murakami, and Ayako Rokkaku. There's also the Musée Ando à Karuizawa, a collection by a Fujita Tsuguharu enthusiast. As for the Myojokan, it has transformed into Hoshinoya Karuizawa, while the Hoshino family has evolved into the prominent resort entity known as Hoshino Resorts.
Moreover, capitalizing on its advantageous position near the Nagano Prefecture and Kanto border, the area enjoys access to Nagano's renowned vegetables and fruits even before they reach Tokyo. Blessed with a wealth of mountainous ingredients, it has become a focal point for Japanese cuisine, hosting the original location of the renowned soba restaurant Kawakami-an, which is also popular in Tokyo.
Karuizawa has cultivated a blend of Japanese and Western culture, art, and cuisine, and this rich blend continues to thrive today.
Shishi-Iwa House and the astonishing collections of wine and whiskey
The above serves as a quick historical overview of Karuizawa. I've provided several key details because our destination, Shishi-iwa House, promises an even more delightful experience once you understand Karuizawa's background. It's like a charming villa-style hotel that encapsulates the very best of Karuizawa. The location is about 3 km north of Nakakaruizawa Station (the station next to Karuizawa Station on the Shinano Railway Line).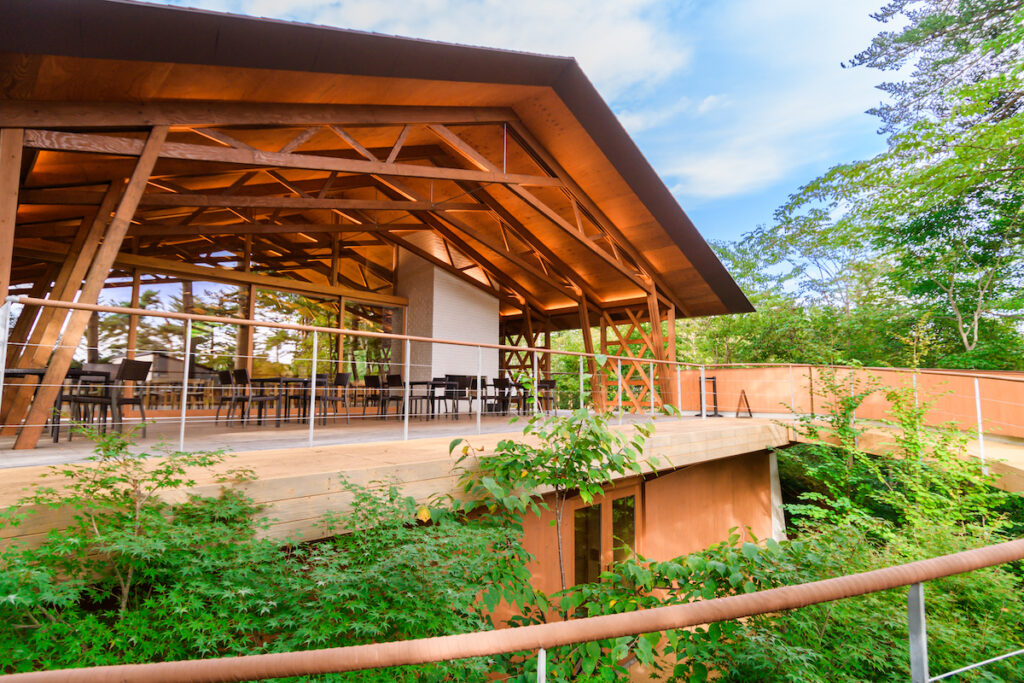 Shishi-iwa House comprises three lodgings perched on the slope. Traveling north on National Route 146, you'll find 'SSH No.1' and 'SSH No.2', and a short distance later, 'SSH No.3' comes into view.Warmly greeting us after a tiring hike was SSH No.2, where we were treated to delicious fresh juice upon our arrival. This establishment, designed by architect Shigeru Ban with its grand wooden structure and gabled roof, opened in 2022. Leading us through the brief journey to the hall on the second floor of SSH No.2 was Mr. Daichi Ogihara, the General Manager of Shishi-iwa House. Along the way, he provided insights into the features of Shishi-iwa House and explained how the basement is divided into 12 compact rooms.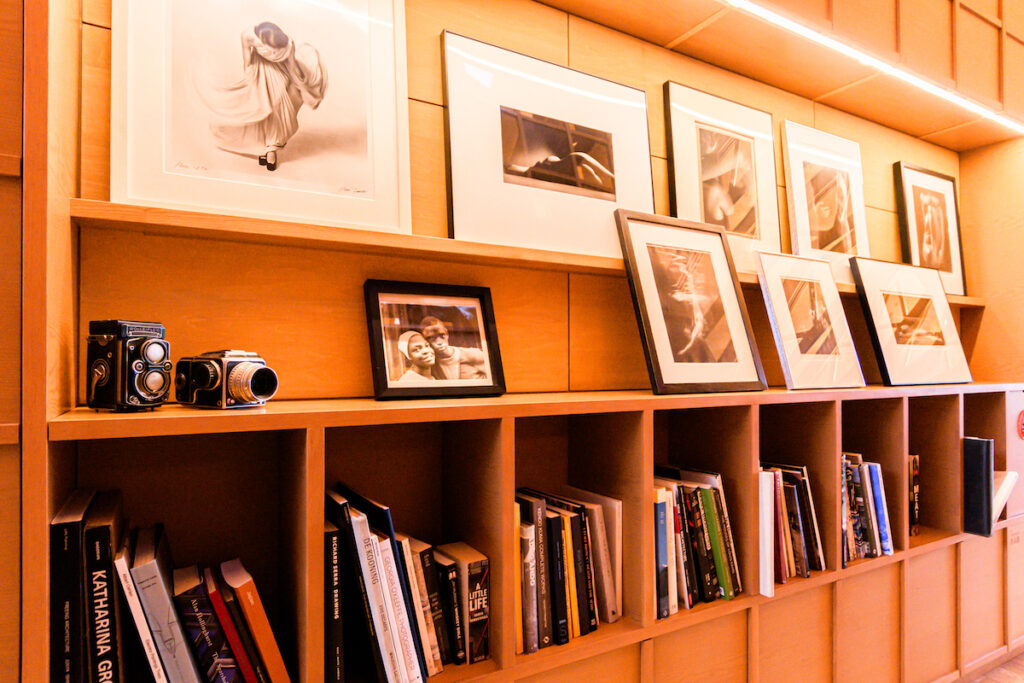 The corridor leading to the restaurant and bar of SSH No.2 is adorned with monochrome photographic artworks.
Taking a moment to catch our breath, we glanced beyond the counter, and there, Mr. Ogihara pointed out the bar and guided us inside.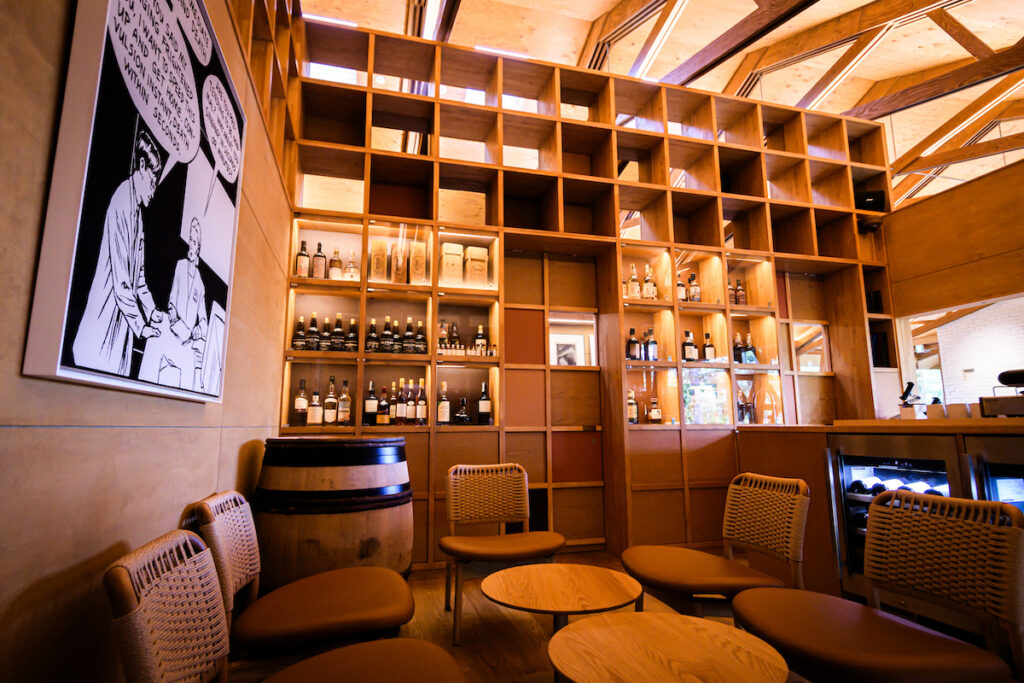 And right there, we stumbled upon an unexpectedly lavish collection of wines and whiskies. Any fatigue we had been feeling melted away instantly.
Bottled from barrels auctioned at Hospices de Beaune, the wine from the premier vineyard Clos du Roi in Burgundy's Corton is just the beginning here. The greatness of the Burgundy and Bordeaux wines lined up in the cellar below the bar counter is truly remarkable.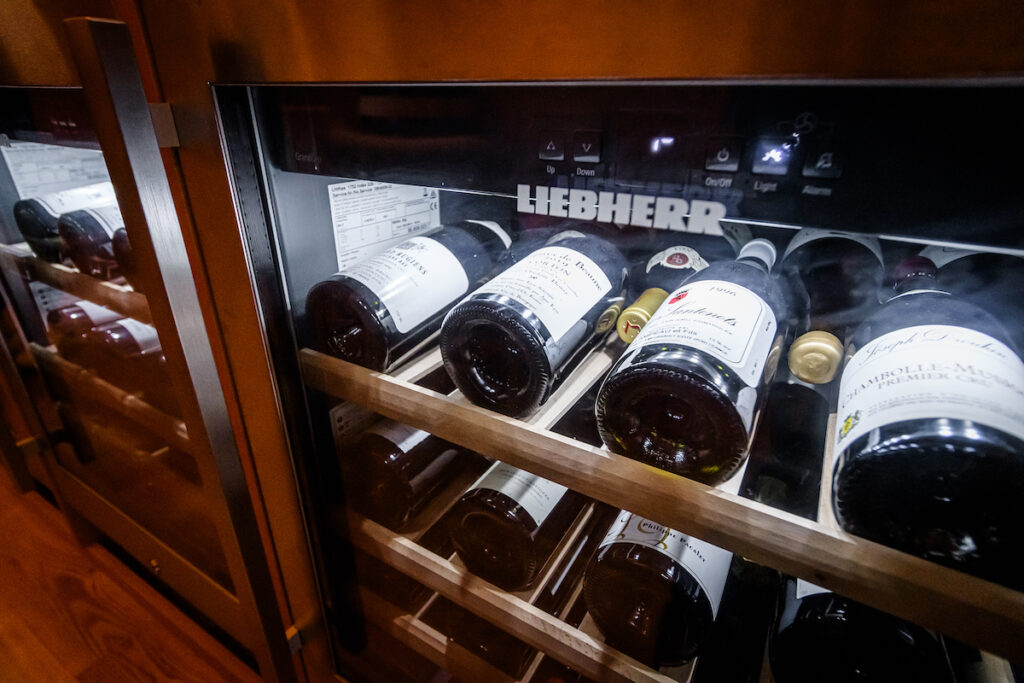 Renown names came to mind and I was sure they had wine from those vineyards too
Beyond the envy-inducing wine collection, what's even more surprising is the lineup on the wall shelves – a series of creations from the Karuizawa Distillery. These whiskies are now considered some of the rarest in the world.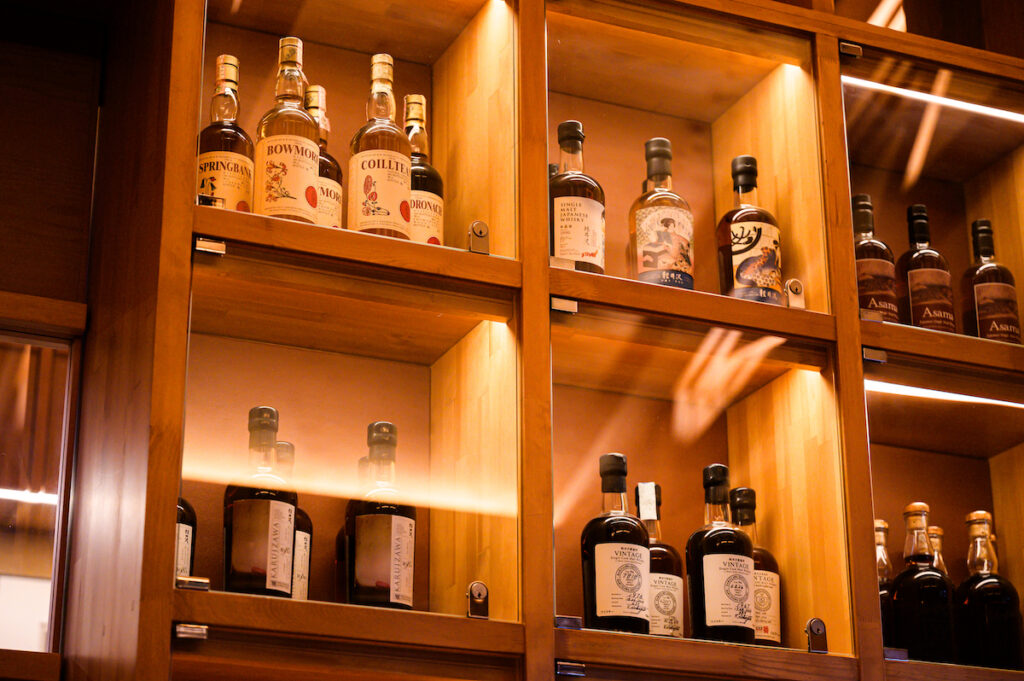 The whiskies from the Karuizawa Distillery, including bottles from 1967 and 1976
We'll delve into the specifics of the Karuizawa Distillery at another time, but one can't help but entertain audacious thoughts like, "I wonder how much these would fetch in an auction?"
The spacious area where we relaxed with fresh juice transforms into a restaurant called THE RESTAURANT: SHOLA during mealtime. Utilizing a network of local producers, it serves creative French-inspired dishes crafted from seasonal ingredients that take inspiration from the beauty of nature. So, naturally, if you're inclined, you can savor these rare spirits alongside or after your meal at the bar. Culinary masterpieces made with the best local produce, and paired with the most exquisite beverages. Fine dining couldn't possibly be more luxurious than this.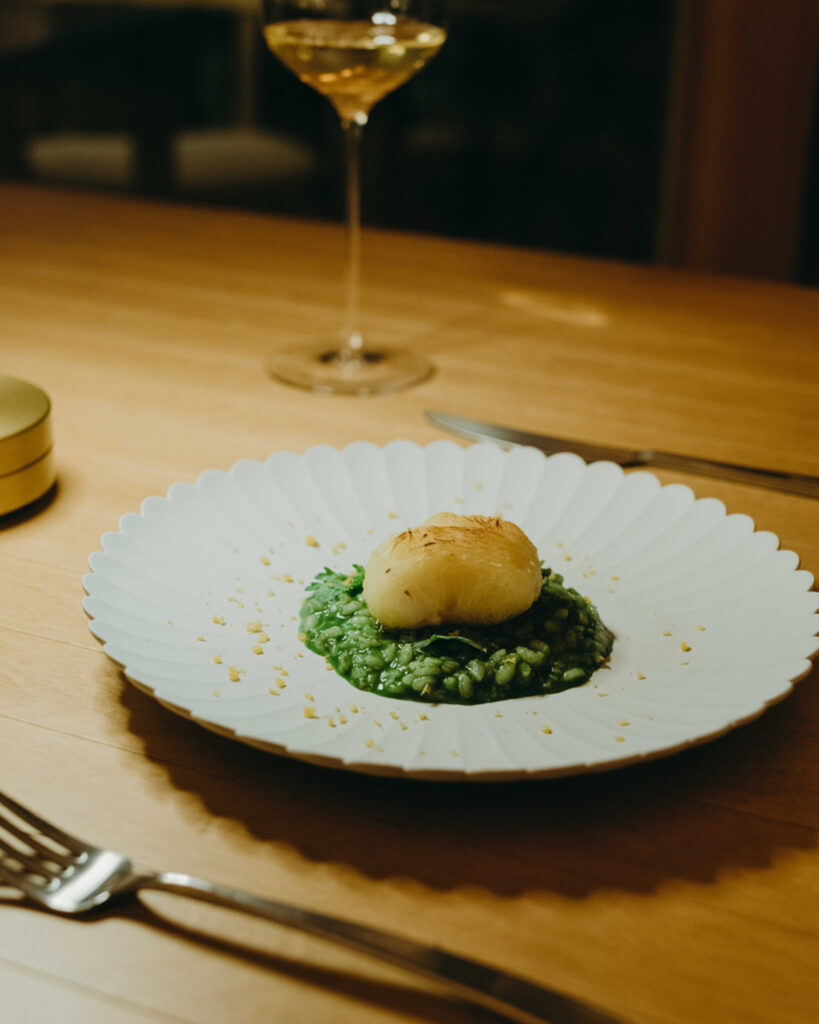 The origins of Shishi-iwa House, a palace in the forest
SSH No.2, a haven for exquisite wine and cuisine, represents the second installment of Shishi-iwa House. Just a bit further north lies the original Shishi-iwa House, SSH No.1, also designed by Shigeru Ban Architects. It features wooden architecture as well but has a more intimate feeling.Opened in 2019, SSH No.1, was initially envisioned by its owner Fay Hoang, an investor from Singapore, as a villa and guesthouse, and it eventually evolved into a hotel project. The estate gracefully winds its way through the trees of Karuizawa.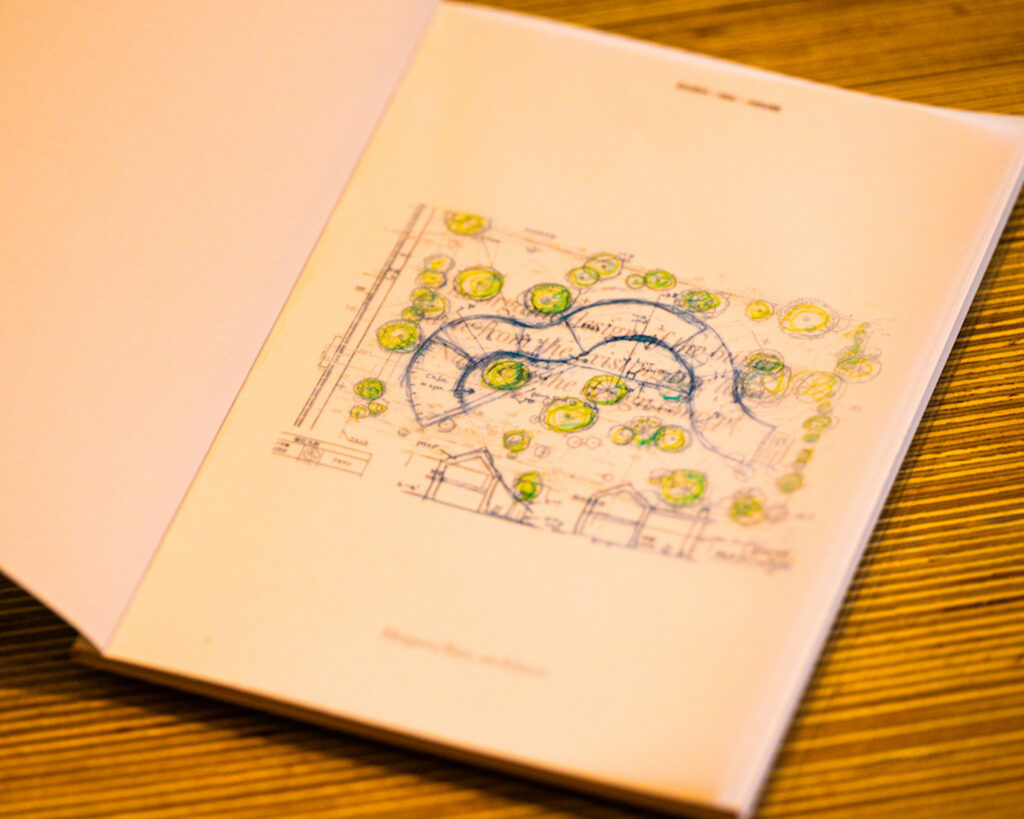 The original architecture of Shishi-iwa House, SSH No.1. The photo depicts its design sketch, and the actual structure closely resembles this. To capture the entire essence of this building seamlessly integrated with the surrounding forest, one would need to take to the skies for a complete view.
SSH No.1 seamlessly connects public spaces, beginning from the library and spanning through 11 guest rooms to a central hall, with private areas interspersed in between. Experiencing this transition firsthand reveals a design that appears natural yet structurally evokes the elegance of European palaces.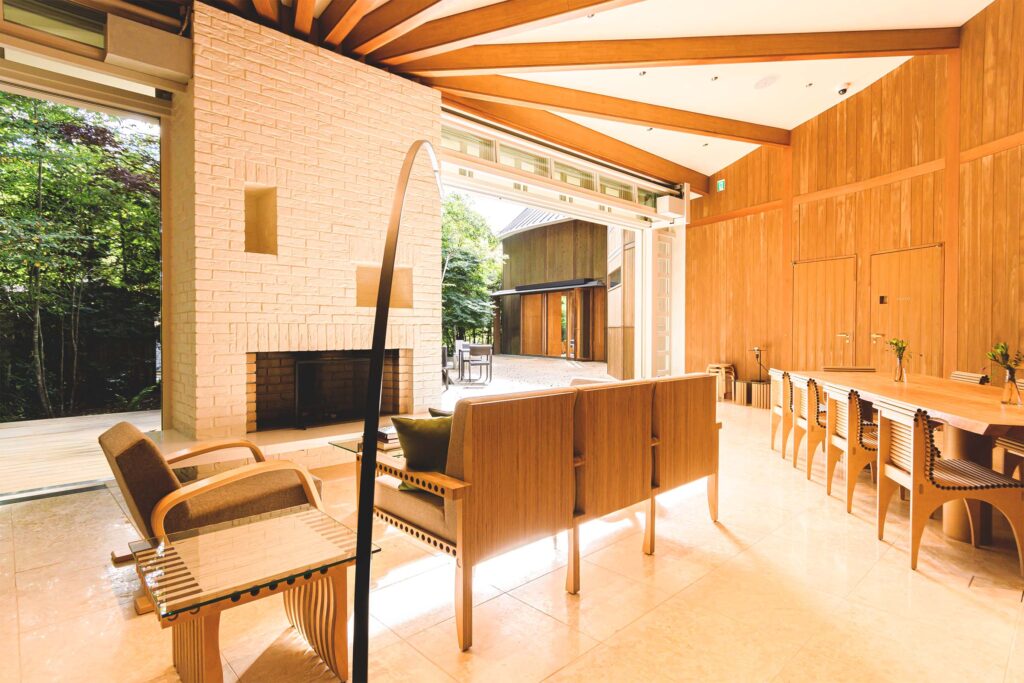 The Grand Room, offering forest views from its curved interior, connects to the guest rooms through the wall on the right side of the photo. The library, which also serves as the reception area, is located in the central background.
Moreover, the modern art displayed throughout, replacing family portraits, is a noteworthy highlight. The library features abstract paintings by Günter Forg, and one of the guest rooms entered from there showcases paintings by Yasuo Sumi, a member of the Gutai Art Association, along with a piece from Masaaki Yamada's "Work" series.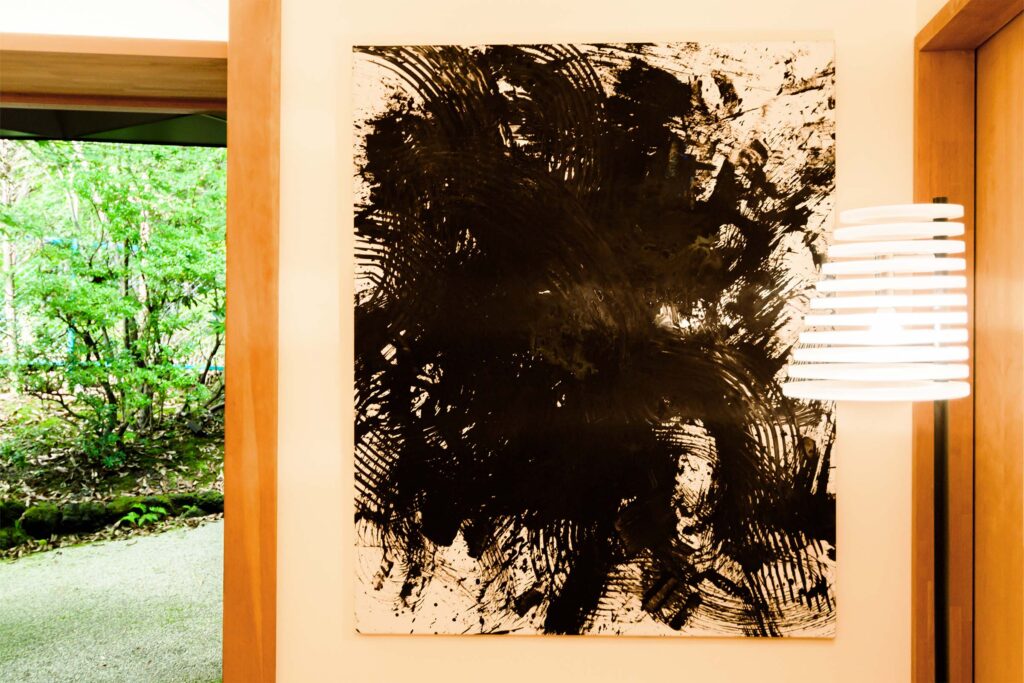 'Magi 913' by Yasuo Sumi (2008) showcases his distinctive artistic technique. Sumi, a mathematics teacher, is known for creating art using the abacus, with this piece being no exception and crafted using his signature abacus method.
While encountering these artworks, I initially felt taken aback, as if unexpectedly meeting a celebrity. However, staying at SSH No.1 quickly dispels that sensation, allowing you to engage with the artwork as if it were part of your private collection.
In this place, time gently unfolds, harmonizing with the rhythm of nature and art.
A nostalgic Japanese ambiance that resonates with both locals and visitors alike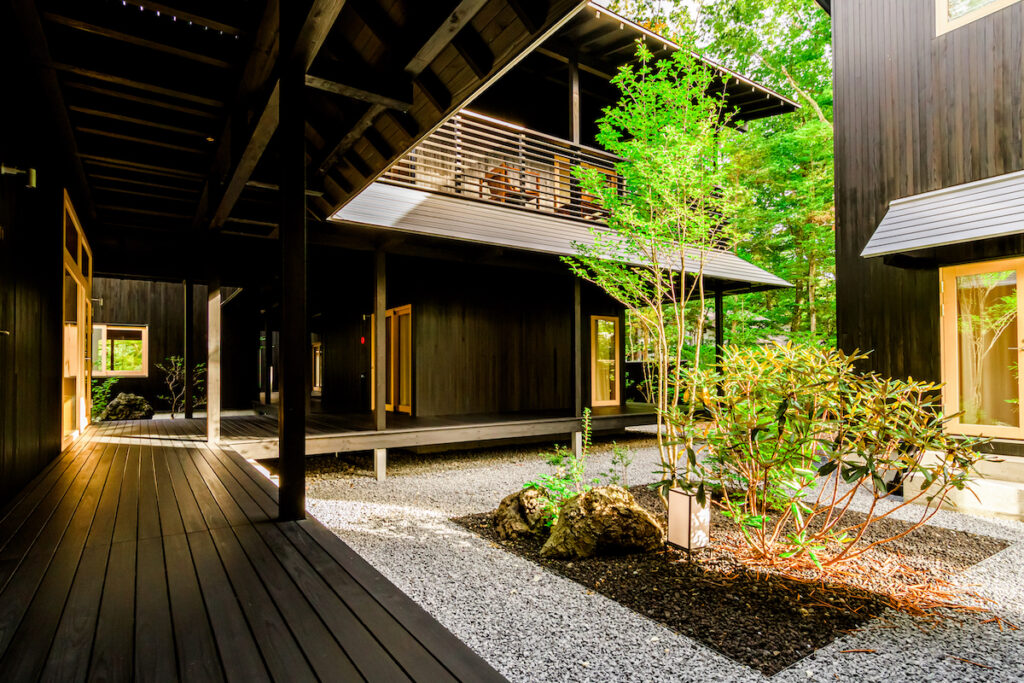 If you're seeking a more authentic Japanese experience, head a bit further up the slope from SSH No.1 to the recently opened SSH No.3, which began operating in March 2023. This architectural gem, crafted by the renowned Ryue Nishizawa, brings a distinctive Japanese touch to the surroundings, providing a unique contrast to its predecessors.
It was designed with a Japanese perspective that enhances the sense of spaciousness by strategically blocking lines of sight. The interior of this complex features ten guest rooms, a villa, a tea house, a bathhouse for private use, a lounge, and interconnected spaces connected by veranda-like corridors overlooking a courtyard.
The extensive use of cypress and the black-stained exterior walls create a striking interplay of light and shadow.
Events like tea ceremonies and baths provide unique experiences that set this place apart from other SSH Houses, but above all, the charm here lies in the space. The design philosophy of open private spaces, typical of Japanese architecture, is consistently present. The evoked sensation has become nostalgic even for Japanese people.
The accommodation provides two room options – Japanese-style and Western-style. Embracing an authentic Japanese aesthetic, the tatami-matted rooms allow for a unique experience of sitting on the floor, akin to the scenes in Yasujirō Ozu's films. Meanwhile, the Western-style rooms offer a fusion of artistic elements, featuring iconic chairs like Pierre Jeanneret's "Easy Chair", Arne Jacobsen's "Swan Armchair", and Michael Thonet's "Bentwood Stool". Ultimately, indulging in both settings proves to be the ideal choice.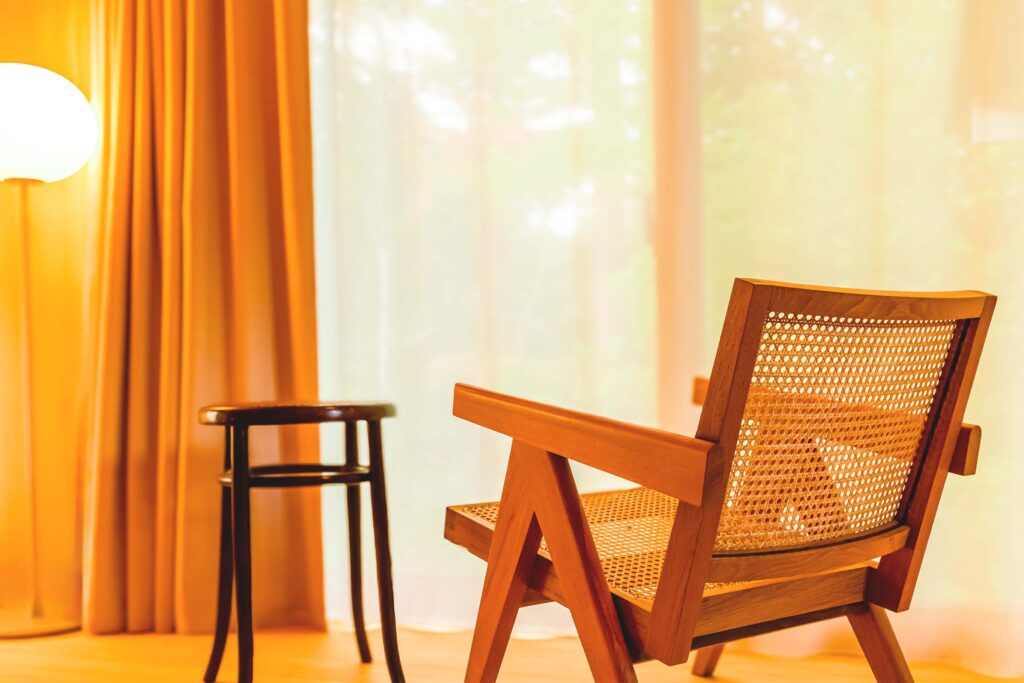 Pierre Jeanneret's "Easy Armchair" and Michael Thonet's "Bentwood Stool"
A unique sanctuary for the abundant creativity flowing from Tokyo
Going back to the beginning of our journey to Shishi-iwa House, it was the general manager, Mr Ogihara who recommended the hiking route from Karuizawa's town center before we reached Shishi-iwa House.
As we embarked on that brief journey, contemplating the essence of Karuizawa, it became apparent that the many facets of Shishi-iwa House resonate with the diverse aspects of Karuizawa. Characterized by its dynamic and ever-evolving nature, Tokyo sometimes tends to push even high-quality culture out of the city in response to its fluctuations and bustling essence. Nature, slow-paced and tranquil living, and artworks that have been set aside for not being perceived as trendy enough — Could Karuizawa be a refuge, a sanctuary, for these neglected elements? Moreover, could it be that in Karuizawa, these elements are experiencing a second or even a third resurgence, creating a different kind of creative haven with something that Tokyo couldn't quite provide? With the pandemic acting as a catalyst, it seems entirely natural that the attention of Tokyoites is once again turning towards Karuizawa.
SHISHI-IWA - HOUSE KARUIZAWA
Email:reservation@shishiiwahouse.com
TEL:+81 267 31 6658