Shinjuku's ever-evolving skyline has recently undergone another major transformation with the opening of the TOKYU KABUKICHO TOWER, a colossal 225-meter high-rise complex located in Kabukicho.
Housing an array of entertainment facilities, the tower is now Japan's largest entertainment and hotel complex, and opened its doors to the public on April 14th. The tower was designed with the aim of creating a space where people can indulge in their passions and is home to a diverse range of facilities such as a movie theater, stage theater, live music hall, and two hotels.
With its towering height of 48 floors above ground and 5 floors below, the TOKYU KABUKICHO TOWER is set to become a new iconic landmark of the city.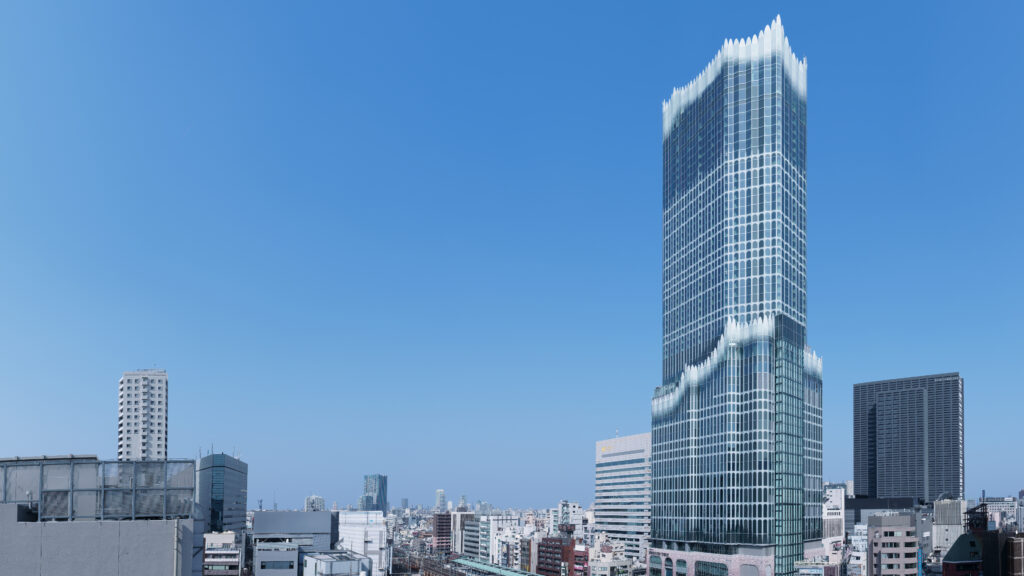 ⒸTOKYU KABUKICHO TOWER
Connecting the city and sky through art
Not only is TOKYU KABUKICHO TOWER a place to be entertained, but it is also home to one of the most unique art collections in Tokyo.
There is artistic significance in the location itself. The tower stands on the site of the legendary Shinjuku Milano-za (Shinjuku Milano Theater), which played a pivotal role in promoting art and culture in Kabukicho for over six decades before its demolition.
To pay homage to this rich legacy, the tower has gathered an impressive collection of 26 talented artists, many of whom have deep connections to the vibrant community of Shinjuku and Kabukicho. In this one-of-a-kind exhibition, each piece tells a special story, capturing the essence of this dynamic city and offering visitors a fresh perspective on its many wonders.
Masahiko Haito and ANOMALY are co-supervising the project. Haito is a renowned curator known for his work at the Aichi Triennale, one of Japan's premier art festivals. The cutting-edge contemporary art gallery ANOMALY collaborates with many diverse artists, including Ushio Shinohara, the legendary neo-Dadaist artist, and Chim↑Pom from Smappa! Group known for their provocative and socially conscious works.
The exhibited works are thoughtfully curated to establish a seamless connection between the cityscape and the sky, harmonizing with the overall design and concept of the tower.

As you wander through the lower section of the complex, you'll be drawn into a rich tapestry of themes that reflect the vibrant energy of the streets, including "Density, Time, Movement,This Dimension,Earth,Action, and Everyday". As you ascend higher up the tower, you'll encounter works inspired by the concepts of "Transparency, Timelessness,Stillness, Another Dimension, Sky, Relaxation, and the Extraordinary".
Artistic immersion in the city
As you step through the first-floor entrance, you are first welcomed by Dream of Aurora by Ushio Shinohara, a large-scale painting that exudes the explosive energy of Kabukicho in all its glory. Aptly referred to as a "boxing paintings", this piece was crafted by dipping a glove in paint and striking the canvas, replacing traditional paint brushes with raw energy.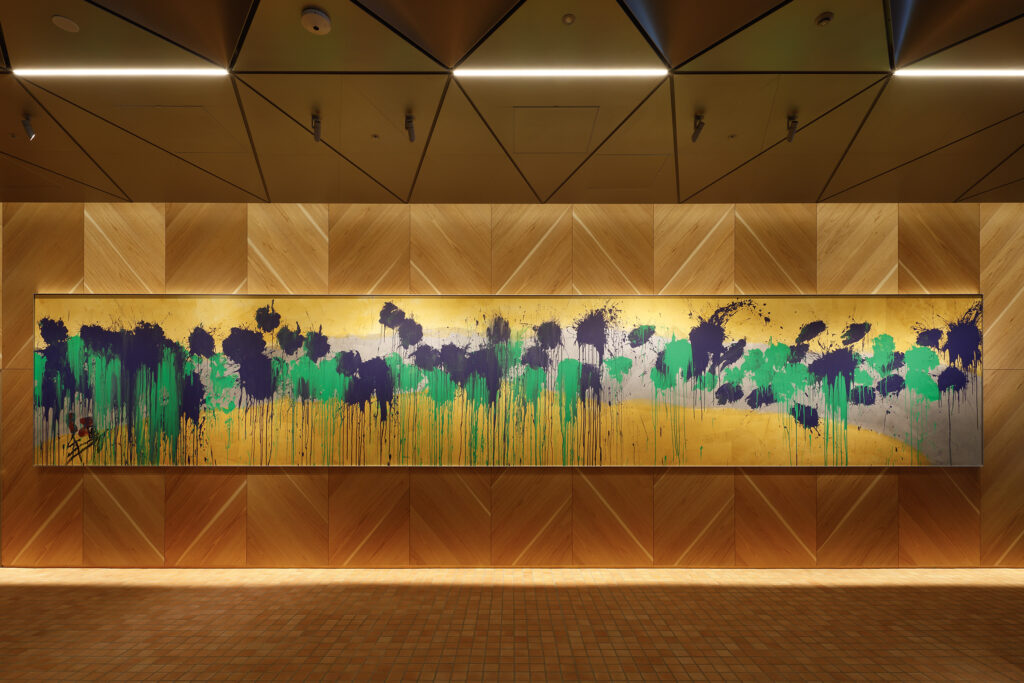 Ushio Shinohara, Dream of Aurora, 2022
Photo : Keizo Kioku
The next highlight of the exhibition is a corridor adorned with four black-and-white photographs from one of Japan's most iconic photographers, Daido Moriyama. With a lifelong fascination with Shinjuku and its vibrant streets, Moriyama's photographs in his Shinjuku Series masterfully capture the raw physicality and desire of the city.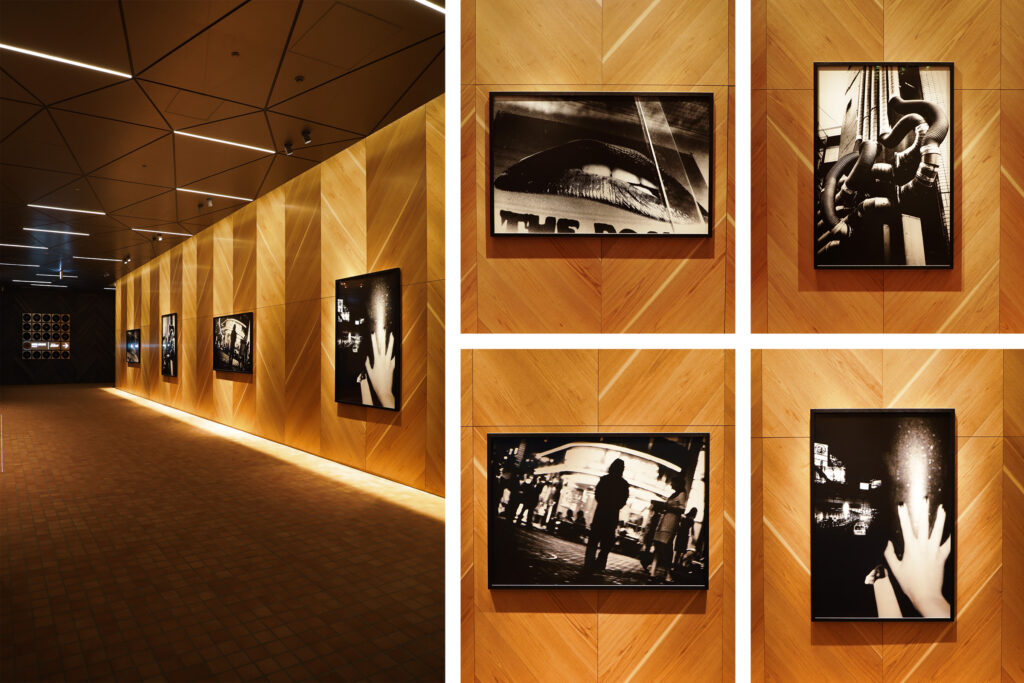 Daido Moriyama, Untitled (from the Shinjuku series), 2002
In addition, the first floor also hosts other works, including the calligraphy painting Tokyo, Forest of Love by Daichiro Shinjo, inspired by the imperfection and irregularity of Shinjuku, and Unforgettable Reminiscences, a mesmerizing display of plants collected from Shinjuku and other parts of Japan preserved in glass by Rui Sasaki.
At the entrance of the second floor, visitors will find Build-Burger, a large sculptural work by the Chim↑Pom artist collective from Smappa! Group. This piece was originally created for the Ningen Restaurant (Human Restaurant) project in 2016 at the Kabukicho Book Center Building, just before its demolition.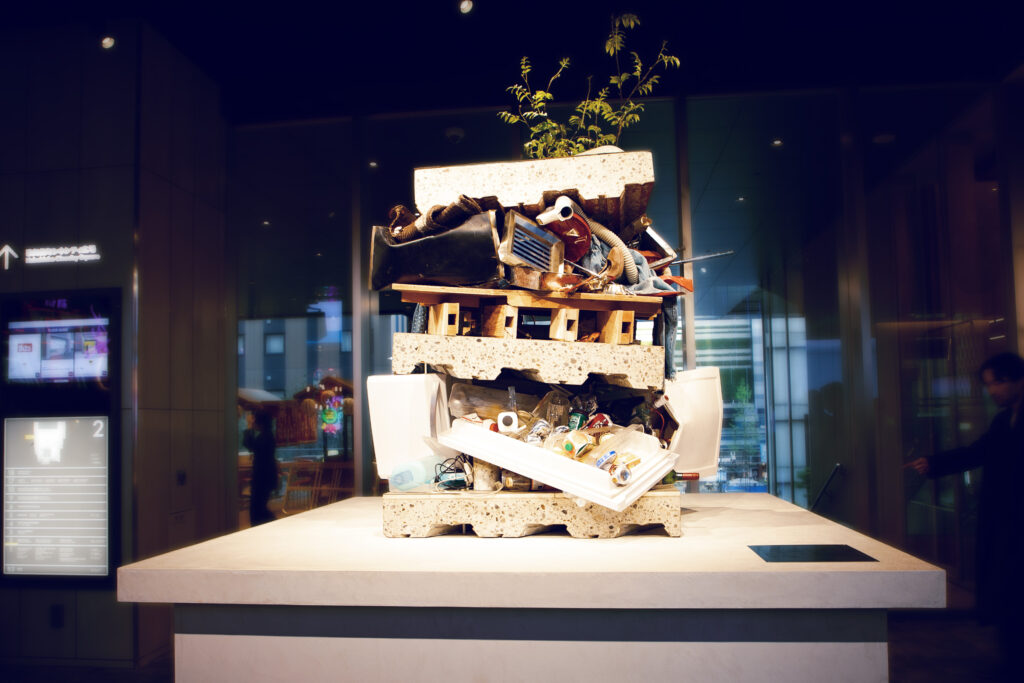 Chim↑Pom, Build-Burger, 2016
On the 17th floor, visitors can visit JAM17 BAR, where the art installation titled Shinjuku by Tatzu Nishi takes center stage directly above the bar counter. This incredible sculptural work is made up of a collection of various furniture and everyday items that were once actually used in Shinjuku. Among the pieces used to create this eclectic installation are steel shelves from City Hall, a cashier's table from a Ni-chōme gay dance club, streetlights that lit up Shinjuku for many years on the street near where the tower was built, and even hotel furniture, symbolizing the inn that gave Shinjuku its name.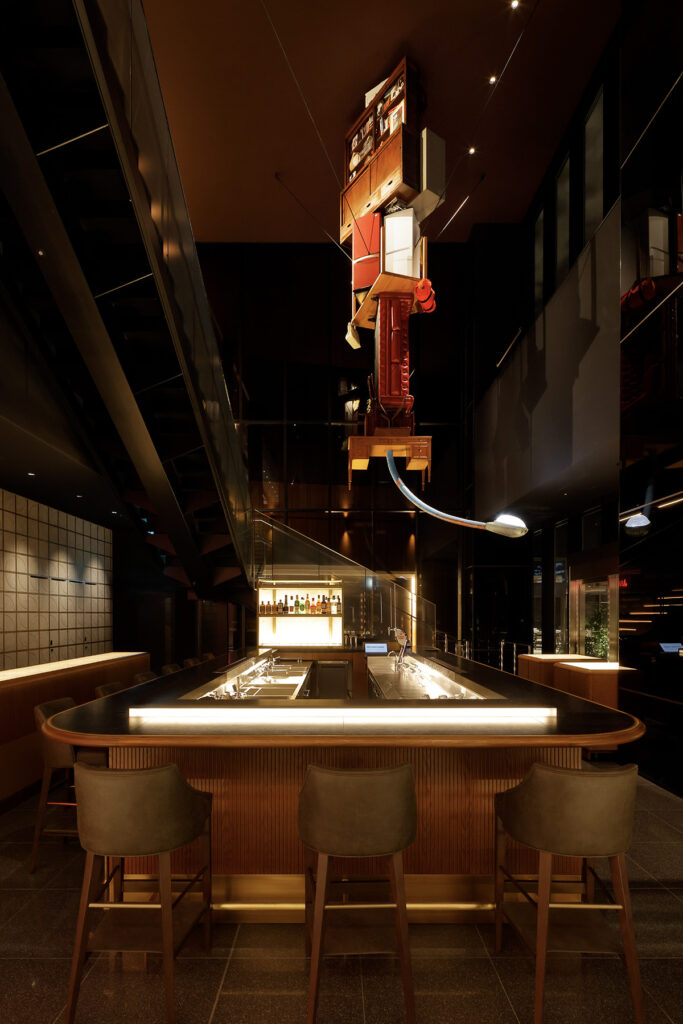 Tatzu Nishi, Shinjuku, 2023
Photo : Keizo Kioku
Furthermore, visitors to TOKYU KABUKICHO TOWER can also enjoy other art installations, such as Kiichiro Adachi's Hollow Moon (Ring), which consists of millions of mirrors reflecting light on the dance floor of the underground event and music venue ZERO TOKYO. On the exterior of the tower, you can take in Takeshi Murata's video work, Kabukicho Larry, displayed on the large KABUKICHO TOWER VISION screen.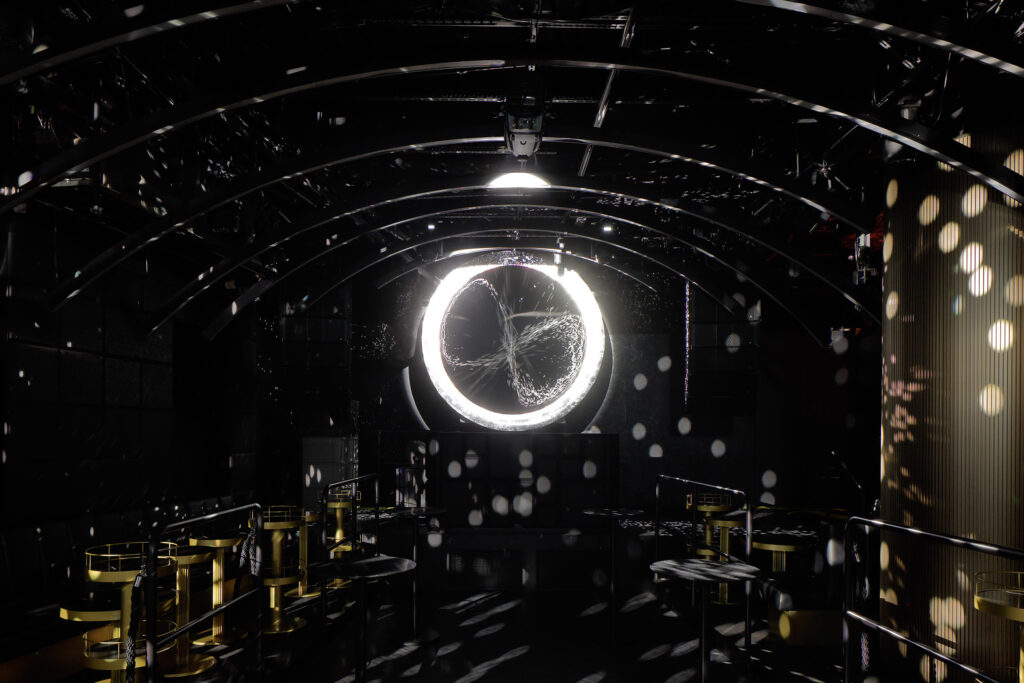 Kiichiro Adachi, Hollow Moon (Ring), 2022
Photo : Keizo Kioku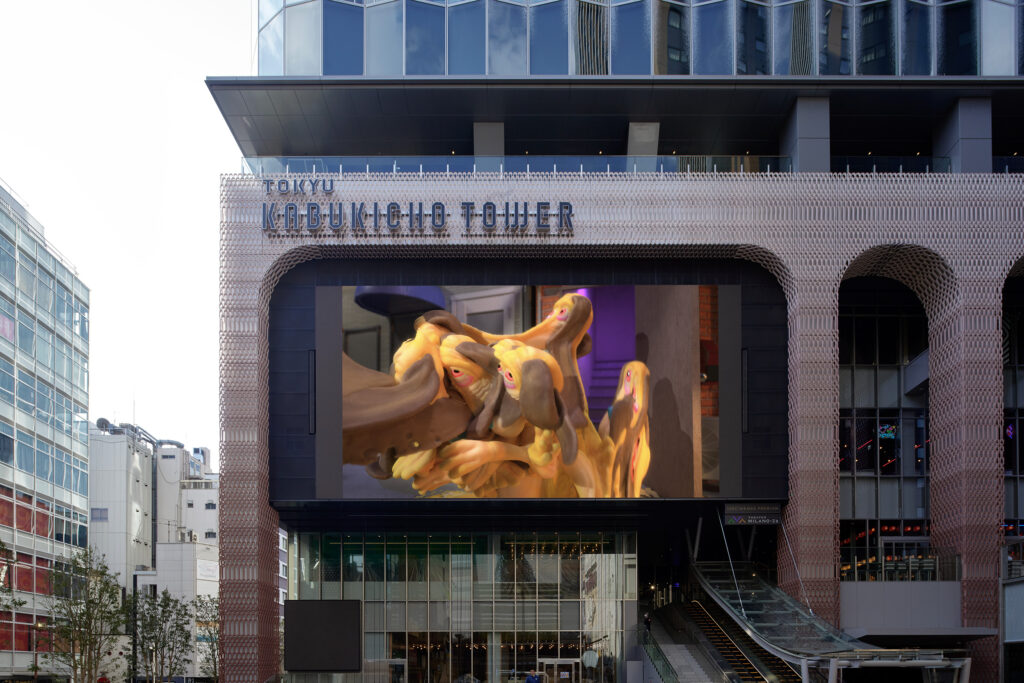 Takeshi Murata, Kabukicho Larry, 2023
Photo : Keizo Kioku
On the 6th and 7th floors is THEATER MILANO-Za, which carries on the legacy of the original Shinjuku Milano-za, where visitors can immerse themselves in the works of artist collective SIDE CORE. The exhibition Juxtaposition features the collaborative efforts of 23 artists from Shobu Gakuen Studio, a support center for people with intellectual disabilities in Kagoshima, and the SIDE CORE community, adorning three walls with an array of paintings, letters, embroideries, and other artworks in diverse shapes, colors, and materials.
On the floor tiles, Patchwork my city is a work that consists of giant hands, footprints, keys, and other patterns intricately carved into the tiles. The giant palms are ingeniously collaged with maps and drawings of Tokyo superimposed on the fingerprints, offering visitors an alternate perspective as if they were strolling around an enormous map.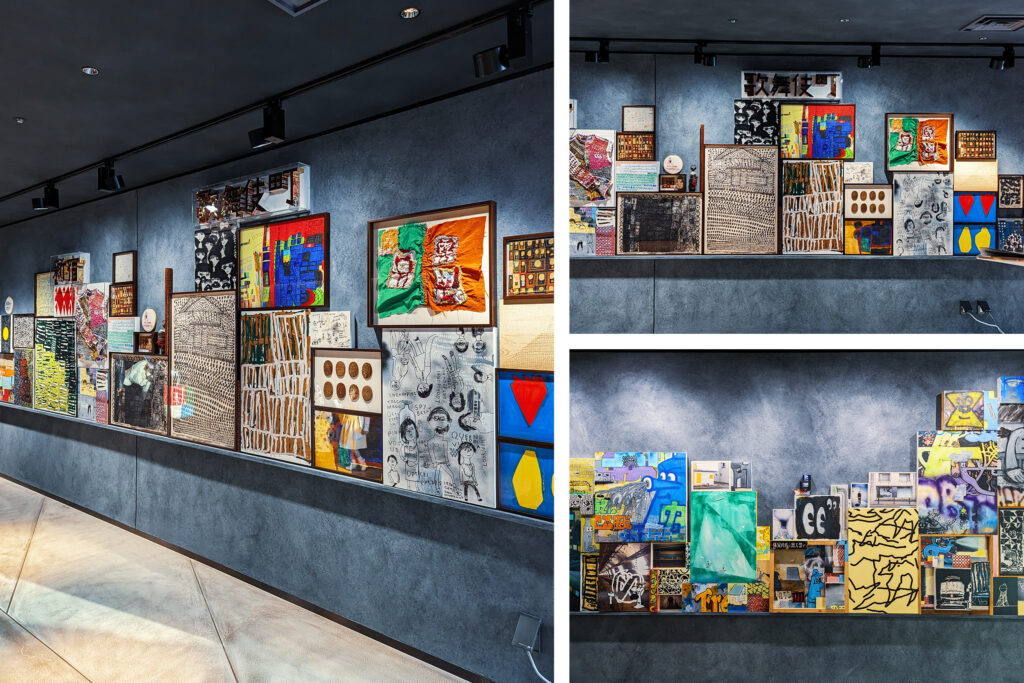 SIDE CORE x Shobu Gakuen, Juxtaposition, 2023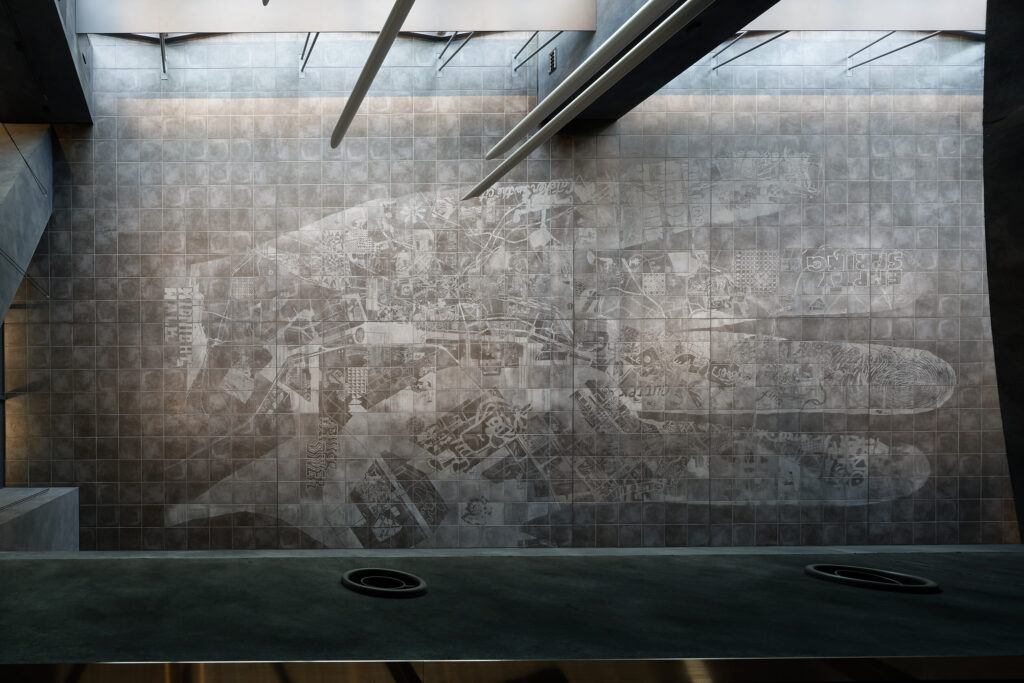 SIDE CORE, Patchwork my city, 2023
Photo by Keizo Kioku
In the exclusive OVERTURE Premium Lounge located on the 10th floor of 109 Cinemas Premium Shinjuku, visitors can marvel at the ten captivating works that blur the lines between reality and abstraction by Miyuki Takenaka titled Memories of SHINJUKU MILANO-ZA.
At first glance, the outlines may seem hazy and indistinct, but upon closer inspection, a multitude of fragments related to the theater's past come into sharp focus, unveiling a layered narrative.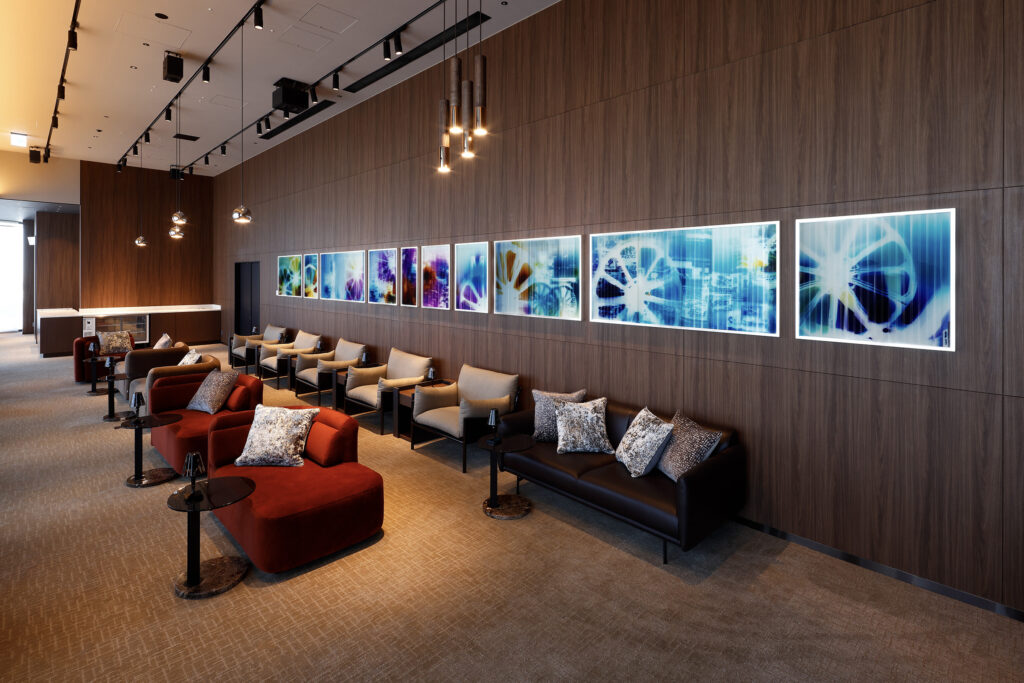 Miyuki Takenaka, Memories of SHINJUKU MILANO-ZA, 2023
Photo : Keizo Kioku
In this way, a diverse range of artistic mediums, such as photographs, paintings, videos, and three-dimensional works, are thoughtfully curated to harmonize with the total ambiance of the facility. The project showcases the works of both emerging young artists and established masters.
In addition, the tower is also planning to offer art tours and programs in partnership with the hotel in the near future, providing visitors with even more opportunities to explore and engage with the art.
Transforming to the 'Extraordinary'
At HOTEL GROOVE SHINJUKU, A PARKROYAL Hotel on the 18th to 38th floors, guests can be treated to an extraordinary experience staying in a GROOVE ROOM. These inventive art rooms are designed in collaboration with renowned artists Yoshiaki Kaihatsu, Takuro Tamayama, and Tomoyuki Washio, with each room featuring a distinct theme inspired by the vibrant and rich culture of Kabukicho and Shinjuku.
The nine art themed rooms designed by the three artists are each outfitted with custom furniture and curated artwork arranged to immerse guests in a world of creative expression connected to the city.
Adding to the experience, guests can enjoy the original hotel movie, New Shinjuku Ondo, playing on the in-room televisions, produced by animator and media artist NuQ, setting the stage for an unforgettable stay.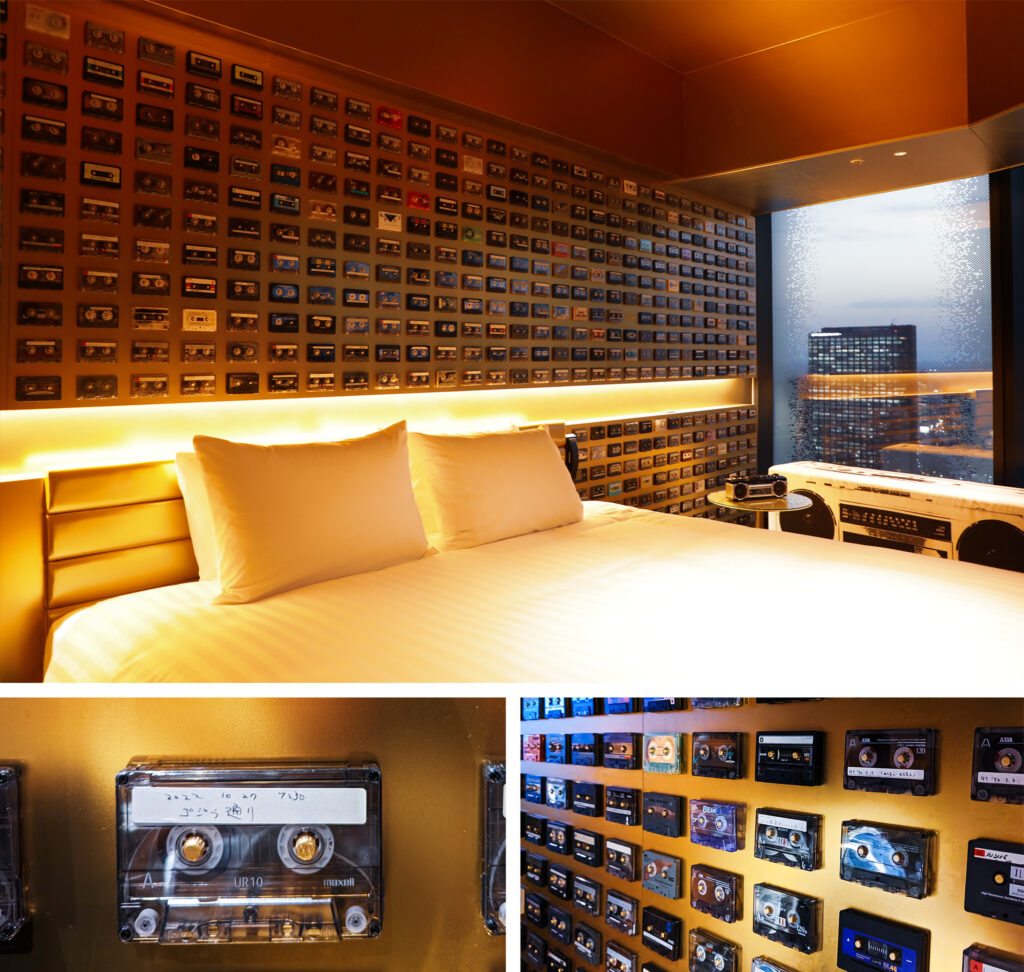 Yoshiaki Kaihatsu, Artist Room / Cassette Tape, 2023
・Reservation begins: April 3rd, 2023 (Monday) ~
・Accommodation opens: May 19th, 2023 (Friday) ~
Website : https://www.panpacific.com/ja/hotels-and-resorts/hotel-groove-shinjuku.html
The artwork in the lavish guest rooms of BELLUSTAR TOKYO, A Pan Pacific Hotel, on the 39th to 47th floors is placed in a way that makes them seem to effortlessly blend with the grand panoramic views. From the windows, you can take in the breathtaking view of the Shinjuku skyline. The seamless harmony between the rooms and view creates a transcendent source of inspiration exclusive to this location.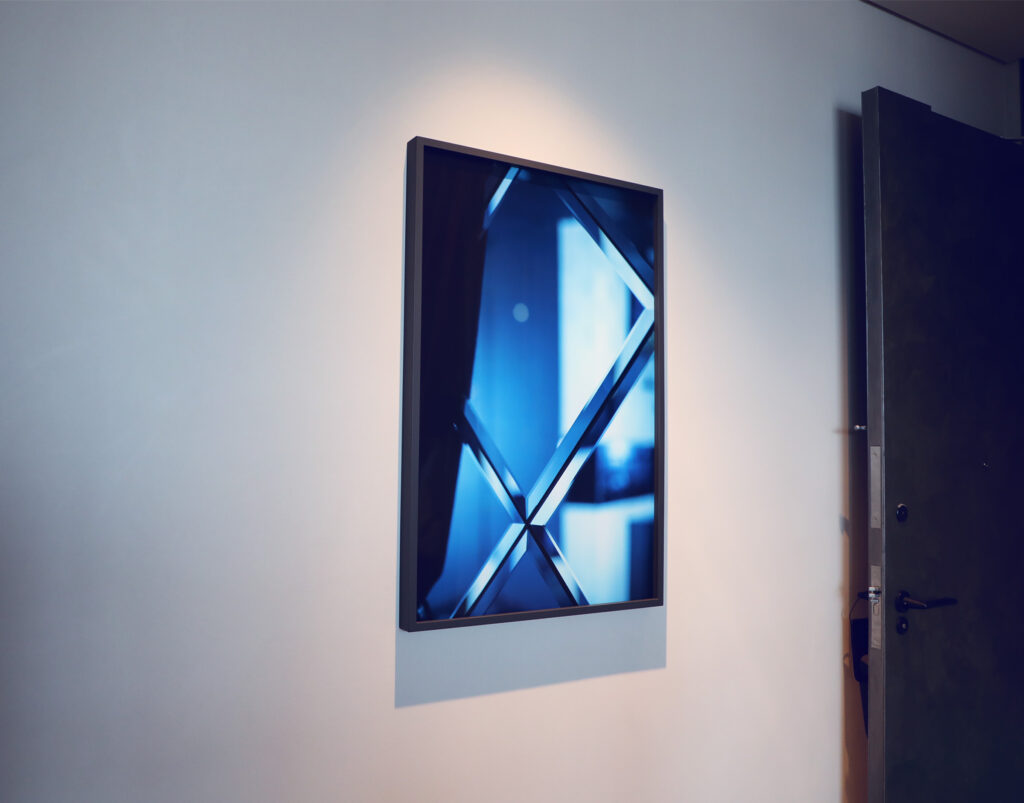 Mayumi Hosokura, XXX, 2023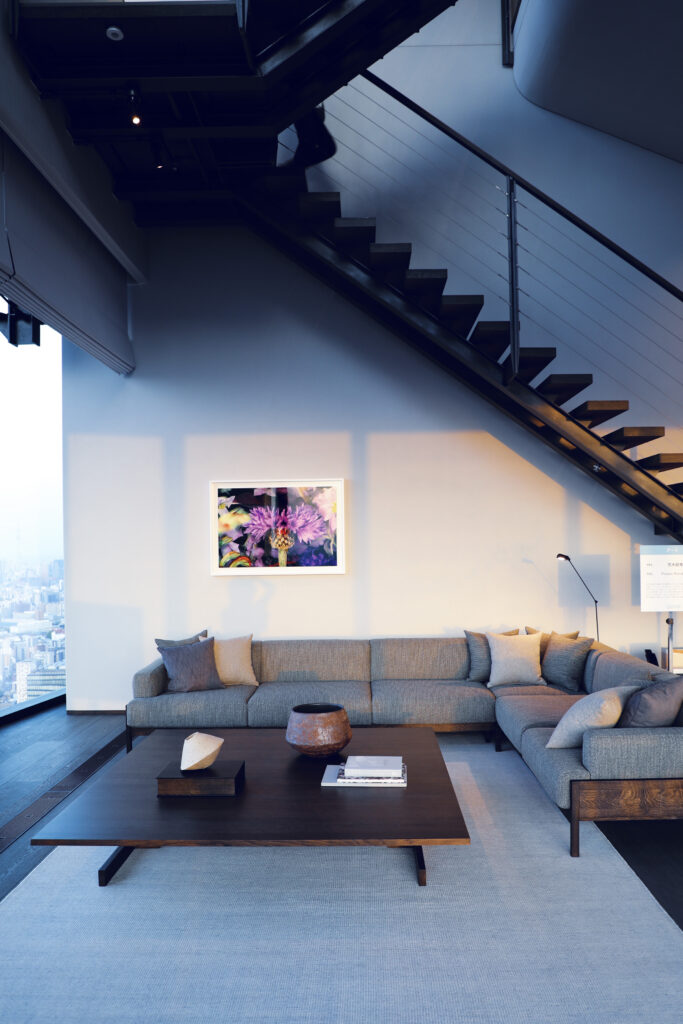 Nobuyoshi Araki, Flower Rondeau, 1997/2023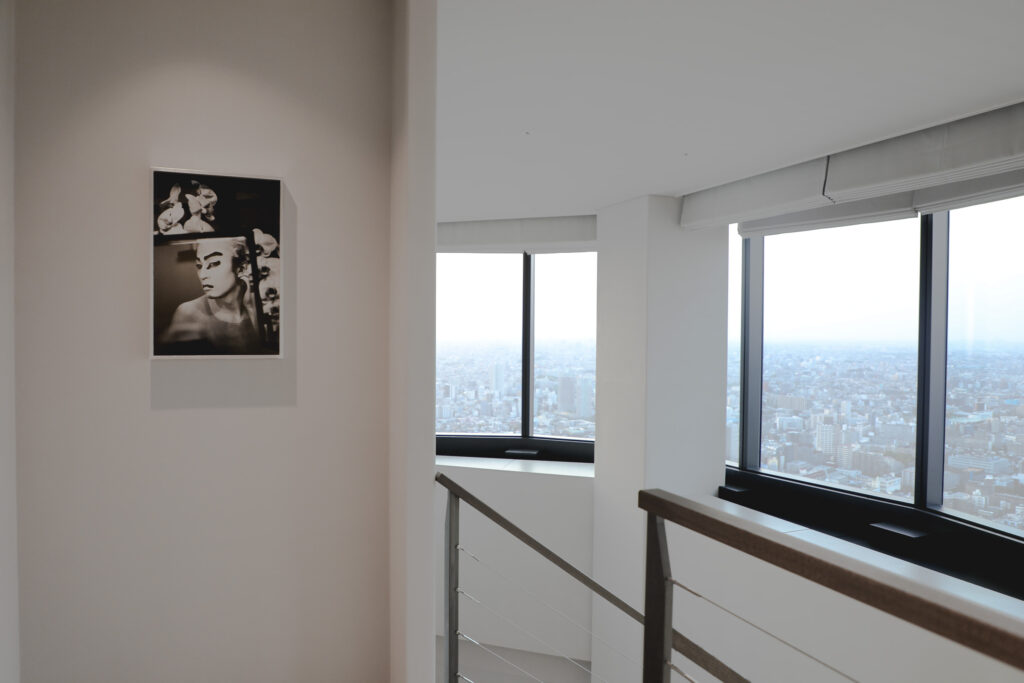 Sakiko Nomura Koshiro, My Last Remaining Dream, 2001
During your stay at the BELLUSTAR hotel, be sure not to miss the installation in the elevator hall, mizu no hikari (light of the water), by Noe Aoki, which casts a spellbinding ambiance as the shimmering light dances across the walls like water droplets glistening in the sun.
You can also take in Gravity and Grace: Lucidus (Lucida) by Shinji Ohmaki on the restaurant floor, a work inspired by the waters that once ran through Shinjuku.

Noe Aoki, mizu no hikari (light of the water), 2023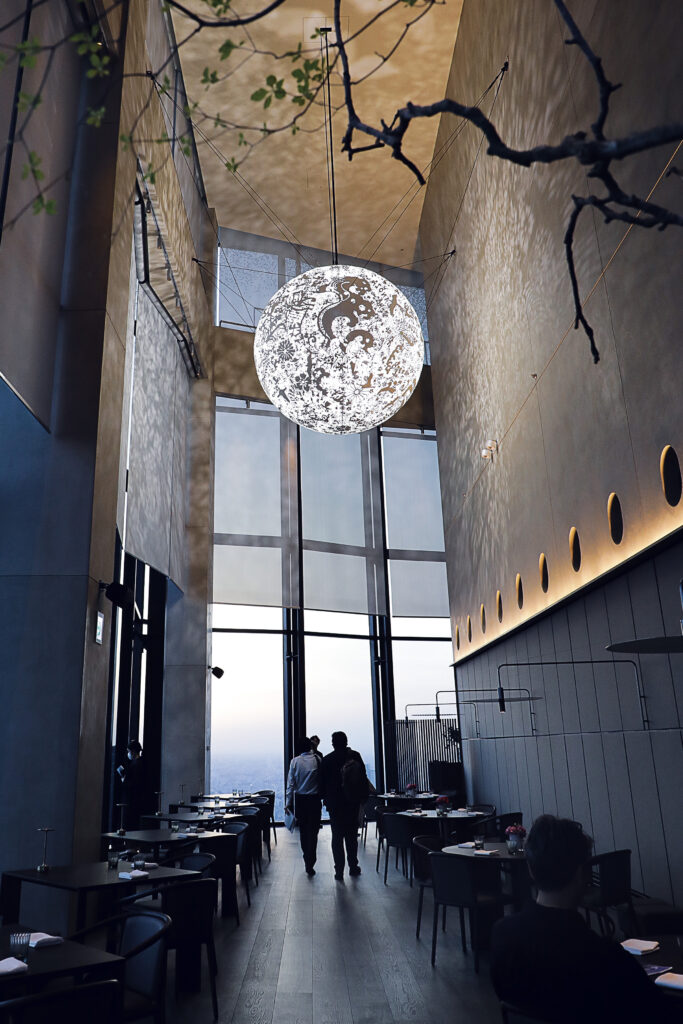 Shinji Ohmaki, Gravity and Grace: Lucidus (Lucida), 2023
This newly opened landmark is a cutting-edge entertainment hub brimming with energy and pulsating with artistic rhythm where visitors with diverse interests can interact, explore new passions, and experience the creativity of Shinjuku.
With its unique blend of entertainment and innovation, TOKYU KABUKICHO TOWER promises to be a dynamic destination that offers something for everyone.
TOKYU KABUKICHO TOWER
Address: 1-29-1 Kabukicho, Shinjuku-ku, Tokyo 160-0021
Website:https://www.tokyu-kabukicho-tower.jp.e.ari.hp.transer.com/