Welcome to Japan, a land of breathtaking natural beauty full of distinct colors. Join us on an exciting visual journey of the "COLORS" that make Japan so special, featuring a handpicked selection of photographs from guest experts.
In our first installment, we're focusing on Japan's most famous and beloved flower, the cherry blossom.
Cherry blossoms bloom at varying stages throughout the country from March to May. While the Somei Yoshino cherry tree is the most iconic, there are over 600 varieties of cherry trees, both naturally occurring and selectively bred.
Today we are featuring Toshitaka Morita, a renowned landscape photographer with over 50 years of experience capturing the natural beauty of Japan. With 80 photo books published under his belt, Morita is an expert on landscape and cherry blossom photography, and he will be sharing with us some of the top cherry blossom viewing spots that you won't want to miss next season.
From the nuance of how the colors change depending on the time of day to the differences in colors between types of trees, there is an exciting world of cherry blossoms to discover.
Hotspots for each type and their distinctive colors
"The most iconic of all Japanese sakura with its mesmerizing changing colors"
■Somei Yoshino (Yoshino Cherry Tree)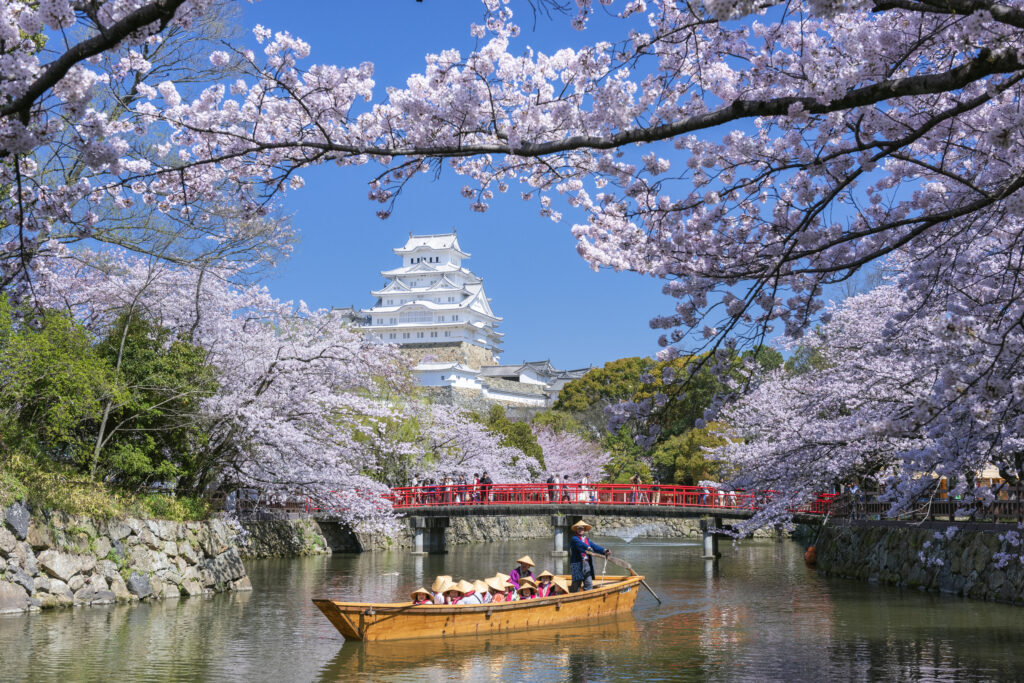 Himeji Castle with cherry blossoms in full bloom
Himeji, Hyogo Prefecture
Photo taken: April 2
Himeji Castle in Hyogo Prefecture is named one of the top 100 cherry blossom viewing spots in the country.
With approximately 1,000 cherry trees, including the most iconic Somei Yoshino variety, this site offers visitors a stunning backdrop of natural beauty against the majestic Himeji Castle, a UNESCO World Heritage Site.
This year, traditional Japanese-style boats have begun operating again, allowing visitors to admire the light pink cherry blossoms from inside the castle's moat, alongside the striking red Shiromi Bridge and white castle tower.
For the best experience, visit during the peak of full bloom on a clear day. The combination of delicately light pink cherry blossoms against the blue sky, set against the backdrop of the castle's white walls and red bridge, is a breathtaking sight. And the traditional boat ride adds an extra touch of Japanese charm to the experience, making it truly unforgettable.
Address
〒670-0012
68 Honmachi, Himeji City, Hyogo Prefecture
★ Best time to visit: late March to early April
"The Benishidare tree is wonderful for its vivid color, but this Shidare Zakura (Weeping Cherry Tree) has a lovely color as well."
■Shidare Zakura (Weeping Cherry Tree)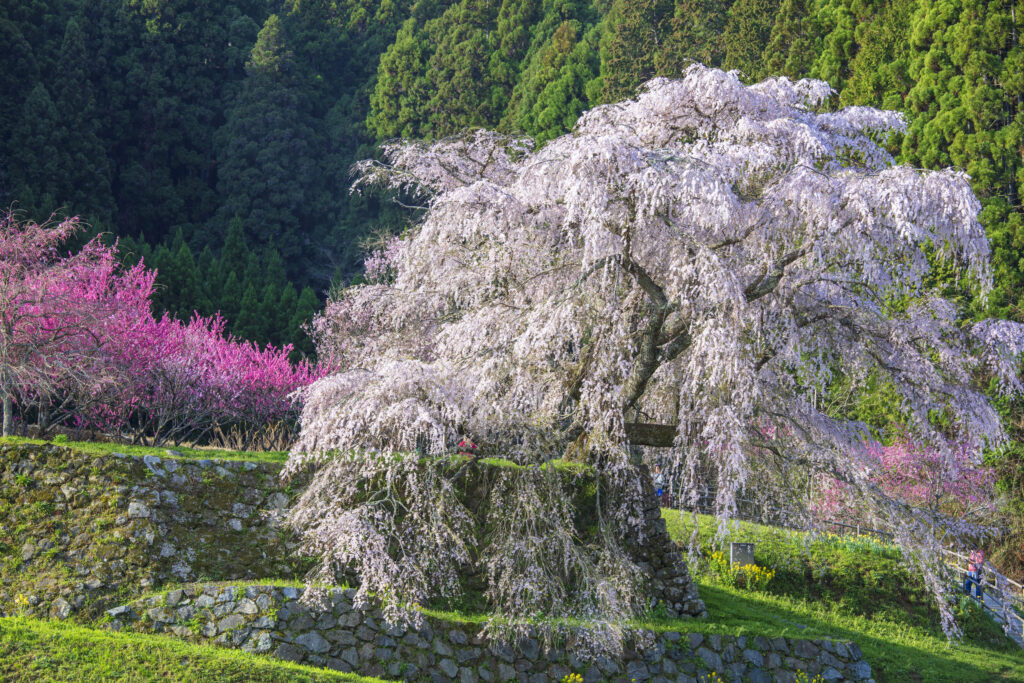 The Matabei Cherry Blossom Tree in Hongo
Ouda Ward, Uda City, Nara Prefecture
Photo taken:April 15
Take a step back in time and witness the beauty of this 300-year-old Edohigan weeping cherry tree, locally known as the Matabei Zakura. According to legend, the Sengoku warrior Goto Matabei took refuge here after the Siege of Osaka and later became a priest.
The delicate petals of this ancient tree are a soft shade of pink, creating a stunning contrast against the peach blossoms on the nearby castle walls and the towering cedar trees in the background.
Address
〒633-2156
348 Oudahongo, Uda City, Nara Prefecture
★Best time to visit: Early April to mid-April
This is one of Morita's favorite spots! "The cherry blossoms here feature stunning dark pink petals, which have been gaining popularity in recent years."
■Ōyamazakura (Ōyama Cherry Tree)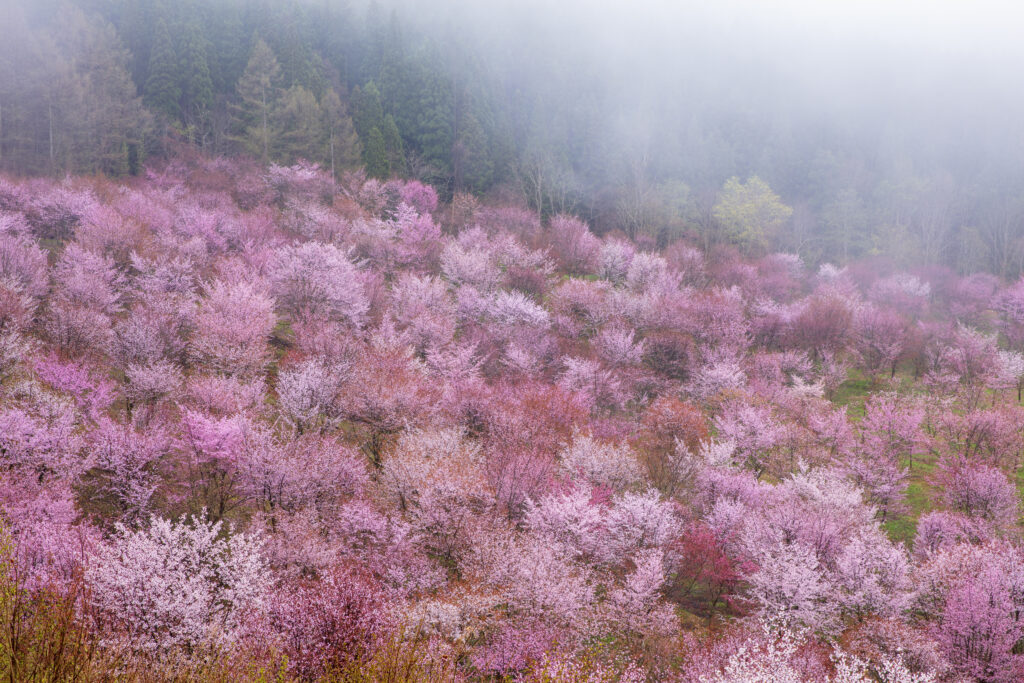 Ōyamazakura at Sakuratoge (Sakura Pass) in foggy Kitashiobara
Yama District, Fukushima
Photo taken:May 2
Located near the mountain pass along Route 459, lies a breathtaking cherry blossom viewing spot, featuring a stunning display of approximately 3,000 Oyamazakura trees. Though the variety itself doesn't change color, the deep pink petals of these trees are so striking that they will leave you mesmerized.
The Ōyamazakura trees typically bloom at their best around Golden Week, and this popular spot continues to attract more tourists each year. As the morning mountain haze clears, the magnificent shades of pink fill your field of vision, creating a fantastic and powerful spectacle, as you can see in the photo.
Address:
〒966-0402
Sakuratoge, Oshio, Kitashiobara, Yama District, Fukushima Prefecture
★Best time to visit: Late April to early May
Toshitaka Morita, Landscape Photographer
Toshitaka Morita is an accomplished landscape photographer who has been capturing the beauty of Japan's national parks and cherry blossoms for over 55 years. As a member of the Japan Professional Photographers Society, he has published numerous photo books, showcasing his remarkable talent. Morita has also worked extensively with the Ministry of the Environment, including on the production of the official book distributed at the G8 Hokkaido Toyako Summit.
Morita has published six highly acclaimed books on cherry blossoms and is widely recognized as the catalyst for the nationwide boom in cherry blossom viewing in Japan.
National Cherry Blossom Forecast 2023: The Surprisingly Long Window to View Japan's Best Cherry Blossoms
The optimal time to take in the cherry blossoms we just introduced varies according to the region and type of sakura. One great aspect of cherry blossoms in Japan is that they offer a prolonged window for appreciation, starting in late March and extending all the way to May.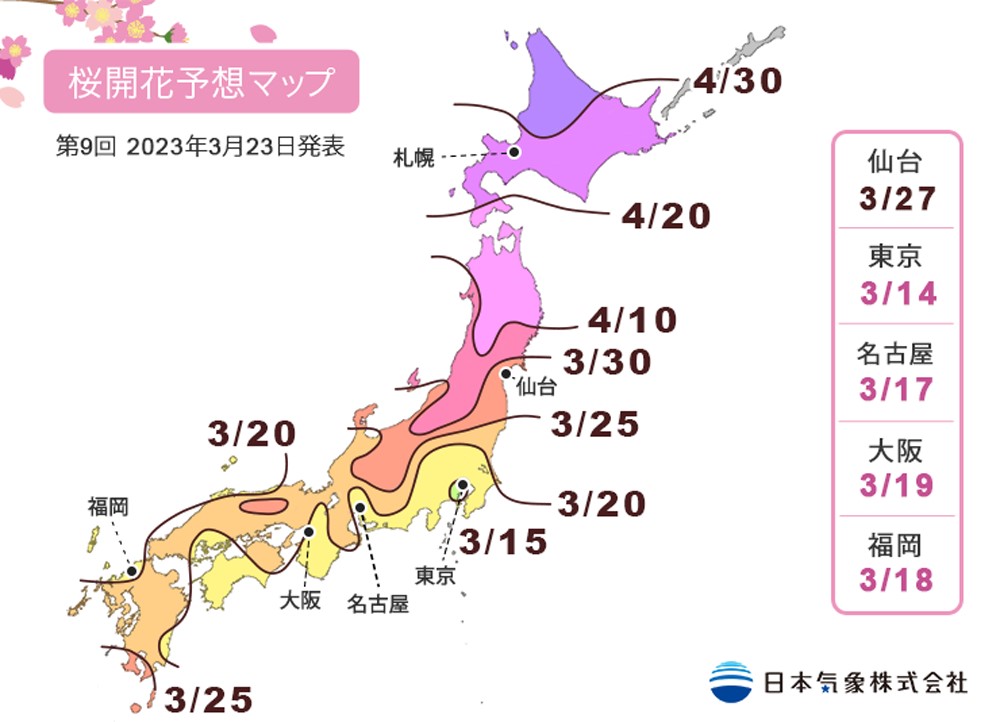 Reference: Japan Meteorological Co., Ltd. National Cherry Blossom Forecast Map (published March 23, 2023)
URL: https://n-kishou.com/corp/news-contents/sakura/
In the second part of this series, we are excited to delve deeper into the mesmerizing changes in color that occur depending on the "viewing timing" of the cherry blossoms, complemented by more stunning photos and insight from Morita.