Photographs by NEIL HARTMANN
Written by TAKASHI OSANAI
Spring has finally arrived in Japan, and with it comes the much-anticipated cherry blossom season in Tokyo. As temperatures rise above 20 degrees Celsius, locals and tourists alike are venturing outside to soak up the warm sun and enjoy the beautiful weather.
But for those looking for a more offbeat adventure, Hokkaido awaits with a winter wonderland that may change your mind on what this time of year can offer. With plenty of snow still on the ground, you can experience a unique skiing adventure that includes fresh powder and film crusts, a rare phenomenon that only occurs during this time of year. On top of that, the breathtaking view of the mountains this time of year will be the perfect backdrop to your adventure.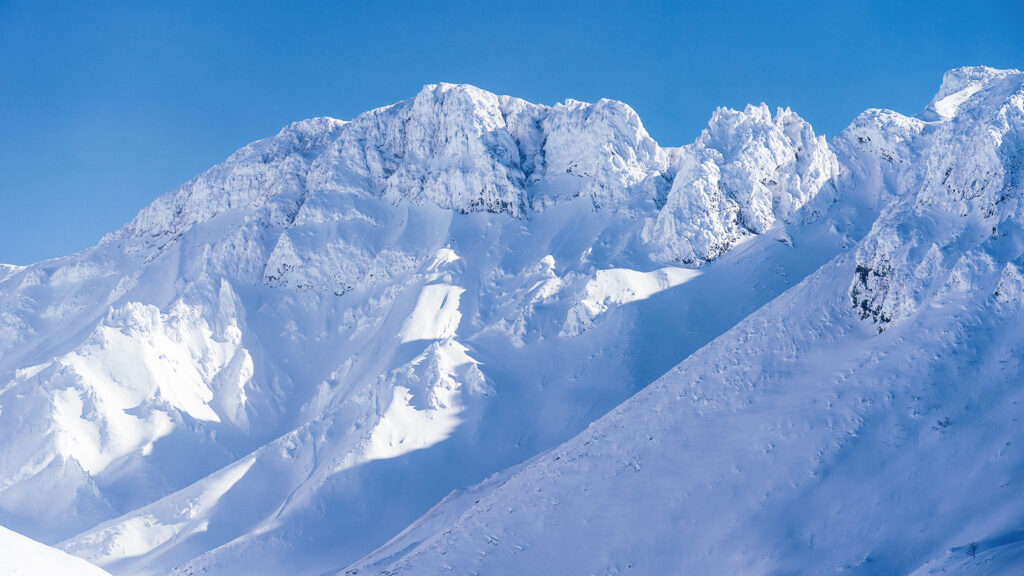 One of the joys of spring is skiing amidst the stunning snow-covered peaks.
The Thrills of Spring Skiing in the "Hokkaido Powder Belt"
As March brings a taste of early summer to Tokyo, lovers of winter sports may feel down, thinking that winter fun is over. However, Japan's world-class powder, known as "JAPOW," is still waiting to be enjoyed in spring in Hokkaido, attracting skiers and snowboarders from all over the world to its winter resorts.
While Europe and the United States also have snowy mountains and powder slopes, Japan's snow-covered mountains are exceptionally stable, with ample snowfall in the north every winter, making it an unparalleled destination to experience winter sports.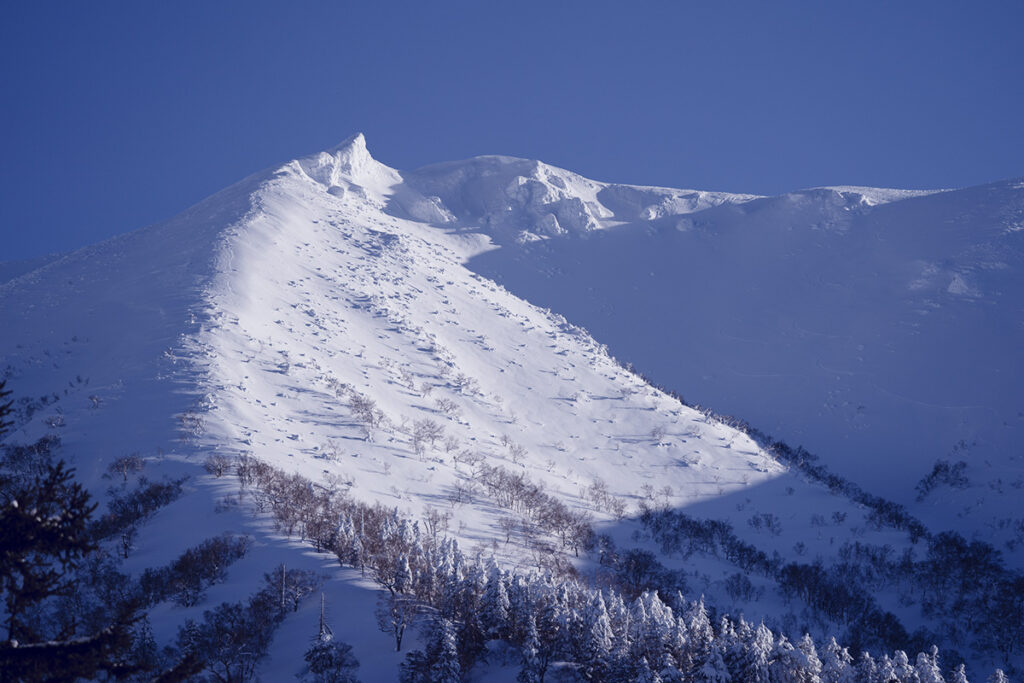 So many options for ski routes!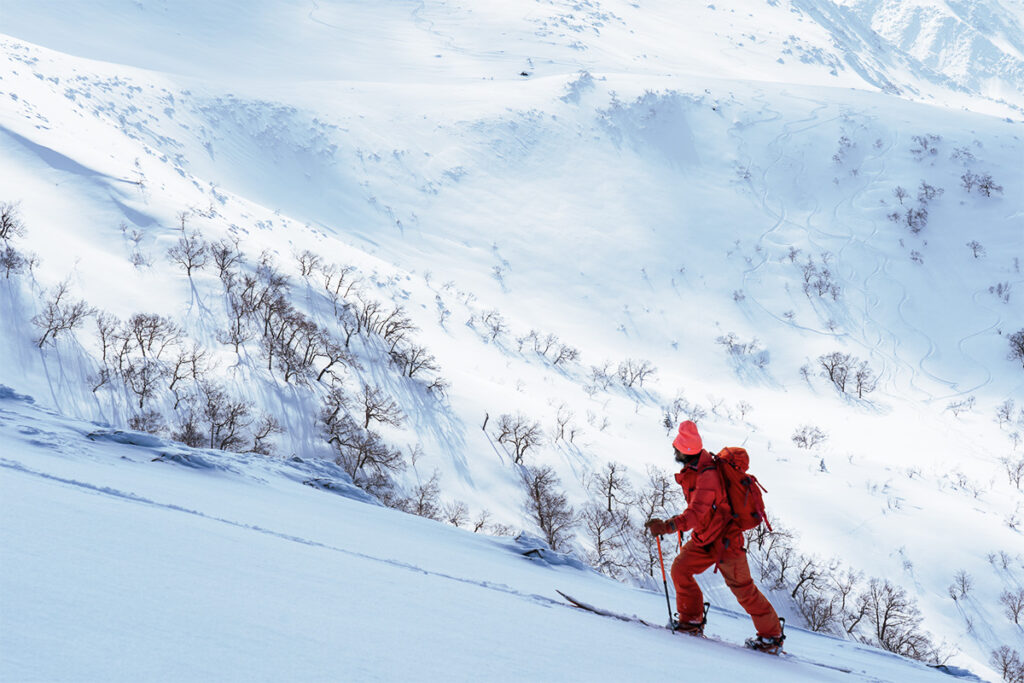 Spring presents a unique opportunity to hike while taking in the breathtaking scenery, but it's important to remember that mountain areas pose risks regardless of the season, so it's crucial to be prepared and take necessary precautions.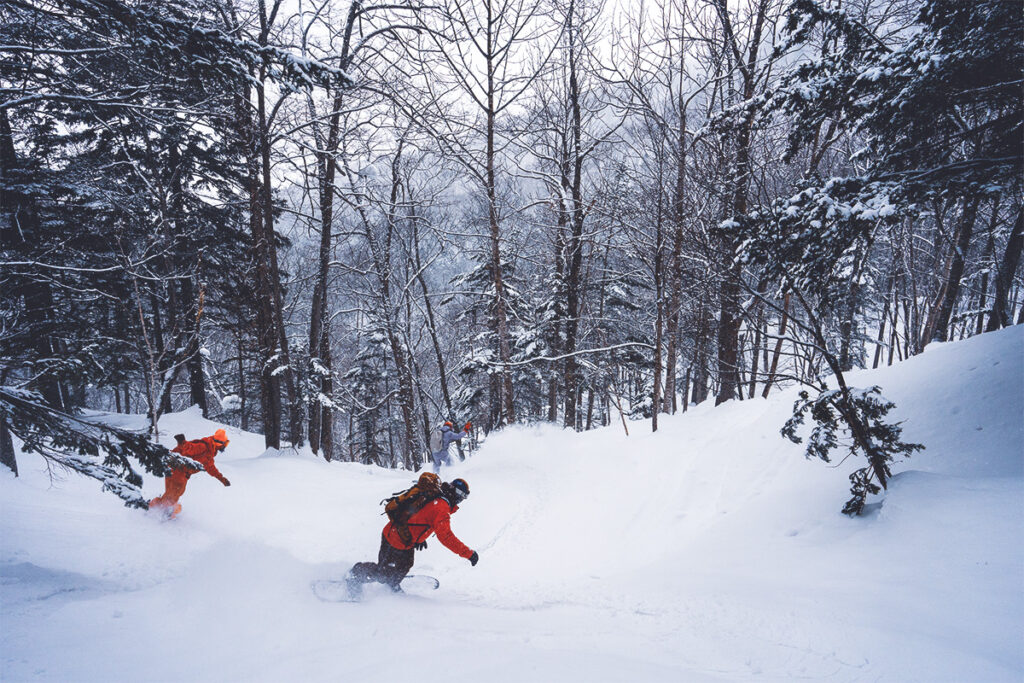 As the creek bed terrain becomes visible, you can aim for the bank and head in for some precision turns.
One good heavy snowfall or winter storm can make all the difference on a ski trip. In Japan, this is especially true during the mid-season from December through February. Skiers from around the world flock to Japan's popular destinations like Niseko in Hokkaido, Hakuba in Nagano, Joetsu in Niigata, and Tanigawa-dake in Gunma, hoping to experience the much-awaited moment of heavy snowfall followed by a sunny day of powder.
Though powder days are not as frequent in the spring, they are still possible, and the chance to partake in spring-exclusive activities makes visiting at this time all the more worthwhile. As temperatures fluctuate between warm and cold, the snow changes and reveals new terrain, creating an ever-evolving playground for winter sports enthusiasts. In high-altitude areas such as the "Hokkaido Powder Belt," fresh powder can be experienced even as the season seems to be winding down, proving that winter is not quite ready to say goodbye.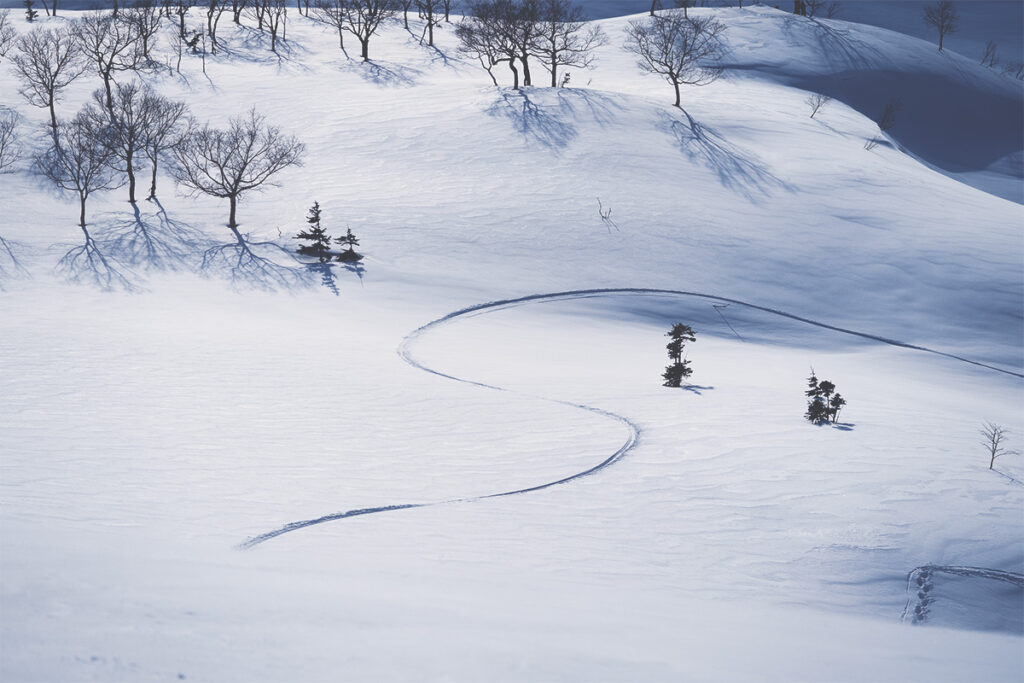 Carving tracks on a fresh snow surface is similar to the first brush stroke in calligraphy.
Film Crust: The Gift of Spring
The "Hokkaido Powder Belt" is located in the center of Hokkaido and is renowned for its high-quality powder snow. With numerous ski resorts and access to mountain skiing, it's an ideal base for exploring the region. Asahikawa is a great starting point, providing easy access to Asahidake, the highest mountain in Hokkaido, located in the northern part of Daisetsuzan National Park.
Take the ropeway to Sugatami Station, where you can hike deeper into the mountains and discover untouched ski routes known as "no-tracks." Even in spring, the Daisetsuzan mountain range, consisting of mountains in the 2000-meter class, is likely to be cold. In the spring, you can enjoy these ski routes with fewer crowds compared to peak season.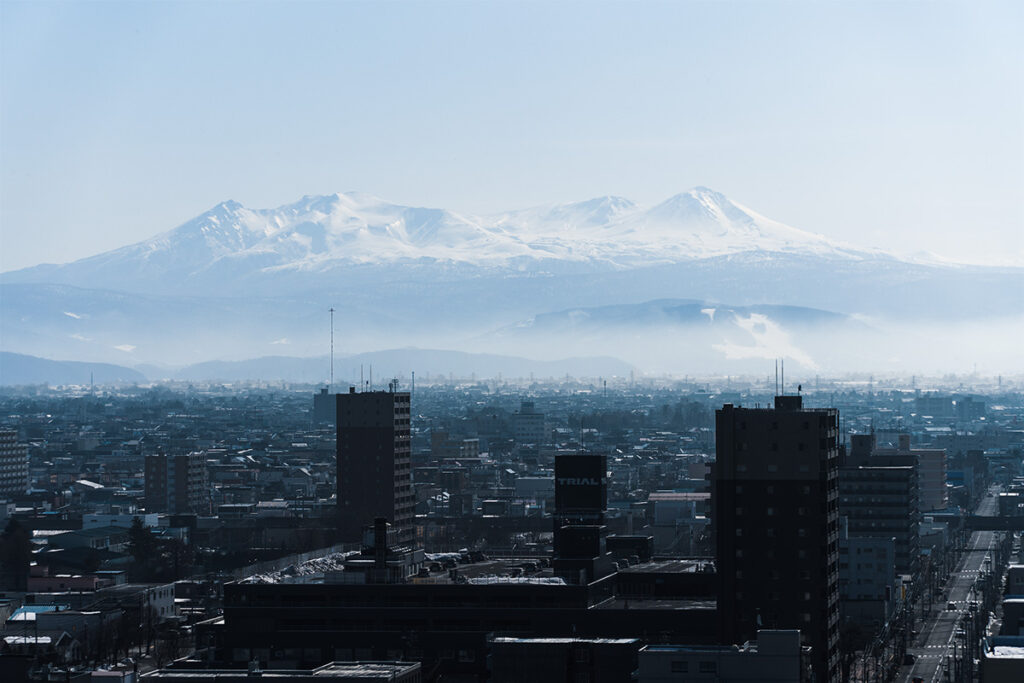 Daisetsuzan as seen from the Asahikawa city center, accessible in about an hour's drive.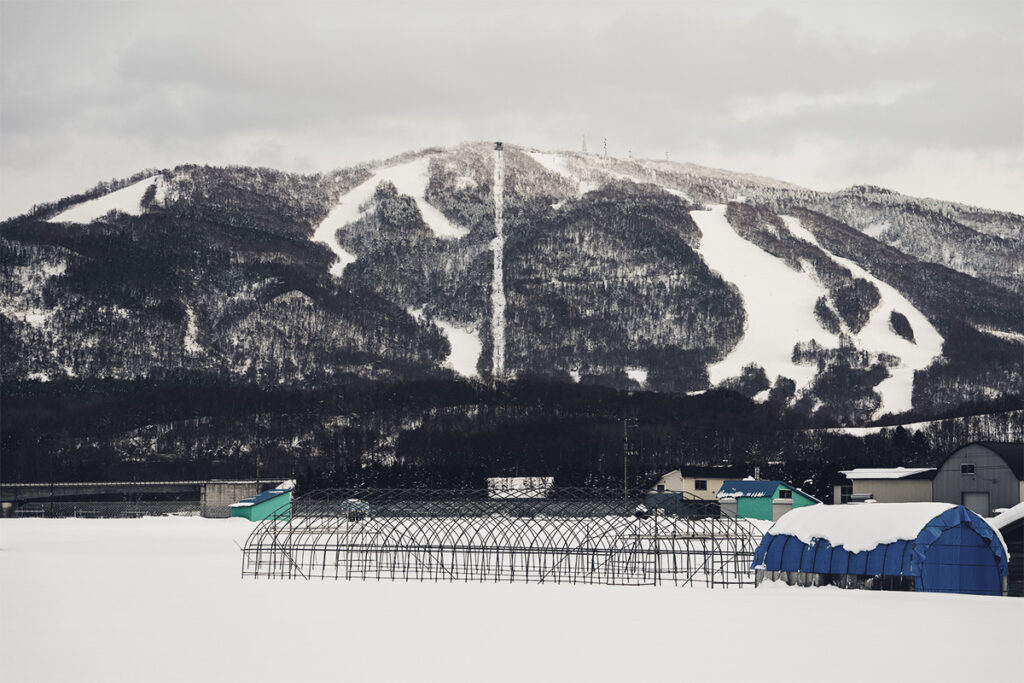 Kamui Ski Links is a ski area that can be reached in just a 30-minute drive from the center of Asahikawa City, where you can find some great powder. It is one of the largest ski areas in northern Hokkaido and is also very accessible.
The Tokachi-dake range is another mountain range in Hokkaido that every winter sports enthusiast should add to their bucket list. Tokachi-dake, the tallest mountain in the range at 2,077 meters above sea level, is its centerpiece. The range also has other mountains like Mt. Furano, which is ideal for skiing.
The area is famous for its "dry snow" due to its inland location, and it is at its best when temperatures are cooler. Furano is an ideal base for exploring this area and offers easy access to the slopes. This year, some Furano ski slopes are set to be open until early May (as of March 10), allowing skiers to enjoy skiing down both the mountains or the resort slopes, depending on the day's weather conditions.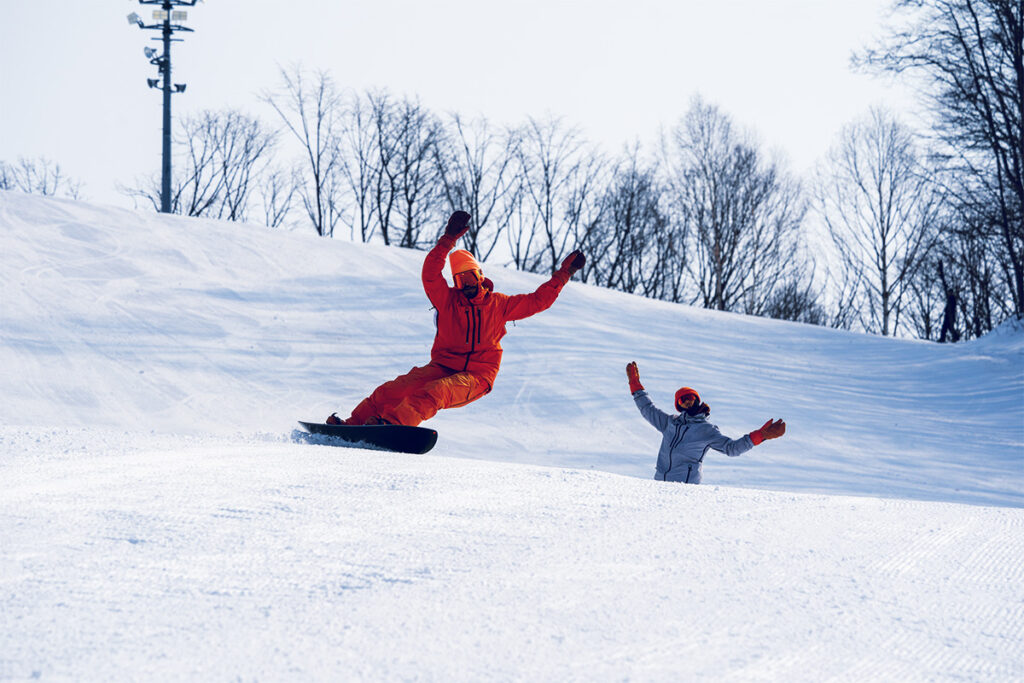 As the day progresses, the hard and compact snow surface begins to loosen up. Even if you happen to spill, it won't hurt as much, so you can try taking the slopes faster. This is what makes spring skiing so enjoyable!
Kazushi Yamauchi, a professional snowboarder who is widely known as "Orange Man" among snowboard enthusiasts in Japan and abroad, spends much of his time in the area and says that in addition to powder, there are other unique experiences that only spring can offer.
Yamauchi says, spring skiing and snowboarding offer a unique and thrilling experience, and one of the most exhilarating moments is encountering the "film crusts." As you glide over the snow, you'll hear a satisfying crunch and feel the rush of sliding at high speeds.
However, for film crusts to happen, the right weather conditions are needed. In spring, the snow surface that was hard and cold during the night is loosened by the sun's rays, creating this special phenomenon. Although more rare than encountering powder in mid-winter, film crusts provide an unforgettable sliding experience limited to spring.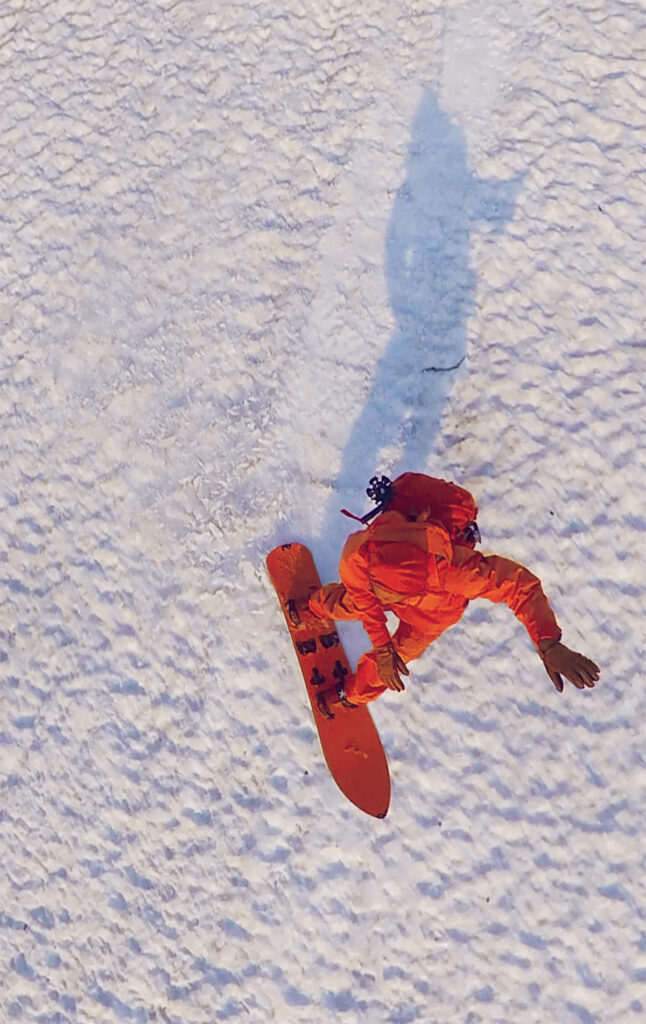 "Orangeman" cruises on spring snow ©KAZUSHI YAMAUCHI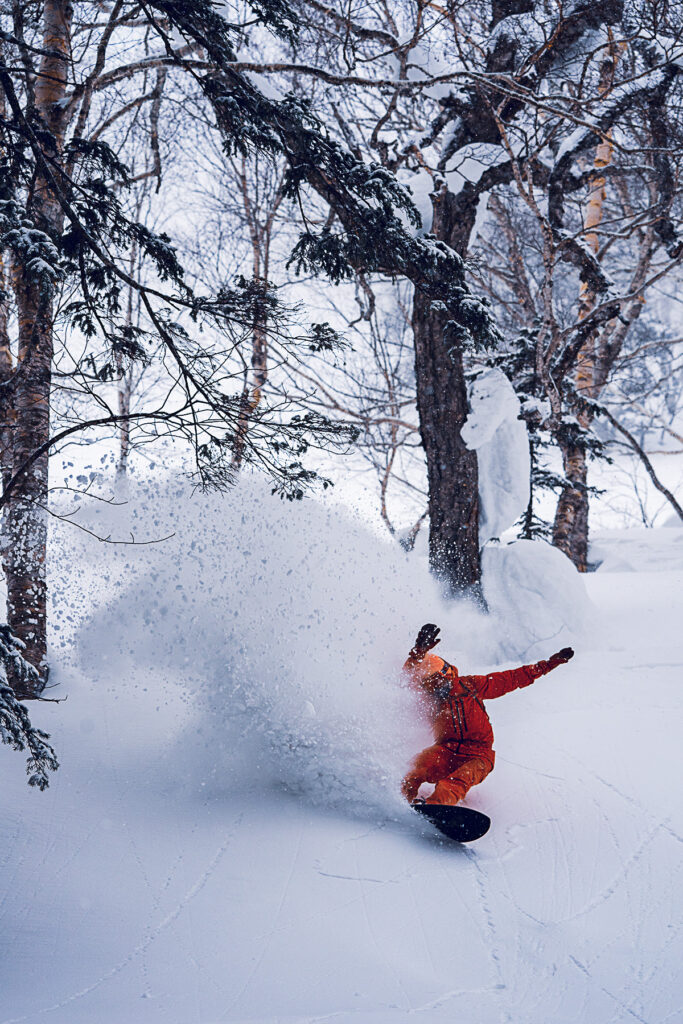 Finding and hitting a snowdrift is also part of enjoying spring skiing.
Delightful until early May
Spring skiing in Hokkaido is a great opportunity to experience two of the most exciting snow conditions: powder and film crust. Another advantage of skiing during the spring season is that it is relatively low-risk compared to the peak season. Even if there isn't tons of snow, you can still have a good time skiing in a relaxed atmosphere under a warm, sunny sky. Don't forget to explore the unique terrain revealed by the melting snow. You'll be able to see the rich variation of the ground that is usually hidden during peak season and make a thrilling run with jumps and twists.
Spring skiing in Hokkaido is a one-of-a-kind experience, with the snow offering a unique texture and the mountains providing stunning vistas that differ from the winter landscape. This year, the region has been blessed with an abundant snowpack, resulting in excellent skiing conditions that should last until early May.
With more and more people discovering the joys of spring skiing in Hokkaido, it's quickly becoming a sought-after destination for those looking to enjoy winter sports during the warmer months!